Best 200 LB Heavy Bags for Heavy Weight Boxers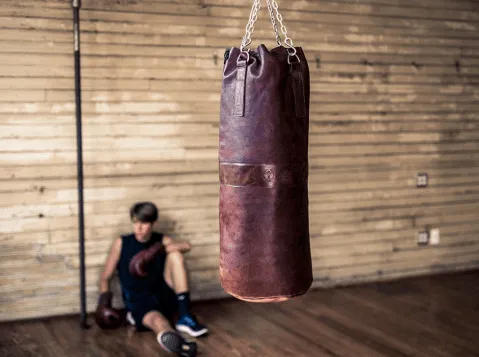 Buying a 200 lb heavy bag is best for heavy weight boxers.  Heavy weight punching bags are great because they do not swing much and can stand the most powerful kicks and blows with ease. Allowing you to work on your punching power and accuracy.
Quite beneficial for martial artists who are striving to get to the top of their game.
If you are looking for the best 200 lb heavy bags of 2019, then check out the post below as I have reviewed the best on the market today. These are my favorite bags as I have used all of these quite a bit when learning how to box and again came back to them when I was a veteran in the sport.
Best 200 lb Punching Bags Comparison - Our Top 3 Choices
RingSide 200 lb Heavy Bag
The Best For Boxing & MMA
RingSide 200 lb Leather Bag
Excellent Value
---
Best 200 LB Heavy Bag List
Below, you're going to discover a breakdown and our reviews of the top 200 lb heavy bags that you can buy today.
1. Ringside Power Puncher For MMA & Boxing -The Best
This punch bag is quite wide and long which is perfect for any kick boxers and martial artists. This is our go to bag at our gym today, nobody ever really uses the  other 100 lb punching bags. The great part about this bag is the top unzips and you can fill it even more and get it pretty close to a 250 lb heavy bag.
The shell is quite durable as it is made up of a high quality synthetic material which has exact leather like finish. You do not have to afraid of wears and tears. When I and my brother were learning to box, we used to hit it all the time and still it held up great for years. It comes with proper stitching so that it can stay intact forever.
With this bag, you will also get a chain and swivel that makes it easier to hang the punch bag. It can be used for rigorous training purposes as well.
---
2. Ringside Large Leather Heavy Bag - Most Affordable
Just like the previous one, it is quite similar but with a pure leather shell. The dimension, functionality and fillings are the same. But because of the pure leather shell, you will get excellent user experience. The vintage look is quite eye-catching. Hence, it is perfect for accessorizing or ornamenting your home. I was quite in love with the look as it can easily make my boxing gym look sophisticated and professional.
Also, it can provide me with the best workout experience. The thick and high quality leather shell can last forever and makes for a soft filled heavy bag. No matter how hard you hit or kick, it can resist a lot. But I feel that the stitching is a drawback to this product. It pops out a little and hence when training if you hit it hard, it can bruise your knuckles. For this I used a hand wrap or often good quality boxing gloves to avoid this problem.
But with repeated kicks and elbowing, these stitches soften a bit. So, you can use normally without hurting your knuckles or elbows.
Related: Best heavy bag reviews
---
3. Prolast 200 lbs Boxing & MMA Pro Bag - Expensive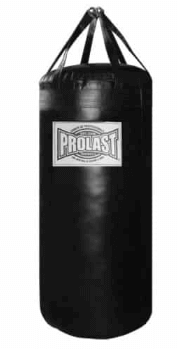 This USA made product is gigantic with a height of 60 inches and a diameter of 30 inches. It comes with a PROLAST ®RIP-STOP exterior to make it extra durable and tough. The bag also comes with a lifetime warranty which goes to show how much trust is put on this bag by its manufacturers. It is a comfortable bag that helps strengthen your defense skills and does not end up hurting your wrist in the process. Also, it comes with resilient shock absorbency which gives you exceptional training experience.
Their store manager Mike is worth having a conversation with for he is full of information and guides you through the entire process. The cost of this highly efficient bag is close to 800 bucks but be on the lookout for it is often on sale for half its price.
I love the height of this bag. It is a whopping 60 inches with a diameter of about 30 inches. So, if you like giant punching bags, then this is the best one. I personally love this one but I feel it is a bit more professional and not for the beginners.
Being made up of the unique and most high quality materials named PROLAST RIP-STOP, it provides best durability and resistance. It is definitely capable of providing a long-lasting functionality resisting hardest punches and kicks.
The best part that I love about this punching bag is that it comes with a lifetime warranty. The manufacturer is so confident about the material that they provide a lifetime guarantee on it. It has helped me in improving my training experience and performing better.
It comes with blended filter and resilient shock absorbency which is exceptionally great. Thus, it can last for a long time and comes at a very pocket friendly price too. I remember how I used to kick and punch this bag all the time and still it used to stand tall and unaffected.
You can Check it out here 
---
Should You Get a 200 lb heavy bag?
So, to sum up the entire thing, I must say that these three 200 lb punching bags are the best for your kickboxing and martial art practices. You can punch and kick these bags all the time and still they will have a long lasting durability. I have seen many bags that failed to fulfill my expectations. But these bags are the best ones. I have personally tried and tested these three 200 pound punching bags and I am totally satisfied with the result. They are surely the best.
So, if you are looking for the best bag for heavy weight training needs, then make sure to buy one of these. You will never regret the decision of buying these. The 200 pound bags above will last you a long time so not to worry about having to buy a new one.
Did this guide to the best 200 lb heavy bags help you find the one you want? Show off and Share with your friends!
Related Reading: