7 Best UFC Fighters of All Time
UFC has been instrumental in catapulting MMA into the mainstream world, turning it into a sport adored by fans across the globe. The league has created some of the world's best fighters – athletes at the forefront of peak human performance. However, even among such high-level performers, some utterly dominate the sport.
The best UFC fighters of all time include the likes of Randy Couture, Kamaru Usman, Anderson Silva, Jon Jones, Amanda Nunes, Khabib Nurmagomedov, Jon Jones, and Georges St. Pierre. These fighters have proven their mettle, with some of them holding championship belts in two weight categories. 
It's not easy to find the best of the best in MMA, but the people on this list will forever be regarded as the best UFC fighters of all time. Let's take a closer look at their careers and what they've accomplished.

1. Randy Couture
Popularly known as 'The Natural' and Captain America, Randy Couture didn't make his UFC debut until the age of 34. While most UFC fighters typically consider hanging up their gloves in their 30s, Randy was just getting started. He had almost ten years of almost undefeated fights, making his name as one of the most determined fighters of all time.
He quickly put himself on the map, rising through the ranks to claim numerous titles and accolades. During his career in the UFC, he became a three-time heavyweight champion and two-time light heavyweight champion and competed in 16 title fights.
He's also famous for his fight against Gabriel Gonzaga, where everyone expected Gonzaga to retire as the champ once and for all. However, Randy managed to pull off a massive victory despite Gonzaga having broken his elbow earlier in the fight.
Randy Couture is the oldest UFC champion, with a title victory at the ripe age of 43, cementing his place as one of the best UFC fighters of all time.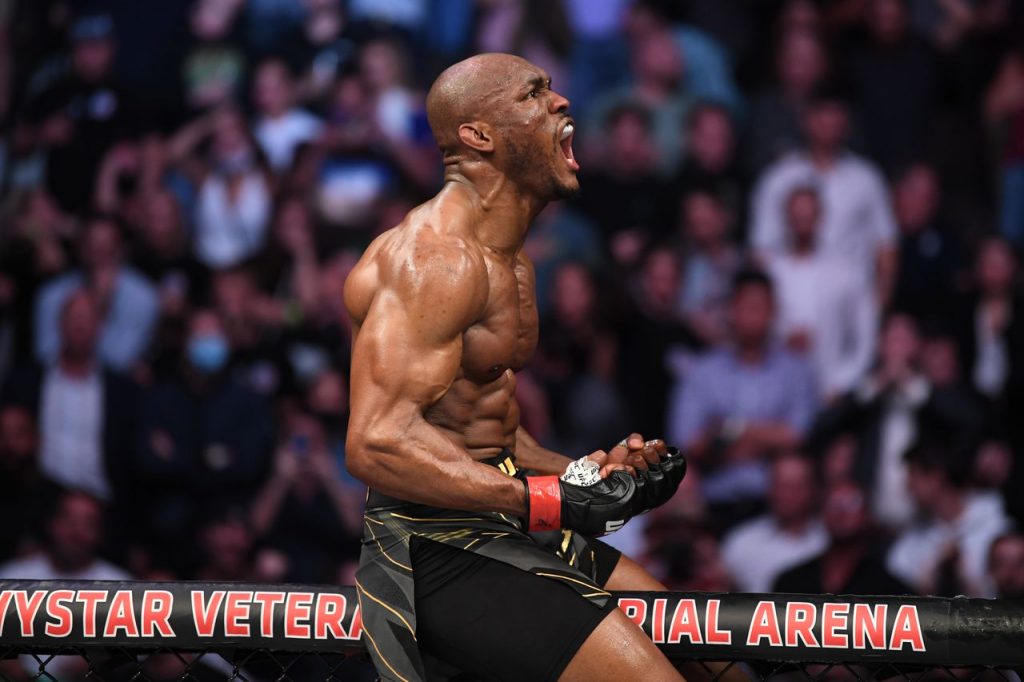 2. Kamaru Usman
President of the UFC Dana White has repeatedly stated that Usman is 'probably the greatest welterweight fighter of all time.' Aside from his deadly submissions, the Nigerian Nightmare is also known for being a terrific performer and has managed to nab four 'Performance Of The Night' awards during his career.
Dana White also stated that Usman might well be on his way to becoming the greatest fighter of all time, and there's no doubt that Usman is currently the best pound-for-pound fighter in the UFC. Usman also built a 15-in-a-row win streak in the UFC and has lost only two fights in his entire career so far, so he may well be the greatest UFC fighter of all time.
Fortunately, the Nigerian Nightmare seems to have many more fights left in him, and isn't about to retire anytime soon, which is exciting news for UFC fans.

3. Jon Jones
Jon Jones could very well be one of the greatest fighters who ever existed (if not the greatest). He was well on his way to cementing his legacy if not for personal issues outside the UFC.
However, this list includes the best UFC fighters of all time, and it would be criminal to exclude Jon Jones from it. The New Yorker is a two-time light heavyweight champion who held onto his title from 2011 to 2015 and again from 2018 to 2020. Jones is also the youngest person ever to win a UFC title, at the tender age of 23.
However, Jones was tested positive for banned substances and consequently suspended from the UFC for a brief period. However, he returned with a vengeance, reclaiming his title after a spectacular bout against Alexander Gustaffson (which makes our list of best MMA fights of all time).
Jones has an impressive streak of twenty-six UFC wins, with his only loss happening through disqualification. And if it weren't for his involvement in illegal substances, there's no doubt that Jones would be regarded as the best of the best.
However, Jon Jones has now been stripped of his title in 2022, following a hit-and-run incident that occurred in New Mexico. While this has no bearing on his capabilities as a fighter, it means he's out of the game for good.
4. Amanda Nunes
If this were a list of female MMA fighters, Amanda Nunes would be the top athlete on this list, hands down. Amanda is one of the four fighters in UFC history to hold titles in two weight categories simultaneously.
Amanda's first UFC fight was back in 2013, and she has won the title of bantamweight champion twice since then, along with a featherweight championship belt. Amanda is known for her quick footwork and her ability to land repeated devastating blows on her opponents.
However, none of Amanda's skills hold a candle to her sheer perseverance and dedication to the sport of MMA. After her debut, she went on to set an impressive win-loss record so she could challenge the champ, Miesha Tate, for the bantamweight title.
Amanda quickly concluded this match, stunning fans who were certain Miesha would easily defend her title against the tongue rookie.
However, Amanda wasn't done and moved up her weight category to fight featherweight champ Cris Cyborg. Cris had been undefeated for over a decade, but the match with Amanda ended quickly, with Cris getting knocked out within the first minute of the match.
Amanda has continued to fight and defend her title against other champions ever since. She has since earned the nickname 'The Lioness' and deserves the right to claim a spot among the best UFC Fighters of all time.

5. Anderson Silva
Anderson Silva is a name well-known by MMA fans and their friends after his debut in the UFC. Silva got his shot at the middleweight title back in 2006, when he was the underdog in a fight against Chris Leben.
At the time, Leben was known as 'The Crippler,' a fighter who was deemed unstoppable by most MMA enthusiasts. Unfortunately for Chris, he hadn't been up against a fighter as mobile as Silva before, and it shook the very foundations of what he knew about fighting.
Silva quickly dispatched Leben within the first minute of his debut fight, earning him a permanent spot in the UFC. And if you think that's impressive, Silva managed to hold on to the title for the next seven years, the most extended title defense of any fighter in the UFC.
During this time, Silva managed to maintain a successful streak of sixteen straight wins, in some cases pulling off a miraculous victory from the jaws of defeat. Most notable of these fights was Silva's match against Chael Sonnen, where the champ was brutally beaten for most of the fight.
Silva fans were sure that the champ's reign was over, but he pulled off an unexpected victory through a triangle choke. This indomitable will displayed on numerous occasions makes Silva one of the greatest of all times.

6. Khabib Nurmagomedov
Considered the GOAT by many UFC fans, Khabib 'The Eagle' Nurmagomedov is undoubtedly one of the greatest fighters ever. He's the only fighter in the UFC to have left the ring undefeated, with a streak of twenty-nine wins and zero losses to his name.
Even in the middle of his career, riddled with injuries and limiting his fights to nearly once a year, Khabib managed to take out top contenders, retaining his position as one of the UFC's greatest fighters.
Khabib's most commercially successful fight happened against Conor McGregor in 2018 when the Irishman challenged him for the lightweight title. The legendary rivalry between the two had fans glued to their screens for days, and the match quickly became the highest-paid UFC match in history, with Khabib earning over $2 million.
It seemed like Khabib was done with MMA after this fight, but he went on to beat champions like Poirier and Gaethje in subsequent matches.
However, after these fights, Khabib honored his promise to his mother about stepping away from the ring. And so, with an undefeated record of 29-0, Khabib retired from MMA, leaving a legacy that fans will remember for generations.
7. Georges St. Pierre
Few fighters (if any) can claim to have the kind of run that GSP had during his career in the UFC. Georges St. Pierre is probably one of the greatest fighters in MMA history, not just the UFC. And in his career spanning over a decade, he managed to rack up over twenty wins in a dominant fashion.
The two losses he suffered were critical to his career as they happened early on and saw him bounce back with fury to take out some of the world's top contenders. GSP got his shot at the welterweight title again in 2007, where he quickly dispatched Matt Hughes and took his rightful spot as champion.
GSP continued defending his title until 2013, when he won a close fight against Johny Hendricks. After the fight, GSP announced his retirement and stepped away from the ring.
However, the champ wasn't satisfied, and Georges returned four years later, participating in the middleweight division. He won the belt, becoming one of the four fighters to hold a championship simultaneously in two weight categories.
Sources