Benefits Of Training With Water Punching Bags – Pros & Cons: Are They Better Than Sand Filled Bags?
& The Best Water Bag to Buy - Only 2 Are Worth a Hoot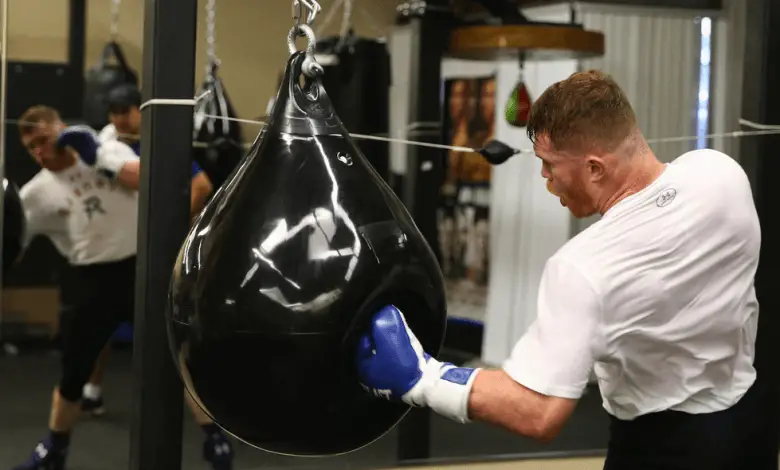 Are you looking for a unique way to build your punching skills? If so, a water punching bag may just be what you are looking to find. This is one type of punching bag with a very unique design that utilizes tap water instead of shredded memory foam, sand, and other types of filler that other popular bags like the Wavemaster XXL use.
There are many benefits of training with water punching bags. These benefits are provided more in-depth in the article below.
The Aqua bag in specific, AKA the only water punching bag that is worth a hoot, is a bag that provides many benefits because of how well built it is, the others, not so much because they are really not designed for anything more than 3 weeks of use. Least in my experience.
Benefits Of Training With Water Punching Bags
As mentioned previously water punching bags offer many training benefits for both professional and amateur, and for those that just love the sport. If you are unfamiliar with the water punching bag, you will definitely be surprised by these benefits.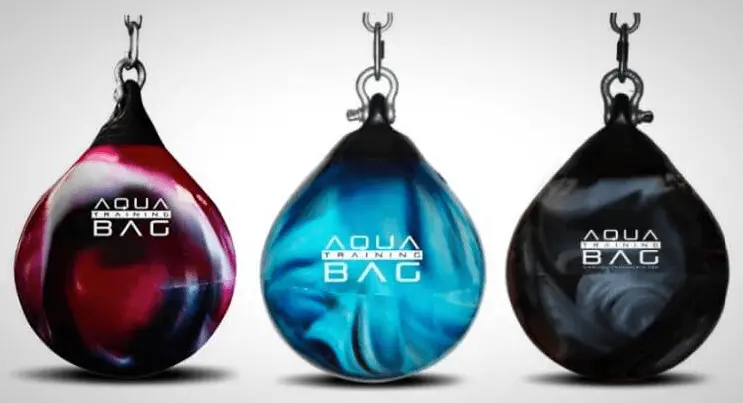 Here are the Pros of water filled heavy bags
Superior Portability – Train Anywhere
Training can be complicated, especially when you need to a lot of traveling. Unfortunately, most punching bags do not offer portability because they are too large like standing bags, and/or are too heavy to be lugging around. Imagine carrying around a 200 lb heavy bag with you everywhere you go.
To rule out these issues, manufacturers are now turning to the punching bag that utilizes water as a filler instead of the traditional alternatives.
Right before you set out on your journey, you can empty the water out of your punching bag. And, when you arrive at your designation, you can refill it with tap water. If you do not have tap water, you can utilize purified or sterile water that comes in a plastic jug.
The mere fact that the water punching bag is refillable ensures the highest level of portability which makes them a great bag for apartments or for those who are tight on space.
Quick And Easy Storage – Store Anywhere When Not In Use
Another benefit that will probably catch your eye is easy storage. Unlike some designs, the water punching bag offers quick and easy storage. Just empty and store away in a compact cubbyhole, vehicle trunk, or overnight bag.
This water filled bag design makes this the ideal punching bag for beginners for traveling, trainers, boxers, mixed martial artists, and other athletes who are building their upper body strength and speed.
Various Designs – Target Specific Training Points
Like most traditional punching bags, the water punching bag comes in several shapes, all of which offer unique training benefits. First, you have the traditional teardrop shape, which is available in various sizes.
This is a very popular shape in commercial gyms because it is believed to offer more accuracy when punching at high volumes.
Second, you have the shape that replicates a human body. This is a very unique shape that many people are not aware of, which is very unfortunate.
The human-shaped water punching bag is ideal for building power and simulating a real world sparring experience. You can punch in any area and receive the same benefits. Your trainer will go over the important aspects of this shape. So, you can maximize your training when utilizing it to build power and get your mind used to what it's like having a MMA fighter in front of you.
Third, you have the pill-shaped water punching bag, sorta looks like a reflex bag mixed with a double end bag. This particular shape is unique in itself. It is very diverse, so it can be utilized for both punching and kicking.
If you are looking for a versatile water punching bag, look no further than the pill-shaped version. With that said, this design is extremely popular among mixed martial artists. Although it is not good for low kicks, it works great for punching and high kicks.
Last, but not least, you have the heavy bag. This is the ideal punching bag for all boxers and MMA fighters. If you are looking to build your punching and kicking skills, or to perfect your boxing techniques you will not find a better design than the heavy bag. Not only do you get a diverse water punching bag but also portability, durability, and longevity.
Build Accuracy In Kicking And Punching
There are way too many punching bags that do not offer you the ability to perfect your accuracy, think larger easier to hit heavy bags.
Accuracy is an important quality when it comes to boxing and MMA training. If your goal is to make contact with your opponent's face, stomach, leg, or other body parts, the water punching bag is key because it moves and simulates a real world opponent. (swings more)
Pound The Bag With Confidence
Some brands, like Aqua and Everlast utilize heavy-duty leather and/or canvas for the construction of their water punching bags. These materials are designed to endure damage caused by the impact of kicking and punching. After years of use, these materials will still look great and stand up to the same level of impact.
Hit as hard as you like without concerns of damage. Even better, some manufacturers utilize a special coating to protect the exterior of their water punching bags from UV and moisture damage which makes them a great outdoor punching bag if you like to train outside.
What Are Some Cons Of Water Filled Heavy Bags?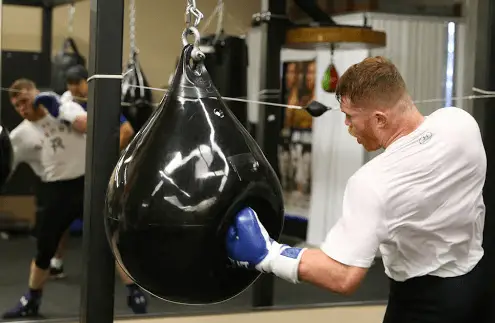 Like pros, water-filled punching bags have some downsides. While these cons are minimal, they are cons nonetheless.
Higher risk for leaks
Higher risk for condensation build-up
May not be suitable for some professional athletes, Aqua bag and

Everlast Bag

are.
Refilling may be difficult and timely
Can be very heavy when completely filled
Best Water Punching Bag – AKA The Only Two Worth a Hoot
Transitioning from a traditional punching bag to a water punching bag is as simple as an initial investment. With so many brands to choose from, consumers need to approach their initial purchases carefully.
Conduct thorough research, do product comparisons and view customer reviews before making your initial purchase.
All of this work will pay off in the long run because it will ensure you make the right decision the first go-round.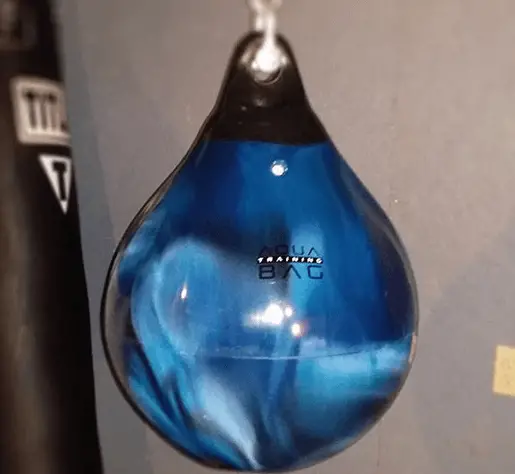 The Punching Bag by Aqua Training Bag is suitable for boxers of all skill levels. It is ideal for beginners and veterans of boxing and mixed martial arts.
You can check it out on amazon by clicking here
The aqua design requires several pounds of tap water prior to the initial use. Completely full, the Aqua Training Bag Punching Bag weighs 190 pounds and expands up to 21 inches in diameter.
Choose from various colors, including Bad Boy Blue, Black Eye, Blood Red, Cinco de Mayo, Fireball Orange, Haymaker Black, and Power Punch Pink. All the available colors are eye-appealing with swirly designs that make them unique.
The teardrop-shaped design offers various benefits. These benefits include diversity, accuracy, comfort, and flexibility. You can punch at a very close range without concerns of recoil or exterior damage.
The Aqua Training Bag was manufactured in an American-based facility to ensure the highest level of quality. The interior walls are thick with ends made through injection molding. This design ensures both durability and longevity. The exterior has been treated to prevent damage caused by sweat and ultraviolet exposures.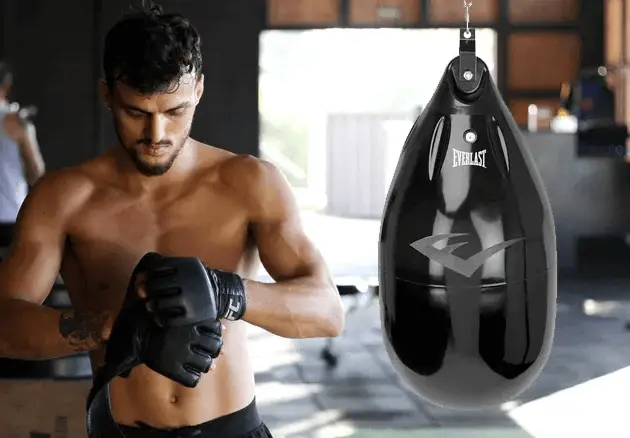 Everlast is known for producing some of the best martial arts sports equipment on the planet. The HydroStrike Water Bag is inexpensive but yet still very reliable.
You can check it out on amazon by clicking here.
When filled with water, you will have a 100 lb bag that will allow you to hit the bag with all your might. While it is designed for boxing, it can be used for other purposes as well. MMA fighters will find it beneficial too. Or, you can just wail on the bag and take out of your frustrations.
The bag features the latest HydroStroke technology so it can absorb strikes and deliver a life-like experience. More importantly, this water bag is protected by a 2-year warranty. There is a slim risk that something will go wrong.
If it does, you know Everlast has your back. The Everlast Hydrostrike Water Bag requires 12 gallons of water. Grab your water hose and you'll be able to fill this bag in a matter of seconds. Then, you can perfect your boxing skills in the comfort of your home gym.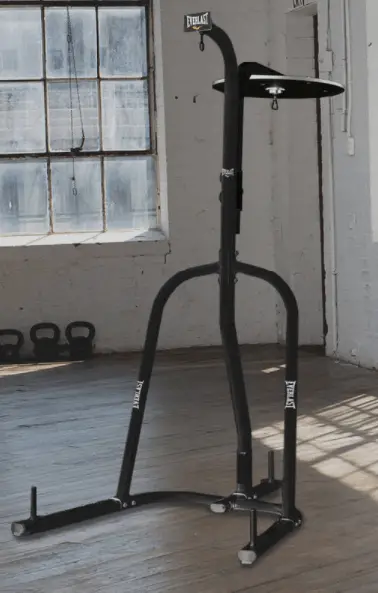 The Everlast Heavy Bag Stand is one of the most versatile stands on the market.
You can check it out on amazon by clicking here.
Most water punching bags weigh somewhere between 70 and 120 pounds. Some are heavier.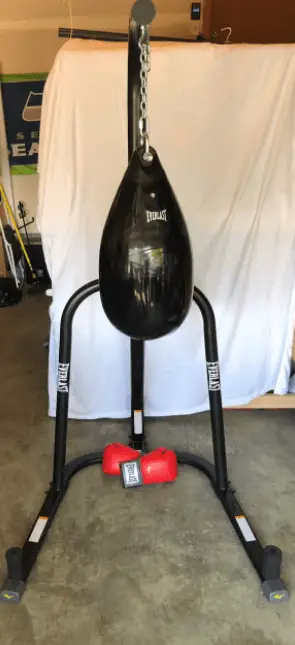 The Everlast Bag Stand can support up to 100 pounds. With that being said, it is important to choose a bag that is 100 pounds or less. You'll also appreciate that this heavy bag stand has a speed bag platform and swivel on the other side so that you can mount up a speed bag for your speed training.
This ensures that you'll receive a comprehensive workout so you can be ready for your next bout. Also, the height is adjustable making this stand suitable for people of all sizes.
Water Punching Bag Vs Sand – What Is The Best Thing To Fill A Punching Bag With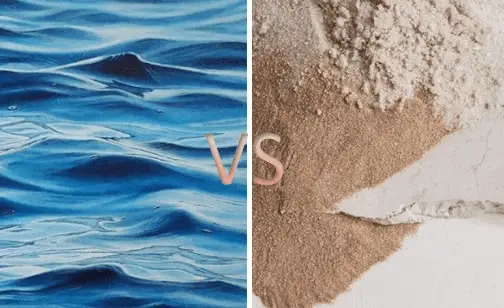 When purchasing a punching bag, you need to pick one that works great for you. You'll find that you have two options. You can buy a water punching bag or a sand punching bag.
While they serve the same purpose, they're different in several ways. It is important to learn more about the differences so you can find out which one will serve you best. Your punching bag will either be filled with sand or water.
Water punching bags are great because they're more convenient. As long as you have a water hose at home, you'll easily be able to fill the punching bag.
And although there are benefits to sand punching bags as well sand is quite a bit more difficult because you have to purchase bags of sand. This can be tough. You need a way to transport those heavy sandbags. Then, there is a risk that you're going to make a mess when filling the punching bag.
Nevertheless, sand tends to be heavier than water so it delivers better results.
Water Punching Bag Pros
Much easier to fill
Cheaper to fill
Easy to empty
Not as messy
Water Punching Bag Cons
Not as heavy as sand so it might not be as stable
Risk of experiencing leakage
Sand Punching Bag Pros
Much heavier
More stable
Could provide a better workout
Less risk that they'll get punctured
Sand Punching Bag Cons
Heavier and more difficult to fill
Messier when filling
Related Readings:
Unmentioned References:
https://blog.ringside.com/a-buyers-guide-to-punching-bags-what-style-is-right-for-you/