Best Boxing Body Protectors: Reviews and Comparisons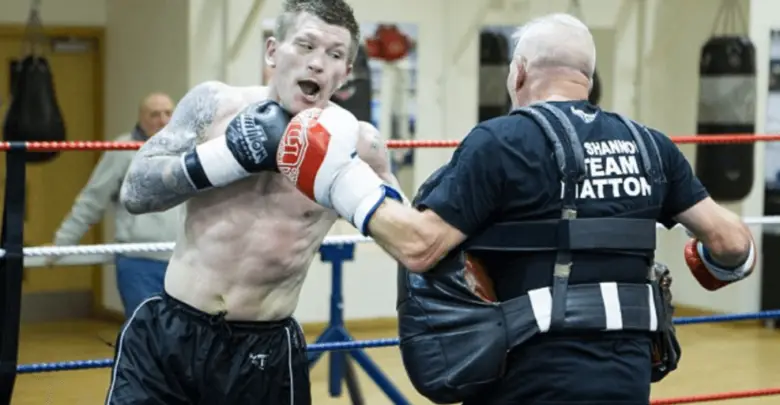 In boxing, fighters spar with their trainers to hone their skills and develop their techniques. But even in a controlled training environment like this, you can still sustain injuries. Both you and the one you're sparring with is at risk.

To reduce this risk, boxers usually use body protectors and focus mitts. There's no point in welcoming any dangers, especially since you're not even fighting in an actual match.

So you're probably looking for the right boxing body protector that you can use for your training. That's a smart move.

Below, we've taken it upon ourselves to list, review and compare our favorite boxing body protector picks to help you narrow down your search.
What Are The Benefits Of Using A Boxing Body Protector?
In addition to Focus mitts, using body protectors gives a much more more realistic fight simulation.
Using a body protector during your sparring sessions along with your heavy bag gloves lets you practice your striking combinations with a partner safely.
It will help both you and your partner when it comes to your defense skills as well as your offense skills. Normally, your coach or training partner wouldn't be able to respond back with punches for safety reasons. But with this kind of protection, that's possible.
So overall, it makes for more realistic and fluid training sessions - arguably the most effective method of training compared to training with a speed bag or a heavy bag.
Even with just the focus mitts, you'd be benefiting a ton. But add a body protector to the mix, and you'd be able to practice in the safest and truest sense.
This is also extremely helpful for novices who aren't comfortable with sparring yet. 
The whole thing can be intimidating. But with this protective gear on, it should boost your confidence level significantly.
Comparison of Our Top Picks
Title Classic Belly Protector
Fairtex Rib Guard Protector
---
Our Reviews of The Best Boxing Body Protectors
Now we've reached the part where we get into the reviews. These are our favorite body protectors that are out on the market right now.
1. Fairtex Chest Shield
Our Top Boxing Body Protector
The body protector that we love using the most is the Fairtex Chest Shield. It's a well made body protector that's perfect for boxing, MMA, and Muay Thai.

If you're planning to practice punches, hooks, jabs, striking with your knees, and your combos, this is the perfect choice for you.

If practicing your kicking game is an absolute must for you, we suggest that you read up on belly pads. Those are smaller and more heavily padded.
Large Striking Surface
We love this body protector so much because of its large striking surface. Pretty much the entirety of your upper body is covered.

Because it's so large, you'll be able to practice strikes targeted to the solar plexus, ribs and kidneys – all of which are very vulnerable and very dangerous to attempt without a body protector

Of course you're not going to be able to land all your punches. But missing just means you're hitting the rest of the protector. A smaller body protector won't protect as you much from misses.
The Fairtex Brand
Fairtex is known for their quality boxing gear. What makes them so durable? All their products are specially made and flow in from Thailand and has to go through numerous quality checks to be held to the highest standard.

And since this gear is meant to protect the wearer, durability is a must. In every training activity, everyone participating should be safe with the right gear that won't fail them
Excellent Quality
It's also important to note that this chest shield has a synthetic leather covering, and that doesn't quite last as long as genuine leather.

But this shouldn't be a deal breaker. Genuine leather requires a lot of upkeep and if you don't feel comfortable buying animal products, then this should be a plus for you.

Besides, looking around, you'll find that most body protectors are made from this kind of material anyway. It doesn't really reduce its efficacy – just its longevity.

As far as weight and ease of movement, this body protector won't hinder your movement. The fit is very snug and the multi-layered foam hardly weighs anything.
Even though the striking surface is very large, you'll still be able to move around with it on comfortably.

And lastly, you'll notice that the Fairtex Chest Shield has dots all over the padding. These are your typical target spots.

This is great if you're a beginner and you want a visual aid as to where you want your strikes to land.

For beginners and for skilled experts this is the best boxing body protector that you can buy today.
2. Ringside Gel Shock Body Protector
Best Value Boxing Body Protector
Next on our list is the Ringside Gel Shock Body Protector. This body shield comes from a brand that is known for their topnotch gear that are often seen used by well-known athletes.

We appreciate the thought that went into its design and, basically, it just offers great protection for both the wearer and the one doing the striking.

If you're skeptical about the fact that it's made from synthetic leather and it's probably not going to last you that long, don't be.
We've tested this bad boy ourselves and it has held up to months' worth of sparring sessions and we haven't encountered any problems with it.

We even went as far as to check a bunch of customer reviews about the synthetic leather covering and we haven't found one that says they were disappointed with it.
We don't know what we were trying to prove. Of course, Ringside has a reputation to uphold and they're not going to just release a substandard product.

What sets this body protector apart is its gel padding. You can have long drills with your partner without them feeling discomfort or pain from your strikes.
Because of this extensive covering, you'll be able to practice your targeting at different levels of heights and angles. This, with the help of focus mitts, will make for the most realistic sparring session ever.
Also, there are red dots along the lowermost part of the pad. These are meant to be your targets. Again, this is perfect for those who are just starting out and need the extra help.
What's great about these targets is that they're more heavily padded. So you could be striking those targets all day without abusing your sparring partner.
For the money this is the best boxing body protector that is available today. This is an excellent combination of quality and affordability.
3. RDX TKD Boxing Chest Guard
Cheapest Boxing Body Protector
We were tempted to list this is our top pick, but we couldn't for one reason – the quality is a bit inferior. For us, this would be the perfect body protector if we were on a tight budget.

But honestly, for the price you pay this body protector is pretty damn hard to beat.

No company will have that kind of staying power if consumers don't keep buying products from them. How did they manage to do this? By consistently producing high quality boxing gear that blows every other brand out of the water.

If you've seen a boxing world championship in the last half century, then you've definitely seen their gloves in these matches. 
So if their products are good enough for the greats, then they're good enough for us too.

The same kind of quality, the level of care that went into its design and construction, can be found in this product too.
This is also the first on our list that is made from genuine Maya Hide leather. So you can be sure that it's going to hold up for a long time. Genuine leather can withstand decades' worth of abuse.

If money is a concern of yours or you would just like to get a cheap body protector then we recommend that you get this one. You can't go wrong, trust us.
Because of its unique design, it allows the wearer to move freely. This is perfect for focus mitts sessions because you want your coach/ trainer to mimic realistic positions.

As for the targeting regions, you and your coach could come up with a way to refer to each one. Let's say you go for 1, 2, and 3. Your coach could then call out combinations for you to practice or where your next strike is supposed to land.

So no, this body protector isn't going to hurt your wallet. And you wont find a better boxing body protector at this price point.
If you are on a budget and need a quality yet affordable option the RDX TKD Boxing Chest Guard Is going to be the cheapest quality body protector that you will find. 
4. Contender Body Protector
Best For Heavy  Hitters
Contender is not exactly a household name yet, but everyone in the boxing and martial arts community have heard good things about them.
We definitely liked our experience with this product of theirs.
Right of the bat, it's padded well. They weren't kidding around when they padded this thing. It's so thick that many MMA and Muay Thai trainers use this body protector so their fighters can practice their kicks.
So the fact that it can withstand kicking from a Muay Thai or MMA fighter means that it can withstand punches from a powerful boxer.
But even though the padding is thick, this body protector isn't heavy. It weighs about 1.3 kg, which is dismissible. Because it's so lightweight, this allows the trainer to keep sparring nonstop without wearing out.
We also appreciate that they incorporated buckles that are easy to fasten and unfasten into its design. They're located at the back, which makes putting it on and taking it off very easy.
We can't say the same thing about other body protectors in this price range.
All in all, this is a great product that offers a lot of protection. Plus, it's likely that you won't go over your budget when you purchase this.
If you plan on hitting hard or getting hit hard this is the best boxing body protector.
5. TITLE Classic Body Protector
Most Popular Body Protector
Unfortunately, you won't have full upper body coverage with this one, just the lower. In all honesty, that shouldn't be a deal breaker because most of the strikes you want to be practicing are targeted mainly in the lower part anyway.
That being said, it's always better to go for full coverage. But you won't have that with this one.
What has to be said about the TITLE Classic Body Protector though is that it does protect that parts it covers extremely well. That's because of the many layers of padding that will absorb the shock from the striker.
These pads hold up so well against the shock from your strikes that you trainer hardly feels the real any substantial impact.
So if you're training a bunch of hard hitters and you're sick of all the bruises that you get from sparring with them, you should consider buying this body protector.
Another feature that we like about the TITLE Classic Body Protector is that its shoulder straps can be adjusted. That means you can tailor it specifically to your body type and you can share this with someone else if you wish.

We also appreciate the use of moisture wicking materials along the inside. Sparring is not an easy workout and you're bound to sweat a lot.
Normal body protectors that don't have moisture wicking will absorb that sweat and eventually it'll start to smell funky.

We like the TITLE took this in mind and offered a simple solution for it.

Overall, there's not much we can complain about with this body protector aside from the lack of full chest coverage. But that's something we can deal with for this price tag.
6. Combat Sports Boxing Body Protector
Last on our list is the Combat Sports Boxing Body Protector. It's very cheap and we've included this option for those who are on a really tight budget, but still needs adequate protection.
However, if you have to spar with a boxer with significant power, we can't say that you should get this one.
As far as body protectors go, this one doesn't cover much of your upper body. So misses could mean mishaps.
Also, it has one strap for fastening it in place, making it more like a belt than a vest.
That makes it different from all the other protectors on this list, but you get what you pay for.Despite all that, it still does its job fairly well. 
They've integrated what they call dome air technology into it, which makes the padding disperse the shock from your fighter's strikes.
We really recommend this more for MMA and Muay Thai fighters because they're the ones who need to practice their kicking.
Why You Should Train With Boxing Body Protector
Training with a body protector will allow you so focus on training and perfecting your body shots. Training and perfecting your body shots can allow you to be a very very lethal and deadly fighter.
Why focusing strikes to the body is so important

These days, I see a lot of fighters in boxing and other martial arts where there's striking like MMA and Muay Thai focus a lot on the head.
They're always on the lookout for the chance to throw a punch to the jaw or chin because these usually will knock an opponent out (naturally).
However, not fixating on the head and focusing more on the body could be better strategy. A strike to the torso could leave your opponent on the floor with their eyes glazed over and unable to even move an inch.
Obviously, the body is a much bigger target. So in way, it's harder to come up with a combination that will land in strategic spots.
Here is where a body protector comes in. With one, you can practice striking at various heights and angles.
In a striking based martial art, it's always about finding the right angle and using the power you've trained to build up.
Also, if your opponent has his or her guard up, the best method to get it down is a blow to their body. Pain is disorienting and it'll take you a moment to recover.
Once it's lowered, you can go for the head and finish the fight with a strong hook to the chin.
Developing your techniques properly and safely
Even non-boxers know that sparring is an essential part of a boxer's training routine. But only people in the boxing community know that its benefits have been up for debate for a while now. Why?

Because yes, you are able to practice your moves to develop your techniques. But you're also making yourself more vulnerable to sustaining injuries.

Sure, many people think that risk is just a part of any martial art. But that doesn't have to be the case at all. These are sports and no one is meant to get hurt, at least intentionally.

But if you do your drills with a body protector and focus mitts on, you're just significantly reducing your chances of sustaining injuries while still using the effective and realistic fighting simulation that you can only get with sparring.

High quality protectors have great padding in them to cushion the strikes of a partner. This makes lowers the impact on the striker's wrists and knuckles.

Coupled with hand wraps under training gloves, your hands will have maximum protection against stress and wearing. And we all know that a boxer's bread and butter are his hands. So the smartest thing to do would be to protect them.
Mastering body strikes with controlled movement and distancing

Body strikes are very useful for essentially dictating where you want your opponent to go. So let's say you want to stop your opponent from turning to either directions. Landing a body shot at the right angle will make that happen for you.
Landing an accurate jab to your opponent's left side will prevent them from circling to their right. They might even stop circling altogether. This forces their momentum into your hook, making your shot connect better.
A move like this is valuable for any boxer. So how would you practice this? By putting on a body protector. By using one, you'll be able to practice your movement and your distancing.
We advise that you only do this with a body protector. If you try practicing this using only focus mitts, it'll be hard to replicate this maneuver. Angles are tricky. Even a trainer with years of experience would have trouble with this.
Instilling muscle memory and improving the accuracy of your strikes
One of the best parts about using a body protector is that it will allow you to practice your aim. Obviously, aim is very important in a strike based martial art.
You can't be throwing punches blindly, hoping that one or two will land. That's going to get you knocked out before you could even say "body protector."
By using a body protector, you can target specific spots of the body safely.
The same thing couldn't be done with a heavy bag. Because with a heavy bag, you'll have to visualize and use your imagination. It's a lot of guesswork and you wouldn't really know the effectiveness of the technique you're trying to develop. To improve upon your accuracy and reflexes you'll need practice your strikes with a reflex bag or grab a platform and start practicing on a speed bag.
Obviously, if you use a protector, you can see exactly what you're hitting. You can tell if your punches are landing on the right spots.
By doing the same thing over and over again, you train your muscles to move a certain way. So in actual fight, these moves will just be second nature to you. Your punches are more likely to land if your body knows how to perform your combinations well.
How We Selected The Best Boxing Body Protectors
What a body protector is meant to do is right in its name. So what's the main thing here that will lessen the impact of your fighter's strikes? The padding. That's why that's the first thing that we look at when considering a BP for recommendation.
In this list, we've distinguished the ones that can withstand more than just the usual punching. Before buying a BP, you want to be sure about what kind of training you're going to do with it.
Generally, you want to look for very dense foam. This is what offers the most protection. If it's possible, go for the one that has multiple layers for extra safety.
You want don't want the strikes to sink into the foam. That's a sign that you're not so protected. But you don't need signs. You'll definitely feel it.
A lot of thought has to come into the construction of a body protector. It has got to be padded enough to withstand constant striking while being light enough to worn for long periods.
It also has to allow for unhindered movements to spar with a partner effectively.
If your body protector weighs down on you, this will also most likely affect your speed and endurance. Heavy armor means slower movement and shorter sessions.
So finding the right materials that will protect the body and bulk up the wearer is a challenge. Luckily, some brands have been able to pull that combination off.
Quality and durability of the materials used
This is a product that is meant to be hit. It has to be able to hold up against those hits without having to be constantly replaced.
So what are the things that we look for when checking a body protector's durability? First, we check the stitching. It has to be done well – tight and made from thick thread.
Next, we look at the outer covering. Is it going to tear or wear down easily?
The most durable material is genuine leather, which is what the Cleto Reyes Body Protector is made of. Naturally, this is also the most expensive. Again, you get what you pay for.
Synthetic leather is a great alternative, albeit a little less durable. It still lasts a long time and you won't feel as bad when you don't do anything to maintain it.
In most boxing gyms, body protectors are usually shared. So unless you feel iffy about sharing one, trainers don't generally have their own.
This is why adjustability is important. You want to be able to adjust the protector according the wearer's body. The better the fit, the more protected you are.
How Much Does the Body Protector Cost?
We made sure to include body protectors to fit any budget. But as a general rule, the more expensive it is, the longer it's going to last you. The same goes for everything else, right?
So don't feel about shelling out more cash than you expected. Getting a body protector that was made with the best materials is one that you will get the most use out of.
If you think about it, once you calculate how much you're paying for by weighing it against how many years of use it can provide, it'll be worth the money.
Buying cheap products will only make you keep buying more anyway because they constantly have to be replaced.
FAQ's About Boxing Body Protectors
Can I go gloveless when hitting a BP?
We wouldn't advise that. It's best if you use gloves with hand wraps beneath them. Even though the body protector is already padded, striking it can damage your knuckles and wrists. It's better to be on the safe side and put gloves on.
Can I wear just the boxing body protector and no focus mitts?
You could. But to give your fighter a more realistic simulation of an actual fight, it's best if you use mitts. Focus mitts are used for practicing combinations.
How can I keep my body protector clean?
This can be tricky because you can't wash it. We suggest that you use a wet cloth and wipe it down. This should be fairly easy because it's made of synthetic leather or leather. After that, just let it dry on its own outdoors.
Don't put it directly under the sun though, and don't use soap. That could ruin the integrity of the material.
Will it hurt if I get hit even with a Boxing Body Protector on?
It really depends on the power of the striker and the quality of the padding. With a good protector,the force from a strike could still push you back, but it shouldn't hurt. If it does, then that's a sign that you need a better one.
Best Boxing Body Protectors: The Verdict
If you hadn't bothered going through our list, here's our top 2:
Cleto Reyes Body Protector
The Cleto Reyes wasn't the first on this list, but it's the first in our minds. The only reason we couldn't list it as such is because of its high price tag. That being said, this is an almost perfect boxing body protector from a reputable brand.
You can find it on amazon by clicking here
Fairtex Chest Shield BodyGuard
The Fairtex Chest Boxing Belly Pad is the body protector that offers the best bang for your buck. You get high quality materials and a great design, all for a price that won't break the bank.
You can find it on amazon by clicking here
And there you have it. We hope this list helps you out. Stay safe out there.
Did we narrow down your search and help you find the best boxing body protector that is best for you? Share this post with your friends to help them too!