Best Double End Bags Reviews & Comparisons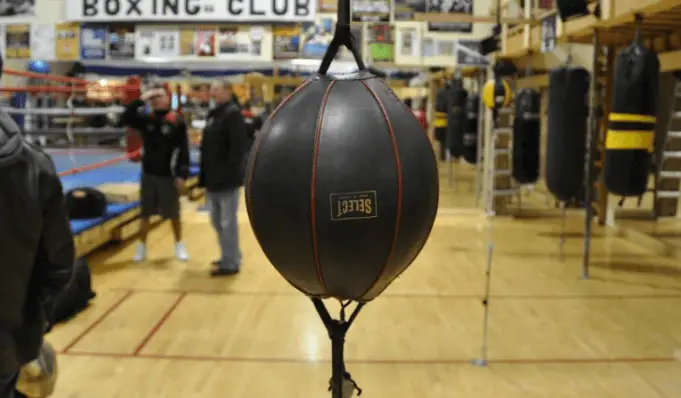 A few days ago, we were privy to a heated debate at the gym about the best double end bags vs the best heavy bags and which they thought is better for everyday training.

Turned out that the guy vehemently supporting reflex bags hadn't really gotten a chance to throw punches at a boxing double end bag, ever.

At best, he had only fooled around a bit with a tightly installed one.

And it didn't take long to realize that he had no idea whatsoever about the perks of practicing with it.

Neither did we to be honest, when we were starting off with boxing.

But a year down the line, our coach brought out a conventional double end bag and a Mexican one.

Both were installed loosely. He said us to throw some random punches at them.

Our first reaction was like, 'Whoever said that bags don't hit you back?'

We were caught with our guard down on more than one occasion and snap, bang!

The bag just kept coming at us from awkward angles, much better than a sparring partner.

It's been three years and double end bags are one of our favorite boxing equipment.

If you are reading this, then chances are that you looking for some help choosing the best double end bag for you.

That's precisely why we are here.
Which double end bag should I get? - How Do I Choose The Best One?
There are a million of them out there, aren't there?
In different shapes, colors, sizes, brands! How then do you know which one is the right one for you?
The fact is that the double end bag that you select has to be in sync with your boxing goals.
Are you looking to improve your accuracy? There's a double end bag for you.
Are you looking to improve balance? There's one for you too.
Timing? Check.
Defense? We've got you covered.
You get the drill, don't you?
Comparison of the Best double end bags
RDX Double End Speed Ball Bag
TITLE Infused Foam Double End Bags
MaxxMMA Double End Striking Punching Bag
Cleto Reyes Double End Bag
TITLE Mexican Double End Bag
Our Best Double End Bag Reviews
We have selected the top 7 double end bags in the market currently based on three things.
Our experience with them
Based on the feedback of the coaches and boxers that we've interacted closely with over the years
A set of factors that determine how effective the bag will be in helping you hone your skills (More on this later)
For now, here are our picks for the best double end bags that give you most bang for your buck.
1. RDX Double End Speed Ball Bag
Best Double End Bag of 2019
You can read more reviews and check it out on amazon by clicking here

RDX's Boxing bags are fast becoming a common sight in gyms around America & Europe.

And why not?

They look great. And to boot, they can easily take a pounding without as much as a scratch to show.

These double end bags are designed for fighters looking to improve their speed and accuracy. It has a pea-shaped design with a round dual fabric air bladder, that absorbs the impact of your punches while giving you a great feel when you make contact.

It comes with a 48" bungee cord to mount on the floor that gives it excellent tension, stability and bounce irrespective of the installation style.

It is height adjustable and has a tensile nylon cord to secure the other end. The O-rings and other hardware needed for the installation are included in the pack.

Quality wise, this is quintessential RDX.

The external covering is made of Maya Hide PU leather, which is synonymous with RDX products, including their gloves.

Double reinforced twin seams ensure that it doesn't fray or tear, even with everyday abuse.

The RDX Double End Speed Ball bag is available in multiple different colors too.
2. Ringside Double End Bag
Best for accuracy
With a slightly rounder design, the Ringside Double End Bag is a treat to use during your drills.

It is available in two sizes. The smaller one makes it more difficult to land your punches and is perfect for improving accuracy.

There is a larger beginner friendly size as well.

Both versions are made of 100% pure leather and include two bungee straps to mount it on either ends.

Everything has triple stitches. That includes the straps. So it can take all the punches that you throw at it without fraying.

We swapped the bungee cord on one end with a para cord when we wanted to add a little more wobble to it.

Easy peasy!

The inner bladder does tend to lose air every few days, especially if you use it in a gym and have guys pounding it all day. But that's not a deal breaker for us.

This double end bag is cheap, at this price, the Ringside Double End bag is a freakin steal.
3. TITLE Infused Foam Double End Bags
No Air Bladder , Foam Filled - Go Bare knuckle on it
It had to be TITLE to take a tried and tested design and add their twist to it.

This is a foam infused double end bag, which means that it doesn't have an air-filled bladder inside.

Instead, it's filled with a layer of lightweight foam.

That makes for a very pleasant punching experience. (We go bare fisted on it)

The feel on impact back is excellent and the soft leather exterior doesn't hurt your knuckles one bit. It has triple nylon stitches and welted seams.

We have had one of these for over a year now and it has taken all the pounding that it can. Still not a fray on it.

Don't forget that you will never have to bother about a leaking bladder or a torn one. No more frequent pumping air either.

Unlike a conventional bag, this infused foam bag is softer. And you can easily squish it to toss it into your gym or travel bag.

Pops back into shape in a jiffy.

Also included are elastic bungee cords (nylon-wrapped rubber cables) and connecting metal hooks which complete an excellent package.

Available in different sizes according to your boxing practice goals.

One thing that must be mentioned though is that it is heavier than a conventional bag which means that you will have to install it tighter to get the rebound you seek.
4. Title Mexican Double End bag
Perfect for combination punches
The Title Mexican Double End Bag makes it easier for you to land those head and body combination shots when you are practicing solo and don't have a partner with pads.

This is an hourglass or number 8-shaped double end bag.

The most notable difference from a conventional double end bag is the lack of bounce and wobble.

This won't swing like a pendulum when you land punches. It has a steadier swing which lets you practice your combinations easily.

However, please keep in mind that it's slightly bigger than some of the other best double end bags in this list. Especially, if you are installing it at home.

The bag is made of 100% pure leather and has a tough external shell. You can throw all the punches you want at it. It's not going to tear or rip easily.

The caveat is that you are going to feel the punches in your wrists. Especially, the hard uppercuts.

Installation is easy. The package includes both floor and ceiling attachments and comes with a bungee cord to adjust the tension and a nylon cord to secure one end.

Overall, it's a well-rounded package for boxers looking for a reliable 8-shaped double-end bag.
5. MaxxMMA Double End Striking Punching Bag
The Best Double End Bag Kit
The MaxxMMA Double End kit is perfect for home use.
It includes everything you need to get started with a double end bag. There's a door frame installation anchor, two heavy duty springs that give it excellent tension and bounce, a pump to inflate the bladder and two super-elastic cords.
Oh, almost forgot to mention that there's a pair of sparring gloves included too.
All of this with a solidly-constructed double end bag at this price point, is a no-brainer deal.
The bag is top notch and the standout of the kit.
It is made of pure leather and has a very soft external shell, once again aimed at beginners. On a positive note, you can go at this all day and yet, it won't hurt your knuckles.
Also, it holds up pretty well. One of the kids at the gym has had it for over six months and practices every day. No signs of wear and tear yet.
The only possible issue that we have with this is that, if you are a tall boxer (above 6 feet), then you will have to do a fair amount of customization to get this to comfortable punching height in a door frame installation.
There's a fair amount of bounce as well, which can sometimes catch beginners unaware. So, on your first few attempts with a double end bag, keep an eye out for this. It will come flying back at you.
6. Cleto Reyes Double End Bag
Best Overall double end bag
There's nothing fancy about the Cleto Reyes double end bag.

It has a pear shaped design, measures 7″ x 11" and comes in a fiery red with contrasting white cables and accents.

At first glance, it can pass off for a run-of-the-mill store brand double end bag.

But right from the moment you land your first punch on it, you can feel the quality. This is a near-flawlessly designed bag.

Pure leather exterior shell, nylon lined inner bladder, perfect amount of tension and wobble in the cables.

You can use it for routine practice as well as for improving hand eye co-ordination, timing and accuracy. It doesn't swing wildly. But will hit back at you enough to keep you in the game.

The slightly larger profile allows you to use it for combos as well.

The bounce is excellent and it doesn't hurt your knuckles one bit.

If only it came with the swivels and anchors needed for installation, this would have been our unanimous top pick.

As a workaround, Cleto Reyes throws in a replacement bladder in the pack which does improve the overall value for seasoned boxers who practice every day.
The Benefits of a Double End Punching Bag
Among all the practice/training tools in a boxing gym, the double end bag takes the cake.
That's because it does not limit your pugilistic skills in any way.
Right from building speed, rhythm, accuracy, timing and balance, you can use a double end bag for just about any aspect of the game that you wish to hone.
Greatly Improve Your Punching speed:
If you have been spending too much time on the stationary heavy bag throwing brick-hard punches, then the double end bag allows to tackle the other aspect of punching, speed. The bag moves rhythmically back and forth, side to side forcing you to increase punch speed to be able to connect to it. Sometimes, the movement is so erratic that you'd have to be lightning quick to land a clean punch.
Teaches you to Conserve Your energy:
As much as you'd want to improve your cardiovascular strength and go all out on a heavy bag or a speed bag, it is crucial that you learn to conserve energy. With the double end bag, you will get a good idea of the punches that are impossible to land. You will miss them. A lot of them initially. But after a few days, you start to separate the punches that are worth your energy from the ones that aren't.
Greatly Improves Your Precision & Accuracy:
One of the most important benefits of the double end bag is that it improves your accuracy. Try hitting a 5" bag that's swinging in all directions and you will realize how difficult it is to land clean punches. Your hand-eye coordination improves markedly and you will be better equipped to land punches on a fighter who's nimble on their toes.
Learn the Rhythm:
Irrespective of whether it's a pea shaped bag or an hour glass shaped one, the double end bag allows you to stay balanced while you move and adjust to the constant movement. When you are constantly moving, keeping your eyes locked on a small target and trying to land clean punches, you automatically work up a great rhythm.
That's not all either. There are a lot more innate benefits to working out on a double end bag. Timing, technique, conditioning, name it and you have it.
What are the Different Types of double end bags?
As we mentioned earlier, there are different types of bags for different types of practice goals.
The single round/oval bag
This is the quintessential double end bag. It's round or oval shaped, connected to the ground and the ceiling using an elastic bungee strap or para cord, and comes in a variety of sizes. Go for a smaller one and you can improve your accuracy and timing. Go for a bigger one to learn how to balance yourself better.
The Hour glass or Mexican Double End Bag
Shaped like the number '8' or an hourglass, the Mexican double end bag became extremely popular thanks to some of the top professionals from Mexico who spent hours practicing with it. The hourglass bag doesn't swing as much as a single bag does. But it's used to practice head and body combination punches since you have two bags to target. Adjust the tension correctly and you will have the equivalent of a sparring partner to throw punches at. The mexican double end bag vs traditional is a debate that many still debate but we would suggest going for the traditional bags.
Bladder vs. Foam Filled
Conventional double end bags have an inner air filled bladder that gives it the shape and the firmness. These bags are typically light weight and move fast. The caveat is that the bladder will keep leaking air as you punch on it. A foam filled bag on the other hand has a solid foam interior. It's softer and doesn't have the hassle associated with frequent refills and leaks. It does tend to move slower though.
Double End Bag Installation
A lot of people might disagree with us on this.

But we believe that the way you install the double end bag can improve or hamper its effectiveness.

We get it. The first reaction that most fighters have is to unbox the new bag and set it up as soon as possible, often using the stock cable/cord that was included in the box.

But it is important that you get the tension, the height and the air-pressure right, to be able to get the best out of it.
The cord:
Very often, manufacturers throw in a cheap, bungee strap to be used for the installation. That might work in the beginning. But as you progress, you will need to swap it with a cord that matches the weight of your bag. Heavy bag = Heavier cord. Light bag = Lighter cord. This allows the bag to move perfectly and subsequently allows you to land those punches, move and improve accuracy. Cord quality is equally important. You want something that can last you for months if not years without fraying or losing elasticity.
The tension:
The tension of the cord is what determines how much or how little it moves. A cord that's stretched out to max tension on a light weight bag allows it to move unpredictably. Reduce the tension a little and the bag will be a little more stable. So, when you are looking to hone accuracy, speed and offense go for max tension. If you want to practice defense, go for low tension.
The height:
The rule of thumb is to install it between your chest and chin height. But its subjective. We prefer it a little above chest high. Our coach prefers it at chin height. Some other fighters that we have boxed with like it an exact chest height. You will have to try a few different positions to find one that you are most comfortable with.
Check out the video below as well to learn how to install a professional Double End Bag
How To Set Up A Double End Bag – Double End Bag Installation
All said and done, you need a stable anchoring system to get the installation right.

Sometimes, it's not possible to get a permanent installation on the floor. For example, when you are installing it at home or in a rental apartment.

In such a scenario, the best double end bag anchors allow you to get a stable and reliable installation that doesn't wobble as you land those fast punches.

Here are the top 3 double end bag anchors that we recommend.
#1 – Outslayer Double End Heavy Bag Anchor
The Outslayer doule end bag anchor is one of the top rated anchoring systems for heavy bags as well as for double end bags.

Made of extremely durable vinyl, it has 300 lbs. max weight capacity.

Fill it up with 70 lbs. of sand and you are all set to start throwing those punches. Keeps the double end bag stable and grounded.

Comes with a 10-year warranty and is compatible with bags of all sizes. What more can you ask for?
#2 – Everlast DE01 Double End Heavy Bag Anchor
The DE01 is a professional grade anchoring system from Everlast.

Constructed from premium leather, it features a PVC inner bladder with a nylon reinforced outer layer, that can be filled with 45 lbs. of water. (You can also use play sand instead for a more permanent installation)

This makes it a great choice for portable use. Just flush out the water and it folds into a compact bag that can be tucked into your kit.

The only issue is that the warranty is just 120 days.
#3 – RDX Floor Anchor System
RDX'S floor anchor system works with both heavy bags and double ended ones.

Is constructed from premium Maya hide, has bright colored finishes and can be filled with sand.

The zip fastened closure system makes it effortless to fill or empty it.

Tip: You will need at least 50 lbs. of sand to fill this completely. Don't be fooled by the size.
Things to consider when trying to buy the best double end bags
There are a few different variables that determine the quality of a double end bag.
The material:
Most manufacturers use 100% pure leather or a PU leather synthetic blend. Both work well. Pure leather shells tend to be tougher than synthetic blends though. Also, they are pricier and they start to crack with prolonged exposure to moisture.
The stitching:
Anything that's constantly moving and under pressure will start to wear with time. But durable stitching at the seams will prolong its lifespan. Look for bags with triple stitched seams. These tend to last for months without fraying.
Size:
Always buy a bag size that's in sync with your drills. Small = Accuracy, Medium = Offensive/Defense, Large = Beginners
Best Double End Bags Reviewed - After Thoughts
You made it here, now you should know which bag is best and which one you are going to go with.
Our top recommendation is the RDX Double End Speed Ball Bag.
That's it folks. We hope that you have a great time practicing with the best double end bags.

Do write to us if you wish to add anything to this and also share your experience with the bags.