Best Ellipticals for a Short Person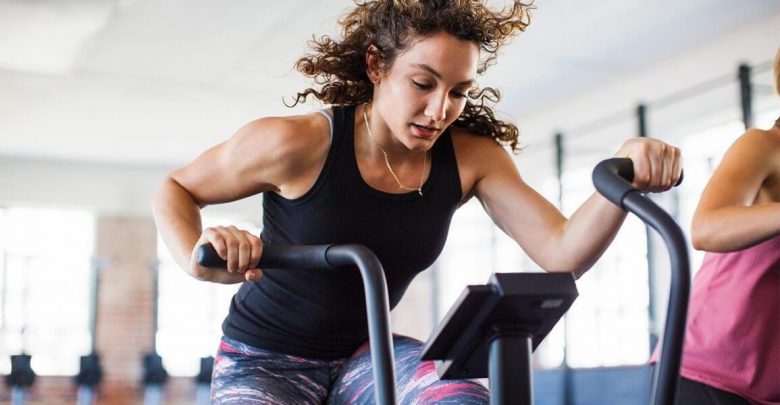 Being shorter than average height does not mean that you have to sacrifice on a vigorous cardio routine on the elliptical trainer. All you need is the best elliptical for short person.
Conventional elliptical machines have a maximum stride that ranges from 17" to 21" and more. 
People who are shorter than 5'7 normally have a maximum stride of 14-18". 
If you are one of them and you work out on a conventional elliptical, then you are likely to end up spraining your groin muscle, as you try to compensate for the few extra inches in that stride by stretching your legs. 
Not to mention that it can be extremely uncomfortable to do that every other day for an hour or more. 
Today, we will look at the best elliptical for short persons and we will also present you with our reasons on why these elliptical trainers made this list.
---
Best Ellipticals For a Short Person
Below is our list of the top ellipticals a person who is short with full reviews of each elliptical. These short person ellipticals are tested and handpicked by myself and my wife (who stands at 5'1"). We picked the top choices based on quality, function, and budget.. in that order.
---
Schwinn Elliptical Machine – Best Bang for Your Buck
Best features
Super compact footprint
Excellent Value! Bang For The Buck!
Very Affordable
Portable and Easily Moveable
17.5" stride which is perfect for short people
Stainless steel frame
Thickly padded handlebars 
Wide, comfortable pedal
16-levels of resistance
Can be synced with RunSocial App to select 27-routes and 19-locations
Can work out with your buddies through the app
best for short people with little space or low ceilings
The first thing that caught our attention about the Schwinn 411 Elliptical Machine was the super-compact footprint. It could almost pass off for an elliptical for teenagers or kids even.
Is about 6' in length and 2' feet wide. 
But, it offers you a 17.5" stride, which is just perfect for short adults. 
Moreover, it will easily fit into a corner of your living room or your basement without looking like an oversized clunker. 
The entire frame is made of heavy duty stainless steel and there's ample padding on the handlebars as well as on the pedals for comfortable, everyday use. 
The machine is reasonably quiet during operation and it does not wobble one bit even when you are using it at the highest resistance setting. 
On the top, it has a very streamlined console that we believe is in sync with the overall space-saving design. So, you get information about the distance covered, the calories burned, your current heart rate and the time spent exercising. But that's about it. Nothing fancy. 
If you tend to get bored easily with mundane workouts on trainers, then you can sync it with RunSocial, a mixed-reality app that allows you to workout with your friends who use the Schwinn Elliptical trainer. 
You can select from 27-routes in 19-locations. Somewhat like a virtual reality feature. 
Oh, almost forgot to mention that you can increase the resistance to 16-levels. Anything beyond the 8th level and you will be sweating like a pig. 
Schwinn offers a 10-year warranty on the frame, 2-years on all parts and 90-days on the labor. 
This is Schwinn's most basic offering. Yet, it ticks all the boxes that one looks for while buying the best elliptical for short persons. If you are shorter than 5'7, go for it. We are sure that you won't be disappointed one bit.
---
Sole Fitness E35 - Editors Choice - Best Overall
Best features
Extremely feature-rich, best elliptical for short person
Minimum stride of 14", max of 21"
375 lbs. max weight capacity
Stainless steel construction
Heavily cushioned, adjustable pedals with 2-degree inward curvature
Gentle on your knees and ankles
29-lbs. flywheel and high gear ratio
Butter smooth operation
7.5" LCD screen
Can connect your iPod and MP3 player
Stationary as well as moving handlebars 
Built=in sensors for pulse tracking
Chest strap to monitor heart rate
We almost passed off the Sole Fitness E35 because of its 20" stride length. But on second glance, we realized that the 15-inch pedals are adjustable and it has a minimum stride of just 14-inches.
Moreover, it is so feature-rich that it deserves a spot in this list of the best elliptical for short person. 
The E35 is a brute of a machine that's 7" long and 27" wide. It is crafted from heavy duty stainless steel from head to toe and weighs a whopping 230 lbs. when fully assembled. If you are looking for an elliptical that you can move around easily at home, then this isn't it. 
Instead, if you hate flimsy elliptical machines that start to wobble if you add some intensity to your steps, then this will be the right pick. It stays as steady as a rock even at the highest intensity setting. 
Talking about intensity, you can add additional resistance, as well as incline the ramp from 0-30-degrees to make this a challenging HIIT workout if need be. Irrespective of the intensity, the 29-pound flywheel and high gear ratio ensures butter smooth operation without causing a din. 
Also, the heavily cushioned, oversized pedals with specially designed, 2-degree inward angle ensures that there's absolutely no pressure on your knees or ankles. Perfect for high-intensity, low-impact workouts. 
The E35 features both moving as well as stationary handlebars with built-in sensors to track your vitals. You can also use the chest strap to monitor your heart rate if need be. 
There's a 7.5" LCD display that shows you the data tracked by the sensors. Also, this will serve as your entertainment console if you connect your iPod or MP3 player to the elliptical. 
Overall, we absolutely loved the Sole Fitness E35. It has the best mix of features that we've seen among elliptical trainers.
---
Sunny Health & Fitness Magnetic Elliptical Trainer
Best features
Compact elliptical for home use
Perfect for short persons on a budget
Excellent for short ceilings
Simple and Easy to Use
Weighs just 104 lbs.
Casters for easy transportation
Floor stabilizers to keep it stable
Backlit LCD display
16-magnetic resistance levels
24-inbuilt programed workouts
This Elliptical trainer from Sunny Health and Fitness is another budget-priced pick that caught our eye in the gym the other day. 
After a couple of rounds on it, we were pleasantly surprised with how smooth the operation was, and also with the bunch of resistance modes built into it. 
With a 14" stride, it is the perfect size for short users. Club that with a reasonably small form factor and you've found the perfect elliptical for a home gym. 
It weighs 104 lbs. and comes with caster wheels for easy transportation around the house. However, it does lack a handle on the rear which would have made it so easy to push it around. 
Thickly padded handle bars and large textured pedals greet you as you step on to this Elliptical. The movement is smooth and quiet thanks to the internal flywheel and belt-drive mechanism. 
As you get used to the workouts, you can quickly adjust the resistance and there are 16 incremental levels to choose from, based on a magnetic tension system. 
That's double the number on the Ncient Elliptical. 
For an Elliptical under $400 this has an impressive high weight capacity of 330 lbs. and there are inbuilt floor stabilizers that keep it rock steady even during strenuous, high-intensity workouts. 
Apart from the increased resistance, you can select from one of the 24-workout modes that include manual mode, pre-programmed, fat burning and heart rate booster. 
A petite LCD display shows you the vital statistics. Thankfully, it is backlit and visibility should not be a concern even for seniors. 
The only possible niggle that we could find with it is that the cup holder is a little shallow and you'd have to find a cup that fits in it. Otherwise, this is a terrific pick for anyone who's looking for a barebones elliptical machine for home use. It is simple and effective, no frills attached.
---
Ncient Elliptical Machine - Excellent OFF Brand Option
Best features
Measures just 63" L and 18" W
Cheap Elliptical for Short Persons
13" stride which is perfect for short users
Large, padded foot pedals
Thick padding on the handlebars
LCD display that shows time, distance and pulse
Quick scan mode
12 lbs. Flywheel and V-belt drive system
Weighs just 75 lbs. with a max weight rating of 265 lbs. 
8-magnetic resistance levels to choose from
Great value
Budget-priced elliptical machines are dime-a-dozen. But most of them are plagued with noisy flywheels and squeaky gears, if not extremely uncomfortable pedals. 
This one from Ncient though boasts of 100% positive customer ratings and is loaded with a lot of features for its price tag. 
For starters, it measures just a hair over 5-feet in length and just 18" in width. This will fit into the smallest of rooms and home gyms. Moreover, it weighs just 75 lbs. when fully assembled and has large casters on the front of the unit which allows you easily to move it around the house. 
The stride length is just 13". Perfect for users who are 5' to 5'6. The maximum weight capacity is 265 lbs., which is just about right for an elliptical this size. 
It features a 12 lbs. magnetic flywheel and a V- belt drive that are butter smooth in operation and as a result, the machine is reasonably quiet. 
This is a magnetron car based elliptical and you can pick from 8 magnetic, resistance levels. 
Adjusting the resistance is as simple as turning a knob on the unit and you can do it anytime during the workouts if you wish to make it more challenging. 
The handlebars with the pulse and heart-rate sensors, and the roomy, non-slip pedals have sufficient cushioning to keep your workouts low impact.
The Ncient Elliptical boasts of a compact, digital display that shows you the pulse, the speed, the time, distance and heart rate. There's also a convenient scan mode that allows you to quickly compare your current stats with previous logs. 
Apart from bells and whistles like an iPod jack, Bluetooth, wireless connectivity and a water bottle holder, the Ncient Elliptical machine has all the features that you'd need for a comfortable, satisfying cardio workout. 
If you are shopping with a low budget, look no further. This is one of the best elliptical for short person that doesn't cost an arm and a leg.
---
Exerpeutic 1000XL
Best features
13" minimum stride
Compact design perfect for short ceilings
300 lbs. max weight capacity
Large, non-skid pedals
Dual-directional flywheel for workouts in both directions
Large V-belt drive
Silent and smooth operation
LCD display
Knob to increase resistance
8-resistance levels
Option to connect Bluetooth and sync with the MyCloud Fitness App
Our last pick is the Exerpeutic 1000XL that's available in two configurations, with and without Bluetooth connectivity. 
With Bluetooth, you can connect it to the MyCloudFitness App on iOS and Android devices and track your workouts as well as maintain progress logs. 
This is a simple, magnetic elliptical machine with adjustable pedals. The minimum stride is 13", perfect for short users and the maximum is 20", which makes it ideal for household use where users of different heights may use the machine. 
Talking about household use, this is a very compact machine that will fit right into an apartment or into a tiny basement. 
What it lacks in size, it makes up in weight capacity, which is 300 lbs. So, it's ideal if there are users who are short and fat.
More importantly, it does not shake or squeak even if a tall adult who weighs 280 lbs. uses it at the highest intensity setting.
There are 8-incremental intensities to choose from. That's not a lot by current standards. But hey, it's the effectiveness and the degree of resistance that matters. Not the number of levels. Even at the fourth resistance setting, this will give you an incredible workout. 
On top, you have dual handlebars. The stationary one has the in-built sensors whereas the moving one is thickly padded. In the middle, there's an LCD display that keeps you informed about the time, distance, speed and calories burnt. 
We like the calorie addition as it makes it easy to track the effectiveness of your workouts. 
Just below the LCD display, there's the resistance knob which makes it a cakewalk to adjust the intensity on-the-fly. 
The pedals are large and have a non-skid surface which keeps you balanced throughout the workout. Under the hood, it boasts of a dual-directional flywheel and a large V-belt drive that work smoothly with very little noise. 
If you are looking for a magnetic elliptical for home use that has a comfortable stride for short users, then here's one of the best options. 
---
I'm A Short Person.. How Do I Find The Best Elliptical?
In case you didn't notice, manufacturers often try to sway you into buying their fitness equipment by talking about fancy features that will make no difference to your workouts anyway. 
When it comes to elliptical machines, you'll often hear about inbuilt speakers, iPhone connectivity and a display large enough to be a TV. 
We are all for interactive entertainment.
But those are not the most critical features to look for when you are buying an elliptical machine for a short user, are they?
Understanding Your Short Stride Length
When you hop on an elliptical machine, you will have each foot on the pedal, or the foot well, and you'll grab the moving handlebars and move in an elliptical stride. 
When the front and back pedals have reached a point where it cannot move any further, then the distance between the pedals at this point is called the stride length. 
While it's not THE most important factor while choosing an elliptical machine, it definitely is amongst the most important variables to check if you are a short person or one of the users who will be using the elliptical is shorter than you. 
Why Stride Length is so Important
Why Does the Stride Length Matter So Much?
Because generally, short people have shorter legs which essentially reduces the distance between their legs when they are fully extended to the front and the back. 
In other words, they have a shorter stride length.
Elliptical machines have stride lengths ranging from as little as 13" to as high as 22". 
The rule of thumb is that if you are shorter than 5'7, go for an elliptical with a stride length of 14-18".
If you are taller than 5'7, chances are that you'll need 18-21" at least. 
Wrong Stride Length can affect your posture
According to the American College of Sports Medicine, you should be able to stand upright on an elliptical when you are holding to the handles. If you buy an elliptical that has a longer stride than what's optimum for your height, you tend to lean forward to compensate for the extra movement.
Over a period of time, this will begin to affect your posture. 
This is also one of the reasons why rear drive machines are more popular than front drive ones. The rear drive belt systems have a rail and track mechanism that allows the perfect elliptical movement.
The front drive one on the other hand just mimics the elliptical movement which makes the exercise more difficult. The movement is flatter which can make the stride length seem longer than normal. 
Some people compare this to working out on a stair climber instead. 
What if there are multiple users at home? Short and Tall
That's a common conundrum faced by families. One user may be 6'2 while the other one maybe 5'4. 
Check both, the minimum and the maximum stride length. As long as it ranges from 14-21", you are good to go. 
The good news is that the ellipticals listed above are perfect for short people with short stride lengths but are also good options and will work for people that are taller because the stride lengths on them ranges wide to accommodate a wide range of heights
Factors to Consider when Choose The Best Elliptical for Short People
Once you figure out the ideal stride length for everyone at home, here are some of the other features that you must consider before you shop for elliptical machines. 
Dimensions – What is the ellipticals footprint?
How much available room do you have to park the machine? Also account for the additional room needed vertically for the tallest user when they ascend the pedals. A lot of elliptical machines these days have really compact footprints as they are designed for home use. If you have an apartment or a really small basement, you'd want to check out the ncient elliptical machine in this list. It's the smallest one that we've seen in a while. 
Portability – Is the elliptical easy to move around?
Will the elliptical machine be parked permanently in a room? Some people like to move it to another room after the workout and caster wheels can be really useful in such a scenario. If that sounds like you, then ensure that the one you pick is designed for portability. Check the size of the casters. Does it have a handle on the rear that you can use to push it? 
Resistance – Does the elliptical offer multiple resistance strengths?
As your leg muscles get stronger, your body will adapt to the resistance that the elliptical offers. That's when you'll start to yearn for a more challenging workout. Some elliptical machines have multiple resistance settings to select from. Budget-priced options may have 8-16 resistance settings with a magnetic tensioning system. 
Build quality – Will the elliptical last you a long while
A good quality elliptical machine will work smoothly and will be stable when you work out. If it squeaks and wobbles, then chances are that it isn't cut out for the kind of intensity that you are subjecting it to. 
Noise – Is it gonna be noisy?
Noise is subjective. But a lot of people underestimate the kind of noise that an elliptical machine can cause. To give you some perspective, it's enough to drown the sound of your TV even if it's turned up all the way. Thankfully, all the treadmills in this list are handpicked for noise-free operation. 
Vanity features – You want it simple or Nice?
Everything else, including the size of the LCD display and the ability to hook your music player, are vanity features. The more on offer, pricier the unit will be. But be rest assured that you can get a great workout without any of these features.
Which Elliptical Should You Choose? - My Recommendation
Some of you shorties might still be on the fence or be a bit confused on just which one of these ellipticals is going to be best for you. You may want to keep budget in mind while still getting the best option that you can for your buck, and you might not need the very best option out there.
If this is you, then my recommendation is to go with the Schwinn Elliptical Machine as it is the best option for a short person who wants quality, the perfect short stride length, and does not want to spend a fortune. 
You can check it out on amazon by clicking here.
Related Reading: