Best Heavy Bag Stands for Kickboxing – Bang For Buck Cardio Workouts for Women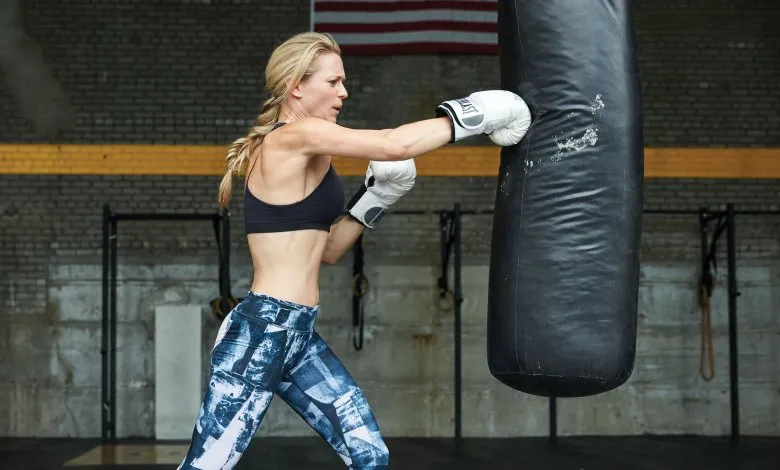 Kickboxer looking for a heavy bag stand, you know.. so you don't have to drill holes in your wall?
Good you made it to the right place. That was me not too long ago.
The whole process of setting up regular heavy bags takes some work and the time it takes to drill ceiling beams and hang the bags is no joke. Freaking time consuming as heck.
The better, less stressful option is to buy a heavy stand that was designed for kickboxing bags.
Our Top Pick
Everlast Kickboxing Bag Stand
Editors Choice
Best Overall Option
Best Bang For Your Buck - Cost Effective
Compact - Space Saving Design
Built to Last - I've owned it for 4 years now
It's the Stand That I Personally Own
You have to keep in mind, though, that there are a few factors to consider before drawing out your credit cards for one.
Some of them include the bag stand weight limit, types, adjustability, materials, stability and so on.
All these are the things I considered in compiling this list of the best kickboxing heavy bag stands from the popular brands on the market.
Understandably, the question of which to go for depends to an extent on your training needs and goals, but one thing you can always be sure of is this:
whichever heavy bag stand you decide to go with on this list, will serve its purpose and provide good value for the money you spend.
This is because,
I have only listed the ones that from my personal research, I deem worth it. The rest were left out.
Best Heavy Bag Stands for Kickboxing
Below is a comprehensive list that I compiled for you of the best heavy bag stands that you can find.
1. Everlast Heavy Bag Stand
Best Bang for Your Buck Kickboxing Heavy Bag Stand
Specifications and Pros
Support up to 100 lbs of weight
Made of heavy-duty, powder-coated steel tubing
A small footprint of Length: 175cm (69") x Width: 126cm (48.25") x Height: 214 ( 84.13")
Easy to assemble and install
The height is adjustable to fit in all types of heavy bags.
Prevent you from drilling holes in the wall or ceilings.
Easily movable.
The Everlast brand needs no introduction when it comes to boxing equipment, and you absolutely should not be deceived by the basic look and features of this model. It is highly durable, well-balanced, and made with heavy-duty, powder-coated steel tubing.
For other brands and models of heavy bag stands, assembling and installation can become a headache. Not the Everlast heavy bag stand, as it is pretty easy to assemble and ready for use almost instantly.
It also maintains its stability with three pegs for additional weights. It is advisable to put weight on each of the three pegs to avoid tilting or falling over.
On its own, the stand weighs around 55 lbs and can support a heavy bag weighing up to 100 lbs.
The Everlast bag stand is one of the cheapest heavy bags for kickboxing on the market, and this may be due, in part, to the fact that you are limited by the angles that you can punch or kick (you cannot strike at 360 degrees for example).
If this limitation does not bother you, then by all means, the Everlast bag stand is really the best low priced stand you can get if you are a kickboxer.
---
2. Everlast Bag Stand With Bag
Best All in One Kickboxing Combo Pack
Best Features
All in one combo pack
Provides Excellent Bang For Buck
Comes with a heavy bag
Affordable
Compact - Doesn't take up a bunch of space
Sturdy - Doesn't tip
Built to Last
Just like the stand, the Everlast bag is known for its quality and durability among numerous boxers and martial artists. It is highly recommended that you opt for the 100 lb heavy bag weight to go with this sturdy stand.
The Everlast punching bag is a synthetic and high grade, with quick action response and a dimension of 13.50 x 13.50 x 53.50 inches. 
And although the bag is water-resistant, you will do yourself a favor by keeping it indoors.
If you think you will be using your bag outside then I would recommend checking our outdoor punching bag guide out.

---
3. Another Excellent Value - Century Heavy Bag Stand
Specifications and Pros
Dimension of 5.1 x 52.4 x 21.3 inches
3 inches tubular construction.
Fairly sturdy and robust construction
Weighs 48 pounds and supports 100 pounds of weight.
Requires adding weight to the bases.
There are metal loops on the floor support to attach the bungee cord of the heavy bag.
This heavy bag stand is another basic yet quality heavy bag stand that comes in at a cheaper price.
It is comparatively light, with a weight of 48 lbs and a weight support limit of 100 lbs, but of course, it will be wise to attach 10% or thereabouts less weight. The Everlast 70 lb Heavy Bag would be a great option for this stand.
Though its weight is surprisingly light for a heavy bag stand, it has been tested and proven to be stable and durable. It can also be extended to a height of about 7 feet to accommodate fighters of different heights both tall and short.
It is made with a steel tubing about 3 inches thick, making it stronger and more durable. Adding weights to its three bases is necessary to maintain stability and keep it standing as you punch and kick.
One disadvantage of this type of basic heavy stand is you can't attack at 360 degrees with your feet, due to the two base supports. All in all, it is a basic, cheap heavy bag stand that is built well, is reliable and is perfect for kickboxers.
---
4. Century Fitness Training Station
Best Kickboxing Heavy Bag Stand with Pull Up Bar and Dip Station
Specifications and Pros
Shipping Weight of 93 pounds
It can support up to 100 lbs.
Versatile and great for different exercises
Perfect for building your upper strength
Comes with bolts for push up handles, pull up bars, dip handles and heavy bag hanging
Highly compact and well designed to fit into a small room
Top-quality product from a reputable fitness brand
If you are looking for a versatile stand that serves more purpose than just hanging and holding your heavy bag, century fitness training station is your answer.
For a martial artist, switching to other types of training is a good option to have, and this heavy bag stand with pull up bar is an excellent choice for all-in-one training.
The Century Fitness Training Stand is sturdy enough to handle all the rigorous training you can possibly throw at it. It can hold a bag of 100 lbs in addition to the full body weight of the user during push up or pull up. Also, you need not worry about putting down the weight after exercise; this stand is capable of holding weights for a very long time.
It is a bit more expensive than the regular and basic stands, but this is expected, considering the extra features and stronger heavy bag stand you are getting.
---
5. Everlast 2 Station Stand
Best Kickboxing Bag Stand With Speed Bag Platform
Specifications and Pros
Assembled Dimensions-66.5 L x 47.6 W x 87 H inches
It can hold up to 100 lbs of heavy bags
Scratch-resistant with its powder coating
Great for indoor kickboxing training
Speed bag mount is adjustable
Sturdy and solid construction
relatively easy to assemble
This model from Everlast is another excellent choice for those that want speed training to go with their heavy bag workout. This punching bag stand with speed bag platform provides excellent stability and stays planted even with the strongest of kicks.
It is an excellent choice for kickboxers who want to have a speed bag and platform set up as well.
It cannot be considered to be very stable like high-end heavy bag stands, but it is definitely the best you'll get in its price range and provides great value for its users, as supported by many positive reviews from satisfied customers.
It is highly resilient and sturdy, but you will need to add some weight to its base to maintain real stability. It is designed with three weight pegs to add sandbags, weight plates, and so on.
As per usual with Everlast heavy bag stands, this is also made of heavy-duty, powder-coated steel tubing, which makes handling the bars easier and the equipment highly durable and scratch-resistant.
The Everlast 2 Station Heavy Bag Stand is perfect for indoor use thanks to its compact space saving build.
---
6. FDW Heavy Duty Punching Bag Boxing Stand
Cheapest Heavy Bag Stand for Kickboxing
Specification and pros
It is budget-friendly
Occupies a minimal area
Support as much as 110 pounds of weight
Equipment weighs 47 pounds
Made of high-quality Steel
Strong and durable
it is easy to assemble
Many people take budget-priced equipment as substandard. Not an FDW heavy bag stand.
FDW may be well priced, but it is also made with high quality and strong material, making it as durable as any heavy bag stand in it's price range.
Just like buying an FDW heavy bag stand does not take much from your pocket, it also does not take much of your space.
It's only 52" x 44" x 91" in dimension, making it small enough to fit into a small space in your room or gym, and it's also tall enough for fighters of various heights.
To prevent the whole of your training settings from falling over, you will need to add weights as appropriate to the three pegs on the stand. This heavy bag stand has a basic look to it but it is made of high-quality steel. Its frame can hold as much as 110 pounds of heavy bag weight.
For the price, it is an excellent option for beginners and easy to set up by anyone with no experience required.
---
7. Titan Adjustable Heavy Bag Boxing Stand
Most Compact Space Saving Stand
Specification and pros
It can hold up to 300 LBS of heavy bag
Weight of 115 LB
12" x 12" base plate for increased stability
Adjustable heights of 7' 4" or 8' 6."
Made with heavy-duty 11 Gauge Steel material
Occupied very little or no floor space due to its vertical design
360-degree access to the heavy bag
One of the very first things to consider when choosing a heavy bag stand is the power and strength of the equipment. It is crucial to have the peace of mind that the stand won't be tetter tottering back and forth during rigorous training. If that is one of your concerns, then the Titan heavy bag stand should be on your list.
Its design makes it take almost no floor space, and its frame is made from heavy-duty coated 4" x 4" square steel held together with solid bolts.
It comes with a 12" x 12" footplate that adds to its strength and stability. With these strong features, the stand can withstand rigorous training for a very long time.
Unlike other designs of heavy bag stands, this stand provides you with the freedom to practice your footwork and attack the bag from all angles, which means 360-degree access.
Another freaking impressive thing to note is that this stand can carry as much as 300 lbs of heavy bag weight and can be adjusted to the heights of 7' 4" or 8' 6" to fit in different sizes of bags.
---
8. Titan Dual Station Boxing Stand for Speed & Heavy Bag
Specifications and Pros
Weighs 63 pounds and can support a bag of 100 pounds
It has a dimension of 83-1/2 inch height, 62 Inch Length and 47 Inch Width
Made of powder-coated steel tubing for durability
it includes a speed bag mount for movement training
The speed platform can be adjusted in four different positions
It has three weight pegs to avoid wobbling during training
Two of the essential characteristics of a champion is speed and power. Titan Dual Station stand gives you what you need to train optimally for both. It is constructed with heavy-duty coated steel tubing and can take as much force as you can throw at it.
It can hold a bag as heavy as 100 lbs, as long as you attach the appropriate weights to the weight plate pegs for stability as you throw your punches and kicks. There are not many better stands out there that give you what you need to improve your kickboxing skill and also allow you to work on your upper body strength.
Titan Dual Station Boxing Stand is a very small stand: small, but solidly built with a sleek design and impressive construction.
It can be adjusted to a height of 83-1/2 Inch tall. This is perfect choice for those living in apartments or for those with low ceilings.
For a dual heavy bag stand, its price is definitely fair.
---
9. Happybuy Foldable Boxing Heavy Bag Stand
Specifications and Pros
The frame is made of steel
The punch bag is made of PVC material
It is about 7 feet in height
It can handle a heavy bag of 132 lbs
Its weight is 42.5lb
The equipment can be used for push-ups
Dimension when assembled is 179x98x203cm/5.9x3.2x6.7ft
triangle shaped base increase its stability
Foldable, easy to move around and assemble
If you want speed and coordination in training but do not have the luxury of space in your workout area, this model of Happybuy is a good fit for you. When used right, it can build up your upper strength and your core. And the speed bag is there to improve your coordination and agility.
Made from iron and PU, the stand is rugged and well-balanced. It is robust and can take whatever impact you throw at it. The punch bag is made of PVC material that is resistant to water and other conditions.
Stability is another one of the good points of this Happybuy model. Its base is highly stable due to its strong material and triangle shape. That is in addition to the overall frame and the powder-coated iron it is made from.
The stand itself is about 7 feet tall and can hold a heavy bag of 132lb. On its own, it weighs about 43 lbs. The foldable feature means it is easily movable and convenient to assemble within 30 minutes, according to the manufacturer's instruction.
This stand gets the win for ease of set up.
---
Types of Heavy Bag Stands
A kickboxing heavy bag stand has to give enough room for your kicks and footwork.
Of course, more features such as pull up bars, push bars and dip handles have been added to some models for optimal training. But these typically cost more and are not really what us kickboxers are looking for.
Here are the types of heavy bag stands and what to expect from each.
1. Single Station Heavy Bag Stands
These are the basic types of heavy bag stands. They don't come with a lot of extra features and are built mainly for training. The only section they have is for mounting the heavy bag.
They are an excellent choice for beginners and fighters with limited space as they have an averagely small frame and footprint. Expectedly, they are low priced. They can be sturdy and stable, but some will require you to support their bases with extra weight.
2.
The heavy bag wall mount
This is often attached to a strong wall making the shape of an L. You are almost guaranteed utmost stability during training, but a lot depends on the strength of the wall. One downside of this type is that it is not easily movable. So, you probably need to fix it in a permanent or semi-permanent location.
3.
Dual Station Heavy bag stand
If you are a kickboxer, having a dual station heavy bag stand is an excellent choice. Making the optimal use of the two sections is essential for optimal training. The main section is for mounting the heavy bag while the other, at the opposite side, is for speed bags, which is essential to gain coordination during training sessions.
4.
Multi-Station Heavy bag stand
These bag stands hang from 3 stations. They are commonly found in professional training centers. If you are planning on doing kickboxing big time or becoming a top-notch MMA or Muay Thai fighter, it makes some sense to invest in one of these.
The multi-station stand has sections to hang the heavy bag, speed bag, and other types of punching bags.
These do of course cost more than traditional bag stands.
---
Things to consider the most when choosing a Kickboxing Stand
1. Weight limit
This deserves to be the number one consideration, thanks to the fact that going beyond the weight capacity can make your heavy bag tilt and unstable. It is essential to check the weight capacity of your heavy bag stand and relate its weight capacity with the weight of your heavy bag.
2. Material
Steel is the typical material used in making heavy bag stand frame. The steel tube is often coated and made to make the stand durable and stable while also providing a good finish. The thicker the steel tube, the more durable the stand.
3. Design
Kickboxing requires a lot of movement space for kicks and strikes. Buying and making use of a stand that limits your movement and footwork will take it's toll on your training output. The wall mount gives you all the room you need to practice your footwork as needed.
Unfortunately, those with weak walls will have to make do with other types of stands. In any case, it is vital to consider the design that gives the space and freedom you need for optimal training.
4. Price
What most people consider before making a buying decision is their budget, and that's okay. But the ultimate factor in choosing the best stand is the functionality and then durability.
For beginners and those always on the move, the low priced stands will serve a good purpose as long as you don't weigh them down with loads and expectations.
FAQ Most Kickboxers Have When Buying a Bag Stand
Listed below are the most commonly asked questions that most beginners have when buying a heavy bag stand.
Is it necessary to screw the base to a solid surface or use extra weight to hold down the stand?
Yes. Most of the low budget heavy bag stands will need solid support at the base for stability. You add supporting weight for this purpose.
Are the stands assembled from the factory?
No. For easy transportation, the stands are sent to you in pieces with assembling instructions. You should have no problem installing the stands following the manufacturers' instructions.
How do I know the right height to mount the heavy bag?
The standard practice is to make sure the top of the heavy bag aligns with the head of the user.
Where can I hang the stand?
It all depends on where you can go about your training without being disturbed or disturbing others. You may decide to hang it in your room, your garage or any other place where you can have a perfect workout.
---
Tips for kickboxing
Whether you are training to just kickass or to be a professional martial artist, kickboxing goes deeper than kicking or hitting people. It involves muscle building, burning calories, cardio conditioning, maintaining balance, flexibility, accuracy and the list goes on.
Kickboxing can make you not only a terrific fighter but also improve your fitness and health. Here are the few tips to maximize your kickboxing training.
1. Don't eat before training
To avoid vomiting and negative consequences when getting hit in the hollow of your stomach, it is advised to eat two and a half hours before training. Also, you should not train after an extended period of going without food.
2. Drink Water Before and After Training
The instinct would be to gulp as much water as you can during training. Don't. If you have to drink during kickboxing training, drink as little as possible to avoid choking when hit in the stomach. You can drink a lot of water 15 minutes before exercise and after, but take enough carbohydrates to replenish some of the lost energy.
3. Pick your kickboxing goal and work towards it.
Like other activities, it is hard to train optimally without having a realistic goal. Determine your personal goals and develop plans to achieve them. The goals can be from developing your fighting skills, full-body conditioning to improving your cardiovascular health. Whatever it is, it becomes easier to achieve and work towards when you have a training target.
4. Pick a style for your kickboxing goals
Kickboxing has several styles. The style that will work well for you may depend on your kickboxing goals. Each style has techniques that you should focus on. You may need to focus more on techniques such as Muay Thai if your goal is to learn self-defense or cardio kickboxing for overall fitness.
---
Top Kickboxing Equipment Brands
When it comes to choosing a heavy stand for kickboxing or other equipment, brand matters. A good brand has a reputation you can count on when making a buying decision. Below are the makers of kickboxing stands and related equipment you can actually count on.
1. Everlast
The name Everlast has been the leading manufacturer of boxing and MMA equipment since the early 20th century. Its products and fitness equipment have been used by boxing and MMA champions for several decades and in 101 countries, with 88 licenses across the world. There is no better brand to trust than Everlast.
2. Century
Century has carved a niche for itself as a go-to MMA equipment brand. Since its inception in 1976, it has consistently been innovative in martial arts training equipment production. You must have come across its mark at a UFC game or other events.
Century is at the forefront of the industry product and training revolution. Buying a Century heavy bag stand means you are choosing a cutting edge and well-detailed training equipment.
3. Titan Fitness
Titan is a company that prides itself on supplying quality fitness equipment with excellent customer service. With support and customer service that is on standby to take your orders and attend to any issue you may have. I assure you are definitely in safe hands with Titan.
Sources: