9 Best Punching Bags You Can Buy Today| Heavy Bag Buyers Guide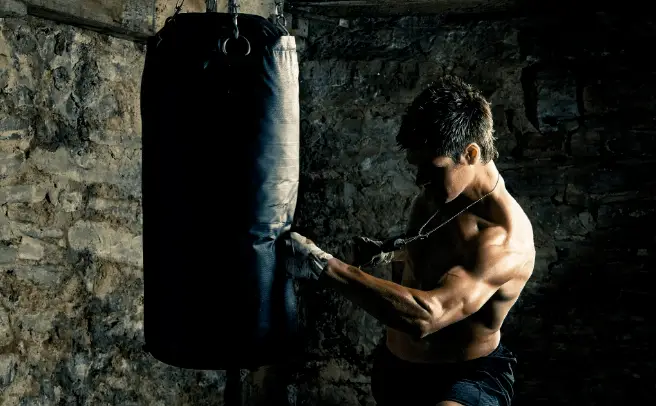 Grunting, yelling, and screaming at a heavy bag won't do the trick for you. You will have to be smarter than that. First and foremost, you will have to get the best punching bag out there that your budget can get you. Frankly speaking, this won't be an easy affair. If you are a clueless shopper, you won't be able to nail things on your own.
So, to kick out the better shopper in you, we have included below a list of top 9 punching bags that you can consider without missing a heartbeat.
Top 9 Punching Bag Reviews
As you will notice there are many brands and models of heavy bags out there right now all competing to get that top spot. I personally think the best punching bag is the Outslyer Muay Thai Heavy Bag, this is my personal favorite punching bag of all time. Its also fairly cheap and inexpensive when compared to some of the others.
The bags below are rated from my personal experience and years of using each and every one of these punching bags. 
---
1. Outslyer Muay Thai Heavy Punching Bag – My Personal Favorite A.K.A. "The Best"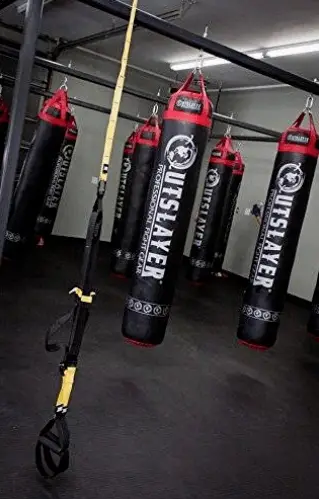 The Muay Thai Heavy Punching Bag Red offers more kicking and punching surface for a person of any height. The filling is also solid, and it settles well after few some use.  Better yet, it looks as sharp as a professional punching bag.
The product comes with an unusually generous 10-year warranty. But, it does not seem like users will need it because the bag is pretty well-built for long-lasting performance.
You will love beating on this bag. It does not have the spongy-feeling like other inferior bags that you get from a local sports showroom. The striking surface is hard and firm to take good blows without causing undue stress on your arms.
If you are looking for a solid, heavy, and tall punching bag that will last a lifetime, you can't go wrong with the Muay Thai Heavy Punching Bag. It has a skin-friendly material on it, and it arrives in a nice protective bag. Overall, it offers a lot of reasons to fall in love with the punching bag. As far as we know, it's a punching bag worth considering at its price point.
2. Outslayer Boxing MMA 100lbs Heavy Bag Filled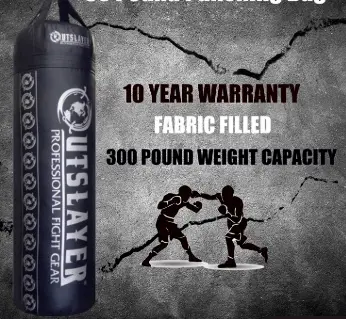 It's professionally made in the U.S., and not imported from some third-world country. Cheap quality is not a rule with a third-world exported item, but a huge chunk of the population prefers something made in the USA itself.
The bag is perfect for hardcore use. Also, it doesn't sway a lot more than what it's supposed to. Frankly speaking, it's one of those bags that really lives up to all the positive reviews.
It includes straps as opposed to the regular chain for the sake of hanging. As a result, you will find it quieter than the competition. Plus, you can expect to get a lot of use out of the punching bag because it's built to last.
You get a solid 10-year warranty on this heavy-duty punching bag. The makers need to have a great deal of confidence in their product to offer such a long-lasting warranty.
At a 100 lbs body weight, this heavy punching bag can easily survive boxing, MMA, martial arts, and regular fitness training. For those who don't know, the height of the punching bag is 55″, so the striking surface is pretty big. Better yet, it comes with a durable vinyl cover for easy transportation. On the whole, it's a very nice bag for the money you pay for it. It ranks high in the list of the top bags on the market today.
3. Century Wavemaster XXL Training Bag – A Free Standing Bag, But Is My Favorite
The striking surface of the Century Wavemaster XXL Training Bag is pretty much unmatched for free standing bags and heavy bags boxing. It's tough, still forgiving on the user's hands. Simply put, it screams quality from the rooftop.
This punching bag weighs in at 270 pounds, and can be height adjusted for different workouts. It's also rather portable, so you won't feel the need to hang it anywhere. It's great fitness tool for taller guys as well.
If you are a strong guy who is having a hard time finding a well-made, durable, and heavy punching bag, you can't afford to cast a blind eye to the Century Wavemaster XXL Punching Bag.  Because of its sturdy construction and design, it's bound to offer you a great workout. As such, the bag can be purchased in three different colors—black, blue, and red. In conclusion, this bag is a bad a** training bag.
You can check out the full Century Wavemaster XXL Review here
4. Everlast 100 Pound C3 Foam Heavy Bag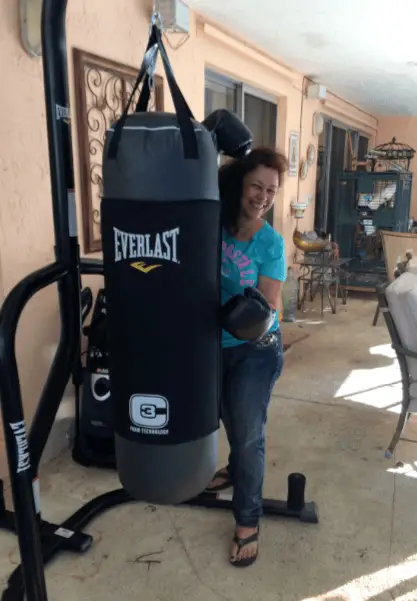 The C3 foam used on this punching bag provides great cushioning and support like nothing else in the market. Therefore, the Everlast 100 Pound is said to be a professional quality training bag.
The fillings of this bag are nicely blended with a mix of synthetic and natural fiber to offer a homogenous feel. You can go totally hardcore on this bag for straight hours. Plus, the bag comes with a Polycanvas shell for the sake of product longevity.
The loops and straps are also made of high-quality materials. They hold up very well. So, you are not getting a dead weight of 100 lbs. And, there is an excellent warranty on the parts for a period of 120-days.
If you are in the market for a punching bag that won't crumble upon hard hitting for years to come, the Everlast 100 Pound C3 Foam Heavy Bag should fit the bill for you. It's durable, strong, and built keeping end users in mind. This punching bag is surely a satisfaction bomb.
5. Everlast 2228 PowerCore Freestanding Heavy Bag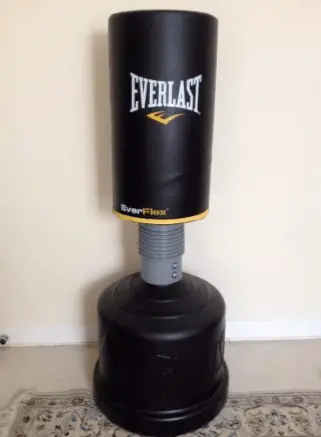 This is a new and improved heavy bag that oozes quality in terms of strength, feel, durability, and workmanship. Courtesy to the Tri-disc foam structure, the energy dispersion is also perfect on the bag.
Unlike the inferior ones out there, this bag is ready for heavyweight training assault. It features PowerCore™ steel plate technology for extra strength along with PowerTransferRing collar for ultimate impact absorption from the blows.
The height of this fitness bag can be adjusted from 54 to 65 inches. So, it can be used for kicking and power punching by people of varied heights, including taller individuals. Also, it has a small base to it for the sake of user convenience.
One can get the Everlast 2228 PowerCore Freestanding Heavy Bag for cardio as well as conditioning training. Also, it can be bought to tame one's anger. Of course, it will be a lot cheaper than a therapy. Frankly speaking, one won't find anything wrong with the punching bag. It's wonderful for what you pay for it. 
This is one of the best punching bags for an apartment or if you live somewhere with small space. 
6. Outslayer 80 lb Filled Punching Bag for Boxing and MMA – Great For Home Workouts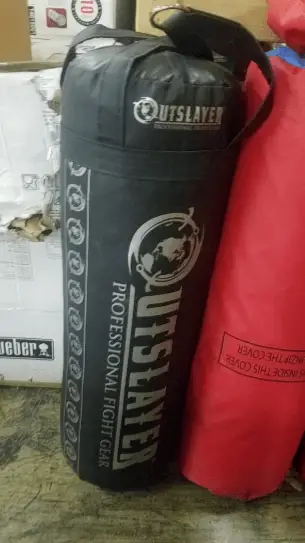 This 80lbs punching bag for home fitness is nicely filled and sewn well from top to bottom. The weight is also evenly distributed across the bag. Moreover, the appearance of the punching bag is excellent as well.
The bag does not sway even with hard as hell hits and kicks. The hardness does exist, but it's not like hitting a wall. Since it's filled with cloth, one can remove some cloth to fine-tune the hardness.
It comes at your doorsteps in a nice protective cover made of vinyl. It also has a 10-year warranty. The generous warranty gives users the much-needed comfort that the bag will last for many years to come.
If you are looking for a heavy bag made in America and from a reputable brand, you can give a shot at the Outslayer Filled Punching Bag. It has no hard spots like the other sand-filled punching bags out there. Compared to other branded bags made in China, this punching bag is a cut above the scope. Everything about this punching bag suggests nice quality.
7. Everlast MMA Heavy-Bag Kit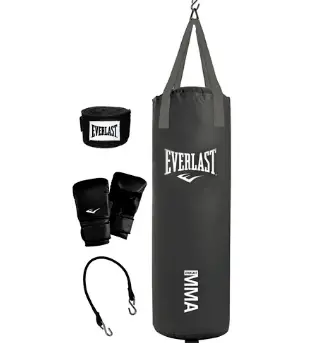 This 70 lbs Everlast MMA Heavy-Bag Kit is well made, and it comes with the right training gear such as the heavy bag gloves to help you get started right away!
Build to take a lot of beatings, the bag has a perfect height to it. At a normal garage ceiling, it hangs exactly where it needs to be. Only those with extremely tall ceilings might require an extension.
The bag has a nice texture to it. So, the striking surface doesn't seem punishing on the hands. The whole family can use the bag. In fact, it's perfect for housewives. It can prevent them from hitting their husbands.
If you are looking for a good quality punching bag along with some pleasant accessories, you can consider the Everlast MMA Heavy-Bag Kit without blinking an eye-lid. It's durable enough for everyday abuse. For the asking price, this punching bag kit should not be a problematic choice. In fact, it should be a worthy purchase on any given day of the week.
8. Everlast 4008 80-Pound Traditional Heavy Bag –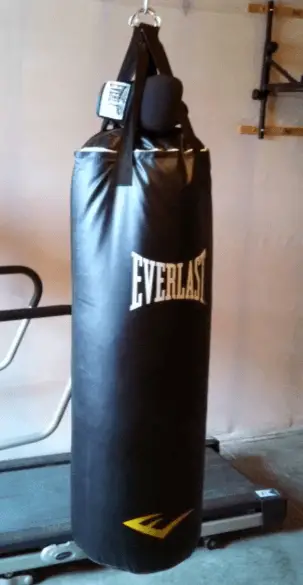 This 80 lbs punching bag features tough Nevatear construction. It comes with all the essentials to provide great strength and conditioning training at go-to speed. The included chain lets you hang the bag at different heights.
The quality of the bag is surprisingly very good for what you pay for it. No matter how strong you are, you will not be able to hit hard enough to cause damage to this training bag because it's firmly built to handle hard strikes.
Even after months and months of use, the stuffing inside the bag stays evenly distributed as if the bag was bought not more than a few days ago. So, you can hardly go wrong with a punching bag of this quality.
If you are looking for a great way to deal with your anxiousness, stress, and frustration of life, you can give a shot at the Everlast 4008 80-Pound Traditional Heavy Bag. It's a great fitness bag for physical and psychological benefits. You are sure to sing praises down the road.
9. Everlast Traditional Heavy Bag – Great For Beginners & Smaller Boxers
It's a well-crafted punching bag that comes with all the necessary hardware for installation. The lightweight (40 lbs) of the bag causes it to swing to stimulate an actual challenger.
The material used for the construction of the bag takes a lot of pressure from the acting hand, so a user is less likely to sustain an injury. So, your hands will never take a beating instead of the bag.
The top of the bag contains a zipper. It can come handy if one chooses to change the filling inside the bag. The best part is that the bag holds up well against constant abuse. All thanks to the tough exterior.
If you are looking for a compact, rugged, and ready to be beaten heavy bag, the Everlast Traditional Heavy Bag should be on your wish list. It could prove to be the perfect gym substitute on a budget. Overall, it's a dependable bag for a reliable workout. It's perfect for getting a workout, or to relieve some stress at any given hour of the day. It's easily one of the best heavy bags out there.
Some Heavy Bag Techniques – To Help You Avoid Beginner Mistakes
Heavy bag training is a great warmup for a real game. It can prepare you like nothing else out there, provided you don't side-line important techniques that go with the heavy bag training. If you are not sure what they are, pay heed to the pointers given below:
Footwork: As they say, "Use the footwork to your advantage. Move your feet when you are not throwing a punch." On the other hand, keep your feet planted on the ground when you punch. This will provide you with the much-needed balance, power, and control to deliver an effective punch. Also, start moving your feet once you finish your punch.
Never Stop Punching:  To be point-blank over here, once you stop throwing punches, your challenger will start throwing punches at you. When the pros work with a heavy bag, they hardly take any breaks. At best, they will rest for 2-3 seconds. This is what separates the elite guys from the herd. So, don't take 10-15 seconds break to catch your breath. You will be doing yourself a great disservice by taking long breaks.
Think About Your Hands:  It's easy to drop your guard when you are training with a heavy bag. Most trainees develop a bad habit of dropping their hands. The consequences of this bad defense can prove to be a fatal mistake in a real fight. So, don't commit yourself to this mistake. If required, have someone spot you so that you are reminded of keeping your hands up for the sake of protection.
Judge Distance: A better sense of safe distance between you and your opponent can be a game changer in a fight. Don't get too close to the bag while unloading a bunch of punches. Also, don't go too far away from the bag. As a pro tip: don't try to get any closer to the punching bag than the distance needed to land a punch. And, if you go too close, be alert enough to pull yourself away from bag quickly.
Don't Wait: Heavy bags generally do not swing too much. So, you will have to often reach out to the bag. The point here is that you don't need to wait for the bag to come to you. Such luxuries will come at a high cost in a real bout. So, put the practice of chasing the bag as often as you can. Keep circling the bag to keep up with it to throw a constant barrage of punches.
Take Rest: Heavy bags won't be as forgiving as the light bags out there. So, your hands will wear down. Of course, your hands will also toughen up over a period of time. But, you should allow some time for recovery for the bones and muscles to harden.  Remember, more than anything else; your hands are the most important weapon in the sport of boxing.
Buyers Guide – How to Find the Best Punching Bags
Hopefully, the pointers above along with the heavy bag reviews must have put your mind at ease. But, we highly recommend that you do your homework before getting a heavy punching bag because best punching bags do not come on a shoestring budget. To ease your workload, we have included below a buying guide that will help you get the best punch bag for home use without frying your brain.
Which Brand to Choose? Should I get a Muay Thai Punching Bag for Home?
Top brands such as Everlast, Century, and Outslayer are the obvious choice among the masses for best MMA punching bags or any other boxing bags/gears. Yes, it helps to go with a branded product over here because most brands do everything in their power to introduce a people-pleasing product in the market. Also, reputed companies comply with the laws about the permitted fillings to be used for punching bags.
What Should be the Best Punching bag Weight?
If you are a complete beginner or a dedicated recreational athlete trying your hands at heavy bags boxing, you are better off choosing a punching bag that weighs around 50-70 lbs. If you are a seasoned athlete or a stronger person, then you can go for 100lbs or heavier punching bag because a heavier bag will do a world of good to your power and speed. On a side note, the thumb rule is to choose a weight that's half of your own body weight. But, this rule can be broken based on your training needs.
What Materials to Choose?
Heavier bags are generally filled with cloth. Some of them may have foam or sands. The good thing about cloth-filling is that you can easily remove or add more cloth to fine-tune the weight of the bag in accordance with your training needs. Plus, a cloth-filled bag won't screw your hands. Your best bet would be to go for a heavy bag with 70% cloth scrap and 30% leather scrap to suit most training requirements.
What Covering Works Best?
Any covering will do for best boxing bags for home use. The most commonly used materials for punching bag covers are vinyl, leather, and canvas.  Most high-brands include a vinyl cover for free because it's a dependable and affordable option. However, it's not designed to face outdoor elements. Leather ones will work best in an outdoor environment if there is a need to keep the punching bag outside the house.
Freestanding or Hanging?
Punching bags generally arrive in two types—standing and hanging. As the name hints, hanging punching bags are hanged from the ceiling, while the standing punching bags stand on top of a base/stand. Between the two, hanging bags are better equipped to withstand more punishment. Plus, they offer more scope for improved training. On the flip side, standing punching bags are more of a space saver and portable too. Plus, they don't require any installation work. So, you can choose whatever suits you based on the merits and demerits of these punching bags.
Where and How to Hang the Heavy Bag?
As you might expect, you will require a secure spot to hang the heavy bag because it weighs upwards of 100+ pounds. A strong architectural structure or a sturdy ceiling can do the trick over here. In either case, the ceiling should be tall so that the bag hangs high from the floor to facilitate proper training. If you don't have a tall and secure spot to hang the bag, you will have to drop the idea of getting a hanging bag. In such a case, a standing bag should be considered by you. If you are getting a hanging bag, do check if the product comes with the hanging hardware or not. If not, prepare yourself for a trip to a local store to get the appropriate tools and screws for installation.
Other Considerations:
There are a few additional things to be considered while shopping for best heavy bags. For instance, you need to decide whether you need a stitched or a zipper closure on the bag. The zippered opening will allow you to refill the bag with the material of your choice without the hassle of cutting open the stitches. Other than this, do check what warranty is being offered on the shortlisted product to deal with potential issues that you may encounter down the road. Finally, do consider your physical condition and training goals before ordering the bag.
Best Punching Bags: The Verdict
Whether you are young or old, it's never too late to lay your hands on a punching bag. After all, this fitness tool can do a world of good to your health, and of course, improve your boxing skills as well.  We have already compiled a list of best heavy bags for your convenience. So, feel free to steal a punching bag from our recommendations given above, and start punching your way to personal greatness.
Did this review guide to the best punching bags help you? Share with your friends!