Best Inflatable Punching Bags | Why You Shouldn't Buy One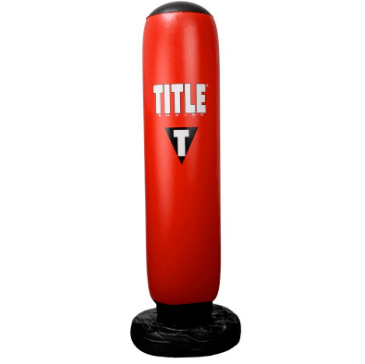 If you are buying an inflatable punching bag for a child or kid then these are just fine.
Here is our Top Pick: Pure Boxing MMA Target Bag
You can check it out on amazon by clicking here
Training on a punching bag may not be an eighteen-year old habit for everyone out there. Aside from being a newbie to the punching bag routine, tens and thousands of people reading this post may not really know if an inflatable punching bag is a good choice for training or not. Therefore, let's answer this tight-lipped question today. With nothing to hide and no secrets to conceal, be prepared for an interesting and true reveal about these punching dummies for adults. So, if you have enough headspace to read and digest real information, don't quit on this post yet.
Frankly speaking, these inflatable punching bags are not the ideal adult toy they are made to look like simply because they provide little to no resistance when you throw hard punches at them. As such, an air filled punching bag is obviously going to be less impactful on a person's wallet because it's vastly mass produced with inferior materials. Keep in mind that they are air filled punching bags.
At best, they can take weak punches from a 12-year old. As a result, they will never provide the speed training that punchings bags such as speed bags or double end bags do as they simply just don't stack up.
For this reason alone is why we recommend for you to buy a heavy bag for your home instead of an inflatable punching bag.
Although, there is one positive to these balloon bags and that is the price. Unlike hanging heavy bags or free standing punching bags they are much cheaper. If you are just looking for a cheapo bag to hit around then this is best choice for you.
You can check some good cheap options out on amazon here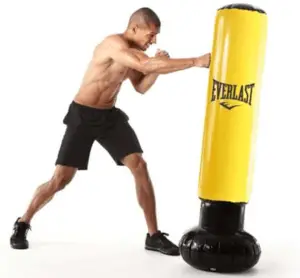 As you can tell by now, if you are serious about your training, air filled bags are not the way to go. From strength training to perfecting speed, accuracy, and everything else in relation to a hardcore training, can be performed without any fuss. On the other hand, hardcore training on an inflatable blow up punching bag would come at the risk of damaging your household decoration. Yes, a strong punch or a kick can send the bag flying in the air and possibly destroy some precious household items.
Why You Should Get an Inflatable Punching Bag
For kids, inflatable punching bags are not a bad choice. But, adults can quickly outgrow their use. Therefore, it's not worth pulling the trigger on one of these air filled punching bags, especially if you are a strong person or simply have any strength at all. You will be better off throwing money out of your high-storied balcony. In fact for my children this is not what I would get them. There are much better choices when it comes to punching bags for kids.
Your best bet would be to invest into a real punching bag such as a hanging heavy bag so that you are able to do all kinds of heavy bag workouts and throw every punching or kicking combo you can without any hiccups. You can use it not only to release your everyday stress, but to stay physically fit as well.  With that said, let's introduce you to the top two picks in the market today so that you can bring home a a punching bag that is actually worth your time.
1. Boxing MMA 100lbs Bag
With solid stitching, superb density, excellent material, and quality construction, the Boxing MMA 100 lbs Bag is one of the best 100 lb punching bags out there on the market today and is definitely a better choice over an inflatable punching bag. Frankly speaking, this heavy duty punching bag is a beast. It can be used for boxing, martial arts, MMA training, and other hard-hitting sports. It arrives in a nice protective bag to prevent cosmetic damage during transit. Once it arrives, it's ready to be hanged and banged. Let's dig into the features/benefits to familiarize you with the product.
This punching bag is made in the USA and not some remote corner of the world by hiring low-cost workers. The thing won't come apart even after years and years of abuse.
The filling on this punching bag is perfect. So, there are no too hard or too soft spots. The icing on the cake is that the punching bag is highly durable for rough use but soft enough for hand protection. So, it won't rip your skin off.
The punching bag is covered by a 10-year warranty so it can be easily fixed or returned in case one runs into any problem. Competing inflatable boxing bags may find it hard to beat this generous product warranty due to low quality.
The punching bag is as sturdy and durable as it can get. Unlike the rivals, it doesn't dent. Moreover, it's quite durable and dependable to train for several years and beyond.
The shock absorption on the bag is nearly perfect. The mailman will struggle to get this solid bag to your doorsteps. But, you will be seriously impressed.
2. Everlast MMA All In One Bag Kit
For workout freaks, the Everlast MMA Bag Kit is a no-brainer choice to blow off some stream on any given day. Stuffed with high-end custom filling, the bag is designed to last for several years. Simply put, it's a perfect and long-term training gear for kicking as well as punching. As such, the package includes a punching bag, bungee cord, hand wraps, and heavy bag gloves. Moreover, it's is sold in three weight class—70, 80, and 100 pounds.
The Everlast punching bag comes filled. So, it can be used right away. Also, the price tag is pretty reasonable to get things started. Therefore, it's a perfect starter kit.
Given the overall quality, it can hold up well against an onslaught of repeated abuse for several years and beyond. No matter how hard you hit, the stitches won't come apart.
Unlike the competition, it's not firm and soft in some areas. In fact, the firmness is consistent throughout the bag. Therefore, it's perfect for hard hitting and even for speed training. You can get this punching bag even if you can kick/punch like a beast.
The included accessories make the purchase a great deal by itself. So, you won't have to spend more money on extra padding. The quality of the hand gloves and hand wraps are second to none.
The packaging isn't the best on this punching bag, but the heavy-bag kit is worth a shot on any given day of the week.

 

It's hard to beat this punching bag kit for its price. It's surely worth the money.
Final Thoughts on Inflatable Punching Bags
If you don't want to wake up in the middle of the night with below-par training guilt, you will have to go for the heavy punching bags. As mentioned above, these punching bags won't cut the deal for adults. At best, inflatable boxing bags are good for kids. The good news is that you can face this problem by investing in any one of the recommended training bags mentioned above.
Did this review guide of inflatable punching bags help you? Share with your friends!
Recommended Readings: