Best Kickboxing Gloves Rated & Reviewed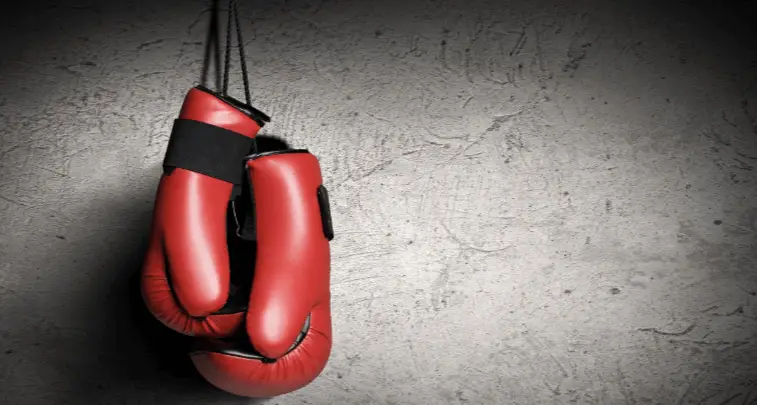 Looking for a good pair of kickboxing gloves so you can jump into the sport of kickboxing huh? Excellent!
So you've heard a lot of good things about kickboxing and you want to join the millions of people who enjoy the benefits of this sport. Well, you're definitely not going to regret that decision.
Men and women can pick up kickboxing seriously or as a supplementary work out. Either way, there is much to be gained from it - from self defense to weight loss. Plus, it's actually quite fun.
A lot of people will tell you that, but you probably don't need to be told. From the looks of it, it does seem like a kickboxing workout is one that you won't dread doing. You will enjoy working out. This is huge. Trust me.
Another thing that most experts will tell beginners is that kickboxing is not only great for toning up and shredding fat but it is also great for improving your balance. As you grow older, your muscles become weaker and your coordination isn't going to be what it used to be. Fix this, or else.
This will happen without you even realizing it. With kickboxing, you can train your body and your mind to be more stable, taut and alert just in general. You're going to be bouncing all the time and that's actually not as easy as it looks.
You can also expect to improve your power, speed, and mental agility. Perhaps the surprise there comes with the last one: mental agility.
For a physical activity, most people don't expect to be challenged mentally all that much. What they don't know is that you have to stand your ground and think on your feet.
That's constantly doing fast calculations in your head. Sparring or actual fighting is, in essence, a high stakes game of physical chess.
So overall, you've done a good job at showing an interest in kickboxing. You're in for such a treat.
Now, to get started, what do you think you're going to need? That's right. Of course, you'd need a pair of high quality kickboxing gloves. That's just pretty much basic.
It's the most crucial accessory in all of kickboxing, so it's a smart move to invest in a pair that's made out of the best materials by the best manufacturers.
Kickboxing gloves are used for one thing and that's safety. It's protection for you and for whoever you're fighting or sparring with. People also usually use gloves when training with a heavy bag.
The gloves have thick cushioning that softens the blow of your punches, making them less damaging to your knuckles and wrists.
Professional fighters will often stress how important this is. Since their hands are pretty much their bread and butter, wearing gloves is necessary to protect them from long term injuries.
It doesn't matter if you're training in Muay Thai or North American kickboxing, this accessory is a must. Now, it's just a matter of choosing the right pair that will go well with your hands and your technique.
This is where it gets tricky. There are so many kickboxing gloves available on the market right now and it's kind of a hassle to sit down and sift through them all.
All of them are designed differently and made from all sorts of materials. It's also tricky to find one that best suits both your needs and your budget.
We'll get into our top picks for gloves with thick padding in our list of favorites below.
So enough of the questions, let's get into our list of our favorite kickboxing gloves and why we like them so much.
OUR TOP KICKBOXING GLOVE COMPARISON

Cleto Reyes Training Gloves
Everlast Pro Style Training Gloves
Anthem Athletics Kickboxing Gloves
Sanabul Essentials Training Gloves
Everlast Evercool Kickboxing Gloves
Nayoya Weighted Kickboxing Gloves
---
Best Kickboxing Gloves With Reviews
Here are our top picks based on quality and budget. 
Best Overall Kickboxing Gloves For the Money
Like we mentioned before, Cleto Reyes is a respected brand in boxing and their products will not fail you.
These lace ups were specifically designed for better thumb and wrist support, so you can worry less about anything getting broken or sprained in there.
The outside is made of 100% leather, which makes them very easy to clean and long-lasting. The padding is made out of waterproof nylon – an equally durable material that is going to last you a long time. Nylon is also good against moisture formation.
Even though they're a bit on the pricier side, you shouldn't feel bad about splurging on these babies because you get your money back in the quality of the product.
The padding is thick, at 2 inches, making these gloves perfect for sparring and heavy bag training.
And because of the innovative design, it's not going to feel like you're striking a pillow. You'll still feel that satisfying "pop" when you make a hit.
These gloves are going to take a while to break in, though. Give or take 6 months, which is not that long, considering that you can get good use out of these gloves for decades.
The Cleto Reyes, although pricey, are by far the best kickboxing gloves that you can find today. There is not a close 2nd.
2. Everlast Pro Style Training Gloves 
Best Kickboxing Gloves for Beginners
If you're a female boxer and you're looking for the best gloves for women, this is great option for you. These are targeted more for beginners and experts will know that.

Not that there's a rule that you shouldn't use any glove out there, but generally, you might find men's gloves a bit roomier than you would like.
They also can be pretty bulky and a bit more on the heavy duty side, which is something that you might not want.

The only things that are different with these gloves are the size and shape. They're still held to the same standards of durability and functionality as the men's version.
3. RDX MMA Grappling Gloves
Cheapest Kickboxing Gloves
What's different about this pair is that it's made of Maya Hide, which is a premium polyurethane. It mimics the qualities of genuine leather, but it's not quite as durable.

Still, this is the next best thing if you feel weird about using real leather or if it's not really in your budget.

These RDX MMA Grappling Gloves look great and come in a variety of colors (black, red, blue, pink). You can also pick from four sizes (small, medium, large, extra-large), whichever fits your hands the best.
The heavily padded curves around the knuckles make for a more comfortable work out. If you're concerned about breathability, the D-cut feature takes care of that, as well as the moisture-wicking interior.
So for a great price, you get gloves that are easy to put on and off, comfortable to use, and offer excellent wrist support. What's not to like?
If you are a beginner to the sport of kickboxing or looking to use them mainly for working out, then these are going to be the best kickboxing gloves for you.
4.Anthem Athletics Stormbringer
You can use the Anthem Athletics Storm bringer while sparring, working out with a heavy bag, and even competing. You're guaranteed to get a lot of use out of them because they're that versatile.

The padding is made up of many layers of dense foam. That's why the first couple of times you use these babies, they're going to feel a bit stiff.

But like with most gloves, once you've broken them in, they become a lot more comfortable.

Everything is padded, even the thumb, so you know you're going to be well-protected. To put them on, there's just a simple Velcro strap to fasten them in place.

This also means you can take them off without having anyone to help you.
Because they run in smaller sizes, we're almost certain that these gloves are going to feel snug – so snug that some users might not feel like they can wear hand wraps.

All you need to do is break them in. Once you've done that, it's amazing how much the fit improves.
When they reach that sweet spot and they've totally conformed to the shape and size of your hands, they're going to stay that way.
These are really comfortable gloves, but the design isn't that extraordinary. You can tell that Anthem Athletics didn't really want to wow users with bells and whistles. They just wanted to deliver a pair of solid, high-quality gloves that will end up paying for itself.


5. Sanabul Kickboxing Training Gloves

Okay, what do they mean by "performance engineered" leather? Basically, they made these gloves for real kickboxing pros and enthusiasts.

Yes, you need protection, durable materials, etc. But a kickboxer will tell you that the biggest hassle that comes with using leather gloves is the maintenance.
With Sanabul's essential GEL kickboxing training gloves, you won't have problems with cleaning and maintaining your gloves as much. Sanitation is not something that's mentioned often in glove reviews and that's because most gloves don't have this feature.
When you're wearing gloves, you're going to sweat. Now, put two and two together. When there's moisture, there's going to be bacteria build up. Your gloves are going to start to stink and lose their shape. Gross.

So with traditional gloves, you have to do a lot of wiping down and airing out. Not with these Sanabul ones.
The gel-infused foam provides extra comfort. But it really doesn't hold up well against repeated, powerful striking. So if you're going to use gloves mainly for sparring, this is still a good choice for you.

Another thing that sets these gloves apart is their longitudinal arch design, which means they're made to fit your hand's natural curve.

This is great because a lot of injuries happen because of improper hand positions. So having gloves that actually fit your hands to a tee will definitely reduce the possibility of injuring yourself.
6. Everlast EverCool Kickboxing Gloves

Another one for the ladies – the Everlast EverCool kickboxing gloves don't cost very much, but that doesn't mean they perform terribly. In fact, it's quite the opposite.

With this price tag, we're surprised that it holds up well against both heavy bag training and sparring.

It's important that you put on hand wraps before putting these gloves on, though. Even with the extended padding for the knuckles (which does help somewhat), longer workouts will hurt your knuckles if you don't use a hand wrap.
And since they're a tighter fit, hand wraps will make them feel even more snug. So these are really meant for smaller, thinner hands.

The main upside to these gloves is that they're very breathable. When you use most gloves, especially in the beginning, there's a stifling feeling that you need to get used to. With these gloves, you don't have to.
7. Nayoya Weighted Gloves

There is ample cushioning for your hands to withstand blows from sparring, but it's not enough to hold up against a heavy bag.
They're very easy to fasten on and off and they don't slide back and forth.
And since they're so comfortable, it's nice to slip them on while you're doing other stuff outdoors like walking your dog or going for a hike.
To up your kickboxing training game a bit, you can use weighted gloves for the added resistance. You can use these gloves to improve your speed, strength and endurance.
8.Hayabusa T3 - Perfect Gloves For Cardio Kickboxing Class

We'll close with a product by one of our favorite brands, Hayabusa. The T3s are perfect for heavy bag training and sparring, specifically designed to combat hand fatigue.

Our favorite feature? The impeccable wrist support. A lot of injuries in kickboxing actually involve the wrists, so these gloves will protect you against that.
It's made out of leather, so it's very durable and will last you a long time. There's an antibacterial lining that will keep your gloves smelling fresh even if you keep sweating in them.

The main benefit from using these gloves is the wrist support. So if you've got wrists that have already been injured before or you're just prone to strains, these are the best choice.
---
Frequently Asked Questions About Kickboxing Gloves
What Are The Top Brands Of Kickboxing Gloves?
With all pieces of sports and training equipment, there are always going to be a couple of manufactures who will come out on top.

These brands will usually be found in gyms all over the country and will be used by well-known experts. Why? Because they've been around long enough to know what they're doing and they only use high quality materials for their products.
Top Brands of Kickboxing Gloves
With some Cleto Reyes gloves, you get what you pay for. They don't come cheap, but there's a darn good reason for that.
If you're asking around for kickboxing glove recommendations, experts will throw around the name Cleto Reyes a lot because it's associated with impeccable craftsmanship.
Cleto Reyes gloves first made an appearance at a world championship fight back 1945 and the company has been growing ever since.

In 1965, Cleto Reyes products were commercially released in the US and the rest is history. Now, you can see the greats sporting their gloves in training and in matches.
2. Hayabusa

Hayabusa, which means Peregrine Falcon in Japanese, has been gaining a lot of buzz in the kickboxing world for several years now.
Despite the name, Hayabusa is actually a Canadian brand, founded by the former MMA fighter, Luke Harris.

We in the western part of the hemisphere just have this fascination with the Japanese and their philosophies.

By now, they have a pretty impressive lineup of products that make use of their unique attempts at innovation and style.
3. Everlast
Everlast has been around for the longest time. So if you're been to the gym in the past 20 years (which is a pretty generous allowance), it's very likely that you've come across some Everlast equipment.
They have a lot of gloves available to fit any budget and they're generally more hits than misses.

Even outside the kickboxing the world, Everlast has a wide array of products for all kinds of sports. It just goes to show that household names gain that sort of traction because have been trusting the quality of their stuff for generations.
What Size Kickboxing Gloves Should I Get?
It depends. Let's just say it's a matter of preference. But generally, kickboxing gloves can weigh anywhere from 8 to 16 ounces.

It's very common for beginners to start with lighter gloves just to get used to feeling of having them on. After a while, it's advisable that you switch to heavier gloves to train your power and speed. So they're essentially using them as added weights.

But there are no rules to what your kickboxing gloves should be like. It really just depends on the size of your hands, how much padding you're comfortable with, how snug you want them to feel, and what you want them to be made out of.

Since your gloves are essentially going to be an extension of your body, you can even customize them however way you want to sit your style – that is if you're training.

Of course, in matches, it'll be required for the competitors to wear the same weight gloves by the same manufacturer to even out the playing field as much as possible.
Do I really need Gloves for Kickboxing?
Yes. Even if you plan to just use them for cardio kickboxing class or just a few times you still need to wear them and protect your hands. If you don't then you're just asking for irreversible damage training without them.

In addition to gloves, you also have to wear hand wraps. The combination of both will protect your hands from the shock of striking.

Your hands are actually pretty fragile. It's much easier to break a finger or your wrist than it would be to break your femur.
Each hand is made up of 27 little bones, all of which have to absorb the shock of every hit that you make. Unprotected repeated striking can fracture these bones or, at the very least, get progressively more damaged as time goes on.
By using gloves, the extra padding will take a load off your wrists and knuckles. It'll prevent your fingers from digging into your palm and protect your thumb from sudden movements.

Accidents do happen, so it's just better to have the right protective gear to avoid them as much as possible. After it, it's not very hard to put on a pair of kickboxing gloves anyway.
What Kind Of Boxing Gloves Are Best For Heavy Bag Training?
You want heavier boxing gloves with a lot of layered padding for heavy bag training. Why? We're assuming that you're going to be hitting that heavy bag for a while – in rapid, consistent strikes.

That's why you want something that will protect you from those strikes so you won't have to hold back. With lighter, thinner gloves, it's not very likely that a heavy bag session will last.
It's going to start to hurt and you shouldn't continue anymore if you start to feel pain in your wrists. Save yourself a trip to the doctor and get better padded gloves. If you are looking for gloves to train with on the heavy bag you can check out our list of the best heavy bag gloves here.
Best Kickboxing Gloves: The Verdict
So we've made it to the end of the article, and now you have learned which gloves are best for kickboxing.
So Which Gloves Do We Recommend?
We would recommend the Cleto Reyes Lace Up Kickboxing Gloves not only because the brand is superior but because of their durability and the protection they provide is unmatched.
The Cleto Reyes kickboxing gloves are a pair that you can buy once and they last a lifetime.
Please leave a comment below with any experiences you have with boxing gloves or anything you would like me to read.