The 7 Best Samurai Swords of 2023 – In Depth Research & Reviews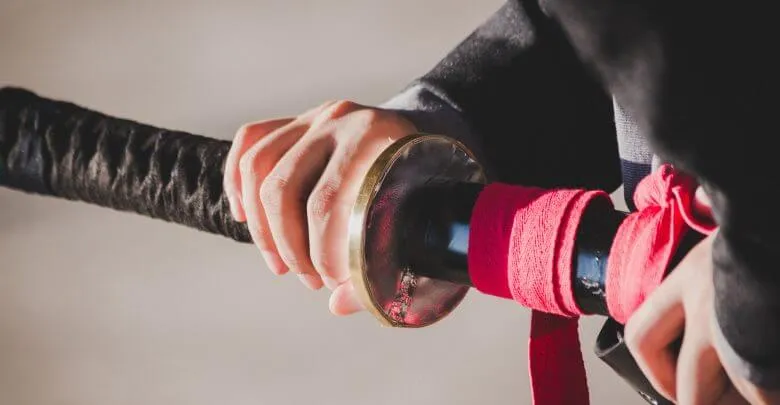 The best Samurai swords are so much more than exquisite collectibles.
For a martial arts practitioner fascinated with 'Iaido', wielding the right sword is the first step towards mastering technique.
It allows you to learn proper edge alignment and balance, both of which are of paramount importance if you seek to practice with cutting targets like Tatami Mats or Goza.
Not to mention that owning one of the top samurai swords is an ode to the deep-rooted heritage and culture of the Samurai.
But with tons of brands manufacturing these specialized swords these days, it is impossible to find the right ones without the risk of being fobbed off.
After all, how do you separate the top rated samurai swords from the cheaply made ones merely by taking a look at them?
That's where I step in. I have handpicked the highest quality samurai swords on the market right now and have listed them here for you.
Updated: January 7, 2023
List of the Best Samurai Swords
Here they are. The top rated, Samurai Swords that you can easily buy today.
If you are wondering, I actually bought the first sword on the list here, The Tiger Sword, and let me tell you I am happy as heck with my choice.
After literally weeks of researching all of the top samurai swords available, trying to narrow down my options I finally came to the conclusion after checking out all of the reviews, the material the sword was made from, the details, and the company it was made from, literally every detail. (This is a big hobby of mine - I have a passion for knife and sword collecting and practicing!)
1. Handmade Sword's Tiger Samurai - Best Samurai Sword for the Money
Best Features of this Samurai Sword
Hand forged, full-tang Katana
Razor sharp Hamon
Tiger symbol on the Tsuba
Extremely aesthetic design
1065 Carbon steel construction
Fully functional and battle ready
Holds its edge for days
Wooden handle wrapped in Ray Skin and black cotton cord
Wooden Saya in varied finishes
Comes with a certificate of origin
The Japanese Tiger, also known as 'Byakko' has remained at the center of Japanese folklore and Samurai culture for centuries.
It is one of the deities in Japan that is believed to control the wind. In Samurai culture, the tiger is a symbol that evokes fear, reverence and respect, all values that the brave warriors strived for.
This is one of the reasons why the Samurai often sported Tiger Tattoos on their chests.
If you are looking for an exquisite and authentic collectible Samurai sword, there's no better pick than this hand-forged Tiger Samurai Sword.
Made by some of the most skilled artisans and swordsmiths by hand, this full-tang Samurai features two Brass Tiger symbols on the Tsuba. The Tigers are roaring, on-the-hunt and exude aggression.
Makes a terrific conversation piece, and gives you a slight mental edge when you wield it during sparring sessions or practice.
The sword is hand-forged from 1060 Carbon steel and comes with a razor sharp edge.
It is 42.5" long with a wooden handle wrapped with ray skin, covered with black cotton cord.
Fully functional and extremely aesthetic, like most other highly rated samurai swords that come from this brand.
1060 Carbon steel is as durable as they come and is characterized by excellent edge retention. So even if you throw the blade on mats or on other swords, it will retain its edge for days.
At this price point, this Tiger Samurai is a steal. It can very well pass off for a much higher priced, Japanese handmade Katana.
P.S. While we loved the Tiger figurines on the hilt the most, it is also available in other designs like Aeolus, the Greek god of the wind, Crane, Dragon and Japanese warrior.
---
2. Michonne's Katana Sword from The Walking Dead - Most Popular Samurai Sword - 2 Year Warranty, 24/7 Service
Best Features of this Samurai Sword
Hand forged, soil-burnt fully functional Katana
Perfect replica of Michonne's Katana sword from The Walking Dead series
Handle coated with real ray skin and wrapped with white cotton cord
Made of T10 steel that's 1.25" thick
3.5" Brass Tsuba
Total length is 40"
Weighs 3 lbs.
Wooden Saya wrapped in calf-leather
Extremely aesthetic sword
Point of Balance – 6"
Let me first start off with saying this is one freaking high quality sword for the money you pay. The company believes in their quality so much that they offer a 2 year warranty. Like what the heck! 2 freaking years, that's a long time of thrashing and abuse. They also offer 24 hour customer service, 7 days a week.
These guys are masters in Samurai Swords and for that reason alone, you should buy this sword if you are looking for a samurai sword that is still a top contender but do not want to spend much.
And I mean come on, this was the sword that was used in the Walking Dead! How cool is that?
If you are a fan of the Walking Dead, then chances are that you've secretly yearned to be Michonne with her razor sharp Katana and badass combat skills.
The way she decapitates walkers (and mortals) with her snow white Katana has become one of the most iconic features of the show.
This is a fully-functional replica of Michonne's Katana sword, complete with the handle covered in White Ray Skin.
Goes without saying that it looks absolutely stunning and is a must-have for any serious fan of the show.
Even if you haven't watched the Walking Dead, it'd still be a great addition to any collection. Or for that matter, a great first Katana for anyone looking to wet their toes in 'Iaido'.
It is a hand-forged sword made of high-carbon, T10 steel with a 1.25" thick blade and a 3.5" brass Tsuba.
The total length is 40" and it weighs just 3 lbs. making it a great sword for beginner practice. The handle is coated with real ray skin and is wrapped in White cotton cord, which is in sync with the original design.
The saya is a beautifully finished wooden one wrapped around in calf-leather.
The only possible quibble that we have with it is that there's no Hi or Blood Groove. But even otherwise, it produces a delicious sound as you swing the blade.
It is hard to find such a perfect replica at this price point. That too, a fully functional one.
Go slay them zombies. We are sure you won't be disappointed one bit.
---
3. Handmade Fully Hand Forged Samurai Sword - Best Sword For Real World Daily Use

Best Features of this Samurai Sword
Hand forged, Clay tempered samurai katana
Full tang construction
1095 Carbon steel
Razor sharp edge with a blood groove or Bohi
Holds its edge very well
41" fully functional blade
Comes with a wooden saya or scabbard
Includes a certificate of origin, a sharpening and oiling kit
This is a beautiful Katana from Handmade Sword, one of the only brands in the business that makes authentic, hand-forged samurai swords.
It features full-tang construction from 1095 Carbon steel and has a 28.5" blade, complete with a Bohi, which is Japanese for the fuller or blood groove.
While this may seem like a mere cosmetic addition, one swing with the blade will give you excellent feedback in the form of the swishing sound. Not only does it let a Samurai gauge the speed of the cut and the balance, it also makes the sword lighter and easier to wield.
The handle is 10.5", making the overall size, a perfect 41".
It is easy to grip and at 3 lbs., is not overly heavy either. The quality is top notch as the blade is hammer forged and clay tempered by a skilled swordsmith.
It comes bundled with a cleaning and sharpening kit, along with a certificate of origin that gives you information about the swordsmith.
The Saya is made of decent quality wood and is available in different aesthetic finishes, were you to display this instead of using it for practice.
Talking about usage, this is a fully functional blade mind you. Right from throwing a few cuts on a Tatami Mat to taking down a potential intruder at home, this will work just fine.
It comes extremely sharp out of the box and can be sharpened further. More importantly, it holds its edge very well for a sword at this price point.
---
4. Auway 40" Dragon Tsuba Katana Sword - Best Bang for Your Buck
Best Features of this Samurai Sword
Hand forged Katana from 1060 high carbon steel
Full tang constructed with a brass Tsuba with dragon figurines
Wooden handle wrapped in black cotton cord
Baked gold finish for an exquisite appearance
No play to the blade
Measures 40" and weighs just 2.4 lbs.
Thick and heavy enough to cut through green bamboo
Hard wood saya in a gloss black finish
This is an excellent Katana from Auway that features a dragon figurine on the Tsuba. At first glance, we thought that it's a cheaply made hilt. But it is a hefty brass one that complements the sword perfectly.
The sword itself is hand-forged from 1060 high carbon steel and features a full tang construction.
It is polished using sharpening stones of different grades using the original, ancient Japanese technique of sword making.
The handle is wrapped in black cotton cord with a baked gold finish, that gives it an exquisite appearance, particularly if you plan to hang this as a wall piece.
If you intend to go combat some warlords instead, then you'd be pleased to know that this sword is fully functional ready to be used on anything and everything.
There's no play to the blade unlike what you'd expect in cheap replica katana. It feels sturdy and at 2.4 lbs., is light enough to wield easily yet, heavy enough to slice through a reasonably thick, green bamboo.
It does not ship razor sharp though and you'd have to spend some time sharpening and honing the edge. Once sharpened, the edge retention is excellent.
Ships with a hard-wood Saya in a gloss-black finish. The stand displayed in the pictures has to be purchased separate.
Overall, we are mighty impressed with this lightweight Katana with a Dragon Tsuba. The gold finish and the great construction make this an excellent addition to any sword collection.
Oh, great price too.
---
5. JZ Gold - Best Katana Sword
Best Features of this Samurai Sword
Hand forged and hand sharpened
Made in Long Quan China which has a 2600-year history in sword making
Full tang construction
Made of 1060 high carbon steel
Ships reasonably fast
Beautiful golden finish on the blade. (Also available in blue)
Wooden Tsuka covered in fake ray skin
Wrapped with cotton cord in a golden finish
Weighs 2.4 lbs.
This stunning hand-forged Katana comes with a beautiful golden hue that sets it apart from the others in this list of best samurai swords.
It is complimented perfectly by the golden cotton cord wrapped snugly on the wooden Tsuka covered with faux ray skin, giving it the look of vintage Samurai sword of the royals.
Under the beautiful aesthetics lies a strong and durable blade made of 1060 high carbon steel. The edge retention is top notch and it does not chip or break even upon impact against other swords or blunt surfaces.
The full-tang construction means that you can easily throw a few slashes on practice mats or fruits if you so prefer.
It does ship reasonably sharp. So it's recommended that you reserve the use solely for Tameshigiri or to de-limb zombies. If you intend to use it for combat, you'd have to sharpen it a lot more.
The sword is 40" long and weighs close to 2.4 lbs. So it's fairly light. If you prefer something heavier, you'd want to check out our #1 pick in this list.
This one is a great collectible, not as functional though.
It is made by JZ Swords in LongQuan China, which has remained a stronghold for some of the most skilled swordsmiths in the world.
---
6. Ace Martial Arts Handmade Sword - Best Cheap Samurai Sword
Best Features of this Samurai Sword
Most Affordable High Quality Samurai Sword
Hand forged from 1045 carbon steel
Beautiful blue finish
40" sword with a sturdy brass Tsuka
Wooden handle wrapped with blue cotton cord
Full tang constructed
No wobble or rattling
Reasonably sharp out of the box
Ideal for use as a collectible. But can also decapitate zombies if need be.
The general consensus is that budget-priced Katanas are plagued with rattling, wiggling and flimsy blades that bend, chip and warp.
This handmade Katana from Ace Martial Arts will put all your skepticism to rest.
It is a lot of sword for this price.
Hand forged from 1045 high carbon steel, full-tang construction, ships sharp enough to slice through Tatami mats and has a beautiful blue finish that will make a great conversation piece on the wall.
The wooden handle is covered with imitation ray skin and wrapped with blue cotton cord.
It is sturdy with zero wobble when you wield it. It does not have a Bohi, but makes a delicious swishing sound as it slashes through the air.
There are customers who were so stunned with the quality of the blade that they couldn't resist playing fruit slicing ninjas or testing it against bamboo wrapped in Tatami, which simulates bone surrounded by flesh.
The results were more than satisfactory as the blade sliced clean through everything at first contact, without any additional sharpening needed.
In case you do notice any bends or warping (because it is 1045 steel and not 1060), you can dismantle it and hammer it back to shape. Easy!
If you are looking for a cheap samurai sword to hang on the walls or just for kicks, you can't find a better one.
---
7. MAKOTO Handmade Shirasaya Katana Sword
Best Features of this Samurai Sword
Shirasaya-styled samurai sword with a beautiful finish
Wavy hamon on the blade for ornamental purpose
Handmade from 1045 high carbon steel
38.45" long and weighs 1.95 lbs.
Great balance, zero rattling
Saya and Suka made of wood with a beautiful gloss finish
Excellent pricing for a sword of this quality
There's something about Shirasaya swords that makes them very appealing. Maybe it's the austere design with a matching saya and Tsuka made of the same grain of wood which gives it a seamless appearance.
If you are looking for a quality Shirasaya to add to your collection or for Kenjutsu or Kata practice, look no further.
This handmade Shirasaya sword from Makoto ticks all the right boxes.
It is made of 1045 high carbon steel, is 38.75" overall which is slightly smaller than a conventional Katana and comes with a high, gloss wooden saya in a natural finish.
The grain of the wood on the saya and the suka are matching, which adds to the aesthetics.
The blade is excellent with a very visible, wavy hamon. However, it's only an ornamental one. Not a real hamon.
That's not to take anything away from the blade. It is very light at 1.95 lbs. and easy to handle for practice. The balance is near perfect and despite the intended use, which is clearly aimed at collectors, there's no reason why this cannot be put to good use in practice and combat.
Having said that, it is a Shirasaya, which means that there's no Tuba or hand guard. Unless you are really skilled with a blade, we wouldn't recommend swinging this too hard.
At this price point, the quality and the aesthetics on this handmade Shirasaya sword are hard to beat.
---
Samurai Swords vs Katana Sword - Which is Best? What are the differences?
Ever since the westernization of the Samurai culture and Hollywood paying rich tributes to these ancient warriors, there have been a lot of misconceptions about samurai swords.
The most notorious one is that all samurai swords are a Katana, which is not the case.
The Samurai made a whole slew of weapons which served different purposes.
Some of them are the Katana, Wakizashi, Tanto, Ninjato, Shirasaya, Nagamaki and Nodachi.
As would be evident by now, all these swords vary in their lengths, measured in Shyaku which stands for 11.9 inches, and their intended use.
The Tanto is a small dagger that finds many uses in ancient Japanese culture. It is an apt combat weapon considered to be very effective at piercing armor as well as for ritual suicide or seppuku.
The Katana is the curved sword and typically a two-hand weapon, whereas the Wazikashi is a shortened variety of the Katana which is wielded with one-hand as opposed to two.
The Nagamaki is the one that fits the closest definition of a traditional Samurai sword. It is identical to the Katana in its length and shape. However, it has a much longer handle as compared to the Katana.
Which Sword is Best? The Katana Sword or the Samurai Sword
So as you know now, both of the swords although are different, are pretty close and when buying one, the names are used interchangeably. When searching through our list you will find that the names are used together because of how closely related they were in history and because now they are the same thing.
In the past yes the lengths differed and the length of the handgrips differed but here in modern day, they are named both in the same.
So when deciding which sword is best, you can rest assure that you do not have to worry because both swords are best. In the list above of the best Samurai Swords you can rest assure that you are also getting the best Katana Sword.
Like I said, take my countless hours of research and run with it, buy the Tiger Samurai Sword that I have listed as #1 on my list here. You can rest assure you got the best sword out there right now.
Closing Thoughts
That sums up our list of the best samurai swords. We hope that you enjoyed reading our recommendations and that you can use the information over here as a reference point for your research.
To give you a refresher, the best samurai sword for both, sword connoisuers as well as martial artists is the one by Handmade Sword, The Tiger Samurai. Great quality, full-tang construction from heavy duty 1060 carbon steel.
Check it out on amazon by clicking here.
It can easily pass for a much higher priced, Japanese sword.
And if you are pinching pennies and looking for a decent replica that doesn't cause an arm and a leg, then go for the Katana by Ace Martial arts. 
You can check it on amazon by clicking here.
That's it everyone. Hope you all found the sword you were looking for, and please leave a comment below with any questions. 
Sources: