The Best Speed Bag Platforms Of 2023 – Reviews and Comparisons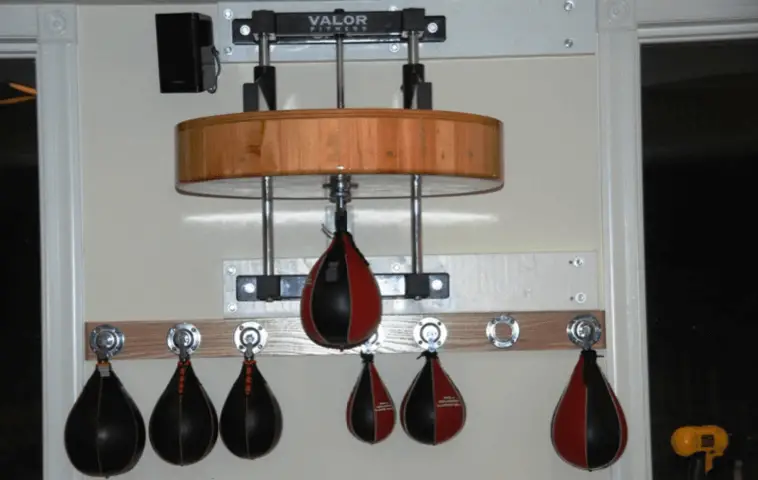 No boxer will tell you any different if you say that it's essential to include a speed bag work out in your exercise regimen.

That being said, it's not easy for everyone to drop by at the gym just to get this done. Luckily, it's not that hard to set up your own speed bag at home.

You're going to need only two things – the speed bag (of course) and a platform to hang it. You can check out our list of the best speed bags if you are still haven't got one yet.

There are a couple of options available for you that could go up against any professional speed bag platform. Setting one up yourself doesn't mean you're sacrificing quality and performance.
Once you have those two things, you're good to go.
Now, because there are so many speed bag platforms that are out on the market, choosing the right or even the best platform can be quite the daunting task.
By going through our speed bag platform list, we will narrow your search down to just the best speed bag platforms that will go perfectly in your home gym.
Let's get to it!
Which Platform To Get? - Fixed Vs Adjustable Platforms
While scouting around for the right speed bag platform, you'll notice that they come in two different types. Let's differentiate the two just so you know what you're going to be looking at.
Fixed Speed Bag Platforms
If you couldn't tell from what it's called, a fixed speed bag platform is the kind that is fixed into its position. You won't be able to adjust the height.

Because of this design limitation, they're usually less expensive.

Would this be the right one for you? It could be if you're shopping on a budget or you're not going to be sharing your speed bag with anyone else.

If there is no point in adjusting the platform because you're going to be the only who's going to use it, then it would be silly to get an adjustable one.
Adjustable Speed Bag Platforms - My Favorite
Contrary to a fixed speed bag platform, this is the kind that you're able to adjust its height. This is great for multiple users because you can customize it to a specific person's height. I personally think these are the best speed bag platforms because they allow for much more usability.

This is also great if you're using multiple speed bags. These usually come in different sizes, so you'll be able to adjust the platform to fit the bag.

Would this be the right one for you? It could be if you're looking to get more flexibility out of your work out. And if you're not a solo user, then this would be the right choice for you as well.
Alright, now that we've got that covered, let's get into our speed bag platform reviews.
Our Best Speed Bag Platforms - With Reviews
Here is the list of our favorite speed bag platforms with in-depth reviews of each.
Balazs i-Box Adjustable Speed Bag Platform
Best Speed Bag Platform for the Money
First, we'll address the giant in boxing equipment – Balazs. These guys have been perfecting their products since the 90s.

Even though they're a small family-run business, that doesn't stop them from being a well-known brand. Their equipment has been a steady staple in gyms all over the world for good reason.

They design and manufacture top the line, sturdy, and uncomplicated products that are reasonably priced.

Let's start with the frame. It's made out of a very stiff heavy gauge steel. It offers a lot of resistance to vibrations – meaning, it can take a lot of punching power.

You can expect that this thing just won't topple over. The drum is made out of high quality maple hardwood and is 1 1/3 inches thick.
That kind of hardwood is very durable and finish looks sleek, making this platform a stylish addition to any home gym. If you want a solid wood speed bag platform, we can't recommend this one enough.

The speed back is adjustable for up to 12 inches, letting you switch from speed bag to speed bag regardless of their size. You can also adjust it according to the user's height.

As a bonus, they've also included a professional standard speed bag swivel. You won't have to be one separately.
And as if that isn't enough, it also comes in three different colors for you to choose from – yellow, red, and black. You can pick whatever fits the style of your home gym the best.

The Balazs i-Box surely beats any other speed bag platform in its price range. Considering the modest price this is undoubtedly the best speed bag platform that you can buy today.
The runner up: XMark XM-2811
Best Adjustable Speed Bag Platform
If you're a stickler for style, then this speed bag platform should interest you. It will deliver performance-wise while giving off a cool minimalist look.

XMark is known for putting out top of the line products art very competitive prices. Given that it's a strong contender for the i-Box, it's pretty impressive that they're offering this at a lower price.

The mainframe that attaches to the wall is made of 11-gauge steel. That makes for an exceptionally rigid structure with no give. The vibrations will be minimal at best.

Unlike the i-Box, this XMark speed bag platform has a durable oak hardwood as its drum and it's also thicker at 1 ½ inches.
Not only that, it's pretty wide too, measuring at 24 inches. That means you could use virtually any speed bag that you want.

It's also going to accommodate multiple users because it can be adjusted for up to 15 inches in height.

XMark does include a swivel, but it's not our favorite. You could test it out and see if it works for you. If it doesn't, then you could easily just buy one to replace it.
Compared to the i-Box, it's a little cheaper. Overall, it's still tad bit pricey. But what you have to remember is that you're getting your money's worth with this one. After all, it's really not a good idea to skimp on quality.
If you are looking for one of the best speed bag platforms on the market but are on a tighter budget and looking for a cheaper option, then this is going to be the best option for you.
XMark XM-4441 Adjustable Speed Bag Platform
Cheaper Alternative to XM - 2811
If you like the XM-2811 and still find it a little too expensive, then go for the the XM-4441. Both are essentially the same thing with one main difference.
The frame on the XM-4441 is made of a lighter gauge steel. This was XMark's solution for those looking to build a home gym, but don't have a ton of cash to spend on it.
Honestly, there's not much of a difference at all with the XM-2811 and the XM-4441 when it comes to performance.
The only difference is that this one is made from lighter steel which could make it a bit less reliable and maybe not last quite as long. 
It's not to say that this platform is not worth that money. It's cheap but will do you good. 
For the price, the XM-4441 is well worth it. The quality is not of the the first two platforms but overall, if you are not training for professional sport then you're not really sacrificing anything.
Everlast Elite Adjustable Speed Bag Platform
Cheapest Speed Bag Platform
You don't have to be a gym aficionado to have heard about Everlast. They're a well-known company that produces high quality boxing equipment that won't break the bank.

So it's no surprise that they're here on their list with their own contender. What makes the Everlast Elite stand out is its wooden attachment frames.
Other platforms usually use metal frames and that's why they cost a lot more. Don't worry, though. They'll do the trick of mounting your platform to the wall pretty firmly. No complaints here.
The drum is 24 inches in diameter, but it's only 1 inch thick -thinner than the average drum, so expect to feel some vibrations.

It could get pretty loud. A good workaround to this is putting a 50-pound sandbag on top of it to reduce the noise.
This platform is adjustable. It allows for up to 8 inches of height not as impressive as the others. But if you know what you need, this isn't really going to be an issue.
All in all, this is a cheap speed bag platform that will do the job, making this one the best speed bag platforms for anyone who is on a tight budget. It doesn't have exceptional features, but you get what you pay for.
Alternative for those on a budget
Best Choice Products Adjustable Speed Bag Platform Trainer
Saving a few dollars won't really mean sacrificing quality when you get this platform. Yes, the strike board isn't made of hardwood, but it's made out of a really sturdy laminated particle board.

It's an inch thick and you will have to put some weight on it to minimize vibrations, but otherwise it's as tough as the others. Not very many can tell the difference.

The frame is made out of iron and can be attached to any wall with the two brace boards that come with it.

They included a speed bag swivel, but it's not one that you're going to want to use for a long time. You can easily just buy one separately. If you can't make the purchase right away, it'll do the trick for a while.

You can adjust its height easily using its spring pin lock design. It's simple, durable, and not very expensive. It is not the best speed bag platform but it does get the job done for people who again are looking for a cheaper alternative to the others and don't mind sacrificing the quality.
Valor Fitness CA-53 Adjustable Speed Bag Platform
Don't let the Valor Fitness Speed Bag Platform fool you. We know it looks bulky and complicated, but it's pretty easy to set up and it performs like a beast.

The drum is made out of synthetic wood and it's 2 inches thick – the thickest drum on this list. It's super durable and you'll hardly feel any vibrations at all when you strike your bag.

But what sets this platform apart from all the others on this list is that it's so easily adjustable. Other speed bag platforms usually take a few minutes of clicking and clacking to raise or lower them.
On the other hand, the Valor only takes a simple turn of its wheel strategically placed at the bottom for easy height adjustment. It will allow for up to 13 inches, which is not bad at all.

You might be asking why it costs so much. Yes, the build is excellent, but does that alone justify the price tag? Well, they've also included a speed bag and a speed bag swivel.
Granted, they're not the best ones out there, but they could serve as good backup should you need either. If you're just starting out and this is your first setup, all the equipment they provide would be more than adequate for you.
So if you're looking for just one big purchase and not have to go through tons of reviews, this one can take care of all your needs as a beginner.
For Those With Small Space
EZspeedbag Quick Install Doorway Speed Bag Platform
It'll take five minutes, tops, to install this bad boy. If your house has a 27 to 42-inch doorway (doesn't everyone?), then you're good to go.

This platform is especially great for folks who are short on space. Let's face it, not all of us can live in the suburbs and have spare rooms for a home gym.
With this platform, you won't have to designate just one specific area for working out. You can move this around your apartment with no hassle at all.
The backboard is 18 inches and can also be converted to a pull up bar. That's two workouts in one piece of equipment.

It does come with its own speed bag, which is made of 100% leather. For its price, its performance is pretty stellar. The vibrations are very minimal and, overall, it's a stable platform.
Plus, the company that makes this platform has awesome customer service. So if you have any questions about the setup and which parts you can swap out, they're very accommodating and quick to respond.

You'll only encounter problems with this product if you're the kind who has to duck when entering a room.
This is the best speed bag platform for people who live in an apartment or in small space and need a doorway platform.
How To Choose The Best Speed Bag Platform?
What We Look For
As you probably noticed, we've included the same details in each product description. These are the things that you should be paying attention to when you're canvassing around for one of the top rated speed bag platforms.

While all of these platforms have different makes and designs, the core components are always going to be there.

At the end of the day, it's there for one thing and it should be able to do it well. So below, we've listed a couple of questions that you can tick off when considering a speed bag platform for your home gym.
Is The Platform Adjustable?

If you're not going to be the only one using this platform, then it's extremely important that you get one that has adjustable height and honestly these are the only ones that I recommend you to get. Frankly, all of the best speed bag platforms are adjustable.

It's equally as important if you intend to mount multiple speed bags to the same platform. Speed bags come in different weights and sizes.

An adjustable platform will be able to accommodate all of those. The average platform will allow for a range of 12 to 15 inches.

That's enough if there isn't much height discrepancy between users.
Are the frames and brackets sturdy?
While doing your boxing work out with a speed bag, you'll want as little rebound as possible. A lot of vibration can throw you out of your rhythm and make a lot of noise – not a good thing for your neighbors.

This should be your biggest consideration because, first of all, a good platform is meant to hold up your speed bag without coming loose.
What is the drum made out of?

What exactly is the drum part of your platform? That's the round board that your speed bag is going to hang from.

Usually, these are made of wood. It's important that you check what kind of wood a specific model is made of. Why?

How sturdy the drum is affects how fast the rebound is going to be while you're doing your work out. You want it to be as consistent as possible.

So if you're looking around for a sturdier model, hardwood is the way to go.

Some platforms are made of plastic. But as you can probably guess, these aren't going to last you very long and you'll end up saving a lot more money by investing in a platform made with high quality materials.
Most of the time, like with everything else, the more money you pay, the better the product. So if the price is looking a little steep, then there's probably a good reason for that.

When it comes to something important, like working out, it's not a good idea to be stingy with equipment.

Better quality speed bags from a reputable company are going to last you a long time. If you weigh what you're going to pay against how long you're going to use it for, then it's well worth it.

Going for cheaper speed bags will probably make you spend more money in the long run anyway. You're going to have to keep replacing them and of course that's going to add up.
Is a speed bag swivel included?
Some speed bag platforms do come with a speed bag swivel, which will save you the hassle of shopping for one separately. Although these will work these are not the best and typically wear other rather fast. I would recommend checking out our list of the best speed bag swivels to get one that is of quality and will last you.

Keep in mind, though, that some of these "freebies" are included just so the company can pack more into the package. It doesn't necessarily mean that they're the best pieces of equipment.
Alright, I've got a speed bag platform. How do I pick the right speed bag for it?
Here are some the factors that you should consider when picking out the right speed bag for your platform.
If the platform you choose has a bigger drum, then you won't have to worry about whether or not it's going to be able to accommodate a speed bag that you're eyeing.

Athletes train with different speed bags for specific reasons, so it's very likely that you're going to need more than one if you are taking your training seriously. 

Smaller, lighter speed bags are used to build up speed. So if you're looking to improve your reaction times, then get a smaller one. This is also for great to include in your cardio work out. Do keep in mind though that smaller speed bags are more for professionals who have already know how to hit the speed bag. If you are still learning how to hit the speed bag then go for a bigger bag. 

Larger, heavier speed bags are used to build up muscle strength and endurance. So if you want to tone up, get definition, and last longer, then a bigger one would help you out with that.

Also, if you're a beginner, we recommend that you get a larger speed bag because of the larger surface area (a lot harder to miss) and the slower rebound, making it easier to use. You can then move on to the smaller and faster ones once your punching technique is more refined.
Generally, there are two speed bag shapes: the water drop and the "Mexican Style." All models are going to vary slightly, but they are more or less the same thing.

The water drop is the more traditional shape where it goes wide in the middle. The "Mexican Style" one looks like two water drop speed bags attached where they go narrow.
Expensive and high quality speed bags that will last you a long time are usually made out of leather.

If you're more environmentally conscious, fortunately, there are synthetic leather options that are now available.

They're pretty much just as durable as genuine leather and they're definitely not as expensive.
If you're beginner and just trying things out, looking to see what's what, then it wouldn't be a bad idea to get a relatively cheaper speed bag.
Yes, they're not going to be of the best quality, but they're good enough for any standard work out. But if you're veteran at this and you want the best speed bag to go with your professional speed bag platform, then by all means, splurge and get the very best.
They're sure to last you a long time and they're most likely going to look cooler.
What do I need a speed bag for anyway?
First of all, a speed bag work out is one of the more fun ones as fast as work outs go. It's also a work out that doesn't really require any bulky equipment that take up a lot of space, so pretty much anyone can set one up in their home.

If you're a boxer or training to be one, using a speed bag will build up your endurance as it trains your hands to be up at all times.

This position is going to be your bread and butter when it comes to sparring. Normally, our arms aren't used to being in this position, but it's essential to you get used this feeling if you don't want to be on the receiving end of a punch to the head.

If you keep training with a speed bag, then this will eventually become second nature to you. Your arms and shoulders need a lot of strengthening to get to this point. But trust me, the strength comes quick with speed bag training. 
But perhaps the main reason why athletes and gym goers alike train with a speed bag is to develop their rhythm, coordination and precision. These are just some of the benefits of speed bag training.

By using a speed bag, you'll be able to train your hand-eye coordination and develop your unique punching rhythm.

All in all, a speed bag work out is excellent cardio and it help build up muscle too. What's not to love?
Alright, I've got the platform and speed bag. Now how do I set it up?
Here are a few tips to make your speed bag installation process a little easier.
1. Don't do it alone, if you don't have to
These can be set up alone, as I set mine up alone but having a helping hand is always best.

The platform itself can weigh up to 50 pounds. And the speed bag platform dimensions make it difficult to hold up as you're trying to screw it in place.

Not to mention, that's pretty darn dangerous too. So get someone to help you out. It'll go quicker and it'll go a long way towards avoiding any accidents. Ouch.
If you don't have anybody that can help you install your platform correctly then I would suggest looking into buying a punching bag stand with the speed bag platform already attached and set up on it like our favorite ones found here.
These are much easier to set up and you don't have to be bothered trying to get your platform set up by yourself.
2. Consider the wall you're going to be attaching it to.
Think about where you're installing this platform on. You might need a different set of screws and bolts than what you have.

The kind of fasteners that you're going to need when attaching your platform to a concrete wall is going to be different from those that you would need for a wooden one.
3. Adjust the platform height accordingly.
As we said earlier the best speed bag platforms are the ones that are height adjustable. I highly recommend getting a platform that is adjustable. Trust me.

If you've got a speed bag platform that isn't adjustable, you're going to have to pay close attention to this. It'll be a pain to readjust if you've got it wrong the first time.

As a general rule, the bottom of your chin should be level with the bottom of the speed bag.

If you've got an adjustable speed bag platform, then changing heights is usually a breeze.
Alright, I'm all set up. What do I do now?
Before you go to town on your speed bag, you should get a feel for it first. You might think it's as simple as just striking the bag, but there is a proper way to do it to get optimal results.

A lot of people think that they should go HAM on the bag, but if you look at someone using a speed bag properly, they're actually doing pretty slow movements.

How fast the bag is rebounding just gives the illusion that it's all just a blur.

How do you start? Slap it first. Don't clench your fists just yet and hit the bag with the tips of your fingers. Go in a downward motion wait for the bag to rebound 3 times then hit it on the fourth.

Do two hits with each hand and alternate.
Once you get used to that feeling, get your fists up. This is where you'll start to realize that there is a lot of skill involved here. It's not just mindless hitting.

Every boxer has their own unique style. We're pretty lucky that the greats usually put up footage of speed bag training online. You'll see that no two are the same. Study these to try rhythms out yourself.

You can mix things up by using different parts of your hands, doing different motions, and adding onto the striking like jumping in place.
The Best Speed Bag Platforms: Our Top 2 Choices

So now we've listed all of our top picks for platforms and how you would go about setting up your own speed bag for your home gym.

To sum things up, here is our speed bag platform of choice and its close second:
The Balazs i-Box Speed Bag Platform
This is what a lot of experts use and we'd be surprised if you find a better quality platform for the its price.

We stand behind this product and we're sure it's going to last you a long time. This is the best professional speed bag platform in our list, combining quality and cost into a superior package.
XMark XM-2811 Adjustable Speed Bag Platform
A cheaper model, but definitely doesn't fall far behind when it comes to performance. If you're a little strapped for cash, you can just go for its significantly cheaper cousin, the XM-4441.

And there you have it. We hope our list of the best speed bag platforms helped you find the best one or at least narrowed your search down