The Best Speed Bags – Reviews & Comparisons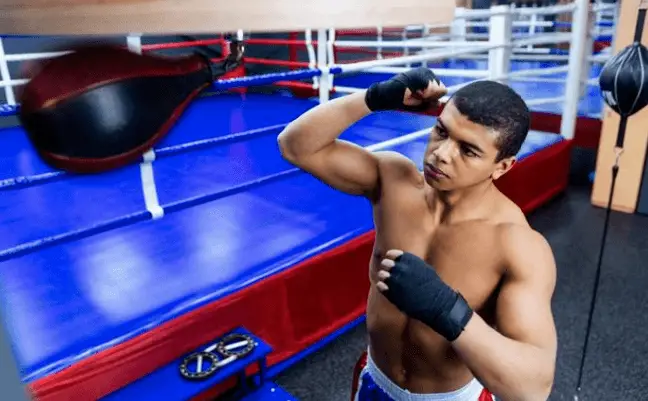 Any boxer worth his salt will tell you that to become a champion you should not only train with standard heavy bags, but that a speed bag is also necessary. It's universally used as a speed, coordination, reflex, and precision training tool by pros across the globe. When the elite fighters catch up in a boxing ring, the outcome of the match is often decided by a slight edge one fighter has over the other.
This type of training can provide that beneficial edge in the game. Once mastered, a fighter can get more efficient at throwing non-stop punches from almost all directions. So, you are not merely taking out all your frustration on a thing that cannot fight back or protest.
As far as training and skill, speed bags can bring a lot to the table.
---
Best Speed Bags Comparison - Our Top 3 Choices
---
List of the Best Speed Bags with Reviews
1. Balazs Lazer Speed Bag – The Best & My Personal Favorite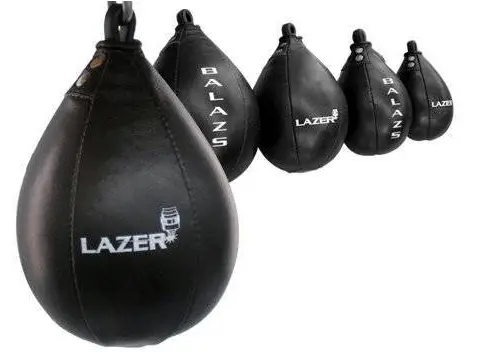 The Balazs Laser Bag is for the 2nd year in a row won the 1st place spot on our list of the top speed bags.
Available in four sizes allowing you to choose the speed bag size that is right for you. The Balazs bag is a trophy-worthy bag. The leather, workmanship, and the overall stitching on this punching bag is top-notch. Unlike the rivals, this bag has a handmade quality to it. It's fast and heavy too. Moreover, it does not leak nor does it skin your knuckles like other inferior speed bags out there.
It rebounds nicely, and it's good enough for novices as well as pro guys out there. Once you get this bag, the chances are high that you will make a resolution to stick with the brand for many years to come. With that said, let's discuss some product attributes.
The air hardly pops out of the bag. As mentioned before, it's well-made, and it's built to last. This bag can definitely survive a lot of beating in a home or gym environment. The shape and feel is excellent too.
Compared to the rivals, beginners might find it easy to hit and control the movements of the bag. So, it might fulfil most desires and level of use. It's perhaps the best speed bag out there for beginners. All thanks to its ingenious construction that's a cut above the scope.
As well as to the fact that this bag comes in 4 sizes giving you the ability to choose a light weight bag if you want the fastest speed bag ever or if you prefer a slower bag then you can choose a heavier weight. 
It's one hell of a tough and durable bag. The bounce is amazing too. Moreover, you won't have to necessarily hit at a perfect spot to get a good bounce. Better yet, the bag stays in shape even after months and months of rigorous use.
If you plan on boxing for fun or if you intend to compete down the road, you should try your hands on the Balazs Lazer Bag. The Balazs Bag is a people-pleaser by all means.
Designed specifically for the ultimate user experience. 
Insanely Fast and Predictable. Made from special woven leather that is easy on the hands and prevents slip.
The Balazs Laser Speed Bag is the Best Bag for the Money
---
2.

 

TITLE Boxing Gyro-Balanced – Best Bang For Your Buck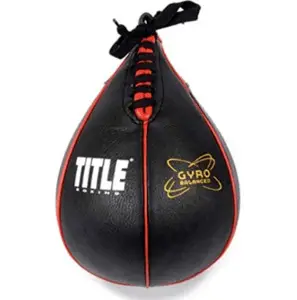 Here we have the Title Gyro bag, another top contender among the top speed bags on the market today.
Are you looking for a genuine fast bag that can withstand all your beatings like a boss? The Title Brand has been in the game long enough to know just how to design the best speed bag for the ultimate training experience.  They are a American based company that produce top of the line boxing equipment.
So trust us, the Title Boxing Gyro Balance Bag can fit the bill.
Stated by many as the top speed bag, it's solid, adjustable, durable, and reasonably priced as well. Moreover, it has good stitching all over its body, and it rebounds very well. When stuck, it comes back in a fast and consistent manner. It surely beats other bags that rip off pretty quickly. For what it costs, it can be considered without missing a heartbeat.
Posing a teardrop shape, this one is sold in three different sizes—small, large, and XXS. You can choose what size speed bag is best for you.
Unlike the competition, the bladder of this bag doesn't deflate.
Judging by the customer reviews, it's safe to claim that this bag holds longer than the other bags out there. All the seams are properly done. It's an excellent training gear for practicing tempo, speed, hand/eye coordination, and focus.
The leather on this one is soft. So, your wrist and knuckles are bound to be safe. That being said, it's firm enough to take powerful punches for several years and beyond. With amazing balance and bounce back, this bag can go well with any level of training.
It comes in an excellent shape and stays in excellent shape even if you were to beat the crap out of it. So, it can provide a user with good exercise for many years to come.
Moreover, it's easy to pump up the required pressure on the bag whenever needed. Your investment on this bag will fetch you returns for a good number of years.
Gyro Balanced for superior user experience. High quality leather design. Comes in many different sizes to choose from. Bigger is better for beginners and the smaller the is better for pros and fast training.
​

The Title Boxing Gyro Bag combines top notch quality with affordability making it one of the top speed bags on the market today.
---
3. Everlast Elite Leather Speed Bag – Most Affordable
Looking for a performance packed speed bag at a shoestring budget? The Everlast Elite Leather Bag is a terrific bag for its low asking price. It can pretty much rival just about any speed bag in its price range and emerge as a winner.
According to Everlast, it's shaped perfectly for precise rebounding. It's also very fast for its sheer size. Furthermore, it's made out of genuine leather for the sake of product longevity. As such, it comes in a medium size. So, it's perfect for beginners and intermediate users. If you have temper issues, you can release it all on this reliable bag.
The product won't cost you a lion share of your salary. You will really be paying peanuts for what you get in return. Fortunately, the makers of this fitness gear didn't cut corners to come up with a speed bag of this quality at a low hanging price point.
As advertised by the makers, it's very fast and rebounds well. So, it will offer you the best bang for your training hours. Given the bag's precise weight, shape, balance, and construction, one can get the rhythm down sooner than usual.
The quality of this training equipment is surprisingly very good for the low asking price. With reinforced seams and top-notch leather along with accurate rebounds, you can't really go wrong by bringing home this fitness bag. At worse, the bag may deflate over time. One simply needs to fill it with air to reuse it again.
This punching bag is rock solid. It will take a great deal of beating and come back for you. It feels great hitting on the bag because the rebound is predictable and fast. Given the product's quality and durability, it won't be an understatement to claim that the speed bag is a satisfaction bomb.
Weighted. Predictable. Good Choice for Beginners. 
Very Affordable. 
​

The Everlast Elite Speed Bag is an excellent choice for all skills levels but is the best speed bag for beginners and newbies trying to hone in the coordination and precision skills.
---
4. Title Boxing Super Speed Bag – Excellent Design and Experience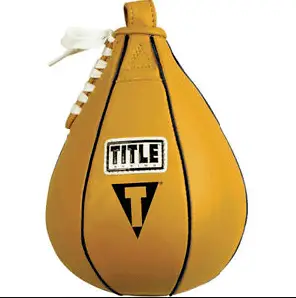 If you are looking for a light, fast, and durable speed bag, don't miss out on the Title Boxing Super Speed Bag. You will surely be impressed by the size, shape, weight, and the longevity of the product. It features a high-end leather without draining your bank account. This Title Boxing Bag comes in many different sizes. The larger size is perfect for a workout, and the smaller one to show off some crazy speed. If not for professional reasons, you can also get it purely for home use to develop strength, coordination, and speed. Once you get into the groove, this Title Boxing Speed Bag can get you addicted.
The reflex is fast and fantastic, and the bag holds air very well without any leaks. Also, it's balanced properly. It's clear that the air distribution is even throughout the bladder. Unlike the inferior products, this one doesn't jump all over the place. The rhythm is quite predictable. So, you will be pretty satisfied with the action. It will take little skills to keep the bag going. You can fulfil your ambitions of looking like a boss sooner than usual when you visit the gym.
When inflated, it looks exactly as seen on the product images. Plus, the bag works beautifully even when abused like a crap. Frankly speaking, it won't break down soon. So, you are getting the real deal and not some showpiece. As a result, you will enjoy the training you will receive. Furthermore, it's a walk in the park to inflate or deflate this boxing speed bag.
It's a great investment, especially for the price you pay for it. It may not be as fast as the high-end competitors, but it's fast enough, and it lasts a long time. With excellent return action, it feels terrific to throw punches at this speed bag. It maintains its course even if you were to punch a bit offbeat. Also, there are no soft spots to spoil the rhythm. The stitching is spot on as well. It can withstand hard hitting and weather to last a long time.
5 sizes to choose from to help you choose which speed of the bag is best for your desired level of training and skill level.
All Leather triple stitched quality design. Good for all skill levels.
---
5. Title Classic Speed Bag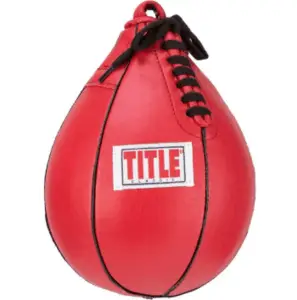 If you are looking for a bit smaller than usual bag, the Title Classic Bag should be in your shopping cart. For those who don't know, the company behind this one is a leading player in the sports equipment industry. With a striking red color and featuring a Title logo, the Title Classic Speed Bag is a fast and well-balanced bag that can offer you the best bang for your fitness bag bucks. You can get this one for combative training or just as a means to relieve everyday stress. It's a fun and exciting way to release some steam or get some exercise on any given day of the week.  The speed bag sizes available with this model are—5×8 and 6×9.
The small size makes it a bit challenging to train on the bag because smaller the bag, the faster it is. So, you won't have to hit the bag too hard to get a good rebound. Some degree of determination and consistent efforts can get you in the groove. You will feel like a pro athlete when you get back to a larger bag. So, it makes sense to make this bag the bag of your choice.
The leather body is firm. This isn't to say that you will be sore the next day. You can do repetition for hours and hours, and the bag will still hold its shape without posing any injury to you. You can train whenever a few minutes present themselves: when the tea is brewing, video is getting downloaded, or when something is taking too long to cook. So, it will prove to be a nice home-fitness tool.
These bags are very tough and made to perform for many years to come. It's surely a speed, coordination, and focus builder.  Also, the bag has a larger than usual opening to it. Therefore, a user will find it easier to change the bladder, whenever the need arises. Furthermore, they comes at an affordable price point. So, acquiring this speed bag won't prove to be a major assault on your wallet in the middle of an ordinary day.
Light weight and balanced for speed. Good Quality for the money.
​

The Title Classic bag is designed for fast paced training making it one of the best speed bags for experts and more experience users. 
---
How to Set Up A Speed Bag
Below you will find out how to install a speed bag as well as exactly what you will need for installation.
What Will I Need Need for Installation?
Remember, a person of any gender, age, and fitness level can benefit by fast pace bag training even if they don't know how to hit a speed bag like a pro. But, one will need some basic accessories to go with the speed bags. Just like you cannot block punches with your face, you cannot have the bag hanging on its own. You would need a platform to attach the bag at the desired spot at your home or gym. For the same, you will have to invest a tiny bit of money on a good swivel to hang the bag for the sake of training.  The good news is that a good swivel can last a lifetime without intimidating a common man's wallet. So, it would prove to be a one-time investment for your training needs. Let's introduce you to the best ones out there.
1. Speed Bag Swivel
To make the use of bag more beneficial and so much better than usual, the Everlast Professional Speedbag Swivel should be on your radar. For those who don't know, it's professionally made from heavy-duty steel and not some flimsy plastic. Plus, the price is in harmony with other steel swivels out there. Customer reviews suggest that the unit lasts for a long time. Furthermore, it arrives with all the necessary hardware for easy installation. Above all, it's nicely engineered to help a user to change the bag quickly without any fuss. The bag swings perfectly on the swivel and improves one's overall training experience. In conclusion, you won't find a competing product that can beat this swivel for its price point.
2. Speed Bag Platform
Speed bag platforms are a must if you plan on doing any training at all with a speed bag. If speed training is not just another passing obsession for you, then try your hands at the Everlast Elite Adjustable Speedbag Platform. The directions are not the best, but the product is as solid as it can get.
It allows for a tight and secure installation like nobody's business. Better yet, the 24-inch diameter board can accommodate a bag of any size. Even if you were to hit the bag hard and fast, the platform wouldn't vibrate or shake. Moreover, it offers the right bounce for a speed bag workout. Overall, it provides excellent value because it allows for a great workout. If you haven't gotten a platform yet, you can check out our list of the best speed bag platforms here.
How To Use A Speed Bag
The thing about speed bags is that they can be a bit tricky for beginners and newbies to boxing and speed bag training. But don't worry once you get the hang of it, speed bag training will become addictive and fun. Check out the video below on how to hit a speed bag.

How To Choose The Best Speed Bag
Use the sizing chart below to make sure you pick the speed bag that is best for you.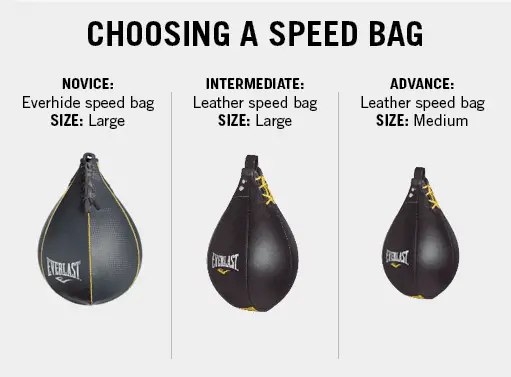 What Size Speed Bag Is Best?
The size of the bag is completely up to you, there is no size is best. But there are some general rules as to which weight is best for what type of training. If you are a beginner then you will want to choose a larger size speed bag.
Why should I choose a larger size speed bag if I am a beginner? 
The larger speed bag are better for beginners because they are much slower and allow for more controlled training and will allow you to get used to the bag way easier than a small bag. 
If you are more advanced then we recommend you to get a smaller size bag because these are excellent for fast training and will allow you to seriously improve your speed and precision.
What are the benefits to using a Speed Bag?
Although there are many benefits to speed bag training, here are just a few to keep in mind.
 Improves Speed: These bags were given a name for a reason. They improve your punching speed like nothing else in the market. When you hit a these bags, they are designed to react so fast that you are left with no choice but to work on your pace to stay in harmony with the speed and rhythm of the bag and improving your punching speed and timing. As many boxers would state, "Speed is the fundamental benefit of using a speed bag." Some also find the rhythmic sound of the bag very engaging.
Enhances Hand-Eye Coordination: Just like the double end bags, a speed bag can improve one's hand-eye coordination like nobody's business. It helps one focus better too. At first, you might feel like a sheer loser. But, once you get a good hang of the bag's movements, you will thank yourself for not giving up soon. As such, hand-eye coordination isn't good just for the sport of boxing, it's useful in just about any physical sport out there.
Imbibes Good Boxing Habits: How many times have you seen a boxer getting knocked down just because his hands were not covering the face? It happens all the time, especially if you are a beginner at the sport. Speed training helps one keep their hands up all the time. Over time, a boxer drops his hands naturally lesser times than usual.
Other Benefits: Other benefits of this training include improvement in arm and shoulder strength. It also improves one's endurance. As a result, one's punching power beefs up. Not to undermine the fact that it's fun training on a speed bag, and you can shed a lot of calories too. Everything combined, one can witness a great improvement in his/her boxing skills.
Best Speed Bags: Our Recommendations
Now that you have made to the end of our speed bag reviews, you now should know which speed bag is best for you, and you should be able to know how to pick out the right one.
Our top recommendation is going to be the Balazs Laser bag as this is the #1 rated speed bag that you can buy today.
Did this review Guide to the best Speed Bags help you? Share with your friends!