Best Squat Racks with Pull Up Bar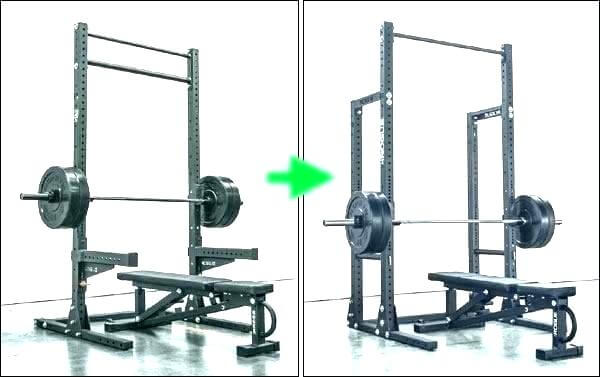 The best squat rack with pull up bar ticks two of the most important, compound exercises for the lower and upper body.
For the uninitiated, that's the squat and the pull up. 
And if you are a little creative, you can use it to add a lot of variety to your mundane workout routine. 
Not all squat racks come with pull up bars though. Even the ones that do aren't really designed for a guy who's 6 foot plus. 
Then there are the dimensions of the cage to consider. 
Sure, you can buy the bulkiest best squat rack with pull up bar if you have a capacious bat cave under your mansion. 
What if you are a mere mortal like the rest of us who's trying their best to set up a home gym in a tiny apartment?
Don't sweat it. That's where we step in.
We've handpicked the best squat racks with pull bars for you. And there's one for homes of all sizes and pockets of varying depths.
---
Hulk-Fit Adjustable Power Cage
Fitness Reality 810XLT Rack
CAP Barbell Full Cage Power Rack
Sunny Health & Fitness Rack
1Fit Squat Rack with Pullup Bar
---
Best Squat Racks with Pull Up Bar - Our Reviews
Below we have listed out the top squat racks with pull up bar in order of our top picks when considering three important qualities, quality, function, and cost, in that order. 
If you are wanting the best overall, which means best quality, best function, regardless of cost then the Hulk Fit Power Rack is the best option.
If you are wanting the most cost effective bang for your buck and do not care about having the best quality and most function then the Cap Full Rack is the one to pick. You can check it out on amazon by clicking here.
Do keep in mind though that the price on all of these is very close and is almost not worth the lower quality. My recommendation is the Hulk-Fit Power rack with Pull Up Bar. 
---
HulkFit Multi-Function Adjustable Rack W/ Bar
Best features
Stainless steel construction
Chin Up Bar
Allows for multiple exercises
Wobble-free with rubberized feet, stable H-base
Height adjustable J hooks
Rack has 1000+ Capacity
Safety bar with 800+ lbs. capacity
Pull up bar with varied grips
Dip bar
Roomy enough for doing squats freely
Variety of accessories available from Hulkfit
The Hulkfit MultI-Function adjustable power cage boasts of 1000 lbs. max weight capacity and it comes with a whole bunch of accessories that allow you to customize it for isolation exercises. 
It's constructed ground up from heavy-duty stainless steel tubing and comes with a rubberized H-base that stays as stable as a rock even when you have racked 700 lbs. or more on the bar. 
Talking about the bar, the cage accommodates a standard 7 ft. Olympic barbell and is height adjustable for different athletes in a family. You just need to move the J-hooks, which is very easy.
The cage stands 85" tall with the pull-up bar attached. For an athlete who's 6'3, there's ample room to do the pull up without having to fold their feet. More importantly, there's zero wobble even if you are trying to do a muscle up with some swing.
And it's about 52" wide giving you plenty of room to exercise without being cramped. The depth is just 26" though, as the lat down attachment on the rear takes up a significant chunk of the space. This may not suffice if you plan to squat inside of the cage rather than outside.
Along with the pull up bar and the lat pull down attachment, the cage also comes with a dip attachment for chest dips.
Hulkfit also has a variety of additional accessories that you can buy. Like a bench for example, which fits the dimensions of the cage perfectly and additional J-hooks if you are looking to squat without the assistance of a spotter. 
Oh, almost forgot to mention that there are two safety bars that look a little flimsy but have an impressive weight capacity of 800 lbs. In the event of an accidental misstep or you being unable to complete a squat, these have you covered. 
Overall, we couldn't be more pleased with this squat rack with pull up bar. It isn't too bulky. 
Yet it is roomy enough even for tall users. And it has a 1000 lbs. max load which is more than what most people would ever lift.
---
Fitness Reality 810XLT Super Max Rack W/ Bar
Best features
14 Gauge steel frame construction
Height adjustable J-Hooks 
1" thick solid steel safety bars
19 positions for the safety bars
Pull-up bar at 84" from the ground
810 lbs. max weight capacity
Spacious and sturdy
Offers a lat pull down attachment
Offers a weight bench combo package
Can perform multiple exercises
If you aren't looking to spend as much as what the Hulkfit Power cage costs, then the 810XLT from Fitness Reality maybe right up your alley.
It has a slightly lower maximum weight capacity, that is 810 lbs. 
Most home gym users that we've seen, never lift more than 500 lbs. anyway. 
So, if you are penny pinching, this might be an equally good alternative to the best squat rack with pull up bar in this list. 
It is constructed from a 2" x 2" square, 14-gauge steel frame. Not the best in terms of thickness. But it's pretty standard for racks designed for home use. More importantly, the rack is extremely sturdy and doesn't wobble one bit. 
Just like the Hulkfit cage, this one features height adjustable J-hooks and there are 23" long dual, mounted safety bars that are made of 1" thick, solid steel and come with chrome locks. 
There are 19-holes that can be used to height adjust these bars, which should more than suffice irrespective of what exercises you are looking to perform. 
Fitness Reality has a really good multi-position bench that you can add to this setup.
The 810XLT also features a multi-grip pull up bar that stands 84" from the ground. That's the perfect height for users who are up to 6'4. 
All other accessories and attachments, like the dip bars, the pegs to hold the weights as well as the lat pulley attachment, are optional purchases that must be bought separately. That's not a deal breaker for us though.
Overall, the 810XLT is a sturdy and capacious squat cage with a few neat additions thrown in for good measure. 
Is it a good buy for a gym?  Not if you have athletes looking to rack 600 lbs. and more every time. 
But for a home gym, it is great value considering the weight capacity, the construction and the price tag.
---
CAP Barbell Full Cage Power Rack w/ Pull up Bar
Best features
Compact squat cage for basements with low ceilings
72" tall, 44" wide and 47.5" deep
Extra deep for in-cage squats
14 and 12-gauge steel tubing
Compatible with Olympic 7-feet barbells
500 lbs. capacity for catches
750 lbs. capacity for pull up bars
Color Combo Looks Excellent
Its the one that I use
If none of the users at home are taller than 6', then some of these oversized cages can be a waste of space, especially if you are looking to install it in a basement with low ceilings. 
CAP offers a smaller-sized option that's 72" high, 47.5" deep and 44" wide. 
What it sacrifices in height, it more than makes up in depth. 
You do not have to step outside the cage for a back squat with this one. There's 44" of space and there's no way you are tripping on the base frame no matter how much you step backwards. 
The construction is a blend of 14 and 12-gauge steel tubes, with black powder coated finish and the entire setup weighs around 110 lbs. once fully assembled. 
For the weight, the cage is extremely sturdy and there are users who have dropped 350 lbs. to the safety with zero problems. 
The weight capacity for catches is just 500 lbs. and it has a pull-up bar that's rated for 750 lbs. To be honest, we'd have preferred this to be the other way round. More capacity for the catches and less for the pull up bar. But guess that we can't have everything, can we? 
Another tiny niggle that we have is that the holes on the frame are spaced 4" apart. That's not a big deal if you are only going to be using this for doing squats and upright rows and such. But if you are looking to bench, that distance isn't ideal to use the safety bars. The standard spacing is 2" for bench press safeties. 
Other than this, the CAP barbell full cage is perfect for home gyms in space-constrained set ups.
By the way, this is also available in a standard 7-feet variation for taller users. 
---
Sunny Health & Fitness Power and Squat Rack
Best features
Minimalistic design
Thick, stainless steel frame
85" tall 
Multi-grip pull-up bar with knurled hand grip
J-Hooks with 880 lbs. capacity
16" spotter arms
30 height-adjustment holes that are spaced 1" apart
11" plate posts at the base
Landmine barbell attachment
Resistance band attachment near the base
If you hate the appearance of bulky cages, then you'd love the compact, minimalistic design on this Power Rack from Sunny Health and Fitness. 
It's an open power rack that's 85" tall and 42" deep. Ample room even for tall users to perform all exercises. But doesn't look like an oversized clunker and will fit in easily into a small apartment room or in a basement. 
The rack is built of thick stainless steel that gives it the much needed stability during demanding workout routines. It has a max weight capacity of 880 lbs. for the bar holders. 
Also, there are 16" spotter arms that let you add the extra plate or two for your squats without the need for a spotter. 
There are 30 height-adjustment holes, spaced 1" apart that allow users of all heights the much needed flexibility during workout. Height adjustable J-hooks can be moved and locked easily in any of these holes. 
In addition to the standard features, we really love the addition of the landmine barbell attachment in this cage. Takes your workouts to a whole new dimension if you know how to use this. Landmine shoulder presses, Lumberjack front squats, bent over landmine rows, one arm clean and presses, we have an elaborate list of exercises that you can perform with this alone. 
Also, there are resistance band posts on the base frame that let you add progressive resistance to your compound lifts. 
The only possible quibble that we have with the rack is that it tends to wobble during muscle ups, particularly when a tall and heavy user is working out. If you are 6'3 and 200 lbs. plus, and are looking to do TRX maybe, then there will definitely be some wobble. 
As a workaround to this, just rack some heavy plates on the 11" plate posts near the base that give it a lot of additional stability. 
The Sunny health and Fitness power cage is a great addition to a home gym, especially if you are looking for something more compact as compared to a traditional power cage.
---
1Fit Squat Rack with Pullup Bar
Best features
Compact squat rack with 4' x 4' footprint
Constructed from 2" x 3" steel tubing
12-gauge steel
Black powder coated finish on the frame
Weighs just 80 lbs. 
450 lbs. weight capacity
Height adjustable pull up bar
West side hole placing on the upper frame
Weight horns on the base
Weighing just 80 lbs. with a 4'x4' footprint, this squat rack from Onefitwonder will fit into the tiniest of basements and garages. 
It is constructed from 2" x 3", 12-gauge steel tube that has an attractive, black powder-coated finish on the main frame and a contrasting green coating on the J-cups. 
The weight capacity is a reasonable, 450 lbs. and it comes with a height adjustable pull up bar attachment. 
There are multiple height adjustment holes with west side hole spacing on the top part for bench presses. The bottom attachment doesn't have the same hole spacing though. Not that it matters much to us. At the lowest setting, you can place the barbell barely 16" off the floor. That works just fine for us. 
There are weight horns mounted on the base which can be used for racking weights to stabilize the rack. Alternatively, you can bolt it down to the floor, which will be necessary because it does tend to wobble during pull ups and when you drop heavy weights to the J-hooks.
At this price point, there's no denying that there will be tradeoffs irrespective of what product you buy. This one doesn't have too many, except that there are no spotting arms available. If you are looking to perform squats without a spotter, you'd have to find an aftermarket spotting arm with a 5/8 mounting screw. 
Also, the J-Cups are made of UHMW plastic. Not metal. That's supposedly done to prevent the powder coated finish from scraping off over time as you move them. Well, we'd have preferred a metal J-hook with a higher weight capacity instead of this one.
---
How Did I Select the Best Squat Rack with Pull Up Bar?
Slowly but surely, the fitness industry is swaying towards the use of heavy, compound movements as opposed to isolation moves and machine workouts. 
Be it strongman 5×5 or PPL, all popular workout routines emphasize on the importance of squatting, benching and deadlifting. 
If you are a home workout person who find gyms too claustrophobic and crowded for comfort, then you absolutely cannot do without the best squat rack with pull-up bar.
It will be the centerpiece of your equipment and most certainly, the most important investment that you make. 
If you are at wits end trying to figure out what features to look for when you go squat rack shopping, then here's a brief buying guide that will help you narrow down on the right one. 
How much space do you have to set the rack and bar up?
Squat racks were designed for use in the gym. So the design isn't exactly what you'd call 'space-saving'. 
Having said that, it's completely possible to find options that can fit into your home gym. Grab a measuring tape and measure the exact dimensions of the space where you plan to install the rack. Measure the height, the width as well as the depth. In addition to this, you will also need some extra room in front of the rack if you plan to squat outside of the cage.
A standard-sized squat rack will be at least 85" tall, 48" deep and 45" wide. There are however, smaller ones like the one from CAP, which is just 72" tall and is a better fit for rooms with low ceilings. 
The caveat is that if you are taller than 6', you'd have to be at your acrobatic best to perform pull-ups on those. Not very comfortable, we tell you. 
So keep in mind the intended use and the maximum height of the people who will be using it every day. 
Construction: What is the squat rack and pull up bar made of? How Long Do You Want it to Last?
All squat racks are advertised as 'made of heavy-duty steel'. But that's a vague description. You need more specifics, like the exact gauge of steel used for construction. 
Also, what's the size of the uprights? 
2 x 2" is a standard, acceptable size. 2 x 3" is better. 
When it comes to the gauge, the smaller the number, the thicker and more durable it is. So 7-gauge steel, which is used strictly in commercial-grade squat racks is thicker than 11-gauge and so on. 
Squats designed for home use are mainly made of 12-gauge steel, which is a fairly good choice. It should hold up pretty well to repeated use without wobbling or yielding under the weight. 
13-gauge is used in budget-priced options. While it's quality is acceptable, it would never be our first choice. 
How much weight can the pull up bar handle? What about the squat rack?
The maximum weight capacity of the best squat rack with pull up bar is a good indicator of how sturdy it is. 
A rack that's rated for 1000 lbs. for example, is less likely to wobble as compared to one that's rated for just 500 lbs. 
But also pay attention to the weight capacity of the J-Hooks. If the J-hooks are rated for just 150 lbs., then that doesn't really serve the purpose, does it? 
Safety Features – does the squat rack have safety guards or spotter spins?
You cannot do without at least one safety feature that's designed to catch your bar in case of a mishap, or if you decide to drop them mid-rep. 
This can be a safety bar made of steel or spotter arms or safety straps. These must be rated to catch the weight that you are moving. 
If you squat 450 lbs. and the safety catch is only rated for 300 lbs., then you need to look for a different rack or a heavier safety bar. 
Hole spacing & height adjustments on both the pull up bar and squat rack
A lot of users get swayed by the 'x number of holes for height adjustment' claim. 
We get it, more the number of holes, greater the control you have over the positioning of the barbell, the J-hook and any other accessories that you might attach to the rack.
But equally important is the hole spacing. For bench pressing, you need the west side hole spacing that has holes that are 1" apart. 
Budget-priced racks have holes spaced 2" apart from each other. Some have holes placed even further apart. 
Check the hole spacing, especially if you plan to use the rack for bench pressing.
Learning Your New Squat Rack With Pull Up Bar
How To Do Pull Ups Correctly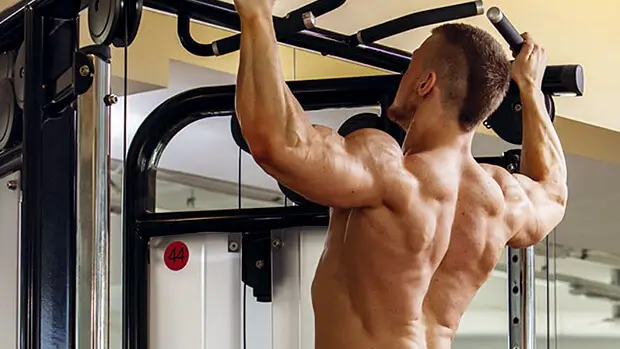 You may think that doing pull ups is pretty simply but the thing is… lots of people actually do them wrong. In order to do pull ups correctly I have laid out a list for you below. 
Get your grip right. grab the bar with your palms facing away from you.
let your body weight hang from the bars so that your arms are out straight
keep your knees bent and locked together to prevent you from swinging
pull up until your eyes are eye level with the bar. not your chin above the bar unless you are doing chin ups and this requires a different grip position
hold for 1-2 seconds, then let your weight down until your arms are out straight
repeat
How To Squat Correctly – Form & Technique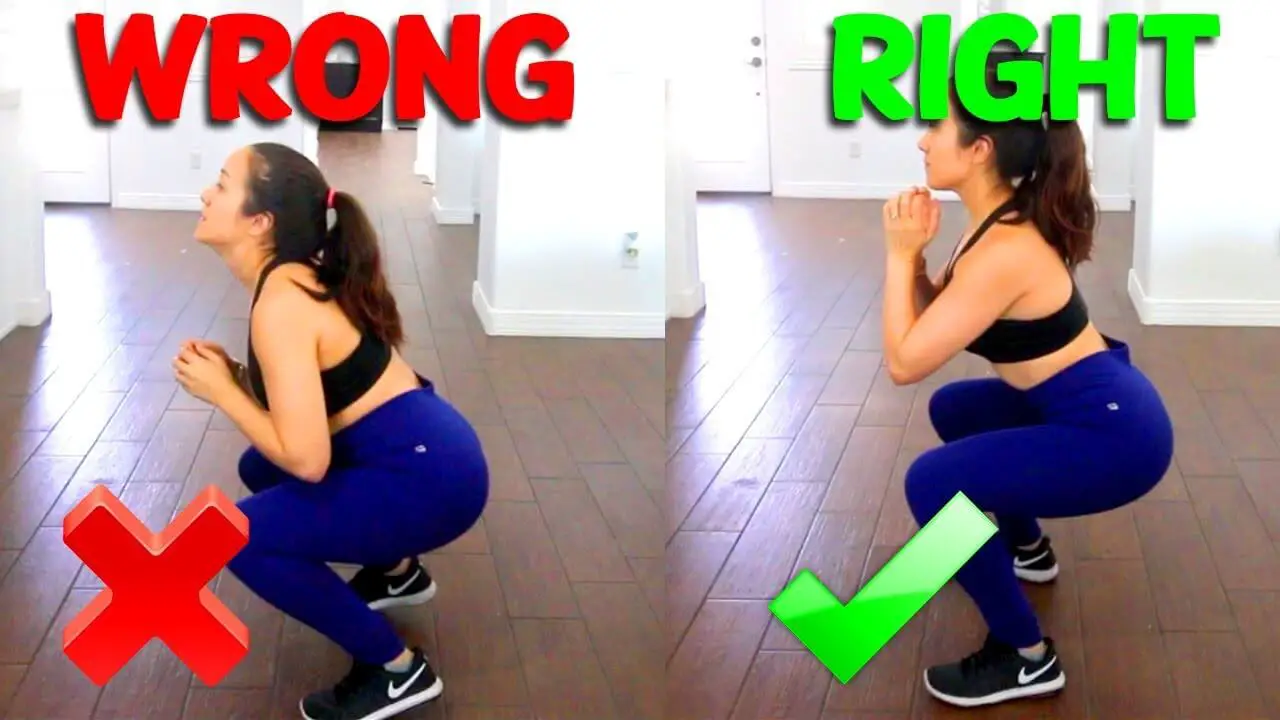 Now that you have picked out the best squat rack with the pull up bar attachment you need to know how to not only do pull ups but also how to squat correctly.
Here I have laid out the instructions for you sop that you can follow these exactly to make sure you are squatting correctly.
Step under the barbell that is resting on your squat rack
Lift the barbell weight off the rack and step back
Make sure your feet are shoulder width apart pointing forward.
Keep your back straight and squat down
Once your legs hit 90 degrees and are parallel with the ground. Squat up
Keeping your back straight make sure to complete the entire range of motion so that your legs are straight
Best Squat Rack with Pull Up Bar - My Recommendation
So you have looked through my list of the top rated squat racks with chin up bars but just now which one should you get? If you are still on the fence about which one you should choose let me give you my recommendation.
With all of these coming in so close in cost and with the Hulk Fit outdoing all of them in both categories, quality, and function, my recommendation is going to be to buy the Hulk Fit rack and pull up bar station.
You can check it out on amazon by clicking here.
That's it folks. That sums up our list of recommendations for the best squat rack with pull up bar