Century Wavemaster Reviews – Which Bag Is Best? In-Depth Comparison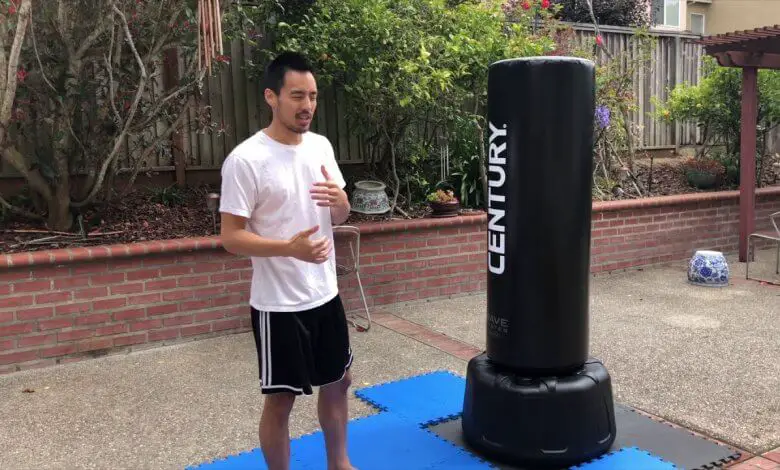 Here is something we all can agree on...Finding a Century Wavemaster punching bag can be a daunting task considering the numerous options that are on offer. 
Yeah yeah, we all know that Century builds the best free standing punching bags and have done so for quite some time. But the thing is, there are literally a ton of punching bags offered by Century, which one is best?
Don't you just wish for a guide that lists the pros and specifications in one place and helps you make the right decision?
Well good, you have made it to the right place.
Here you will find my personal Century Wavemaster reviews where I give you an in-depth review of their 4 most popular products and recommend an alternative for more realistic style training.
*Quick Jump: You can check out the top rated Wavemaster Punching bag on amazon by clicking here.
 Let's get started!
Century Wavemaster Reviews
Listed down below are reviews of the most popular Wavewaster punching bags from Century.
1. Century

Original

Wavemaster
Featuring first on the list is the Century Original Wavemaster. It was first introduced in the market in the 90s and continues to be a popular choice. This freestanding punching bag can withstand heavy punching and comes one-year warranty.
Best Features
It is suitable for smaller/average height fighters & trainers.
The height is adjustable from 47 to 68 inches.
It weighs around 250 pounds when filled.
The base can be filled with sand or water.
The diameter of the base is 24 inches.
It is made using high-density foam and vinyl.
It is free-standing. easy to set up.
Century Original Wavemaster Review
The large base of the Century Original Wavemaster gives it a sturdy foundation that can handle reasonably substantial strikes.
It bounces back quickly and provides ample resistance while you practice your kicks. Sidekicks, front punches, round kicks- this bag can take it all. It has a wide striking surface that gives you the freedom to kick with confidence.
Not only kicking, but the bag is also great for punching too. You no longer require a place to hang those bulky heavy bags from a punching bag stand to work out.
The Century Original Wavemaster is a sturdy standing bag that can withstand the hardest of strikes.
There are a couple of ways you can fill this punching bag. Some prefer to fill it with water, while others prefer sand. However, I prefer using water as it is convenient. 
Although, if you want more stability, use sand.
The bag without any filling is just about 50 pounds. It is thus effortless to set it up. Although you may need assistance once it is filled to its full capacity of 250 pounds. The bag has a diameter of 1feet and is just about 2 feet tall.
The most impressive feature of the bag is its adjustable height. There are a total of 7 different height settings that you can try. The height can be increased from 47 inches to 68 inches in increments of 3.
The bag has a round base that makes it convenient to roll it away. It has a durable vinyl cover and is available in black, blue, and red colors. The foam filler provides ample cushioning and a consistent punching surface.
Who is the Century Original Wavemaster meant for?
This punching bag is best suited for beginners who have just started their training.
I also recommend this bag for kids and smaller punchers. Additionally, adults can use this to practice their cardio routine too.
This bag is a good fit for home use as it is portable, compact, and easy to move making it a great option for those looking for an apartment punching bag. 
If yo, I suggest you give this a try as you can train without worrying about drilling holes or mounting it.
Some Things to Keep In Mind
The bag is relatively small and hence is not suitable for people over 6 feet tall. Powerful and heavy punchers must also give this a pass.
Likewise, while it is suitable for practicing quick kicks, it is not designed for heavy, powerful kicks.
Increasing the height of the bag makes it reasonably loud. It can disturb the people around you.
---
2. Century Wavemaster
XXL

- Best Bang For Your Buck

Next on the list is the Century Wavemaster XXL. It is my personal favorite and my go-to training bag for all my home workout routines.

 I can go to the extent of saying that it is one (of two, the BOB XL) of the best free-standing punching bags out there on the market. It is tall, sturdy, and can stand up to the repeated onslaught.
Best Features
It is suitable for tall and heavy punchers & trainers.
Built to last - I have owned this bag for 6 years.
Excellent outdoor punching bag.
It stands tall at 69 inches.
It weighs around 270 pounds when filled.
The base can be filled with sand or water.
The diameter of the base is 28 inches
It has a vinyl cover and filled with high-density foam.
It is free-standing.
Century Wavemaster XXL Review
The Wavemaster XXL is the ultimate bag from the house of Century. It is almost 6 feet tall! It has the largest punching and kicking surface when compared to all other models.
The low base provides the steadiness required for your intense training routines. It can be filled with sand or water. Using sand will provide additional stability and support.
The bag is built using high-quality parts and is therefore durable. It will show minimal signs of wear and tear even after knocking the daylights out of this bag.
The training bag can be assembled quickly and does not require any tools. It can also be rapidly rolled away when not in use. It does not require a large space to set up.
Unlike the permanently mounted bags, the Wavemaster XXL need not be mounted on any type of stand or drilled to any wall. For those reasons, it is one of the popular choices in training centers and martial arts studios as well as for homes.
You can use the Wavemaster XXL to practice any kind of kicks and punches. From high to low kicks, elbow striking, knee attacks, and different types of punches, this training bag can handle it all. As there is an inherent risk of getting injured, it is highly advisable to use heavy training gloves, preferably 16oz.
Who is the Century Wavemaster XXL meant for?
The bag can be used by anyone who wants to learn to box or improve his/her boxing techniques. People who want to practice intense cardio routines can also benefit from this.
It can be handy for an MMA fighter or a professional boxer as the bag can help improve their footwork.
Children who can kick or punch above the base can also benefit from practicing with this bag. However, do note that shorter kids can injure themselves if they accidentally kick the base area as it is made of hard plastic and is not padded.
Some things to keep in mind
It is costlier than the other models. But far worth it.
The bag can be quite difficult to move once filled as with all bags.
---
3. Century Powerline Wavemaster
Featuring 3rd on the list is the Century Powerline Wavemaster. It is packed with two times the high-density foam as the Original Wavemaster.
It has all the features of the original and a few extras that enhance the user's experience while working with the bag.
Best Features
It is suitable for average height fighters and lighter punchers
The height can be adjusted from 47 to 68 inches.
It weighs around 270 pounds when filled.
The base can be filled with sand or water.
The diameter of the base is 24 inches
It is made using durable vinyl and high-density foam.
It is free-standing.
Century Powerline Wavemaster Review
It is a versatile punching bad and has 8 height adjustments starting from 47 inches to 68 inches. Similar to the other models, the Century Powerline Wavemaster also has a plastic base that can be filled using either water or sand.
With a diameter of 17.5 inches, the bag of the Powerline Wavemaster is 4 inches bigger than the original. The additional width gives room to practice more techniques and styles. It is also 20 pounds heavier, making it more stable than the original. This has resulted in fewer customer complaints about it falling over or wobbling.
Due to the high-density foam, the bag does not get dented when you land a strike on it or when it is used for a longer duration. Also, the vinyl cover makes it super durable.
It has a lightning-fast rebound speed. It is an excellent choice for doing kickboxing, cardio, medium, and light intensity workouts.
The Century Powerline Wavemaster is an improvement over the original. It is also an affordable choice when compared to the Wavemaster XXL.
Who is the Century Powerline Wavemaster meant for?
This bag is best suited for kickboxing as it is heavily padded. It maintains its stability even when you practice your high and low kicks.
It is an excellent choice for beginners who are looking for a substantial medium-sized punching bag.
Its height makes it ideal for kids and shorter adults.
Some things to keep in mind
 The bag is
not suitable for pros
who are looking for a full-on punching bag workout experience. Best for
Teenagers
or beginners
---
4. Century Cardio Wavemaster - Best Bag For Women
Coming 4th on the list is the Century Cardio Wavemaster. Just as the name suggests, it is mainly useful for cardio boxing workouts.
It is the lightest punching bag amongst all Century models. This heavy bag is designed for women and men who want to focus on speed and accuracy instead of raw force.
Best Features
It is more suitable for women, older people, and children.
It is 40 inches tall.
It weighs 170 pounds when filled.
The base can be filled with sand or water.
The diameter of the base is 22 inches.
It is made using poly-shell and high-density foam.
It is free-standing.
Century Cardio Wavemaster Review
The Century Cardio Wavemaster is a beautiful training bag to center yourself around after a hard day. It's small built is perfect for intense boxing workouts and low impact exercises. 
It has 4 height adjustments starting from 53 inches to 65 inches. This feature makes it suitable for people of different heights.
The 10.5 inches diameter of the bag is smallest compared to other models. The reason for the reduced size and weight is that it was mainly developed for cardio training. The compact size also makes it easy to relocate it if need be.
The Century Aerobic Wavemaster is all you need for a full-body workout routine. As it is a tall bag with a wider base, you can move your feet to bob and weave and try all the punches and kicks you want. Even though the bag is padded, I advise the use of heavy bag or mma gloves to minimize the chances of getting hurt.
The bag is durable and requires no assembly. All you need to set it up is fill it with water or sand. It is a stellar value product with many happy customers praising how much they have been able to get out this punching bag over the years.
Who is the Century Cardio Wavemaster meant for?
If you are more interested in cardio rather than power punching, then this bag is for you. The bag is an excellent workout partner for anyone interested in toning their arms and legs.
You can save up on gym membership fees by setting up a home workout routine with the Cardio Wavemaster.
Some things to keep in mind
Some users find the design of the bag to be too narrow, thereby restricting the free movement of the kicks and punches.
The bag does move on impact. However, you can overcome this drawback by placing it on a floor with excellent traction.
The small hole for filling the base is a bit inconvenient, especially if you are using sand.
---
Better Wavemaster Alternative
If you are looking for a punching bag that feels more like a real human, I have an excellent alternative to the Wavemaster in mind for you!
It is the Century Bob XL.
Century Bob XL
The Century Bob XL is designed with a muscular torso, head, and a menacing face. Bob is the abbreviation for "Body Opponent Bag." It serves all the functions of a traditional punching bag, albeit the boring, inanimate, cylindrical-shaped design.
Best Features
It is suitable for people who want to experience realistic target practice.
It can stand at a height ranging from 60 inches to 78 inches
It weighs 270 pounds when filled.
The base can be filled with sand or water.
The diameter of the base is 24 inches.
It is made with high-strength plastisol and packed with high-density urethane foam.
It is free-standing.
Century Bob XL Review
It is effortless to fill the base of the bag. Unscrew the cap on the top of the base and fill in the filler material (sand or water). The bag without the filler is under 50 pounds. However, when filled, it weighs a whopping 270 pounds.
One of the most significant features of Bob XL is that it can be used for implementing targeted strikes. On a punching bag, you cannot aim for the body parts; however, with this, you can target areas such as the spleen, stomach, collar bone, etc.
The height adjustment feature helps you to practice your chops on various sizes of people.
The high-quality material used in its construction makes it feel like you are hitting an actual target. Ensure that you do not kick or punch the back areas as the screws are located here, and the area has no padding.
Who is the Century Bob XL meant for?
The bag is versatile and can be used for any type of user.
Although it is designed for martial arts professionals who want to work on their skills, it can be used by individuals who want to practice self-defense, elevate their stress or use it as part of a cardio boxing fitness routine.
---
My Recommendation
We have finally made it to the end of the list. All the 4 punching bags that were reviewed in the article are available in 3 different colors- red, blue, and black.
Choose the bag that best suits your personality and experience the thrill of knocking the socks out of someone.
I hope that you now have all the information required to make your choice. I highly recommend the Century Wavemaster XXL as it stable and built to withstand high impact.
However, all the models have their strengths. Identify your need and select the right Wavemaster model for your style of training.
Related Readings: