Century Wavemaster XXL Training Bag Review – Should You Buy It?
Century Martial Arts is a company that is well known for coming out with top of the line high quality mixed martial arts and boxing gear. They also make some of the best stand alone punching bags on the market. The Wavemaster XXL is no exception. This is one of the best free standing punching bags that money can buy.
You can check it out for cheap on amazon by clicking here.
This bag is one of my personal favorites and is still today; my go-to-bag for my training routines and heavy bag workouts at home. I know everything that one needs to know about this bag. Therefore, this review won't be another woefully underprepared pep talk. Courtesy of my experience with this punching bag, this one will be your closest encounter with what I like to call 'plain truth'. Now let's get to the business end of the topic.
Watch the Training Video Below of the Wavemaster XXL To See How It Works
General Overview Of Wavemaster XXL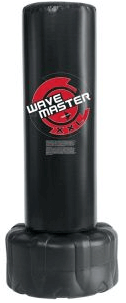 Standing at 69 inches tall, it's tall, portable, versatile, and durable. Making it a training bag that's perfect for practicing a variety of kicks and punches. According to the Century and myself, it can stand up to a lot of repeated onslaught and abuse, and it's an ideal substitute for a hanging training bag. Unlike the rivals, this training bag features multilayer foam interior for extra cushioning and overall user comfort. Given the foothold it enjoys in the market, this bag comes in three nice colors—blue, red, and black.
Key Details & Features
High-Quality Parts: The parts and components of this training bag are made from top-shelf materials. You could beat the daylights out of this bag, and it will still show minimal signs of wear and tear after several years of use. So, procuring this training bag won't make you feel like someone did something morally wrong to you.
Solid Weight: When the base is filled with water or sand, the training bag weighs around 270 lbs. It's almost as solid as a pickup truck. Although it's not secured to anything, it doesn't move a lot. It can hold up well against hard-hitting and aggressive training for several years and beyond. So, this training bag can be considered for recreational as well as serious training.
Dimensions: This free standing punching bag has a height of 69 inches, and the diameter of the base is 18 inches. It's about as tall as a grown-up man. Frankly speaking, it's one of the largest free-standing training bags that you will find around. Compared to the rivals, you can get a lot of use out of this high-quality striking bag.
Easy Assembly: No special tools are needed for the sake of assembly. For construction, one should attach the body to the base and fill the bottom area with sand or water. On the whole, it's easy to fill, empty, or roll the training bag. Moreover, the training bag does not take too much real estate space.
Warranty: Given the fact that a training bag is subject to a lot of abuse, the one-year warranty offered by the makers appears to be pretty generous. For fitness equipment of this nature, the one-year wa
rranty is a liberal proposition on any given day of the week.
Pros:
– The Century Wavemaster punching bag is reasonably priced for what it is. It's not priced too high or too low. It's priced somewhere in between. In fact, the company could have easily escaped by charging a little more for this training bag. So, I don't think that the CEO of this company is an overpaid greedy monster.
– Even if you are a well-trained martial artist who can generate a great deal of power and speed on every punch or kick, you will find the padding on this bag adequate for your needs.
– Given the size and stability of this training bag, it offers a wide variety of use and a large surface area to enhance your training. You can kick as low or as high as you want on this training bag. The 69-inches height can accommodate super high kicks as well.
– This training bag is great for practicing cardio or for learning to box or Boxing techniques. Given the product's quality, it can be used at home or in a gym environment too. So, it gives you the freedom to exercise anytime you want. No matter where you train, it can offer you a blasting workout. For a few hundred bucks, you are doing your health a great favor by bringing home a fitness equipment of this quality.
– The material used in the making of the product is a cut above the scope. For instance, it features a high-density foam padding and a highly durable vinyl cover. The padding is tough and forgiving at the same time. As a result, it's easy on the skin that comes in contact with the bag. Moreover, it gives out an impression that you are getting more out of every punch.
It doesn't move a lot during use. As a result, it eliminates the need for hanging a heavy bag anywhere in the house. Moreover, it helps you train on your own without the need for someone holding the bag for you when you are throwing in some explosive kicks or punches. Therefore, you won't be wasting someone's time. As a result, your 'sparring partner' won't badmouth you from behind.
Cons:
The Century Wavemaster XXL Training Bag does not come pre-filled. As a consumer, it becomes your duty/headache to fill the base with water or sand. Personally speaking, I use sand because it offers more stability than water. If you are not aware, you would need around 150-200 pounds of sand to fill this thing up. Of course, you can get this amount of sand anywhere locally.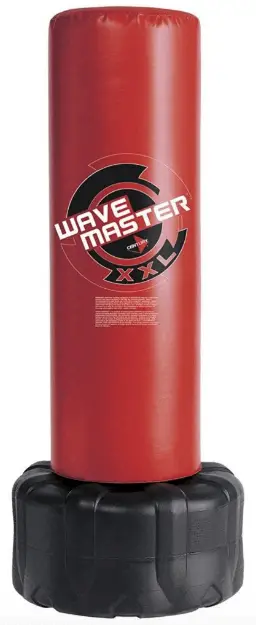 Common Questions:
Can Kids use the Wavemaster Punching Bag?
The base part is made of plastic, and it's not padded. Kids who are tall enough to punch over the base can use this training bag without any hiccups. Shorter or smaller kids can risk injuries by kicking at the base area. As such, the base area is around 1 foot tall.
Can this Training Bag be left Outdoors?
If you value your money, then don't leave it outside because it can shorten the lifespan of the product. Regular exposure to outside elements such as rain, sun, snow, etc, can cause some damage over a period of time. If you have no choice, keep it covered and shaded to prevent environmental damage.
Will I need Gloves?
Unless you are a pro, you might need a pair of gloves because you will find the bag a little hard on your body parts in the very beginning. You can use your gym gloves too. So, there is no need to shave off extra money for the gloves. For hard-hitting, you can also use wraps instead of gloves.
Is it Loud?
To be point-blank over here, the noise is bearable. It won't wake up your fist-fight ready neighbors or anyone else. The noise that you will hear will primarily be from the regular kicking and punching. The bag by itself is not a noise producing maniac. So, you could piss off your neighbors over a parking lot issue or something else because this training bag will preserve your relationship with the neighbors.
Important Pointers:
As hinted before, use sand instead of water for extra support and stability. You can also use a mixture of sand and rock to fill the bottom area. The combination of rock and sand works the best. That being said, first-timers can use water instead of sand because it's easier to move or empty the bag when it's filled with water as opposed to sand.
For efficient storage, your best bet would be to unscrew the top part from the base. Having unscrewed the top several times, I can state that this can be done very easily. As a practical tip, tilt the equipment and spin it to move the whole thing to the desired storage area.
As a pre-warning, the item is shipped in two separate packages. Basically, the base and the top is shipped in separate boxes. As a result, both the boxes may not arrive on the same day (generally, they do). So, don't be alarmed if you receive only a single package at any given time of the day.
Last Words on the WaveMaster XXL
The Wavemaster training bag can put several of its competitors out of business. Century Martial Arts has mastered the punching bag game. For its price, functionality, and durability, it's right on the money. In today's age and time, it's hard to find an equally capable training bag. It's an everlasting training bag that won't come with a risk of an embarrassing performance. The bag's ability to take kicks and punches are second to none. It can take heavy punishment like nobody's business. Even if this training bag is recommended by your non-intellectual drinking buddies, you could get it without missing a heartbeat.
Did you find this Century Wavemaster XXL Review Helpful? Share with your friends!
Recommended Reading: