How to Wash, Clean & Deodorize Your Boxing Gloves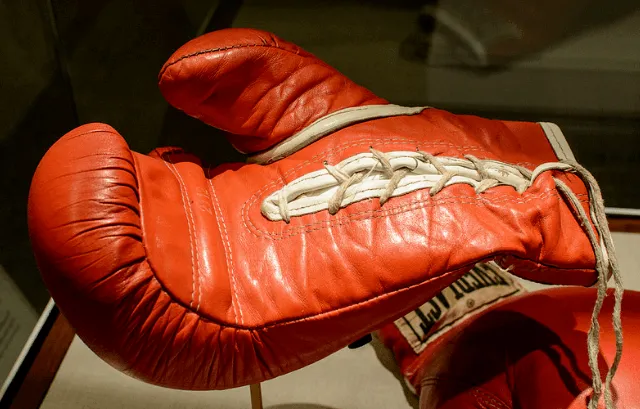 Stinky and smelly boxing gloves do not feel so foreign to a recreational or a pro athlete. After several rounds of heavy bag workouts or multiple training sessions these things can start to dirty up in no time!
In the ring, boxing gloves are a solid armor, but the idea of cleaning boxing gloves comes with a bitter afterthought. Simply put, boxing gloves challenges the norm of regular washing. So, cleaning them is a fundamentally different ballgame.
For those who don't know, machine wash or regular hand washing won't do the trick. If you want to preserve your investment on your boxing gloves, you cannot afford to machine wash them.
Fortunately, there are quite a few pragmatic solutions for cleaning/washing your boxing gloves to make them sweat, blood, bacteria, and odor-free. Because as we all know heavy bag gloves can get ****** nasty!
How to Wash Your Boxing Gloves?
1. Anti-Bacterial Spray ( this stuff is an absolute must! )
I use the best Anti-Bacterial Spray on my gloves. Its cheap and works like a charm.
You can find the stuff that i use on amazon by clicking here
If you hands sweat like mine do then this stuff is absolutely a must have!
An anti-bacterial spray can keep bacteria and bad odor at bay. So, make use of an anti-bacterial spray such as Febreeze or Lysol to clean the gloves. All you really have to do is spray the gloves with the anti-bacterial solution after use, both on the inside and outside. The anti-bacterial cleaner will get to work almost immediately and kill all the bacteria present in your gloves.
As a word of advice, make sure to spray the solution before drying out the gloves. If you spray them and leave them wet, the solution will be of no good for the gloves. It will just be a poor assault on your wallet. Also, don't use any solution with harsh chemicals in them as they can easily damage your expensive and favorite boxing gloves.
2. Deodorizers
These are an absolute must if you want to keep your gloves from permanently smelling terrible.
You can check out the deodorizer that i use by clicking here.
In today's age and time, it's not uncommon to come across boxing glove deodorizers that can help one keep the boxing gloves clean and odor free. Some of the good ones out there do a wonderful job at keeping your gloves smelling fresh.
For those who don't know, these boxing glove deodorizers are prepared from burnt bamboo sticks. The charcoal emitted from the burnt bamboo stick does the trick over here. So, these glove deodorizers are an easy fix to your awfully smelling and bacteria fostering boxing gloves.
For those who live in areas where coal is readily available, they won't have to spend money on these boxing glove deodorizers. The coal can do the same work as these deodorizers at a budget. So, you can look at coal as an economical solution to the glove cleaning chore. For this method to work, you will have to stick a lump of coal into your boxing gloves.
The coal will draw all the moisture and smell from the gloves. It's a crazy trick, but it works like nothing else in the market.
3. Baking Soda
Just use simple arm and hammer baking soda. You can find some on amazon by clicking here
Yes, this everyday household item can help you clean your boxing gloves like nobody's business. So, you have a simple solution in sight to clean your boxing gloves. Other than the baking soda, you will need an old pair of socks, water, and paper towels to execute this method. The result of this simple method would be a clean and odor free boxing gloves.
To begin with, clean the boxing glove with a wet cloth or paper towels. Once done, put baking soda into both the socks (half-way and not full) and insert the socks into the gloves. Finally, close the glove straps and leave the socks inside the boxing gloves overnight. You can remove the socks from the gloves the next day. By then, the baking soda will suck all the smell and stink from your boxing gloves.
4. SaltWater
Take a moment of silence for the companies that sell products for cleaning boxing gloves because this method is as cheap and effective as it can get. This saltwater method is the easy way to go for the kill. Yes, it can clean your gloves by killing all the bacteria present in them. As you might expect, there is some science behind this. So, this method wasn't pulled out of thin air in the middle of an ordinary day.
Well, this isn't a science class so we won't bore you till death. We will keep it short and simple. Basically, the salt water kills the bacteria by acting as a saline solution. All you have to do is soak the gloves in a salt water tub and leave them overnight. You will have to dry them out completely the following day before use. Keep in mind that you will have to research the material used in the making of the gloves to be sure that the saltwater solution doesn't damage the gloves.
5. Freeze It
If you never have patience, then this method may not be for you.  But for others, this method is a bliss. It's a simple and effective cleaning technique that works like a charm. Over here, you will have to seal your gloves in a plastic bag and store them in a freezer for the entire night. If your boxing gloves are really messy, then it's better to freeze them for a couple of days.
Once the gloves are removed from the freezer, dry them till they are completely free from all the moisture. So, be patient over here. To speed-up the drying process, you can use a fan. You can also keep the gloves under the sun. Keep in mind that leather gloves don't do well in freezing temperatures. So, avoid freezing leather gloves for too long.
6. Apple Cider Vinegar
Apple cider vinegar is another podium contender for cleaning boxing gloves. It can get your gloves bacteria and odor free with very little effort and expense on your part. Over here, you will simply take a tablespoon of apple cider vinegar and rub it on the outside and inside part of the gloves. Then, you will allow the boxing gloves to dry overnight.
Once the gloves are completely dried out, you will see the magic happen. Surprisingly enough, the gloves will be free from all the bad odor and stickiness. So, apple cider vinegar is a nice cleaning cure that can do the trick for you. Over here, you can also use white vinegar instead of apple cider vinegar to breathe new life into your otherwise terrible pair of boxing gloves.
7. Wet Cloth
For a quick fix, you can clean the gloves inside-out with a wet cloth. Yes, a bowl of lukewarm water and a soft cloth can do the trick over here. All you need to do is wipe the gloves with a soft cloth, and wait for the gloves to dry out before using them again. For leather gloves, you can also make use of leather wipes instead of water to clean the exterior.
The thing to keep in mind over here is that this method will only clean the gloves, but it won't battle out the bad odor. So, your gloves might still stink. So, use this method only in the state of emergency to make your gloves a little better than before. For proper cleaning, washing, and deodorizing, you may want to try out any one of the methods given below.
8. Lavender Oil
If you are a fan of lavender oil, you are in luck because it acts as a great disinfectant. For cleaning leather gloves such as gloves designed for kickboxing , you can also use tea tree oil instead of lavender oil. They can take care of the foul smell like a boss. They are also good for product longevity as they lock the natural moisture of the leather. It's like hitting two shots with a single bullet. That being said, gloves made of vinyl may not be ideal for the use of these essential oils because they can affect the product's durability.
Over here, take around 4-6 drops of tea tree or lavender oil in a cup of water. Take a soft cloth and soak it in the mixture. Then, clean the gloves inside-out with the wet cloth. That should be it.
Of course, allow the gloves to dry out completely before re-use or else you will be doing yourself a great disservice. To dry the gloves, you can take them out in the sun or air-dry them.
Another simple drying hack would be to stuff the gloves completely with newspaper. The newspapers will absorb all the moisture from the gloves. If needed, replace the wrapped newspapers will new ones when they get too moist.
Precautionary Cleaning Measures:
The best way to keep your boxing gloves nice and fresh is to prevent them from getting smelly in the first place. Make sense, right? The less sweat, bacteria, and blood it accumulates, the longer the glove will survive. So, follow the pointers given below to prevent your gloves from getting bad and smelly.
Do not try out wet gloves. Allow the gloves to dry out completely before using them again in the ring. If you don't do so, you will involuntarily commit yourself to grievances.
Make sure to wash your hands with some hand sanitizer before training. This simple move will keep pre-existing bacteria from your hands away from the boxing gloves.
You can try wearing wraps under your boxing gloves. The wraps will absorb most of the sweat. In this manner, you can prevent your boxing gloves from getting stinky.
Don't lock your gloves in the training bag immediately after use. You can dry them in sunlight or place them in a plastic bag after use. This will prevent the bacteria from breeding in your favorite boxing gloves.
Clean your boxing gloves as early as possible. The longer they stay messy, the worse they get. Therefore, keep some paper towels or wipes handy to clean them on the go to prevent smelly bad odor right away.
Avoid washing machine at all costs. You will end up with a personal pity party if you ignore this golden advice. At best, the washing machine will destroy the gloves. So, don't take this easy route.
Before trying out anything new, be fully aware of the materials used in the making of the gloves.

 

For instance, some materials may respond well to certain cleaning solutions, while others may not. If you are confused, contact the product manufacturer to clear your doubts.
Don't keep your boxing gloves in the sun for too long. Too much of sun exposure can cause more harm than good, especially if you own boxing gloves made from leather. Ideally, you should not leave them in the sun for more than thirty minutes.
So you now you've got yourself a clean pair of top notch boxing gloves that you can put to work. It's time to get yourself a top of the line punching bag. You can find the best stand alone punching bags here.
Final Words on Cleaning Your Boxing Gloves
Remember, you will never be able to kill or defeat your opponent with the bad smell of your stinking gloves. But, they will definitely get you disgusting looks. So, keep your gloves nice and clean at all times so that they don't smell like your old socks. If you follow the precautionary measures and the cleaning techniques outlined above, your boxing gloves won't smell like it's housing a small dead animal inside of it.
Recommended Reading: