What Is The Best Doorway Punching Bag? | Boxing Workouts In Small Spaces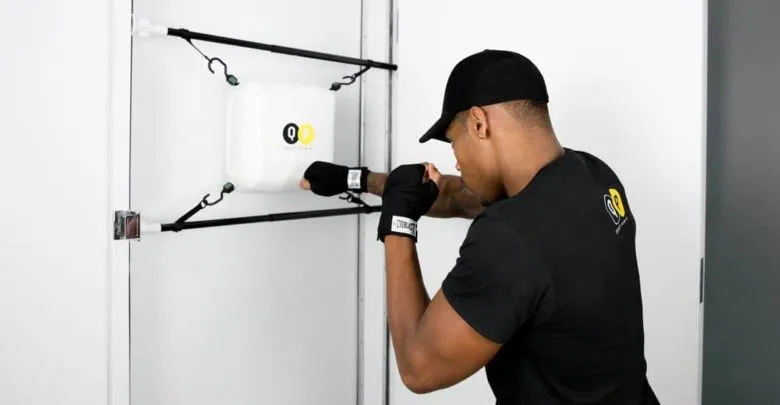 A doorway punching bag is a great option if you live in an apartment or if you live somewhere with small space but still want to be able to get your boxing workouts in or at least be able to do some heavy bag work.
Although, these bags typically are not going to be able to give you the most hardcore, professional training sessions that other punching bags can. These are without a doubt the best punching bags for apartments, small spaces, and for people who need to be quiet and don't want the bag making a shit load of noise.
The bags below are the ones that I have personally tested and just going to be honest, the Quiet punch bag is by far the superior option not only when compared with the gorilla gym bag but when compared with any bag that is considered a doorway punching bag.
You can check out the Quiet Punch Doorway Bag on amazon by clicking here.
Here's the thing: keep in mind, there aren't a plethora of items that you can pick from. So here I'll present you reviews of the 2 best ones that I found worth testing. Like I said the quiet punch doorway punching bag is going to be pretty much your only quality option. The good news is, it's an excellent design that does about as good as you can possibly do for a doorway bag, and you can pretty much take it anywhere you want on the go.
Let's get started:
REVIEWS OF THE BEST DOORWAY PUNCHING BAGS
Listed below are my personal reviews of the only two door way set ups that I deem worth your buck.
Quiet Punch Punching Bag Review
The Quiet Punch doorway punching bag is a great alternative for those who are in need of something that is going to fit in their doorway and is going to be considerably more quiet than other punching bags.
You can check it out on amazon for cheap by clicking here
This is compatible with 28″ – 36″ doorways. The process of installing is pretty quick & easy. All you have to do is just put the 2 bars between the frame, and then install this pad using 4 hooks. Also, it's important to mention that uninstalling takes a bit of time as well. A minute or so. In that sense, Quit Punch is a compact punching bag.
As expected, the pad is a lot more lightweight in comparison with a heavy bag. That being said, the experience of using this bag is really good since it's made with quality materials. This equipment is more suited for small punches, however, it's also capable of withstanding massive knocks.
What's more, the pad doesn't come too hard, allowing you to throw punches and jabs with bare hands. One of the cool sides of Quiet Punch Bag is, it's not very noisy if you used a big heavy punching bag. So it's not going to bother the people in your neighborhood.
This sound punching bag is helpful especially if you want to ramp up your speed and engage in cardio. You can grab this punching bag and get punching it right away. However, crosses & uppercuts would take a good amount of practice, in my opinion.
If I ever have to reside in an apartment, I'd get this bag without any second thoughts. Again, while it may not be as great as an actual heavy bag, it's a superb boxing utensil to get practicing.
Gorilla Gym Compact Punching Bag With Stand
If you're looking for some of the best possible quality equipment, then the Gorilla doorframe pull up bar is the thing for you. Even though it may be light and compact, the highest capacity is 300 pounds, which is fair enough for the majority of the people. It's a great fit for high-impact exercises like chin ups, pull ups, knee and leg raises. Plus, installing this thing up is fairly easy. You don't have to deal with any bolts or screws whatsoever. It fits the most of the general doorways, which range from 24 to 36 inches in width alongside regular trim.
You can think of this a cheaper more compact alternative to a normal punching bag stand with a pull up bar attachment.
This thing comes equipped with an extra attachment, called, the "fight station". You can add the attachment to your Gorilla Gym core unit, and it allows you to put on a bag maximum of 120 lbs, which you can already guess is adequate for even a tough guy/gal.
Also, when you won't be needing it anymore, you can do a quick uninstall. Bear in mind that you have to purchase this boxing bag separately.
If there's no space for a hanging or a freestanding heavy bag or you can keep your punching bag outdoors then this thing is an excellent way around for getting heavy bag workouts while you are at home.
Should You Buy A Doorway Punching Bag? – Our Honest Thoughts?
Having no room at your home doesn't imply that you must give up on your boxing practice and workout. You can always resort to one of the bag equipment I mentioned above and get going. Which one do I personally find better? Well it depends, are you trying to have a full set up or are you only wanting a door way set up? The quiet punch is best for more compact living areas and the Gorilla set up is best for the those that want an entire punching bag set up.
Recommended Reading:
Sources:
http://musclerig.com/best-door-frame-punching-bag-brackets