Everlast 70 lb Heavy Bag Review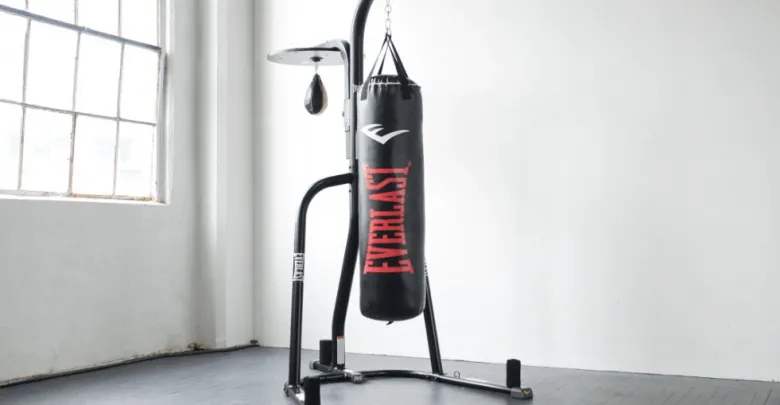 Are you looking for an easy to use lighter weight heavy bag that doesn't feel like your punching concrete every time you hit it?

If so the Everlast 70 lb heavy bag is going to be your best choice.

The Everlast heavy bag is my personal favorite punching bag to train with at home. It's lightweight, soft to the punch, doesn't bruise your knuckles up, and is a bag that has stood the test of time for me.
---
Features of the Everlast 70 lb Heavy Bag
Best Features
Lightweight Heavy Bag Weighing in 70 pounds
Comes as kit with heavy bag gloves and hand wraps
Comes stuffed with custom filling for ultra soft padded punches
Adjustable height chain that allows you to set the height of the bag to your liking
Can fill the bag from 70 pounds to 100 pounds
52" in height making it great for small spaces or apartments
Comes with a bungee cord for added resistance


---
Superior Quality -

Built To Last
The inner material that Everlast used to design the inner shell of this 70 pound heavy bag is a mix of natural poly fibers and synthetic fabric fibers allowing the bag to absorb punches very well and not get worn out.

The outside of the bag is constructed with a poly canvas that is extremely durable and long lasting. The poly canvas on the outside is what will allow this bag to keep its shape without getting worn out from constant kicking and punching.
This Heavy Bag Is Cheap -

Best Bang for Your Buck
The good news about this bag is that it is extremely cheap when you consider the amount of bag you are getting and just how long lasting it really is. 

I have had the Everlast 70 lb heavy bag hangin in my garage for 4 years now and I am constantly beating on it at least 3-4 times a week. You wouldn't believe the amount of banging I throw at this bag and it literally still looks the same as it did when I bought it brand new.

Its a 70 pound Heavy Bag - Nuff Said
Nuff said.. its only 70 lbs which makes an extremely fun and satisfying bag to train on. The bag is lighter weight the most which allows you to go as hard as you want on the bag and not worry to much about bruising your hands up. The bag is soft when hit and kicked and is the main reason I love this bag so much. It is so satisfying to train on this bag.

Comes with a Kit -

Gloves & Hand Wraps
What do I mean by "comes with a kit"? You can buy this heavy bag with a kit that comes with heavy bag gloves and hand wraps so that you can get started right rather than going off and having to get yourself a pair of gloves as well. You can check out the price and reviews of the entire heavy bag kit on amazon by clicking here

Doesn't take up too much space -

Compact
The fact that this bag is only 52 inches in height and only 15 inches wide allows you to set this bag up pretty much anywhere whether your in an apartment or just want to save some space this bag is going to be an excellent choice.

The fact that it is also only 70lbs allows you to move this bag around pretty much anytime that you want. 

Comes With Warranty -

120 Return Policy
If you buy the Everlast 70 lb heavy bag, which if you are smart, you will, and it ends up arriving damaged or if within 120 days something goes wrong that shouldn't then you can easily return this bag and have another one sent to you. All you need to do is call the company and let them know. You have 120 days to do this, so no stress when buying this bag, the company will make sure you get a quality punching bag.

Height is adjustable -

Easy to Adjust Chains
Another good thing about this punching bag is that it comes with height adjustable chains that allow you to easily adjust the height of the bag so that you can make sure it is set up perfectly for your height. This is a huge plus because most other heavy bags do not come with this feature.
---
Should You Buy the Everlast 70 lb Heavy Bag?
If you are looking for, in my opinion, the best heavy bag for price then this is going to be the one for you.

I am a little biased on this bag because it is just so freaking good. I have had this bag for years and to this day I still beat the heck out of it and it gives me more satisfaction than any other of my heavy bags or free standing bags.
I would suggest buying the kit not only because it comes with gloves but also because it comes with a punching bag bungee cord that allows you to strap the bag down a bit so that it doesn't swing which makes it extremely fun to train on because you can just go ham on the bag as much as you want and it doesn't hurt your hands unlike other heavier punching bags would.

Another great thing about this bag is that it comes pre-filled at 70lbs but it can be filled with another 20 pounds and still offer a surface that will not bruise up your knuckles. I prefer the 70 pounds but it's a great option to have to be able to make the bag heavier and harder.
---
What are the Reviews Saying about the Everlast 70 lb Punching Bag?
The reviews for this punching bag speak for themselves. There is a ton of positive reviews for this punching bag and its a no surprise. Click here to check out the customer reviews.
Check them out for yourself and you will see exactly why this is the best heavy bag and why you should be buying the Everlast 70 pound heavy bag.
FAQ About the Everlast 70 lb Heavy Bag
Here are some Frequently asked questions about the Everlast 70 pound punching bag kit.
Is the Everast 70 LB Heavy Bag Going to Be Enough?
So one thing you might be wondering is if Everlast's 70 lb heavy bag is going to be enough weight for you or if you should maybe go heavier and get yourself a 100 lb heavy bag. 
Well here's the thing, it really depends entirely on what you want to do with it. IF you are just buying a punching so that you can get in a good heavy bag workout or get some basic training sessions on it, then a 70 lb heavy bag is going to be plenty for you. 
But if you are planning to get some serious competitive training on this punching bag or you plan to use this bag for hardcore kicking sessions then you are likely going to want to go with a 100 lb heavy bag as the Everlast 70 pound punching bag is not going to be the best for competitive training. 
Bottom Line - My Recommendation
My recommendation for you is just go and buy the Everlast 70 pound punching bag because if you don't you will regret it. It is by far one of the best options on the market right now and its dirt cheap.
If you are looking for a satisfying heavy bag to practice and train on, want something that is soft to the punch, want something that you can beat the heck out of for years on end, and want a bag that is affordable then this bag is for you!
Price

User Experience & Satisfaction

Quality

Reliability