Everlast Powercore Freestanding Heavy Bag Review | Worth The Buy?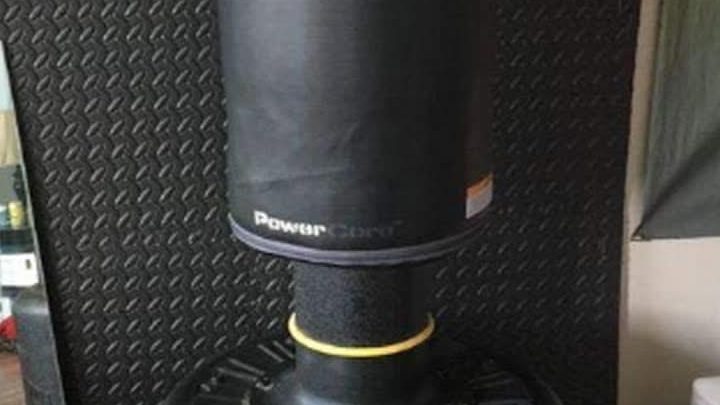 Searching around trying to find out if Everlast Powercore is worth the money?

Well you've come to the right place. And lemme tell ya, it is. This bag is one of the best rated free standing bags on the market and the best part about it is that this bag is cheap!

Same with the classic punching bags that are hanging, freestanding bags gives the same functionality but requires less space, don't require you to drill holes in the freaking wall and are much more convenient.

If you can't go the gym or don't have enough space at home for practice, this bag is going to be the best option for you.

But not all is dandy and their are several features that you should know so let us share our honest opinion on the Everlast Powercore Freestanding Punching Bag before you decide to jump to conclusions and spend your hard earned money.
Read more about it here
If you are looking for a good all around free standing bag then this is going to be your best option. This bag is perfect for beginners or for anyone who is only looking to use it for workouts and basic boxing practice. 
Everlast Powercore Freestanding Heavy Bag
The Everlast Freestanding Punching bag is good training equipment and sparring partner for boxers and martial artists who want to do their training at home and have limited space or do not want to drill holes in their walls or ceiling.

There is no complicated assembly required to set up this bag. No need to call a technician to set up the punching bag for you.

Unlike a hanging punching bag, you won't need a big space for your Everlast Powercore punching bag. Since you can set this up at home, you do your practice drills anytime.
If you are an aspiring boxer or mixed martial arts fighter or someone who just wants to get in shape, this bag is perfect tool to help you improve on your techniques or just burn some fats.

The Everlast Powercore punching bag is also suitable for children. Its height can be adjusted to be short enough for a kid's size and the bag is not so hard that it can possibly hurt a child's hands. Remember to always wear protective gear like boxing gloves though to avoid injury.
Although this bag can keep up with hours of trainings while being repeatedly hit, it can only withstand strikes with low force to medium-high force striking.
Experienced fighters and professional boxers may want to stay away from this punching bag as most trained fighters naturally hit harder and can damage the Evelast Powercore.

It is not recommended for powerful kicks or forceful strikes. Even though it is an Everlast brand and made to be durable, it may not last long if used with such strong force repeatedly.

Let's talk about its features:
Features And Benefits
Weight and Size
If you fill the base with water, the Bag weighs around 250lbs. If you use sand to fill its base, the punching bag's weight would depend on how much sand you put in. At full sand capacity with sand, it is around 370lbs.

Height measures in at 55-65 inches.
Cost – It's Cheap
The Everlast Powercore may have all its flaws but with what you can gain from its feature, we can say that this is modestly priced is worth far more than what you are paying for it.

Used properly, this boxing bag will last you a long time even with long hours of training.
Height which can be adjusted
A good feature to look out for when buying freestanding bags is whether or not you can adjust its height.

The Everlast Powercore Punching Bag responded to this challenge beautifully. It has a height adjustment range of 54" to 65".

This wider range means more versatility in the people who will be using this punching bag. It would not be confined to a single user use.

As it is adjustable, you can also practice your strikes at different levels of heights.
How Much Can It Handle? - Stability of the Base
Any boxer or martial artist or even just someone who is a fan of these sports understand the importance of a stable and sturdy freestanding bag.

It would be quite annoying and distracting when your freestanding boxing bag falls down or collapses when struck.

Everlast has solved this concern for you by creating big base for the Everlast free-standing heavy bag. Aside from the huge size which makes the base stable, you can fill it with sand or water to give it more weight.

We prefer to use sand over water for this as it gives more stability in our opinion. It is still your decision though if you want to use water. Just ensure that you put just the right amount of water otherwise, it may leak when you begin pummeling the bag and giving it all you've got.

The Everlast Powercore also has a power transfer ring. This ring helps the back of the punching bag to slightly recoil and absorb the impact of a hit better. It also prevents the punching bag from slipping or sliding.
High Shock Absorption
The padding of a heavy bag should never be overlooked.

Freestanding heavy bags have frames that are made of either metal or plastic. Hitting it with not enough padding can cause injuries to your fingers and hands.

Everlast Powercore Punching Bag solved this issue for you by covering the punching bag's frame with top quality foam that can absorb shock and give a more realistic experience.

The bag is also round so you can easily move around it. Such movement is good for your leg conditioning, cardio and hand-eye coordination.

We trust the Everlast Powercore punching bag's quality foam but we still recommend the use of quality gloves with good padding before practicing. You can never be too careful when it comes to training.
Ease of Set Up and Assembly
The Everlast freestanding heavy bag is user friendly. It comes with instructions that you are quite easy to follow. You can assemble and set it up in no time.

Aside from being easy to assemble and set up, this bag is also easy to take apart, move and store.

Just a tip: To avoid the mess when filling out your base with sand, cover the floor with some newspapers.
The Pros & Cons
This product is full of pros and cons so without any delay, let us have a look at the benefits and cons.
The Pros
The Cons
How to Set Up The Everlast Power Punching Bag
Watch the Video below to learn how to set up the Everlast Powercore Bag
High Quality Materials
We've mentioned it several times, Everlast is a good brand trusted by gym owners, boxers and martial artists. They obviously won't spare any penny to produce quality products made with good materials.

The Everlast Powercore Freestanding Heavy Bag has an outer shell that is made of vinyl and synthetic leather.

The huge base that is fillable with sand or water is made of plastic of high-density.

To add stability, this punching bag's core has a set of arranged three plates that is made of metal. It is then covered with air-foam that can absorb the shock of the impact.

The neck of the freestanding Everlast punching bag connecting it to its base is also made of plastic. This makes it inflexible and becomes one of its flaws.

Because of how it was designed, a great deal of force goes to this bag's neck when it is struck. Its plastic construction has a tendency to give in to that pressure especially when hit really hard and crack.

This is also why we don't recommend it to power strikers and heavy hitters.
As we have pointed out earlier in this article, the weakness of this Bag is its inability to receive hits with too much power.

The Century Wavemaster XXL is the answer to the needs of those powerful punchers with strong kickers.

Century is good brand known for manufacturing equipment for martial arts. Their Wavemaster models are pretty incredible. The Wavemaster XXL is a monster and definitely a match to those looking for a punching bag that can withstand the intensity of heavily powered trainings.

Check those out if you are looking for a freestanding bag suitable for powerful hitters.
Star Ratings
The Everlast Powercore Freestanding Heavy Bag has a 5-star rating for its price. It has four and half star rating for its padding (foam that absorbs impact) and four stars for stability of its base. It received four stars for Overall Quality.
Should You Buy it?
Just like any other freestanding punching bags or even just your classic hanging punching bags, the Everlast free standing boxing bag has its advantages and disadvantages.

We can say that this punching bag is a good fit for fitness enthusiasts like those who do aerobics. This is a good choice for exercise warm ups, conditioning and cardio exercises.

The Everlast Powercore punching bag will give you the workout or the practice you need, has the Everlast quality and durability and is very affordable.

When you look at its features as compared to its price, it is a good enough investment.

As long as you are not looking for a punching bag to unleash all those highly explosive and full powered punches and kicks, this is a great choice for a freestanding punching bag.
User Experience

Durability

Price

Overall Quality