3 Free Standing Punching Bag Workouts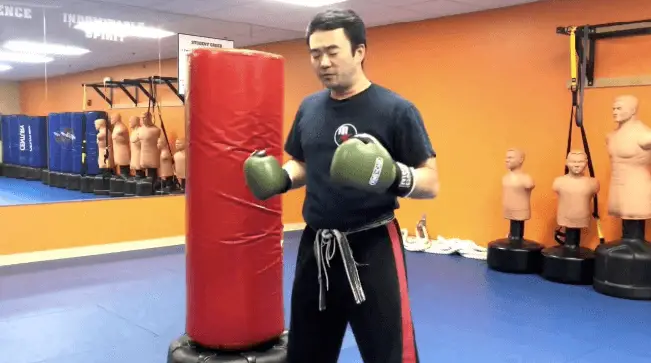 People who don't have a heavy or not enough space for that refer free-standing training. It comes in handy, and it can fulfill your desire in various manners and make you an expert. But, you have to practice with the help of freestanding training bag. You are able to kick, punch, hit with knees and lot more.
In other words, free standing punching bag workout is a lot more beneficial. But, there are many types of workout, and you have to learn the effective one. And, this guide is definitely going to fulfill your need with ease. Just follow the guide and everything will be done for sure.
Learning the Basics of Free Standing Punching Bag Workouts and Mastering them
if you are wanting to learn how to do free standing punching bag workouts, watch this video on how to do them. Then move onto the next free standing bag workout.
Free Standing Punching Bag Workout #1
The basics matter a lot, and it is definitely the most time-consuming factor of the workout. If you are good at basics, then you can learn the advanced moves really easy. Most of the people feel bored with the basics, and they leave the workout in between. But, it isn't a good method at all. To avoid such things, they should start with mental preparation.
Free standing Punching Bag Workout #2
Here is a 2 min free standing heavy bag workout that you can give a try if you are in a hurry or simply just want a simple and easy free standing punching bag workout.
Now that you have tried the 2 minute bag free standing bag workout it is time for the 3 minute workout. Try this one out after you get some rest. Keep in mind that these are only 3 minutes but indeed they are 3 minutes straight!
Free standing Punching Bag Workout #3
If you are mentally prepared and have the courage to begin then no one can stop you. On the other hand, you need a trainer that can help in knowing whether you are doing right or not. Don't want to train with a trainer? Well, you can focus on given below basic moves to begin. Start practicing or learning –
Jabs or the single punches will be on the top of your list to begin. You should learn to have basic punches with more perfection, and you should make sure that your hands don't bend while punching.
You can try out jogging as well as boxing which will help with your cardio. Even it is the part of cardio, so you will be getting the better result sooner. Always jog for few miles to build more stamina and getting started.
Combo attacks require coordination, and you should try to do 2 to 3 punches in every single combo. Make sure to hit well and have smooth punches.
It is really important that you don't stick to one place while preferring combos. Try to go low as well as high combos for better punches and to improve yourself.
Even you have to learn pun h-miss-punch combo, switch stands, and such other MMA moves. MMA moves include kicks, knees, and elbow mainly.
After learning these, you can head over to advance training section so that you can improve as per the time. You have to spend lots of time while training that's why you must have a goal in mind and you start perfectly every single attack. It takes time, but you can do it with a great passion and strong will power only.
Related: Free Standing Punching Bag Reviews
Few Advanced tips for Free Standing Punching Bag Workouts
While training, you will feel that you are mastering every single attack well and it is really good. But, when you will be in the ring, there will be a real opponent, and that is not going to stay still. Learn more by hiring a trainer and practice together to take your skills to the next level. It is definitely going to eat lots of time, but you can learn to master all and take these skills to the next level with ease. Few advanced tips that you should learn are –
Don't stay still at one position because it will be your weak point against real opponents. Try to move your legs and mix up all the attacks, so you don't give a single chance to the opponent.
The defense technique is hard to master with a punching bag only, and it is the reason that you prefer a trainer. You can work out properly as well as it will help you defend. Isn't it a good way to progress faster? Defensive skills can make you an advanced athlete.
Balanced training the last and most important aspect. Most beginners use their energy in the startup which can make them feel tired lately. Instead of using such methods, one can focus on the use of balanced energy and go well.
These are all the easy to follow tips which will enhance your workout session, and you will be a better athlete without making much mess.
Bottom Line
The most important thing that comes in everyone's mind is that how long they should be working out? Is there any way to master all the moves in less time? Well, the answer is no. There are no shortcuts, but if you train daily and don't take the break for many days, then you will keep on getting better. On the other hand, you should go for 5 rounds, and each round must be taking 3 minutes. Make sure to take the rest of 1 minute to go well.
Related: Best Punching Bags Reviews