Is Gracie University a Scam? Worth It? – My Personal Review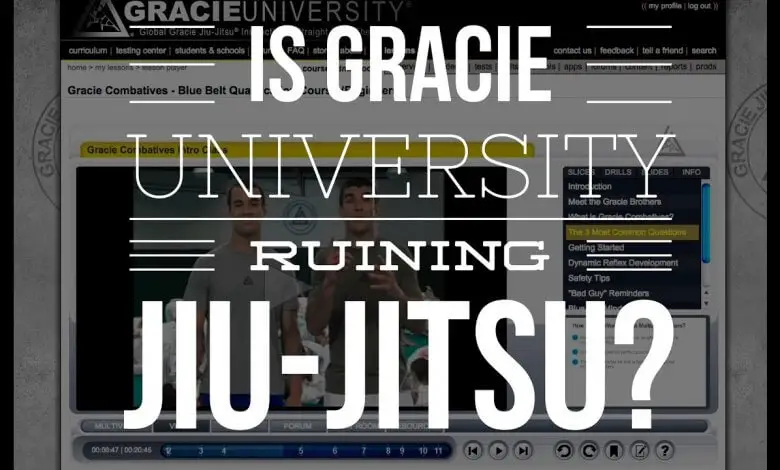 Is Gracie University a scam or not? The one question that has been rumbling around the martial arts community recently.
Anyone remotely connected to BJJ would have their two cents to share about this.
But we all know what they say about opinions, right?
The fact is that Gracie University has been around for a while. Their curriculum is considered to be amongst the best in the business. Actually wait, THE best in the bid-ness
Rener and Ryron are exceptionally skilled BJJ practitioners (we take a look at these guys below) and let's not forget, Brian Ortega of the UFC is a Rener protégé.
What does that tell you?
That said, the university has received a fair amount of criticism for their marketing techniques and online 'mcdojo-fication'.
Some athletes have even gone to the extent of labelling them snake oil vendors.
The question is, what are they really?
In this article, I personally will shed some light on Gracie University, their courses, their pros and cons.
This will allow you to make an informed, objective choice about their legitimacy.
What is Gracie University?
Gracie University is a Brazilian Jiu Jitsu Academy based in Torrance, LA, California, that was founded by Ryron and Rener Gracie, two martial artists from the illustrious Gracie family who have had a deep-rooted history, connected to the sport.
If you are an aspiring BJJ athlete or are interested in pursuing a career in MMA or really any type of martial art, you'd be well aware of Helio Gracie, who's considered unanimously to be the father of Brazilian Jiu Jitsu.
Well, the duo are Helio's grandchildren. How's that for legacy.
Let's take a quick look at their individual records though.
Gracie University Instructors
These are the records and brief background on Rener and Ryron
Rener Gracie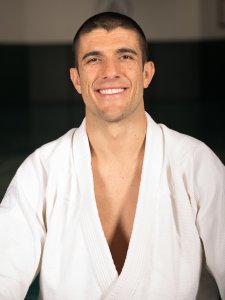 Grandson of Grandmaster Hélio Gracie, son of Grandmaster Rorion Gracie, Rener certainly has the inheritance. Moreover, he's trained for 25-years at the Gracie Academy and started teaching as early as 13. He is a 4th degree Black Belt and is a terrific martial artist as we know courtesy his appearance in the Southern California Pro-Am Invitational in 2003, where he took first place in his weight class by submitting all four of his opponents. (https://en.wikipedia.org/wiki/Rener_Gracie)
Ryron Gracie
The eldest son of Rorion Gracie, Ryron virtually grew up on the mats of Torrance Academy as they say. Also, early day UFC followers would remember how, he cleaned blood off the jiu jitsu mats after the first UFC event. He was all of 12 then and Rorion got some heat directed at him for asking a kid to clean blood. He later competed in the Gracie International Open and earned his black belt in 2003. (Ref: https://www.bjjheroes.com/bjj-fighters/ryron-gracie)
Both brothers expressed a keen interest in self-defense techniques and their disillusionment with the points-based system. Ryron would later compete exclusively in submission-only competitions such as the Gracie Worlds and Metamoris.
Soon after, they set up the Gracie University, which would become the first distance learning program for Brazilian Jiu-Jitsu.
Maybe it was partly because of the legacy associated with the Gracie family, and partly because of the aggressive marketing campaigns the duo ran, Gracie University just took off.
To add to this, the university has had an elite alma mater.
There's Ronda Rhousey and Prince Jackson among others who have made regular appearances and have been pretty vocal about how effective their courses are.
But sadly, Gracie University's claim to fame has mostly been controversies surrounding shady marketing techniques and online belt awarding, rather than banking on Helio's legacy.
Gracie University's Online Curriculum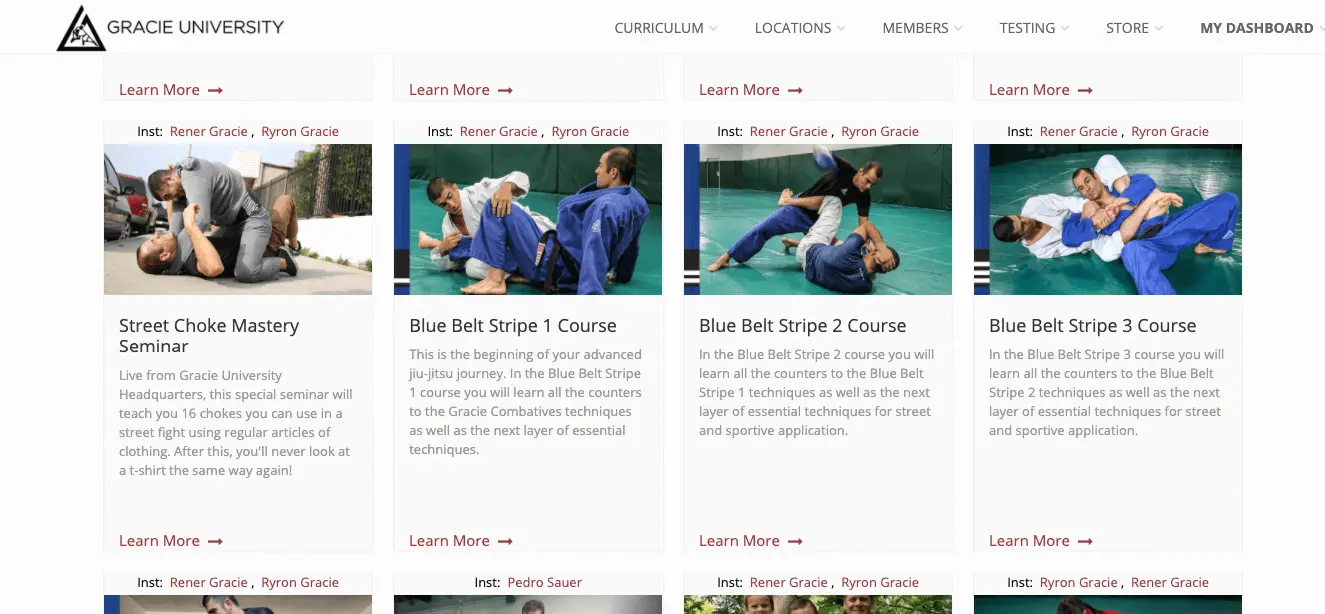 One of the biggest criticisms surrounding Gracie University has been about their online course called 'Gracie Combatives'.
The course is (Update: Was) aimed at adults looking to learn self-defense techniques from their homes.
Well, since when can you learn Brazilian Jiu-Jitsu in a long distance learning program?
It's not like you are learning to play the guitar, are you? Hope it is not like this.
Moreover, the text that's used to describe Gracie Combatives is (Update: Was) filled with trademarked marketing jargon that makes no sense.
Update
Update: Since we wrote this post, the curriculum for Gracie Combatives has been upgraded. It now focuses on the 36-core techniques of Jiu-Jitsu and is the first step in a progressive, linear learning program that sets you on course to complete more advanced programs. You can read more about it in a bit.
Long Distance Jiu-Jitsu anybody?
The whole idea behind Gracie University is based on the premise that not everybody has the access to a Gracie Jiu-Jitsu training center.
Why some people don't have the time or the resources needed to learn Jiu-Jitsu.
So, the Gracie Combatives course allows them to learn self-defense techniques from home.
All they need is a GI and a like-minded partner to train with.
Each of Gracie University's instructional videos lasts about an hour. Once they learn the techniques in the video and spend enough time mastering them, they can send their videos to the university for evaluation.
Sounds great in theory, right? There are a few problems though.
Here are some pros and cons.
No Brainer Huge Benefits of Gracie University's Program
These are "duh", big benefits that Gracie University is able to provide the martial arts community.
It's Extremely Convenient – Made Available to Everyone Not Just Pro's
You no longer have to adhere to strict class timings or even drive down to class. You can learn the one-hour lessons from home and practice for as long as you'd like. That works perfectly if you are a busy professional or a housewife.
It is one of the only martial arts training systems that uses interactive training. There's peer-to-peer chat, where you can discuss your problems and challenges with other students from around the world. There's no dearth of students to talk to both online as well as in the offline world.
As of today, there are 141 Certified Training Centers and 350 Gracie Garages as well. You are sure to find one close to home.
It's Cheap
The entire Gracie Combatives course is currently priced at $115. That's ridiculously cheap for what it's worth. In comparison, if you drive down and train at a Jiu-Jitsu academy, any beginner module would cost you at least $1000, if not more.
It's Comprehensive
There's no denying that the course material is pretty comprehensive, especially if your interest veers towards self-defense. As per the latest update, it focusses only on the 36 core techniques of Jiu-Jitsu that will help you master self-defense when faced with an untrained opponent on the street.
What Gracie University Can't Provide
There are just some things that can not be provided by an at-home training course. You just can't.
You Can't Teach Real World Fighting Experience Without In Person Training
There's a world of difference in learning Jiu-Jitsu in a club and learning it alone at home. You miss the camaraderie and the on-the-mat experience. There's a difference in your technique when you spar with other, equally-skilled opponents as compared to sparring with your better-half or your friend at home or some grappling dummy.
There's also the whole excitement factor when you progress to the blue belt. In the club, it is a gratifying and rewarding experience, that's missing in distance learning. How exciting can it be to receive a belt in the mail?
Driven More Towards Self Defense Techniques Rather Than BJJ Sport Fighting
It's not the ideal foundation for a sports BJJ enthusiast. Right from the beginning, the brothers have emphasized that their focus remains on self-defense techniques that would be effective on the street. Although many of the techniques that you learn in Gracie combatives could theoretically be applied in sport BJJ, it's not really the ideal foundation for someone who wishes to progress beyond a beginner level in the sport.
Grace University's Marketing Tactics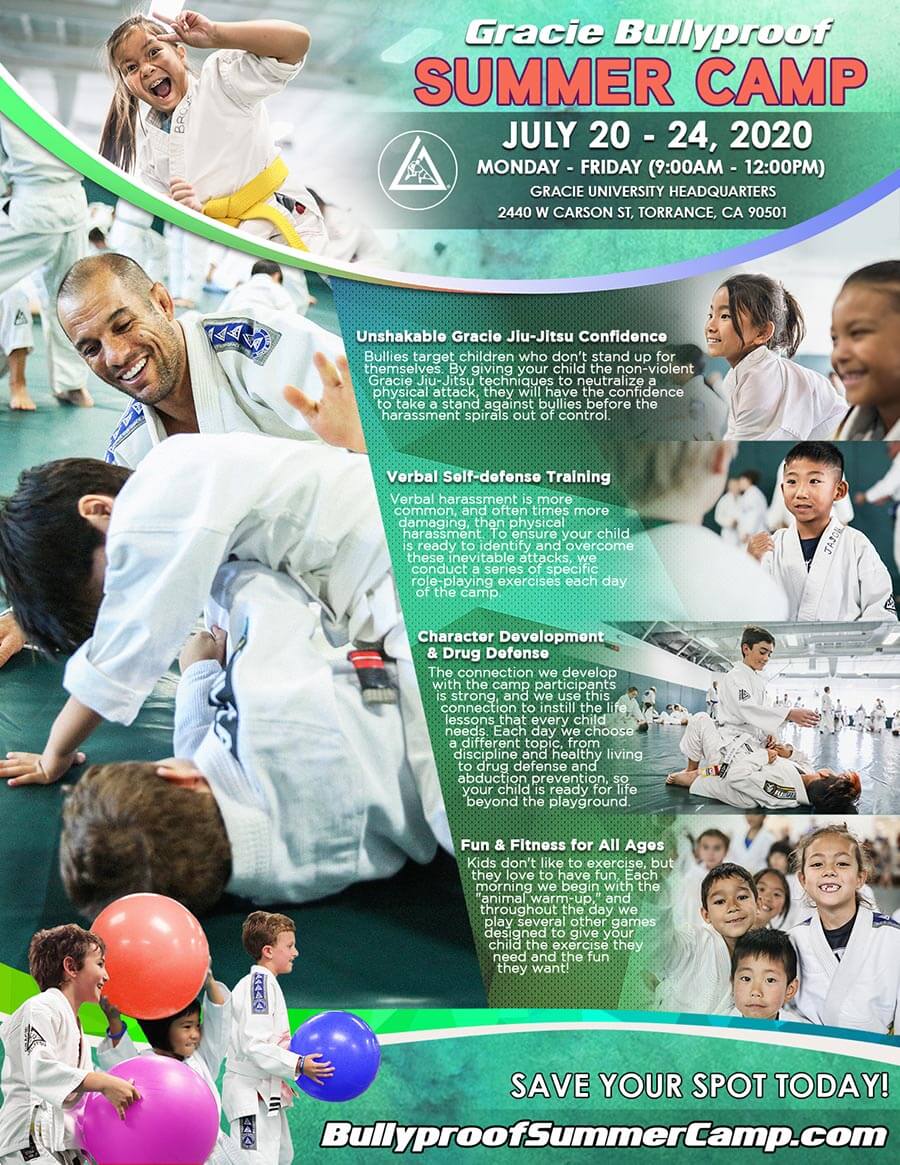 Apart from the 'distance learning' curriculum, Gracie University's marketing techniques have often been questioned.
Well, there have been a couple of instances where the marketing techniques employed by their social media manager were a tad grey.
At a time when just about everything about your online presence can be traced back to its origins, hiring a social media agency that sources bulk-likes and comments from the Philippines certainly isn't reassuring.
They did seem to jack up their FB page somewhere around 2012.
But that's something that most major brands were accused of doing to ramp up their online brand visibility.
So it's not the worst possible sin that you can base your judgement on.
Also, more recently, the university has garnered a lot of popularity that's based purely on word of mouth.
Other Problems with Gracie University
One of the biggest controversies surrounding Gracie University unfolded on the Facebook Group 'UK BJJ Underground'.
Two Jiu-Jitsu athletes who were Blue Belt certified from Gracie University approached the BJJ Underground enquiring about some kids' classes, wanting to teach kids the 'BullyProof' BJJ module that's taught that at GU.
Well, they were politely refused.
But they set up their own gig in the exact same center as the BJJ club.
This sparked off a deep resentment towards the whole online grading system in general, and BJJ practitioners in the UK sort of rallied against Gracie University
A lot of the blue belts awarded by GU were then invited to participate in tourneys in the UK.
But they refrained to do so citing that they are against the concept of full-contact live sparring, something that's at the root of Brazilian BJJ and makes it unique as compared to all other martial arts in the world.
BJJ allows you to go as hard as you want to without risking an injury provided that both you, and your partner are sensible and trained.
Also, sparring is the only way to gauge the effectiveness of the techniques and the skills you learn during training. Without sparring, you are limiting your real world knowledge of BJJ. Not to mention that rolling on the mat sets the base for real, on-the-street fighting without scraping hard concrete.
Therein lies the flaw of the online grading system adopted by Gracie University.
You can never really gauge your skills or the belt worth because you never match your skills with someone who's more skilled or qualified than you.
You'll never know if there's an inherent flaw in your technique. It makes the whole world of BJJ Binary. You tend to look at things in black or white whereas in reality, there's whole spectrum of colors and hues to BJJ.
Family Squabbles
To add insult to injury, some important members of the Gracie clan haven't been too supportive of the online grading system.
"I wonder if Gracie Academy Students paying $200 know that all they need to get good at jiu-jitsu is to join online Gracie University. I find it ironic that worlds like Gracie and Online learning are somehow tied into worlds like Helio Gracie. It's a shame when your own family changes the concepts of everything you stood for then uses your name and then is actually tying to convince the world that it's better to learn from a screen then a person -specially the art as complex and technical as jiujitsu. And on #keepingitplayful. Helio Gracie has a saying "two men playing I smell blood" #ikeepithonest. @realroyce".
What are your thoughts on the online belt grading system of Gracie University? – Seriously, I want to know, leave your comment down below. I respond same day.
Is it against the core principles of BJJ, or is it really an effective training program for people who do not have access to normal training centers?
More importantly, does it really train you for on-street combat?
Recent Updates
More recently, Rickson Gracie has decided to hop on the train. So has Pedro Sauer. Experts opine that a Rickson-Rener-Ryron partnership has for long been in the making. Does this signal that some major revamping of their curriculum is on the cards? Possibly.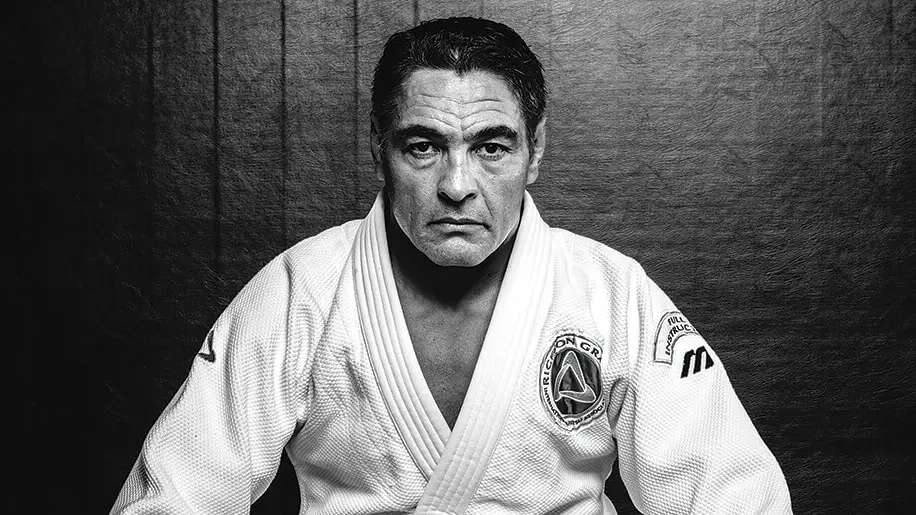 Why has Rickson Gracie joined Gracie Combative?
Rickson has a gripe with the recently formed JJGF as he believes that it might 'water down Jiu-Jitsu', as we know the sport in its current form. His onus remains on helping the sport go back to its origin.
If you remember, in its early days, the Rio-de-Janeiro Gracie Academy focused on one-on-one training sessions that were said to be brutal.
Group classes were unheard of.
Also, one of the key differences was the focus on self-defense techniques when faced with an untrained opponent.
Most modern Jiu-jitsu schools on the other hand focus on training athletes to fight against other trained athletes, in a sporting event, as opposed to fighting in a dark alley.
Rener is quick to chime in about the primary reasons why his Torrance Gracie Academy has stuck to group classes and shied away from self-defense training. He says that the popularity of the sport has been growing at the rate of knots and there's no way to train people in Jiu-Jitsu without allowing group classes.
That's where Gracie Combative steps in.
Rickson is all praises for GC and its unwavering focus on self-defense techniques, which is clearly lacking in the current scheme of things.
That said, he was critical about awarding belts online, particularly the blue belt.
He rightly says that a skilled, trained and qualified Blue Belt should be able to defend himself against a street thug as well as, grapple with ease against a trained opponent.
That's what the new Gracie University curriculum will focus on.
Changes Galore
Rickson brings to the table, vast and varied combat experience along with a deep understanding of self-defense techniques that will help Gracie University students a lot.
Here are some of the changes that will reflect in their new self-defense-centric curriculum.
The GC Belt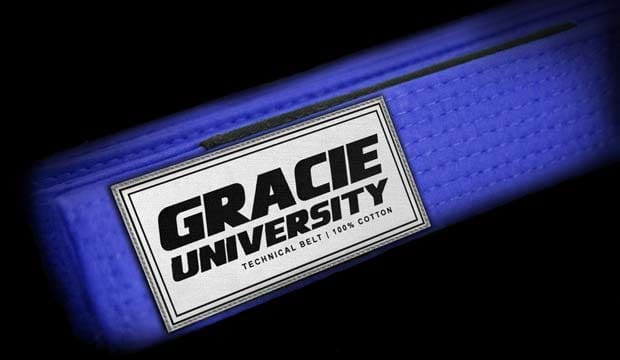 Amongst other changes, Gracie University has revamped their blue belt. It will now be called 'The Gracie Combatives' course instead and it will be white instead of blue, but will have a navy blue stripe in the center. All students who complete the 12-month (minimum) Gracie Combatives Course will be awarded the GC belt and it will be considered as hallmark of self-defense proficiency.
Prerequisites Before the Belt
Once a student completes the GC combatives course, they will have the option to be enrolled in the more advanced Jiu-Jitsu program called 'The Master Cycle'. This module will train the student to grapple against a trained opponent, while continuing to hone their self-defense skills. With an extensive focus on live sparring against skilled opponents, the Master Cycle helps students to understand the nuances and intricacies of combat.
Only when a student completes the 12-month Master Cycle will he progress to a Blue Belt.
Thankfully, it's an end to 'Online Blue Belts'
One of the biggest criticisms surrounding Gracie University was that their Blue Belt was awarded online, which was sort of unethical.
Now, the only belt that you can earn upon completion of their 'Gracie University video evaluation process' is the GC belt.
This course teaches and focusses on self-defense against a non-trained opponent and teaches students 75 techniques. This makes it easy for an experienced instructor to visually evaluate the progress of the student and award a belt if deemed necessary.
Everything else, will require live sparring evaluation at one of their authorized training centers.
That makes one wonder though, 'What happens to the existing students who were awarded Blue belts previously?'
Will they still be considered as blue belts under the revamped program or will they have to change their belts to the new GC one?
Another Update From Back in September 2015
After Murilo Bustamante and Royce Gracie publicly expressed their displeasure about GU, another prominent name in the world of Jiu-Jitsu has vented against distance learning and online learning in Jiu-Jitsu. The rants have been directed more specifically at Gracie University.
That's ADCC 2013 champion and current UFC fighter 'Ice Cream' Kron Gracie, who's the son of Rickson.
Kron received his Jiu-Jitsu black belt at when he was all of 19, and is considered to be one of the calmest heads in the world of Jiu-Jitsu and UFC.
Kron has been quoted as saying that his first cousins and Rener and Ryron Gracie weren't really helping the sport by setting up an online curriculum and awarding belts in the mail. He also expressed his dissatisfaction with the whole Gracie University course.
Does Rickson's addition to GU and the scrapping of the online blue-belt system change his views?
Only time can tell.
Recommended Readings