Best Hand Grip Strengtheners To Improve Grip Strength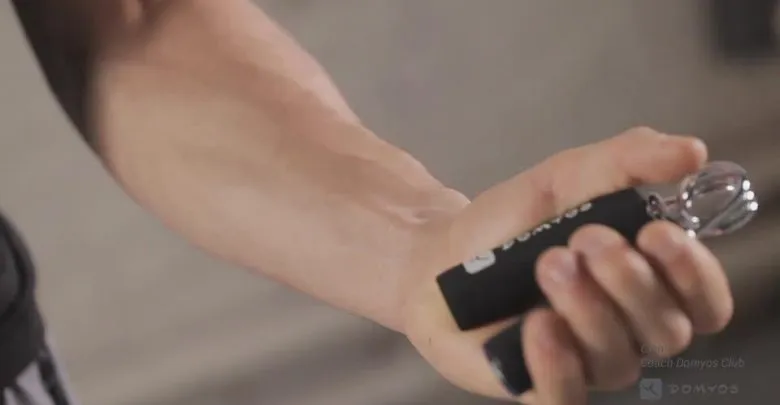 You don't have to be Mr. Arnold Schwarzenegger to know what grip strengtheners can do. The name of the fitness equipment speaks for itself, or should we suspect that a few first-timers might not know anything about this workout apparatus. Nevertheless, we have this information covered.
Grip exercisers are used to increase the grip strength of our hands. Grip exercises are done to train the arms, wrist, and the corresponding muscles to strengthen or rehabilitate them.
Strong hands provide an excellent advantage for jiu jitsu and judo fighters as it helps enormously with grappling.
Even for someone like me who just hits around on a punching bag every so often it still provides an advantage to always have strong hands.
What are some benefits of having strong hand and forearm strength?
If you play tennis, cricket, or any other extreme sport that requires extensive wrist movement, a hand gripper could prove to be a weakness-beating tool for you. Basically, it can increase your hand strength to help you fire shots like never before. Pretty much, it can help you in your pursuit to be a formidable competitor. Like I said above, I just hit around on my wavemaster punching bag, I no longer compete, and I still, to do this day work with these to improve my grip strength because I know how good it is to have good grip strength.
Make no mistake; it's not just for the pro-athletes out there. The equipment can help anyone out there become more efficient in his/her day-to-day life. For instance, you could be lifting your grocery bags or your kids for a longer period of time without the pain of giving up soon.
It also gives your arms a powerful and strong appearance over time. Not to forget the fact that training with a hand gripper is an easy affair too. For the most part, you are simply grabbing the gripper and shutting it for that supreme squeeze.
When doing other exercises that require hand strength, i.e. hanging leg raises, pull-ups, etc., your grip may give out before the target muscle does. Even the best pull up bars on the market won't account for a weak grip. The stronger your grip, the easier all overhead pulling exercises will be.
Of course, there are a lot more awesome benefits of hand strengtheners, which can be found all around the web. Frankly speaking, the complete list of benefits would be too big for a single article. So, instead of sounding like an echo of all the other posts out there, we will stop this countdown of hand grippers benefits and move on with some product reviews.
Yes, we are all set to get to the meat of the matter. So, stop racing your mind and stay glued to your seat because we are about to separate the best hand grippers from the rest. Stay right there because things will be different from here.
Best Hand Grip Strengtheners – Our Top Picks
Listed below are the top rated and reviewed grip strengtheners that are worth a hoot
1. Captains of Crush Hand Strengtheners
As advertised by the makers; these are the best grippers you could ever need in your lifetime. The company claims that the product can improve your grip game like nothing else in the market. For the sake of information, the Captains of Crush Hand Gripper is made in the US and not some unknown corner of the world, where labor is dirt-cheap.
The company behind the hand gripper is IronMind, which holds a strong foothold in the strength development fitness market. As such, it has been in the fitness industry since 1988. The chances are that some of you guys were not even born during the company's inception days.
Key Features:
It's incrementally designed, which lets you start on a lighter side and work your way to the top. The coil spring provides the right amount of progression to move up the ladder properly. As such, it's available in 11 different strength levels to suit the needs of beginners as well as advanced trainees.
The built quality of this hand exercise equipment is impossible to beat. It has top-shelf quality written all over it. Moreover, the makers have your back covered by a one-year product warranty.
Pros:
It's durable as a military tank built to destroy enemies. This device can be passed on from one generation to another. Hundreds of years from now, this exercise equipment will give your great grandkids a flashback moment of you.
As advertised, it builds hand/forearm strength. This hand gripper gets you training your hands as seriously as your other body parts. You never know, you might be able to crush an apple with a single hand.
The grips are easy on the hands. So, the comfort-factor does exist. In fact, it's so easy to use the device that you might feel that you have been using it since childhood.
You can find them for sale on Amazon by clicking here.
2. Gripmaster Hand Strengthener – Pro Edition
For a better grip power, the Gripmaster Pro Edition gripper sets the bar high for its rivals. This pro edition pocket-sized gripper is geared towards helping all levels of users achieve peak grip performance without even breaking a sweat.
With regular use, it can make every day lifting tasks so much easier. Moreover, it's sold in different colors to cater to the needs of picky shoppers. The Gripmaster Pro Edition gripper is highly recommended for those who are already involved in some kind of physical activities.
Key Features:
It's smartly designed to isolate each finger to reduce strain and imbalance while performing any grip exercise. The spring-loaded finger piston technology gets the job done over here. Furthermore, it features rubber pads to reduce slippage.
For supreme hand, wrist, and forearm strength, it offers 13 pounds of resistance on each finger. Therefore, one could develop great crushing power down the road. Unlike the competition, it's a little wider in size. So, it can suit guys with bigger hands as well.
Pros:

At first, your fingers might hate you, but it won't take too long to fall in love with the equipment. For those who don't know, the makers provide web-based exercise program on their site, which makes all the difference in the world. Every user gets a chance to learn the proper form and technique to make the most out of the equipment.
It fits right into most pockets. So, one can easily carry this gripper around almost unnoticed. Those who have sitting jobs can work on this equipment during those periodic stretch breaks. Perhaps, there is no better solution for casual grip conditioning at work.
It may be small enough for your pockets, but it's big enough to offer a great workout. Unlike other inferior grippers, this one won't break or crumble to bring tears to your eyes. It's strongly built to keep your regime going for well over a decade. Simply put, it won't fall apart at least in this decade.
You can find this Pro version for sale on Amazon by clicking here.
3. Gripmaster Hand Exerciser
The Gripmaster Hand Exerciser offers a portable way to improve grip strength. It's sold in different colors and three levels of tension to vastly improve forearm, wrist, and hand strength at all fitness levels. Over time, it can build immense crushing power.
Of course, don't try to crush someone's hand during a handshake. On a serious note, it's a practical and affordable solution to improve everyday fitness without throwing an arm and a leg. So, this hand gripper doesn't let weak fingers stay weak forever.
Key Features:
It's ergonomically designed to fit well in most hands. Moreover, it's smart and lightweight as well. Although it's quite small in size, it has a solid built to it. Right off the bat, you will be able to tell that the gripper will last forever.
The well-thought design of the product allows you to do various hand exercises to take your grip power to the next level. As such, the package comes with a complete workout guide to help one perform different exercises with the equipment at varying strength intensity.
Pros:
The gripper is used by pro athletes as well.  As such, anyone above the age of 12 can use this workout apparatus to see some serious results. It's perfect for rock climbers, sports athletes, guitar players, or anyone else who might feel the need to open a pickle jar at some point in his/her life.
If you lead a stressed life like tons of other people on planet Earth, this equipment will be able to provide you great relief from stress as well. It has somewhat of a squeeze ball effect on our body. So, you can use this product for hand conditioning as well as for daily stress relief.
You can find the regular version on Amazon by clicking here.
4. Finger and Grip Strengthening Therapy Stress Balls
These egg-shaped balls can be bought for therapy, stress relief, and grip strengthening. With multiple levels of hardness, they are perfect for all these tasks.
They are made from thermoplastic rubber, and are latex and BPA free. To get a workout, one simply needs to squeeze, hold, and release. Of course, repeat as well!
Key Features:
The balls are available in three strength density to target the strongest and the weakest muscle. Each one has a sufficiently different feel to it, so can one work up to the hardest one with regular use. Moreover, the small device size makes it easy to carry around in one's pocket or handbag.
The colorful balls are beautifully made to be a people-pleaser. They look like some kind of artwork, so even if you don't like working out, you will feel self-motivated to grab them whenever you get stressed in life.
Pros:
The stress balls offer a very comfortable feel and a satisfying squeeze during use. Basically, the size and feel of the stress balls are unmatched. People of all ages can benefit from these stress balls. They are perfect for smaller as well as bigger hands. They look cute as well.
The nice trio of balls can provide one with a great escape outlet from day-to-day stress in addition to conditioning one's hands, wrist, and forearms. Frankly speaking, it's very helpful and can last till gravity exists. For a small price, you are literally getting a lightning deal.
5. Wrist Ripper – Forearm Strengthener
The Wrist Ripper fitness apparatus will add a whole new dimension to one's forearm strengthening arsenal. It's considered by many as the best forearm strengthener out there on the market today.
It gives one the ability to hold on the outside and inside to work one's forearms in two different ways. It plays an excellent role in wrist and hand strengthening as well. With regular use, it can do wonders to one's forearms.
Key Features:
For workout flexibility, the band can be adjusted to the desired length. Also, the device allows one to switch workout routines effectively. One can either go for lots of reps with low weights or low reps with heavier weights. Either way, one can expect an excellent pump and muscle burn for the satisfying workout effect.
The Wrist Ripper has comfortable grips around the holding area and also on the ends. It doesn't slip even when you sweat.  Moreover, the straps and handles are very sturdy too. Better yet, the straps stay at the center at all times during use. Therefore, you can focus on your form and not on adjusting the strap.
Pros:
It's sturdier than its flimsy and cheap competition, and the handles do not slip during use. Given the quality and functionality, it produces wrist fatigue sooner showing you how effective it actually is. Yes, this equipment can get your muscle sore really fast (which is a good thing).
There are several grip options to attack the forearms from different angles. Most users are seemingly satisfied with the device and the results as well. After all, it gets the job done at a reasonable price point. It's a tad bit expensive, but it has all the logical and practical features to please a user.
Benefits of Grip Strengtheners & Forearm Strength
Let's come back to the benefit of grip and forearm strengthening exercises to complete the unfinished business. As we suspected, people are seemingly interested in finding out more about the benefits of forearms and grip strengthening exercises. Typical workout routines and home gym setups don't account for grip strength. So, let's dive right back into the topic of hand grippers benefits.
Enhanced Hand Resilience
Your hand resilience will certainly shoot up once you train on a regular basis, preferably on the best grip strengthener. As you keep performing grip and forearm strengthening exercises, you will end up increasing the amount of force that your hands can handle.
From the practical standpoint, this will be of great help for you. For instance, you will be able to hold heavy boxes, shopping bags, and other objects for much longer than before without burdening the rest of the body. Obviously, this endurance boost is a gratifying side-effect of grip and forearm strengthening exercises.
Time-Worthy
Office-bound guys hardly have any time left for personal life or workout. Since grip strength and forearm strength exercises can be performed anywhere on the go within a short amount of time, most time-pressed individuals should have no reasons not to deploy hand grippers whenever they have some spare time in hand.
Most of the modern-day best grippers can be easily carried around in the pocket. Moreover, the hand strengthener equipment can be used for long or short workout sessions depending on the time in hand.
Of course, if you are the type of person with a plateau list of excuses for everything and anything, then even a handy and pocket-sized gripper might be of no help for you.
Better Dexterity
Hand exercisers can help with strength and conditioning and can work on developing your fingers independently. As a result, you will get better at any activity that involves the use of your fingers. For instance, you will be playing your guitar much better than before due to the improved dexterity. You could get better at your gym activities. You will see yourself pulling and pushing much better.
You could also become a better climber. You will become a better boxer or martial artist as well. To top it all, you could end up being a better typist too. Basically, the improved strength and mobility in your fingers can prove to be helpful in many walks of life.
Ease of Use
The major benefit of grip strengthening and forearm strength exercises is the ease of use. You could be using a hand gripper while watching your favorite TV show, or while reading a book, or while gossiping with your friends. People also use it in a conference room. This might sound a bit shitty, but you could also use it while shitting in your toilet. Forget everything! You can do hand grip strengthening workouts even when you are bedridden.
Unlike a gym-style workout, you won't face time or space barrier while performing hand exercises for better strength and mobility.
Injury Prevention
Hand grip strengthening exercises also help in injury prevention by strengthening the arms, wrist, and forearms. The great conditioning can keep you scot-free from injuries in many ways because your weak muscles might have already caught up with the strong ones.
Even if you were to suffer an injury around the working area, you would recover sooner because you have already strengthened the muscles and the connective tissues through the use of hand exercisers.
Last Words On Hand Grip Strengtheners
Hand strength is very important for each one of us. Those who use hand strengthening tools look back at their lives and wonder what their lives would have been without them. These guys were able to extract so much more from their day-to-day lives with the help of a pocket-sized strength building equipment.
As hinted before, studies have shown that hand grip strengtheners can be a great stress reliever tool as well. So, they provide users with ample reasons to be grateful. Truthfully speaking, the tool could be a life-changer on many fronts. Once you get hooked to hand & forearm strengtheners, there's no looking back because they truly work like magic.
Recommended Readings: