Beginners Guide To Choosing The Best Boxing Gloves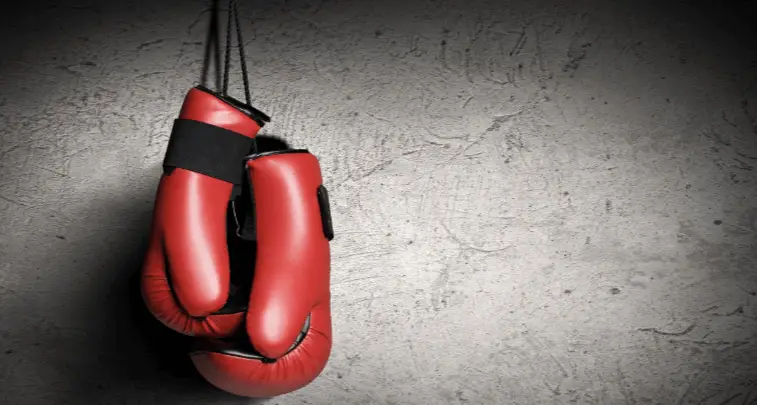 Just like anything else you buy, there are important things to be aware of that can help you choose the best product. Boxing gloves are no different. Whether you're training at the gym, boxing professionally or just throwing elbows to relieve some stress, there are specific things to look for when buying your next pair of boxing gloves.
How do you choose the best pair of boxing gloves?
It's a little more complicated than just walking into the store and picking out a random pair of gloves, which is why we've broken it down into a guide to help you choose the best boxing gloves as a beginner and as an experienced fighter.
How Do I Choose The Right Type of Boxing Gloves? – What Types of Boxing Gloves are There?
When it comes to gloves, there are 4 different types of boxing gloves you can use. Let's talk about those a little more in detail.
Sparring Gloves
The use is in the name. Sparring gloves are great for training purposes. As long as whoever your training with has gloves that has thick pads, sparring gloves will work great for you. You won't really need this type of glove for anything else.
Training Gloves
Training gloves are gloves you can use everyday at the gym. These gloves are good for kickboxing and other types of kickboxing and normal training routines. You can use them when hitting bags, pads and sometimes, when sparring. These are the gloves you want if you're wanting to punch it out in the gym without getting in the ring. 
Competition Gloves
If you will be in the ring for practice or for actual sport, consider competition gloves. Not only are they lightweight, giving you a quicker punch but different competitions require different competition gloves. Consider what type of competing you will be doing and get the gloves associated with that. The issue with these gloves is that these gloves can be quite expensive.
Heavy Bag Gloves
Bag gloves are used for, you guessed it, bag work. When looking at bag gloves, consider getting a pair that's more lightweight. This allows you to train for a longer period of time. One thing to pay attention to when buying bag gloves is the amount of padding. Make sure it coincides with the type of bag you'll be hitting.
MMA Heavy Bag Gloves
MMA heavy bag gloves are a mix between the heavier 16 oz boxing gloves and the lighter weight martial arts gloves that are designed for grappling. These gloves are my preferred choice because they are designed with thicker padding but are also lighter weight and allow my hands to move more freely and breathe better.
How To Choose The Best Boxing Gloves – What To Look For
When trying to choose the best pair of boxing gloves there are a few things that you need to be on the look out for that will separate the average joe gloves from the best pairs of boxing gloves.
Glove Closure
One of the most crucial things to consider before buying your next pair of gloves is the glove closure. There are two options that fighters have been using for years: Laces or Velcro.
If you're wanting a closure that's easy and quick to adjust, Velcro might be your choice. If you're using gloves in the gym more casually, Velcro is the way to go as they're easy to get on and off and you're not in a professional setting.
Laces on the other hand will give you a more tight and comfortable fit to your hand. It's important to keep in mind, you'll need someone to lace up your gloves your you every time. You also won't be able to get a drink of water or use the bathroom without someone helping to remove them. Remember to tape over your laces so that the edges aren't out and able to cut someone. Lace closures are great if you're in competitive boxing or if you spar a lot!
Glove Material
There are 3 main materials boxing gloves are made from:
Vinyl
If you're looking to save money, vinyl gloves are the cheapest of the lot. If you're just starting out or only use them occasionally, vinyl gloves can be great. If you're going to be using them multiple times a week or in a more professional manner, you'd want to skip this material completely. The downfall of vinyl is that is not only makes your hands incredibly sweaty but they're not durable. Again, great for occasional use for beginners, but not beyond that.
Genuine Leather
It's not a surprise to anyone that genuine leather gloves are the priciest of the bunch. They can cost you anywhere from $60 to upwards of $500! You get what you pay for with genuine leather though. They are incredibly durable and over time will mold to the shape of your hand to fit you perfectly. Like other sport equipment, there is some breaking in needed but it's well worth it in the end.
Polyurethane Leather
While still having the durability of real leather but having a much smaller price point, polyurethane leather is a great material to consider! They are great if you're a beginner or if you've been boxing for a while and use gloves daily. These won't cost you too much with the average pair running you about $30 to $50.  
Should I Wear Hand Wraps When Trying On Boxing Gloves?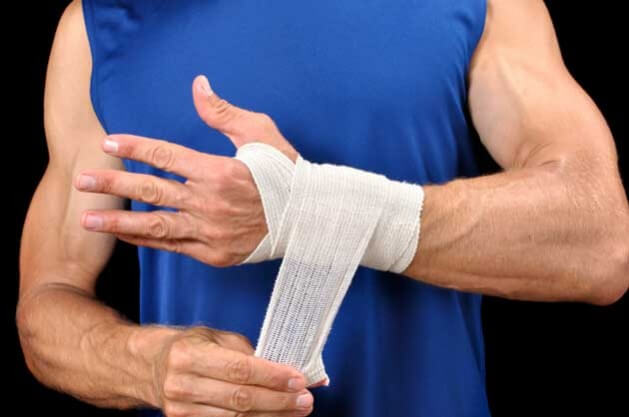 Before you go out and try a bunch of gloves on, you want to make sure you're wearing hand wraps. If not, the gloves might not fit right, when you later put on your wraps. Boxing hand wraps are especially nice if you are someone that has small hands. They come in four different materials that come at different price points and offer a different level of support.
There are cloth string wraps, elastic cloth wraps, non-elastic cloth hand wraps, and cloth elastic bandage wraps. If you've never had hand wraps on before, start out with the elastic cloth wraps and go from there. If you're training a lot, stay away from the cloth elastic bandage wraps.
They're generally pretty cheap and can keep your hands much more safe than without them. If you don't know how to apply hand wraps, ask a training buddy or watch a video online. There are tons of bones in your fingers and hands, wraps keep them much more safe from any unforeseen damage.
Glove Size
Boxing gloves are generally between 8 to 20 ounces in weight. Your gloves weight is incredibly important to what you use it for. The lighter gloves are used in professional and competitive boxing. The more middle weight gloves are used for things like training and sparring. Lastly the heavy gloves are simply used for the heavier weight classes during training.
A lot of the gloves size and weight comes from the padding. More padding adds more weight but also adds protection while hitting. With added protection comes a slower hitting speed and will cause you to get tired quicker. The glove size you should be using should also correspond to your weight as well. Lastly, keep in mind what you're using them for before buying. 
Hopefully this guide on how to choose the best boxing gloves has helped you and you can now go out and grab a pair and get started. Comment below if you have any questions:)
Recommend Readings: