How to Hang a Heavy Punching Bag From The Ceiling?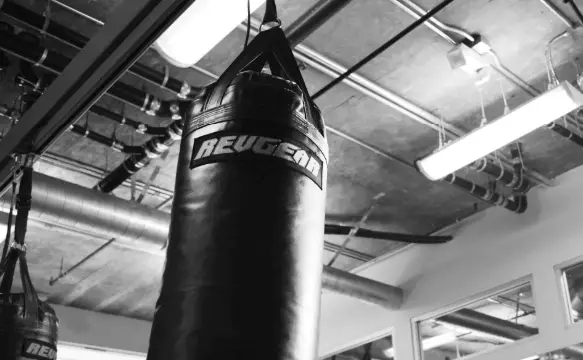 Before I show you how to hang the bag…
Why Should I Even Start Hitting The Bag?
Heavy punching bags have been proven to be one the best training equipment one can get easily. In fact, it is one of most compatible fitness equipment to possess. It can be spotted in gyms, home gyms, office gyms and hotel gyms and other places. The punching bag serves various purposes to attain physical results:
Endurance
Muscle Fitness
Reduction of fat
Improved strength
Explosiveness
Practice of Punching and Kicking moves
RELATED READING: HOW TO HIT THE PUNCHING BAG
Some people also use a punching bag to relieve stress and pour out frustration. Research has pointed out innumerable benefits of using a bag. Well assume that you have bought a new punching bag and are wondering now about how to hang the bag. To begin assembling and process of hanging the bag, here are some of the items to be arranged prior to adjust it accordingly:
Tools Needed Before Hanging the Bag
Drill
Drill Bits
S-Bolt
Swivel Link
Eyebolt Screw
Duct tape
Fixation methods of Hanging a Heavy Punch Bag:
Now, assuming that you have got all the tools necessary at your disposal, so let's get started with hanging the punch bag. But there are few things you need to be vary off and make a wise purchase the type of heavy punch bag you require. Also, another aspect, for what time and longevity are you willing to preserve and handle the bag with care.
Decide the location of the Bag:

Firstly, think about the available space in your home or basement area. Or if you have a work room, do look for spaces to arrange the punch bag.
Choose a strong ceiling mount or a wall mount. Make sure, the location that you are choosing is flexible enough to allow free movement of the bag without any blockage and leaving space for the wall. The minimum distance from the side wall shall be no less than 24 inches.
It is usually suggested to hang the heavy punch bag in the basement or garage, if an optimal workout isn't possible in the room.

Strong Beam support:

It is better to hang to a strong beam for mobility and check that the beam is able to hold the weight of the heavy bag along with the impact when it swings.
By using a stud finder, find a supportive beam or use knock test to identify the beam support.
Measure the distance of the beam to side of the wall and place the heavy bag in the median.

Drilling of a Hole:

Drill a starter hole by using a drill bit into the ceiling stud which is slightly smaller in diameter than the eyebolt screw to be fixed. Twist the eyebolt into the hole manually and tighten it further using a wrench or a screwdriver.
Also avoid usage of hooks over eyebolts, since these bags are susceptible to falling when hanged by a hook.

Hanging the Bag:

In the final step, attach the chains of the punch bag into a swivel hook, then followed by an S-Hook.
After doing this, attach the S-Hook to the eyebolt hook located on the ceiling which will then enable the bag to spin freely.

Observe the Spin and durability of the attachment:

After completion of hanging of the heavy bag, do a few trials by hitting the bag from all possible angles to ensure that it is held in place appropriately.
Be sure to tweak the attachment if they appear to be blocking any movement or appear fragile in nature.
That's it, you have hung your heavy punch bag successfully and are ready with full throttle to unleash your fitness levels. It just requires very little work and some thought and sure, you can just do it by yourself. But make sure that you choose the right location and are willing to go the distance.
Here is a great video demonstration of how to mount and hang a heavy punching bag from the ceiling
Some Alternatives to Fixing of the Punch Bag:
Some people also post queries relating to lack of space around to arrange a heavy punch bag without any obstruction.
Another influence is the worry factor of the ceiling by the people. The most appropriate fix is to use a standing or well-mounted heavy bag stand available in the market.
It doesn't need any technical skills and you will just need to hang the bag. But the only con is that it is immobile unlike a hung one.
Use a suitable wall mount:

If hanging is not an option for you, try attaching or mounting the bag to a wall. Most of the athletic stores have wall mounts which include all hardware components attached up for grab.
The bracket of the wall mount is screwed to the wall near the ceiling and just hang the heavy bag.

Free Standing Punching Bag or Free Stand Punching Bag Mount:

If hanging or mounting the bag against the wall or ceiling is clearly a no for you then another option is to opt for a free standing punch bag. Although these bag will need to be filled. You can learn how to fill the the heavy punching bag by searching our site and visiting our heavy bag filling guide.
It is bit expensive and some of them even have wheels for additional mobility along with wide range of free stands in the market.
These stands have strong swivels designed to resist the momentum of the punch bag and prevent any movement of the stand.
Heavier bags usually require stands weighing up to 300 pounds to restrict any movement and depends solely upon the weight of the heavy bag. I would recommend sticking with a 100 lb heavy bag as these bags are the best weight for the stand and for most use.
If you're operating with a free standing race, just attack the chain to the heavy bag's S-Hook to the rack and you're done.
Some people prefer to workout outdoors and need a heavy bag stand for the set up. But most of the heavy punching bags are not water resistant and have to make a suitable choice for outdoor training and usage. It is advisable to take the bag indoors when not in use or to buy an outdoor punching bag, one that is designed to handle the elements.
Another factor in placing the heavy bag is the height at which it shall be hanging. It all depends on the purpose of the bag either for boxing or kicking or both. In either case, it is recommended to keep the bag about 6-10 inches higher than your eye line.
Also, after fixation, figure out the appropriate height for your usage and adjust it accordingly. It is a real fitness booster and punch bags provide vigour to the muscles and keeps one in check of their state of fitness.
FAQ Beginners Have When Hanging There Heavy Bags
Do I have to Fill the Heavy Bag?
Typically yes you will have to fill the bag with either sand or sawdust. I typically prefer to use sand as it provides more of a real world experience. You can fill the bag as much as you want. Lighter if you prefer to save your hands and heavier if you prefer to train for sport.
How High Should I Hang a Heavy Bag?
You should typically hang your heavy bag about a foot above your shoulders. A lot of other factors do go into this such as if you plan on throwing any elbow combos or and kicking combos. Test out how high you want it and go from there to see what works best for you! You really can just decide this factor based on how you like it. Some people live in apartments and can not be hanging a punching bag super high so they hang it lower which is totally fine as long as you can hit the bag and it does not swing too much you are just fine.
How to hang a punching bag outside?
The best way to hang a punching bag outside is to make a stand or to hang it from a sturdy post such as a deck bar. You can check out the following video to help you build a DIY punching bag hanger.
How can I hang a punching bag without drilling Holes in my walls??!
If you do not want to drill holes into your walls this is understandable. But as this i would suggest getting a wall mount from amazon or to build yourself a stand like in the video above.
Did this guide show you how to hang a punching bag? Share with your friends!