How To Use A Punching Bag Without Hanging It – Two Simple Workarounds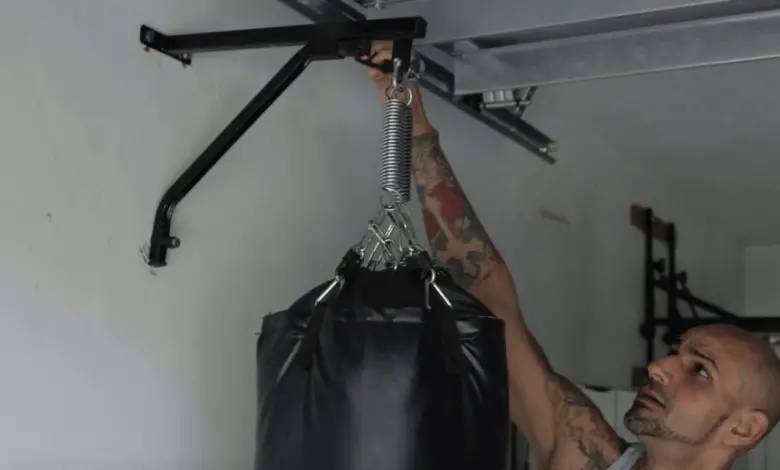 As an avid gym-goer, I just recently bought myself a hanging punching bag to get in some extra cardio and core workouts.
Normally, I wouldn't bother, but with the local gyms on lockdown, I can't get in as much time working out as I usually do.
That being said, I knew right from the start that I would not be able to hang the bag. It's not that I don't have the room or my home is old. It's that my apartment ceiling was constructed with flimsy materials and the ceiling would likely cave in.
And I the last thing that I wanted to do was go searching around for some heavy bag stand compact enough for apartments.
Luckily, I discovered a couple workarounds. I'm sure there are plenty of people in the same situation as me, and this is why I would like to take the time to share my experience and how I got around the problem.
Just keep in mind, while these workarounds will allow you to utilize your new heavy bag for a variety of workouts. And although, hanging the bag is the most effective way to use the bag, not everyone has space, room, or is willing to drill holes in their walls.
Want To Use A Punching Bag Without Having To Hang It? Here's How:
Before we get started, you should be aware of the fact that the best alternative to a hanging punching bag is the standing punching bag. These bags are not only much more affordable than your traditional hanging bag, but they also come along with a wider range of benefits.
Workout #1 – Buy A Standing Punching Bag – Yeah, Simply Buy One that Stands on it's Own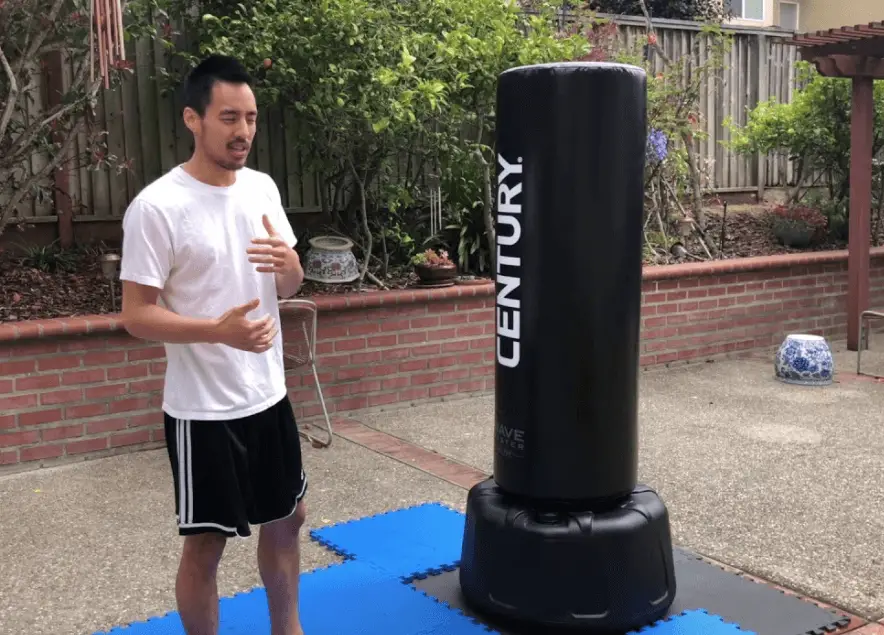 The first and best alternative to the hanging bag is a standing bag. One can just buy a free-standing bag right from the start rather than buying a heavy bag and then an additional heavy bag stand.
This is the approach that I took.
You can see the bag that I got on amazon by clicking here.
That aside, some of the major benefits of a free stand bag are that they are much more affordable, they are easier to move and relocate, they are more compact, and they are easier to use. When you are not using the bag, you can simply store it away in a closet or even under a bed.
The same can not be said for a hanging but, as removing the bag would likely require removing screws, which increases the chances of stripping the heads and holes. If you've dealt with this in the past, you already likely know what a nightmare these situations can be. And this whole process simply just takes too much time.
Why A Standing Bag is The Better Option
No installation
They are cheaper
Easily movable and relocatable
They can withstand the force of a professionally trained fighter
They don't swing like a traditional hanging bag
Best Type of bag for beginners and intermediate Users
Best type of bag for kickboxers and Cardio Workouts
Best Standing Bag… By Far – Century Wavemaster XXL – The One I Currently Own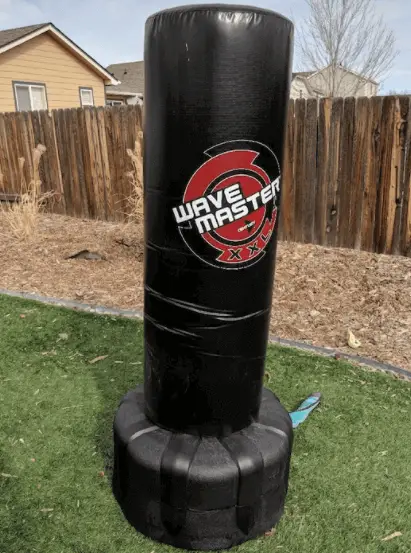 While there are tons of options currently available when it comes to self-standing punching bags, and you can do your own research, I'd like to go ahead and save you the time and hassle.
The Century Wavemaster XXL is without a doubt the best available on the market.
You can check out the model that I got on amazon by clicking here.
And, this is because it has several distinctive qualities that put it in a class of its own. The first and most noticeable thing is, it has a huge striking surface.
Despite being more condensed and portable, this bag has an extremely large striking surface that is usable for all types of training.
Hint: That's why it's called the XXL
Whether you are looking to kick, practice takedowns, or simply just improve upon your boxing techniques. You won't have a problem. Here are some other great things that I really love about this bag:
High-Quality Materials
When it comes to the construction and design of this bag, the manufacturer certainly didn't cut any corners for costs. They utilized the best of the best high-density foam filler that is incredibly tough and resilient. This bag is designed to withstand just about everything from weathering to sun to snow and ice. Want a punching bag for outdoor training? This is your go to bag my friend.
You'll not only get years and years of use out of this bag but thanks to the nice vinyl cover, you'll never have to worry about tearing your hands all up. This is the case for every bag in the Wavemaster lineup.
Weight And Base
For most people, the biggest concern with a standing bag is sustainability. This won't be a problem with the Century Wavemaster XXL. Once you fill the bag with sand or water, you'll be left with a nice, durable 270-pound base that is capable of withstanding the harshest hits without moving a centimeter. Never worry about the bag flying across the room from one of your powerful kicks or punches.
General Dimensions
Was was mentioned, free standing bags are much more compact than traditional hanging bags which makes them the best type of punching bag for apartments. And, that is certainly the case with the Wavemaster. This bag stands in at a nice and comfortable 69 inches, with a base that spans 18 inches in diameter, making it more than suitable for anyone limited on space.
Backed With A Warranty
Perhaps, the best thing about this bag is, it comes with a one-year warranty. If you have any problems whatsoever within the first year of ownership, you can contact the manufacturer and they will rectify the problem. While I never had to utilize the warranty, I have spoken to customer support and they were extremely helpful and responsive.
Benefits Of Standing Bags Over Hanging Heavy Bags
While heavy hanging bags do have some of their own distinctive benefits, it is the standing bags that are much more convenient. Here's why:
They can easily be stored when not in use
They are much more affordable when compared to hanging bags as you do not have to buy some stand to go with it.
Installation is a breeze and doesn't require any tools
They're generally easier to handle and use
Despite their size and design, they can withstand harsh punishments
There is no need to drill holes in your walls
Work Around #2 – Setting Your Bag In A Corner Or Up Against A Counter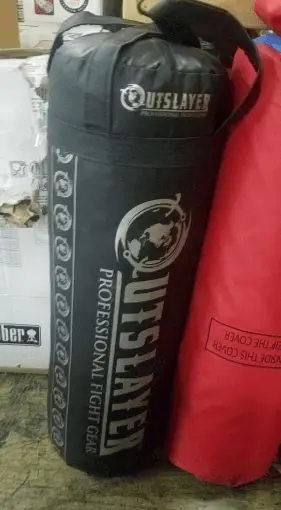 I'll be the first to admit that I didn't want to spend additional money on a punching bag stand. I did buy the bag knowing that I wouldn't be able to hang it, but I thought sitting it in a corner would suffice for the majority of my heavy bag workouts.
Unfortunately, this was not the case at all. While there are plenty of workouts and drills that you can do with a bag leaned up against a corner, it simply isn't the same as a standing bag.
You can't dance around the bag, limiting the amount of cardio and footwork you can get in.
Not only this, but you have to worry about missing and cracking the wall. Not to mention the fact that enough force might crack the wall anyways without missing the bag.
So if you are a kickboxer or MMA fighter you are pretty much stuck with buying a heavy bag stand designed for kickboxing to go with your bag to get the most from your punching bag or settle on the fact that you won't get the most out of your bag laying it against the wall.
Laying The Bag On The Ground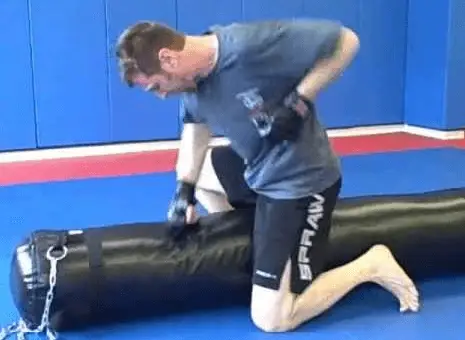 Another option that you have is, sitting the bag on the ground. This is the way that a lot of mixed martial artists utilize heavy bags, but once again, you are limited to the types of drills and workouts that you can do.
Not only this but if you live in an apartment, you might disturb your neighbors. When it comes right down to it, the best alternative is without a doubt the free-standing bag.
---
Is Hanging A Punching Bag The Best Way To Use It?
There is basically only one proper way to utilize a hanging heavy bag. Hit it while it is dangling is the motto for most punching bags.
Do you have a better suggestion? If so, let's hear it.
There are many benefits to a hanging punching bag. These benefits include:
More flexibility
More convenient
Handles impact better
Wider training area
Minimizes finger joint damage
There are risks involved in heavy bag training. It is believed, these risks would be more notable if the heavy bag were not hanging freely.
It would be like hitting a wall filled with dense filler. The filler helps decrease the force of your blows, but it is only be minimal.
My Recommendation – Just Use A Standing Bag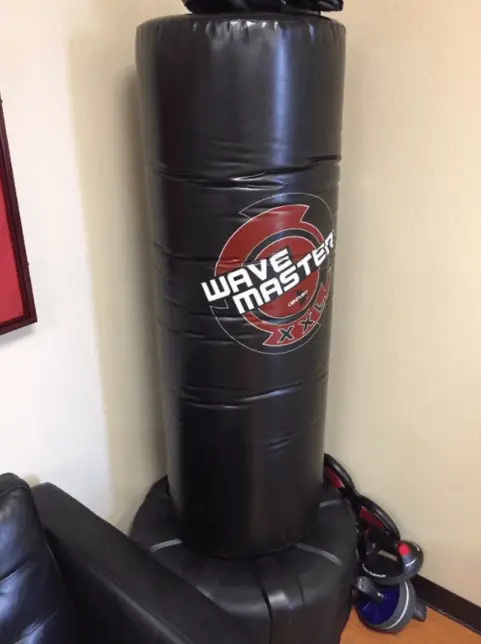 As you likely already know, there are lots to consider when buying a punching bag. Not only do you have to consider the type of bag you need, but you have to consider the brand, the price, where you are installing the bag, and a wide range of other factors.
Most people don't want to hang bags, as it requires drilling into the wall and making permanent holes. This is understandable, but you can see, there aren't many alternatives other than just getting yourself a standing bag.
Related Readings: