Best Mats for Jiu Jitsu, Wrestling, MMA, & Judo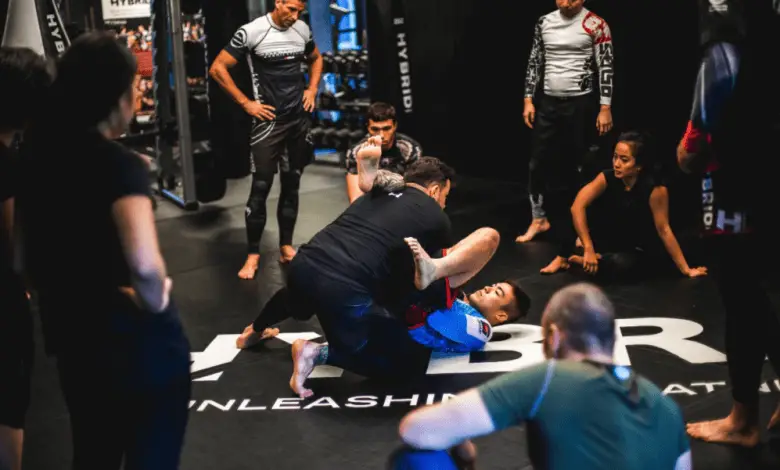 Okay now there are a ton of mats available and a lot of them look almost identical.
So which mat is best for jiu jitsu, wrestling and MMA?
This is the question that many martial artists have in their mind when trying to find a mat for their martial art. 
The good news is you made it to the right place because here I have listed the top rated, bang for your buck mats for BJJ, wrestling, judo and other types of martial arts, as well as some tips to help you find the mat that best suits your martial arts training.
These are ranked in order based on my own research and personal experience, as well as customer reviews, and cost.
Best Mats for BJJ, Wrestling and MMA
Listed below are the best mats for Jiu Jitsu, wrestling and martial arts.
1. Dollamur Flex -
Best Wrestling & BJJ Mat
Tech Specifications and Pros
Made with quality polyethylene foam
24oz vinyl surface
Total thickness of 1.25 inches
Each 5' ×10' weighs 20 pounds.
10 '× 10' total dimension.
Can be used in smaller rooms because of its 2-piece form.
Made of high-quality materials and lasts long.
Coated with antimicrobials, thus, keeping it safe against microbes.
Can be stored easily.
Highly durable.
This one is my favorite and is the one that I personally own. It's extremely shock absorbent and is by far the most comfortable mat that I have ever trained on.
The Dollamur Flexi-roll wrestling mat comes in two different pieces that can be used separately. This ensures that you get to practice in smaller spaces without much hassle.
Its dimension of 10' ×10' also makes it big enough for use in any kind of mat-related practice. It doubles as both a yoga mat and wrestling mat for BJJ or MMA.
Additionally, it has a high shock absorption feature, thanks to the presence of a special cloth backing that creates a bond between the vinyl surface and the closed-cell foam. As a result of this feature, this mat can absorb any level of shock that comes from wrestling and other sports.
---
2. IncStores MMA Interlocking Mat - Best MMA Mat
Tech Specifications and Pros
Reversible and has two colors to choose from.
Possesses two deployable pieces that could help convert any tile to a corner or border.
Made from durable and lightweight closed-cell EVA foam
The tiles come in varying levels of thickness and color.
Total size of 24 "×24" ×1".
Weighs 2.4 pounds per tile.
Easy to install
Made from eco-friendly recycled material.
The jigsaw sides lock firmly to enable a uniform surface.
Allows for a firm grip while in use.
IncStores MMA mat is made from an inch thick EVA foam, firm, but also comfortable to use. The interlocks on this mat fit perfectly to create a uniform surface for practicing. It is also extremely flexible, allowing you to fit it in any workout space or corner of your house, thanks to the tiles coming in jigsaw form with optional finished edges.
While using this mat, you really don't need to worry about wearing and tearing as it is durable, waterproof and fashioned from eco-friendly recycled materials.
---
3. Z Athletic Folding Mat - Best Option For Judo
Tech Specifications and Pros
Multifunctional mat (can be used at home, for competitions and commercial use)
Highly professional design.
Hook and loop connection on all four sides.
Made with high-quality material.
2 inches thick
Unfolded dimension: 4ft×6ft×2inches
Folded size: 4ft×2ft×6inches
Possesses three panels, each as wide as 2ft.
Made with highly dense polyethylene foam.
Has an 18oz vinyl surface.
Total dimension: 48×24×8 inches
Shipping weight: 18 pounds.
If you are on the lookout for a multipurpose gym mat, the Z Athletic is your best bet. It is built to accommodate a good number of activities ranging from dance, cheerleading, weight training, Pilates, and even other forms of martial arts.
Uniquely, this mat is a natural addition to the gym because of the presence of hook and loop connections on all four sides. This makes it very easy for it to connect side by side to other gym mats.
Also, the dense cross-linked polyethylene foam and vinyl covers give it a level of durability and safety that is found in only the best of its kind. It also boasts of a solid resistance to puncture and mildew, while remaining easy to clean.
---
4. IncStores Roll Out Wrestling and Tumbling Mats
Tech Specifications and Pros
Flexible and easy storage.
Suitable for home MMA and wrestling.
Can cover large areas if purchased in large quantity.
suitable for other floor routines and exercises at home.
 Vinyl surface with foam cushion
Total weight of 23 pounds.
 Available in 1¼ inch and 1 5/8 inch thickness.
 5×10 feet and 5×9 feet dimensions.
 Made of cross-link polyethylene foam.
 24oz vinyl surface.
Weight of 22 pounds and 23 pounds for 5×9 and 5×10 inch mats, respectively.
Shock absorbent.
Easy to transport and store.
Practicing at home usually comes with a need to change scenery occasionally; you may want to work-out outside or use the garage or your spare game room. As a result of this, you need a portable mat that can be moved easily from one place to the other.
The IncStores Roll out wrestling mat is the right pick for you if you want to enjoy this mobility. It is easy to store because of its ability to roll up, and, when opened up, the platform allows for a well-structured mat on which to practice.
For a more effective solo wrestling session, you need to fix two of these mats together. And, just as a cherry on top, with the IncStores Roll out wrestling mat, you have nine different colors to choose from.
---
5. We Sell Mats Folding Exercise Gym Mat
Tech Specifications and Pros
2 inches thick for protection.
Possesses a vinyl surface.
Length and breadth of 10ft and 4ft, respectively.
Made from firm cross-linked foam.
Dimensions: 50×31×8 inches.
Total weight of 10.6 pounds.
Possesses hook & loop fasteners for a smooth edge to edge connection.
Available in 3 different sizes.
Made from lightweight material.
Foldable design.
Cushioned pads for safety.
A light gymnastics mat is priceless, and even more so when it is foldable. The We Sell Mats folding mat has a flexible design and is recommended for yoga and martial arts practice. Also, it comes in different colors for you to choose from, while having a thick build for you to practice your jumps, tumbles, stretches, and kicks.
It is also eco-friendly, made from ECO vinyl, and bonded with cross-linked polyethylene foam. Also, attaching this mat to others is super convenient, producing a final natural and seamless fit.
The portability of the mat is also topnotch, being specially made from lightweight materials and sewn-in handle to help you convey it around.
---
6. IncStores Home Carpet Top BJJ Mats
Tech Specifications and Pros
Made with cross-link polyethylene foam with carpet covering.
Available in 5ft×10ft, 4ft×6ft, and 6ft×42ft sizes.
1 3/8 inch to 2 inches thick.
Can be attached to other mats.
Comes in different sizes.
Total weight: 12 pounds, 23 pounds, and 126 pounds for the 4ft×6ft, 5ft×10ft, and 6ft×42ft mats respectively.
26oz Needle-Point Carpet top
10ft Velcro strip.
Made of high quality and durable material.
Smaller sizes are lightweight and are portable.
Easy storage due to roll-up ability.
Highly shock absorbent.
The IncStores Home Cheer mat may be advertised as a mat for cheerleading practice, but it is highly versatile and can accommodate other activities like jumping and tumbling, making it a perfect mat for use in wrestling, BJJ, and MMA.
Another amazing feature is the fact that it can be connected to other mats to create a full surface area, with the aid of Velcro strips. Likewise, you can buy the bigger sizes to cover a larger surface in the gym or studio.
Although considered lightweight, the IncStores Home Cheers mat still retains firmness and a high level of durability. Additionally, it can be employed to suit any martial arts training style or workout requirements, thanks to its high ability to absorb shocks from jumping, grappling, wrestling, and falling exercises.
---
7. Meister X-Thick 1.5" Interlocking EVA Foam Mats
Tech Specifications and Pros
Thick and soft foam mat tile
T-pattern surface.
 Specifically designed for martial arts and wrestling takedowns.
Closed-cell EVA foam padding.
Waterproof surface.
Border pieces for a finished look..
 1.5" tile
24 "×24" for each mat tile
 4 square feet per mat tile
Total Dimensions: 25×25×38 inches.
Total weight: 70.5 pounds.
Manufactured with non-toxic and non-recycled materials.
Can be made to fit any given space.
Tile edges to cover interlocks.
Suitable for a variety of sporting activities.
Easy to set up and clean.
The Meister X-Thick 1.5" Interlocking EVA Foam Mat Tiles is your best bet if you want a soft floor covering to cushion your falls. This, alongside some other features I'll touch on below, makes it great for martial arts, wrestling, gymnastics, home workouts, and as a flooring for children's playroom.
Its closed-cell EVA foam padding makes it 50% thicker than many thick mats available in the market today. It is reversible and comes with anti-slip T-pattern surfaces, therefore giving you a level of traction with shoes and even bare feet.
 Additionally, the Meister Foam Mat Tile is waterproof, easy to clean, and remarkably durable.
---
8. Best Choice Products 10×4ft 4-Panel Foam Folding Exercise Gym Mat
Tech Specifications and Pros
Foam padding for safe practice.
Made of faux leather cover
4-panel design.
Self fasteners on edges
2 inches thick.
Unfolded dimensions: 120" length ×48" width x 2" thickness.
Folded dimensions: 48" length x10" width ×10" height.
Total weight: 14.95 pounds.
Easy to set up.
Highlyportable.
Can be paired with other mats to cover a large surface area.
The Best Choice Products 4-Panel Foam Folding Gym Mat is the best choice for you if you want a portable, lightweight, and stylish looking exercise mat. This mat is thick and possesses adequate padding to break your fall.
The non-absorbent faux leather used in covering the surface is another exciting feature that gives the product an elevated level of class. It ensures that the mat doesn't tear and guards against build up of moisture that could further affect the covering.
Additionally, it comes in a variety of exciting colors and a handle that ensures portability, and easy storage.Its 4-panel build also contributes to this feature by ensuring optimal stacking.
As a result of all these, all you need is a little storage space to perfectly tuck away your mat. It can also be connected to other mats to create an even larger work surface with the aid of the Velcro attachment.
---
9. GorillaMats Premium Extra Thick Large Exercise Mat
Tech Specifications and Pros
Exercise mat suitable for home practice.
Large enough to accommodate cardio, dance, and strength workout, also BJJ and martial arts.
High-density build
Non-slip surface.
Possesses anti-slide bottom grips.
Made from environment-friendly and non-toxic materials.
7ft×4ft for length and breadth, respectively.
8mm thick
Total weight of 21 pounds.
Possesses Velcro straps for easy storage and lugging.
Shock-absorbent padding and cushion are present.
Suitable for power workout routines, wrestling, and kickboxing, amongst others.
GorillaMats Premium Extra Thick Large Exercise Mat is suitable for you if you want to work out or practice at home. This mat has a simple build and protects you, your joints, and your room flooring.
Also, the level of thickness of the mat enables you to workout with your shoes on.
A recurring challenge of working out with mats is slipping.This mat, however, possesses circle-pattern bottom grips that are non-slip.
---
10.  BalanceFrom Puzzle Exercise Mat
Tech Specifications and Pros
EVA foam interlocking and reversible tiles.
Built with moisture-resistant technology.
Non-slip traction.
24 interlocking tiles in one purchase.
48 end borders are available.
24 "×24" ×3/4" for each interlocking tile.
¾ inch thick
Total weight of 30 pounds.
Occupies 96 Square Feet area.
Can be lugged around easily.
Adequate cushion effect.
Iterlocks fit perfectly and are sturdy enough to cushion falls.
Balance is essential during wrestling and MMA activities, and this is guaranteed with this mat thanks to its high resilience and sturdiness. It is easy to set-up, thanks to its interlocking feature, and very easy to move around.
TheBalanceFrom Interlocking Mat also features two-sided nonslip surfaces to avoid casualties that may occur through slipping. And as for constant cleaning and maintenance, you really don't have to worry about that. The mat is equipped with moisture-resistant technology that allows quick and effective washing with soap and water.
---
11. Everlast 2X6 Martial Arts Folding Mat
Tech Specifications and Pros
Built with a non-absorbent cover.
Possesses a handle for easy transportation.
1 5/8 inch foam filling.
35.5 "×24 "×4.3" for its length, width, and thickness.
Total weight of 10.2 pounds.
Easy to set up.
Thick enough to break falls.
Moisture-resistant.
Easy to clean.
Folds easily and quickly.
The Everlast Folding mat retains the unwavering emphasis on quality that has become a signature among Everlast products. Its high mobility and solid material make it a perfect home mat for wrestling, MMA, and BJJ practice.
With the Everlast Folding mat, you really don't need to worry about storage space as it folds easily and occupies only a small area.
Also, you don't need to break the bank to purchase this product – which is quite impressive considering the quality of materials used in its production.
---
Types of Mats and What They Could Be Best Used for
There are such a wide variety of sports mats available in the market, that it becomes extremely confusing and paralyzing to try and pick out the best mat for martial arts or wrestling.
Like will a regular gym mat work for MMA? What about a gymnastics mat?
Different forms of mats are created for various needs and specifications. For instance, some mats are better used at the gym than at home; thus, the build will vary from one mat to the other.
Generally, though, there are four types of BJJ mats availableto choose from in the market today. They are:
Folding mats
These mats are built with adequate cushioning to absorb shock from activities such as aerobics, Pilates, gym routines, and martial arts, amongst others. The folding mats have a fold-up mechanism just as the name implies, and can connect to other mats using Velcro straps, to cover a larger surface.
Generally, these mats posses four foldable panels, and are mostly constructed with firm and non-absorbent materials. Additionally, if you are using this mat at home, storage is not much of a hassle as you simply need to fold them and they can be put away easily.
Jigsaw mats
Jigsaw mats are more of an affordable permanent mat solution. They are made of EVA molded foam and could work for both small and medium spaces at home. Also, they are an excellent choice for gym routines, BJJ, wrestling, and MMA as they can withstand power moves and jumps.
You have two standard width options to choose from when buying a jigsaw mat; they are the 20mm and 40mm variation. However, if you have lots of power and takedown routines, it will be safer to get the 40mm jigsaw mat.
Uniquely, this mat has an interlocking or puzzle pattern that allows you to cover your flooring in the most appropriate fashion.
Judo mats
The Judo mat is a more pricey option if you need a medium or large space mat. These mats are precisely thicker and highly recommended for power sports, judo training, and heavy weight training.
Mostly available at 50mm thick, judo mats are shock-absorbent and are durable. They are made of foam sheets and rubber bonded atop each other and finished with a PVC plastic cover, which enables really good gripping.
Judo mats are also referred to as heavy-duty mats and are more suited for the gym, or rooms that are reserved solely for sports and gym-related activities.
Roll out mats
Fold-out mats, also known as Roll out mats, are mats that can be used both for commercial and residential purposes; hence you can choose to use this mat at the gym or in your house.
The storage mechanism of the foam is easy, as you simply roll it up after use and roll it out when you want to use it again. The finishing of these mats is mainly made of vinyl, which is used to cover the cross-link polyethylene foam found at the bottom.
You can find different forms of these mats having varying levels of thickness, but are all efficient in absorbing shock. Additionally, these mats are easy to clean, owing to their vinyl top, and can be connected to other mats using mat tapes.
---
Looking to Buy A Martial Arts Or Wrestling Mat? Here's What To Look for
Getting a solid martial arts or wrestling mat may seem like a simple affair when you first think of it. I can assure you though, once you get into the actual process of trying to make a decision as to which is the best available option, things start to get a bit trickier.
Generally, there are a few palpable qualities you can be on the look out for to make your decision a lot easier and well-informed. I will list the most important of these factors to consider below:
Durability
This is one defining factor that should never be ignored when purchasing any sporting gear, and wrestling mats are no exception.
No one wants to buy a mat that will be good for only a few uses before having to be discarded. Check the features of the mat you intend to buy, as well as the material used, and ensure that it has what it takes for sustained longevity before making a final purchase.
Also, for what it's worth, this is one of the things the list above is for. And you can rest assured knowing that I've already taken all of these factors into consideration on your behalf before making the compilation.
Shock Absorbance
It really should go without saying that martial arts mats need to be shock absorbent. There will always be lots of knockout routines as well as falls that need to be cushioned.
A Takedown fall that is not cushioned could lead to injuries as well as having a debilitating impact on the floor covering.
So yes, shock absorbent mats can save you big time. And they save your floors too. 
Mildew and mold-resistant
Grappling sports and wrestling often have intense routines that result in some quite profuse sweating. Towards this end, a wrestling mat needs to have the ability to resist liquids from seeping through.
Mats that aren't resistant to liquid could absorb a critical volume of fluids and quickly develop molds and mildew, which leads to inevitable quick deterioration.
So when buying a mat for martial arts or wrestling, always go for mats that are liquid-resistant and built with waterproof materials.
Portability
When looking to purchase a home mat for BJJ, wrestling and MMA-related activities, portability is a must. Could even be so for non-home use mats. Why? Because we all love portability.
Or to put it more appropriately, we all love convenience. No one wants a heavy cumbersome stuff anymore. Not our treadmills, not our phones, not our gadgets, and most definitely not our wrestling mats.
Apart from convenience, getting a portable mat also serves some utilitarian function in that it is usually easier to carry around. And yes, even home use MMA mats can sometimes require being moved around eventually. What if you move and have to store the mat?
Portable mats ensure easy storage. So, really, the advantages of having yourself a portable wrestling/MMA mat is pretty endless. And yes, the list above takes this into consideration too.
Size
The size of the mat is another thing to look out for when buying a wrestling/MMA mat. There are varying sizes available in the market and you absolutely have to ensure that yours is large enough to accommodate you, fit into your room, and pack enough surface area for whatever sport you will be engaging in with it.
Thickness
The thickness of wrestling mats varies according to purpose; hence, you have to consider what you need the mat for before making a purchase.
Thicker mats are usually heavier and are better for a semi-permanent setting (you won't need to remove it regularly). Thinner mats are easy to transport, install and uninstall, and are suitable for one-off use and storing.
You also need to take into consideration the type of activities that will be performed on it and buy the appropriate one for your sport/leisure.
Surface texture
Wrestling mats are made with different materials, but the most common covering is the vinyl cover. This cover type is non-abrasive and soft, which is generally a good thing.
A good thing mostly because they are easy to clean and ensure you get to wrestle without fear of mat burns. However, there are rougher forms of vinyl covering that aid with firmer grip while practicing. These covers have patterns and may not be as easy to clean.
So obviously choosing which mat cover type to go for, with regards to surface texture, may not be a question of good or bad, but suitability of purpose. Having soft mats are good for easy cleaning and avoiding burns, while thicker mats may not be easy to clean, but produce firmer grip.
---
What Type of Mat Is Going to Be Best for You?
Mats for wrestling, BJJ, and MMA are available in different forms that cater to most fighters needs, considering purpose and preference.
If you need a mat for jiu jitsu, judo, MMA, wrestling, or karate dojos, the jigsaw mat is a great choice. You can then decide whether to install them in your home gym or a martial arts studio.
We recommend the Dollamur Mat. You can check it out on amazon by clicking here.
If you need a mat that you can install easily, you could go with roll-out mats, which has thickness and durability as part of the other desirable characteristics in its favor. They are generally used for wrestling in both commercial and residential purposes.
They can also double as karate mats, and for MMA, as well.
Folding mats are mostly used in school gyms, martial arts studios, and home martial arts room. They are easy to use and can be connected to other mats to cover larger surfaces. If you need a portable and firm mat for martial arts, the folding mat is your best bet.
 Also, if you are entirely into martial arts and want to practice some advanced moves, the landing mat is recommended. These mats are usually 8 to 10 inches thick and can absorb high levels of shock.
How to Clean Your Mats
Mats are used for strenuous activities that produce sweat. Although most mats are liquid-resistant, they still need to be cleaned regularly to avoid bacterial infections. Especially if you are wrestling on these mats.
The first step to cleaning your martial arts mat, whether at home or in the gym, is by vacuuming the dust, hair, and other solid particles found on the surface.
After cleaning off the physical dirt, you need to take care of the microbial and unseen dirt. For this, you need to mix 1 part anti-fungal and anti-bacterial agent with two parts water. Mix and use a mop, if at home - or a steam mop to deep clean if at the gym.
How much are wrestling mats?
Mats for BJJ, wrestling, and MMA are fantastic investments for a new or practicing martial artist. Although they may come a bit on the high side to budget buyers, they are mostly durable and should last for a long while to make up for the price.
An excellent roll-up mat big enough to cover a suitable training space can usually be found for about $300 to $400. However, the prices vary from one mat to the other, considering their features and size. You can see, for instance, a 12×12 mat going for as much as $800 and bigger sizes, such as 42ft×42ft priced at $7,000 to $10,000 (usually for bigger sport halls). This is on the extreme high end though.
---
Which Martial Arts Mat Should You Buy? My Recommendation
One would think the question of getting the best mats for BJJ, wrestling and MMA activities would require only a stroll to the store and a random pick of a lucky mat. But no, it really doesn't work like that. And I seriously recommend against doing this.
There are a handful of qualities generally put into consideration before determining the most optimal mats for particular events.
Not to worry, though, your task should be significantly easier now that you've gone through the list and our guide above. Above are some of the very best mats money can buy, and I assure you they can all hold their own in all forms of sporting activities you may choose to employ them in.
Recommended Readings:
Sources