Best MMA Gloves For Heavy Bag Training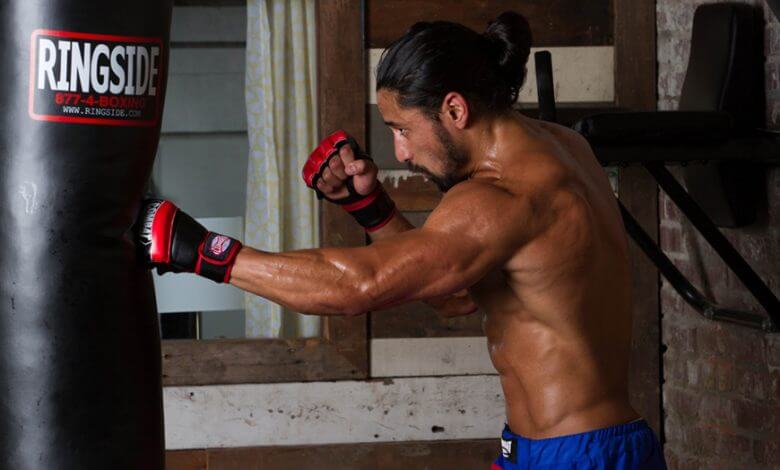 Trying to find a pair of Heavy Bag MMA Gloves but don't know which ones are best?
Good, you've made it to the right place because here I have listed the best MMA gloves that are designed for heavy bag training.
See our best rated MMA Heavy bag gloves on amazon by clicking here.
It can be a hassle trying to figure out which pair of gloves you should go for and just which ones will actually hold up to the abuse that hitting on the heavy bag can put up. 
And thing is, most MMA gloves are actually not designed for heavy bag training. But the ones down below are, and they are the best bang for your buck options out right now.
First let's go over the type of MMA gloves.
Types of MMA Gloves
Like I said above, different kinds of training require different things from your gloves. Think about it, when you're hitting the heavy bag bag you want something that's protective, similar to a boxing glove to some extent. Now think about grappling with one of those, is that heel hook gonna sink in if you can't move your fingers? I don't think so.
That's why before I get into what gloves are good for the heavy bag I feel that I should point out the different types of MMA gloves and what they're good for:
Traditional MMA Gloves
These are the gloves you see in the UFC, usually 4 ounces and up to 6 in some amateur leagues. Like all MMA gloves, these are fingerless and quite light so that fighters can grapple freely. Their main function is to avoid the huge cuts and scrapes that happen in bare knuckle fights and give some protection to the athlete's hand, especially the wrists.
While these are great for fighting and competition, if you try to train with them for a long time, you'll find that their meager protection won't be enough and your hands will hurt from repeated impacts.
Your sparring partners also won't be too happy if you keep using these, since they'll be taking heavy hits every time and both of you will be at a higher risk of injury. Sparring isn't about hitting the hardest or hurting your opponent, it's about perfecting your techniques so that on fight night you'll be at the top of your game. 
 That's why for when you're not going all out, there's probably another type of glove to better suit your needs.
Sparring Gloves
Sparring gloves: In my experience, these are the end-all be-all when it comes to hitting the heavy bag. This makes sense, since that's what they're specifically designed for.
These are made with a focus on striking and punching, and as such, they are heavily padded on the top and front of your hands. Weighing anything from 7 to 10 ounces, they offer the most protection for your hands and wrists, and often come with a grip bar that helps you form a tight fist, much like boxing gloves do.
Unfortunately, the extra protection comes at a cost. Sparring gloves are not made for Grappling. Period. The fingers are usually not segmented, meaning you have very little range of motion in your fingers and probably won't be able to sink in a choke or hold on to that americana.
I know what you're thinking: I'm not gonna buy two pairs of gloves, one for striking and one for punching. Lucky for you, that's where our next entry comes into play.
Hybrid MMA Gloves
Also known as grappling or training gloves, these are a mix of the two types above. They usually have padding only up to the second knuckle, offering some degree of protection to your hands and training partners, yet allowing for some freedom of movement for your fingers and allow for grappling practice too.
The cool thing about hybrid gloves is that depending on what kind you get, you might be getting something that's seventy five percent sparring glove and twenty five percent traditional, or the other way around, or maybe a more balanced fifty fifty.
That's why it would be too broad to say "These are not good for the heavy bag" and I've even listed a couple of them that I find work amazingly well with it.
However, for the purposes of this article, hitting the heavy bag, these are not going to be the absolute BEST choice. That would be a sparring glove, but they are still a solid choice for overall training.
 Especially if you're unwilling or unable to shell out for different glove types for each situation, just make sure to pay attention to what you're buying and maybe wrap your hands to keep everything tight.
---
Best MMA Gloves For Heavy Bag Training
Down below you'll find the best MMA gloves designed for hitting the heavy bag.
---
Best Features
Priced Affordably

Look Awesome

High-density thread

Ventilated

Excellent All-Around-Use Gloves

Reinforced fingers

Thumb openings

Skintex leather

Imported
Undisputed...The name says it all.. and well, I find hard to argue with that. Only if you have had the privilege of putting on these fine MMA gloves, you could understand why I say that.
First, let us comment on the color scheme. Shades have become so important in the last few years, wouldn't you agree? Anyhow, these gloves are available in four colors as we speak. These include black, matte/black, neo-pink and white.
And now for the important details. The first factor which distinguishes this pair of gloves from the rest of the lot is its leather. Premium grade Napa leather is employed in the manufacturing of these versatile gloves. When you think about it, this is the first factor that makes them ideal for bag training.
The leather that these gloves are made from keeps the material from  breaking down and wearing away. Punching bag training can wreak havoc on gloves, especially gloves that are not designed for the heavy bag. These gloves are.
Protection and padding are an essential element of those gloves which are used for heavy bag training. The layered foam padding added in these gloves perfectly serves the purpose. You can land some heavy punches on that boring bag in your training room without too much fuss!
Your wrists. It's critically important that the gloves you purchase for your daily heavy bag routine come with high wrist supports installed in them. An adjustable strap complementing the high wrist support is a distinctive feature of these gloves. Velcro straps are a must have for any set of gloves no matter what form of martial art you are training.
The biggest benefit associated with Velcro straps is that they help in single hand pre-positioning!
These are the gloves that I personally use for my heavy bag training and are the ones that I recommend you use as well. I have put these gloves through hell and back for two years now, hitting away at my punching bag almost daily and they have held up very well.
In my honest opinion, at this price level, you will be hard challenged to find a pair of MMA gloves designed for the heavy bag that are better than these.
---
Best Features
The fusion support technology for perfect alignment.

Superb impact absorption.

Designed with the Strongest Materials of the bunch

Antimicrobial technology

Excellent cooling system

Sweat management systems.
This product finds itself in my list of best MMA gloves for the very fact that it is multi-purpose. You could combat, spar or punch the hell out of that bulky bag hanging in your gym using these gloves. They will help you with all three purposes. These gloves are available in small, medium and large sizes.
I confess I am rather partial to designs. This pair of gloves has a pre-curved design, which helps in minimizing the overall stress felt by the hand. I can tell you how important is that in words, but I am pretty sure I don't need to because well, pain is best felt rather than described. But boy oh boy, you will feel some pain the moment you punch that heavy big bag with all the might in the world!
Hmmm. What else? Oh yes, world-class wrist support that helps in stabilizing the grip. Overall fit is excellent, one couldn't ask for a more secure grip. This is also one of the reasons why this pair of MMA gloves are so durable. A product that will serve you for a long time, in my honest view, that is.
And if you haven't asked in your head yet, what kind of leather is used, I am going to be sad. Tch, Tch, is that what have I taught you? But I will not reprimand you further. In these versatile gloves, a 100 percent premium full-grain leather is employed. The skill involved in maneuvering this leather is unbelievable.
---
Best Features
Very Affordable

Ventilated

Thickly Padded

A quick-EZ hook and loop closure

Secure grip

Enhanced wrist support.

Premium grappling performance

Perforations on fingers and sheaths.
From the discussion so far, you might be getting the impression that our focus is only on heavy bag training. That is hardly the case.
These gloves are suited both for grappling and heavy bag training. 
Currently, these are available in golden/black combo. That vibe so tangible when professionals fight in a ring with these gloves on, yes folks, you can feel it!
So, what are most of the distinguishing features of these classic MMA gloves?
Like I mentioned earlier, leather is the most crucial factor when it comes to determining the quality of any pair of martial arts gloves. To manufacture these gloves under discussion, manufacturers relied on 100% authentic full-grain cowhide leather. This type of leather is used in only a few quality products available in the market. What would complement high-quality leather? 
Of course, high-quality stitching. Thread work is an underrated quality determinant when it comes to MMA gloves, especially the ones used for punching bag training.
Impact reduction is maximal when it comes to the RDX gloves. The thick foam-based padding serves the purpose very well. Not only that, the shock dissipating gel used in these heavy bag gloves magnificently minimizes the blow impacts of heavy bag training. Sweat is a cause of discomfort for many MMA players, the manufacturers of this product have taken care of that also. The sweat-wicking fabric draws and drenches the sweat, away from the skin completely.
---
Best Features
Great needlework, look freaking awesome

Budget Friendly

Thickly Padded Knuckles

Ventilated

Skintex leather

Thumb openings for easy grappling, ground work, and other types of martial arts training
I really like this pair of MMA gloves, because of their simplicity. Venum has kept things simple in this product. It has all the features, essential for heavy bag training.
First, for the looks, these martial arts gloves are available in three shades. These include black, black/grey and black/ white. Oh, and the sizes are also important. These gloves are currently available in three sizes. These include small, medium and large.
Shock absorption is a crucial indicator when it comes to the quality determination of MMA gloves. I cannot emphasize enough how crucial it is for gloves bought solely with the purpose of heavy bag training. Foam layers cleverly placed in these gloves accomplish that purpose. Keep in mind that this foam is higher in density, as compared to the ordinary foam.
The high wrist support is provided by an adjustable pair of straps in these MMA gloves as well. For pre-positioning, nothing serves the purpose better than the Velcro strap system.
Yes, yes, be patient! Going to discuss the leather now! In this product, PU leather is employed. PU leather is a trademark of most Venum MMA gloves, and the challenger gloves are certainly no exception to that.
Greater comfort and support are provided by the double-closure system.
Another way shock absorption is maximized in this product is by reinforcing fingers and thumbs. This is a trait not found in many martial arts gloves.
For heavy bag training, you can see why this little feature is so important. It helps in absorbing every last ounce of the shock that you might experience when you forcefully hit the heavy punching bag
---
Best Features
Thumbless allowing for better ventilation and grappling ground work

Extremely Light Weight

Look Awesome

Material designed for heavy bag work

Super comfortable

Extra strap over the outer strap
These pro-style MMA gloves are a fine product, but available in only X-large size, making them perfect for larger hands. If you have small hands then you will want to grab the pair right above these, the Venum challengers as these are the best gloves for small hands.
These gloves look awesome and classy, due to their color combination. White/slate grey.
By now, I hope you know some of the factors, if not all which are define the quality of your MMA heavy bag gloves. Recall the most crucial factor? Yes, leather. In this case, exclusive engineered leather vylar gives unparalleled performance and long term durability. There is some high science involved behind manufacturing these MMA gloves, I can tell you that much.
Wrist support's importance is further illuminated by the fact that this product has its wrist support feature patented. Yes, no kidding, patented. And why not, the wrist support is so secure, it helps in generating quite a bit of power as you hurl your fists at the punching bag.
There is something else about this product, which I have not discussed in the previous products. It is the design that is so alluring, so sleek. Y-Volar design ensures that the grip is secure and hand fits the glove-like anything. Fitting is unmatched, and yes, I am not exaggerating.
---
Best Features
Antibacterial technology.

Extra PU leather padding for long term durability.

Designed for fitness and cardio boxing workouts

Synthetic leather

Mesh backing for a comfortable experience.

Padding between wrists and knuckles.
I have been saving this beauty for your eye only. This black pair of MM gloves beat every ordinary flimsy product in the town, I can tell you that much. I sound repetitive, but the design has to be top-notch for a product to catch my eye. And man oh man! The open palm design of this product simply blew me away.
But I see you want to know about other specifications as well. Hmmm. So proud of you! Well, let me see. Oh, yes. One of the most endearing features of this product is the lovely little hand compartment, which can come handy, right?
The striking area has a lot of foam protection. That makes these gloves an ideal choice for bag work. You can use these for grappling as well, but most athletes prefer to punch the hell out of the training bag. But I am not stopping you from doing anything, feel free to do whatever you like!
The secure and adjustable fit comes from the hook and loop closure that is built so ingeniously. The premium synthetic leather simply seals the deal, I feel.
---
Best Hybrid MMA Gloves for Heavy Bag Training
Let me tell you something about hybrid MMA gloves. These gloves come with basic MMA gloves features, along with thicker padding. The reason why these gloves are called hybrid gloves is that these gloves are ideal for both grappling and striking. Now, I see you are smiling and from that, I can guess that you are most likely a sparring enthusiast that likes to throw around on the punching bag every so often.
Here are my three favorite hybrid MMA gloves designed for heavy bag workouts. You can go train on the heavy bag using these hybrid gloves, without anything to worry about!
Best Features
Adjustable Velcro straps.

Designed for sparring, grappling, and heavy bag work

High-density padding for shock absorption

Proper energy dissipation

Best in Class

Extremely Lightweight

Highest Quality Material
These hybrid MMA gloves are that kind of product that can catch your eye in an instant. However, looks are not all these magnificent gloves are about. Rather, there are plenty of beneficial points associated with these gloves.
These gloves are expensive but they are well worth it if you plan to keep your MMA gloves for longer than a year.
I love how they have utilized all of their expertise in coming up with a product that has an elegant design with a minimal wrist fatigue factor. It is the pre-formed curve with open palm design which reduces the overall stress on the hand.
Like I said before, a hybrid glove has the padding necessary for heavy bag training, with an open palm design. Using these hybrid MMA gloves, you can switch between striking and grappling with the utmost ease. These gloves are made using microfiber vegan leather. This type of leather provides higher abrasion resistance.
---
Best Features
Open palms that allow skin contact.

Available in nearly all sizes.

Wrist straps.

Wrap around the wrist straps.
Red, blue and white. The three shades in which these boxing gloves are available. These are hybrid MMA gloves, and you already know what they do. Hence, not going to kill myself telling you that again and again!
So, what are there distinguishing features? Well, these hybrid gloves have a design that minimizes the stress factor. The technical jargon you might come across for this simple fact is ergonomic fit. Apart from that, I loved the hinged knuckles. These allow for a complete range of motions, which is idiosyncratic to these gloves.
The striking surface of these hybrid gloves is made using leather of premium quality. This is a material that is going to last for a good number of years in my view. Shocked that you haven't asked about shock absorption yet! Well, it is pretty decent. The 2" of molded foam padding simply increases the safety level of these marvelous training gloves
---
Best Features
Hook and loop wrist closure.

An extra support strap

The very fact that it is quite affordable for any MMA player

Ventilated

Cheap
It would be unjust if I don't say a few words in the praise of this magnificent pair of hybrid gloves. These are 100 percent polyurethane and 100 percent high quality. I have come across many products where manufacturers find it hard to maintain a balance between protection and mobility. You must understand that these two factors are inversely proportional to each other.
However, I was pleasantly taken aback by surprise. The anatomical thumb padding is a hallmark of these gloves and it increases protection without having an impact on mobility. Another likable feature of this product is, of course, it's excessive padding. This helps in minimizing the overall shock and impact. What supports this is the reinforced finger loops. Game over, impact!
---
Top MMA Gloves Brands
Before you step out of the cradle and take baby steps towards MMA glove shopping, I feel that you must have background knowledge of the big brands involved in this business. After all, there is a reason that the products from these brands are trusted worldwide. So, let us have a look at some of the key players in the MMA gloves industry.
Hayabusa
Interesting name, Hayabusa, right? Fun fact, in Japanese, it means falcon. Well, not to bore you with etymology here but these gloves do everything a falcon does. Power, speed and strength and hallmarks of Hayabusa products.
When it comes to heavy bag martial arts gloves, Hayabusa is deemed as the boss. Athletes all over the world go crazy after this brand's products. Many MMA professionals all across the world not only use the Hayabusa gloves themselves but also recommend them as well.
So, why are Hayabusa gloves so good? The most obvious answer is the premium quality of materials the company uses while manufacturing their products. Their gloves have excellent wrist supports. For both grappling and striking, Hayabusa MMA gloves are quite suitable. Some say that Hayabusa gloves are not ideal for heavy bag training. But in my view, that is not so true. You just have to find the ideal weight which complements your style. Usually, Hayabusa gloves weigh around 4 oz.
Venom
If you ask me which brand made the big waves first in the MMA world, for me that would be Venom. The way this company made a name for itself in the world of MMA fighting gear is quite astonishing. In a shop of fighting gloves, you will find that venom products dominate the shelves.
Since Venom was founded, this company has made tremendous progress. One of the brilliant marketing strategies employed by Venom was supporting the fighters. That also helped the company to modify its products according to the demands of modern-day MMA fighting.
So, what are the distinctive features of a Venom MMA glove? Well, Venom focuses more on designing gloves that help in the bold style of fighting. If your style of fighting is more on the classical side, I feel that Venom gloves won't be best suited for you.
Lastly, Venom gloves are available in a range of sizes with variable prices. Hence, if you are a fan of diversity, be prepared for some!
RDX
RDX is a brand that is trusted worldwide for its contact with sports products. Not only that, but RDX is also a reputable brand when it comes to weightlifting gear. The reason why RDX products are so famous and trusted is the uniqueness of the material they are made with. For example, the use of grain cowhide leather or gels which are used for shock absorption.
Numerous factors are given utmost attention when an RDX product is manufactured. These include design, protection, comfort, durability and most importantly, quality. What makes RDX unique is how much they care about customer reviews and feedbacks. RDX manufactures a lot of gloves, and just not for MMA fighting. These include Muay Thai, boxing and other grappling games. The level of consistency one finds in every RDX product is quite remarkable, to say the least.
FAQ beginners have when buying MMA gloves for the heavy bag
Well, now I am going to mention some commonly asked questions about MMA gloves. These are linked with punching bag workouts. I feel that by now, you would be able to answer them all by yourself as well. So, consider this as a quiz on MMA gloves used for heavy bag training.
Are MMA gloves good for a heavy bag?
Yes, MMA gloves are an excellent choice for those that want to hit around on the punching bag and still be able to use their gloves for cardio kickboxing, grappling, sparring, or for those that just simply do not want to use heavy bag gloves because they are too heavy and sweaty.
Are hand wraps better than gloves?
Wraps are great but in terms of protection, they are nowhere near the gloves. Gloves offer more protection to areas like knuckles.
What do you wear under MMA gloves?
It is always advisable to train with some sort of protection under boxing or MMA gloves. In my view, you should wear wraps under the gloves. Not only because it keeps your hands protected and snug in your gloves but also because it helps keep your gloves clean, free of odor and bacteria.
Is It okay to use MMA gloves on a heavy bag? 
Yes, most definitely it is. Whether it be a free standing heavy bag, a hanging punching bag, or even a reflex bag, these gloves above are designed the take the abuse and the punching bag most certainly is as well.
Can these MMA gloves be used for both the heavy bag and for sparring?
Yes, these can be used for both. The hybrid gloves are also perfect for both sparring and for heavy bag work as they are thicker and are designed just for sparring and mitt work.
Recommend Readings: