Best Outdoor Punching Bags Built to Handle the Abuse (2023 Update)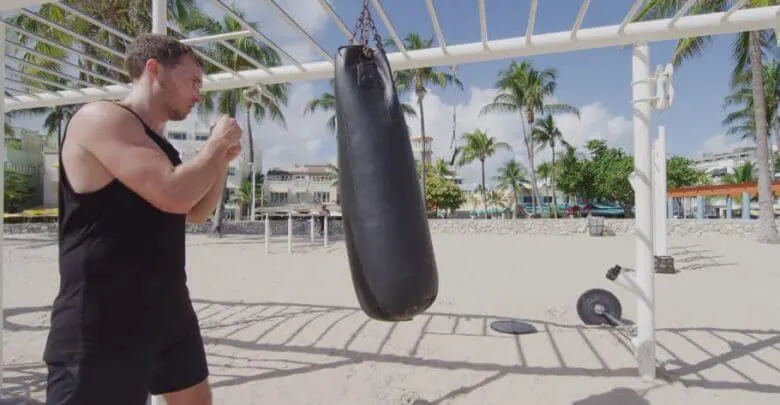 So, you're looking for the best outdoor punching bags that will stand up to the elements.  Well, you've come to the right place – all of these bags have been listed as the best punching bags for outdoors because of the material they are made from. They are all extremely durable making them perfect for staying outdoors.
You should be aware that there is no such thing as a dedicated outdoor punching bag. But the good news is that there are punching bags that are built strong enough to withstand the weathering and wear and tear that the outdoors brings, day after day.
If you just want the quick answer, there is a clear winner: the Wavemaster XXL. I have owned the bag for 6 years now, I've abused the heck out of it, and it spends a majority of its time outside in the rain, snow, and sun.  Still to this day there are no rips or tears. It looks worn but it is my go to bag for nearly all of my training.
The Wavemaster XXL is the only bag that can withstand hard kicks and not move or tip, and the striking surface is a lot bigger than all of my hanging heavy bags.
You can check out the Wavemaster XXL on amazon by clicking here.
But hey, you are here because you are either a martial artist or a fitness enthusiast looking for an outdoor punching bag and you want to see what your options are.
I have done the research and a significant amount of personal testing for you and have hand picked the best outdoor punching bags.
All of the punching bags down below have been specially picked because of the material that they are made from. The material that each bag down below is made out of makes them more than able to handle the abuse that the sun, rain, snow, wind, and other elements of the outdoors throws at it.
If you are looking for a free standing punching bag for the outdoors then like I said, I would recommend you to get the Wavemaster XXL.
But if you are looking for an outdoor hanging heavy bag then I will recommend you to go with the Everlast Hanging Heavy Bag With Stand as it is the most cost effective option while still being an incredibly sturdy bag. It comes with a stand as well as the heavy bag itself so that you do not have to hang the bag yourself by drilling holes or doing any kind of set up.
Types of Punching Bags – Which is Best for Outdoors?
When it comes to selecting the type of punching bag that's best for you, there are 2 main categories: freestanding, and hanging. Each comes with its own advantages, and set-up requirements that make each best for different uses. Below are the differences between hanging heavy bags and free standing bags.
Freestanding Punching Bags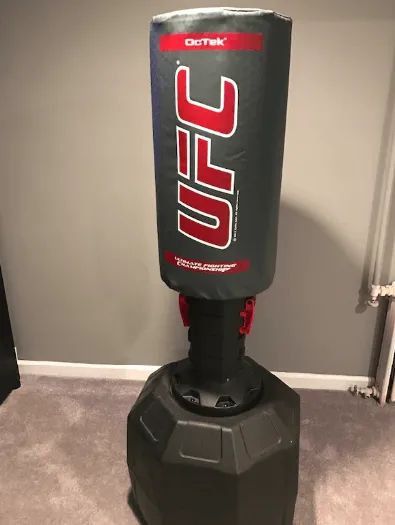 Freestanding punching bags are models that come with a large base that's typically filled with either water or sand to provide stability when struck.
These bags have less requirements pertaining to set-up than hanging models. Most are already assembled upon delivery or purchase, leaving only filling the base with water or sand to be completed by the buyer. If not already assembled, setting the bag on its base is very easy.
The material used for freestanding bags also tends to be softer, which makes frequent use more forgiving for your hands, feet, or whatever part of body you use to strike the bag.This may also allow for more consistent training due to less physical strain.
Generally, freestanding models can also vary more in design, which makes them more adaptable for different purposes. They are often constructed with a human frame to resemble a real person, and others can be converted into dummies for grappling practice.
Free standing bags are the best choice for users who are planning to use their bag outdoors and are also best for users who live in an apartment or in a tight living space because they take up less room than hanging punching bags do.
Additionally, the architecture of these bags tends to make them fairly loud when being used. For buyers more familiar with the striking arts, their softer structure can also provide less resistance when being hit, which may not provide the desired challenge.
Free Standing Reflex Bags
Reflex bags are also free standing but these are spring-loaded so that it swings back toward the user after being hit. The purpose of these bags is to increase and improve the reflexes of the user. These bags are and have become extremely useful lately and being bought more and more because of the benefits that these bags are providing.
Hanging Heavy Bags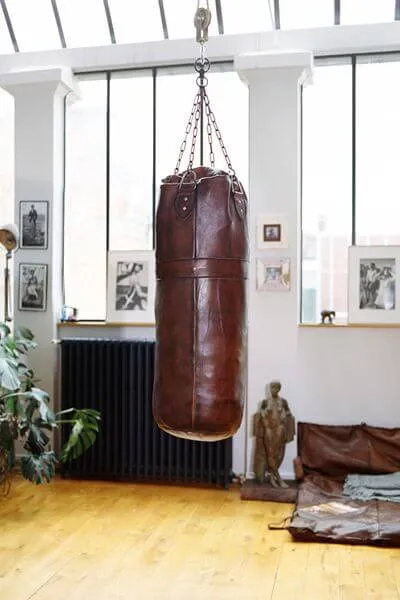 As the name suggests, hanging bags are set up by being hung from an elevated structure. Most often, they are attached to a beam near the ceiling or to a specialized stand built to position them for use.
Depending on the intended purpose, hanging bags can vary significantly in design: those meant to be used for kicking are often longer and more narrow, while those exclusively meant for boxing are shorter and have more bulk in the middle.
Because the hang by design, these bags swing naturally when hit, which provides a dynamic amount of resistance and a range of motion that benefits those looking to practice movement and footwork while throwing strikes.
The more lengthy set-up for hanging bags also allows for more powerful punches and kicks to be thrown; the result is a responsive but firm target that won't tip over if it's hit with a hard enough shot or a long combination of punches.
Compared to their freestanding alternatives, hanging bags tend to be less expensively priced, particularly when they can be purchased without a stand. However, even when purchased together, this combination is often cheaper than a high-end freestanding bag.
One of the drawbacks to this design is the more involved set-up process that often includes modification to the structure from which it hands. Even when a weight-bearing beam is available, properly attaching and adjusting the hanging apparatus is tricky and time-consuming.
Partially as a result of this, hanging bags are far less portable than freestanding bags. Disassembling, removing, and reconstructing a hanging bag is far more time-consuming and laborious than simply rolling a freestanding bag from one location to another.
Best on the Market
While each of these types of outdoor punching bags have their own target markets, there are models within each category that stand out from the others for their materials, durability, and affordability.
In order to stand out among outdoor punching bags, a model has to first be considered excellent within its own category. Here, freestanding and hanging bags are compared against others of the same type and then considered for its overall value.
Best Outdoor Freestanding Punching Bags
Listed below are the top rated outdoor free standing bags.
So I must first say, I currently own this bag and this is my go-to training bag for literally every style of training I do other than grappling. (For my grappling I use the Century Versys, but it's not the best for outdoor use). That said, if you are looking for bag for outdoors or really for anything this is the bag that I recommend over all others.
This is the best free standing punching bag of all bags currently available. The reason all of the punching bags are listed on this list is because of the material that they are made out of make them perfect for using outdoors. Obviously. But the Century Wavemaster XXL I think is the most durable bag of them all, other than like the $500+ Muay Thai bags. I have had this bag for 6 years and I have put it through a freaking beating and it still has no rips or tears.
I keep it in my garage, i've left it outside in the rain, snow, and sun, and it's held better than every punching I have ever owned. It's also the only free standing bag that does not fall over or tip when you give it your hardest kicks.
This is just my personal experience and I may be biased because it has served me so well so it's the one bag that I recommend to others so that they can get the same return on investment that I did from mine. IF you are going for a free standing bag this is the one to get.
Also important to note that this model from Century Wavemaster is an extra-large design that, according to Century, has the largest punching and kicking surface currently available, which is very nice to have from a free standing bag.  Its set-up is easy as heck too.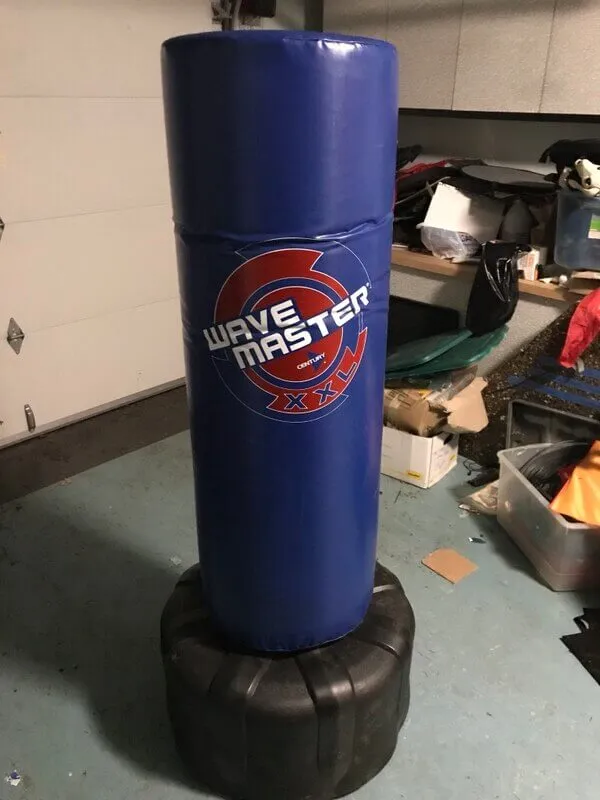 This is a picture of mine in the garage when I got it. It's a bit more beat up now, but still looks pretty dang good after 6 years of abuse.
Standout Features:
vinyl exterior material
high-density foam interior
extra-large fill hole
Weighing in at approximately 270 pounds when filled, the Century Wavemaster XXL training bag has plenty of mass to accommodate differing levels of intensity during training. Its 18-inch diameter helps ensure that the bag can be placed in a variety of locations.
Reviews of the Wavemaster are highly positive, with several users noting that the bag is highly resistant to tipping over and that its low base makes it possible to practice low kicks without accidentally striking the base and causing injury.
One of the lighter bags discussed here, the Everlast Omniflex Free Standing Heavy Bag weighs in at 130 pounds when filled with water, and stands over 5 and a half feet tall when configured at its highest setting.
Here is a link to the new model of the Everlast Omniflex. You can check it out on amazon by clicking here.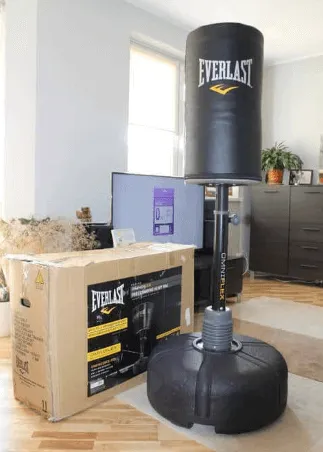 Standout Features:
low base design
high-tension spring
adjustable bag height
The high-tension spring design allows for fast rebounds in response to strikes that can benefit reflex training and helps prevent tipping over when the bag is subjected to repeated strikes in a short period.
According to my research customers trend toward highly favorable for the Everlast Omniflex, with compliments mentioning the small frame that makes it easily portable and usable in smaller areas, and criticisms noting that its lighter weight makes it more prone to being knocked over when struck.
I own this punching bag as well, you can see a picture of mine down below. I keep this bag outside at all times. This bag is perfect for anyone who is on a tighter budget and does not plan to be throwing hardcore kicks at the bag consistently. You can throw hard kicks but if doing it consistently it becomes a little bit of an annoyance because this bag does like to move and slightly tip. I have yet to knock it over, but it does move.
This bag also has not held up as well outside as the Wavemaster XXL. The material is essentially the same according the Century but feels like it's thinner. Which I'm sure it is as it is not as big and heavy bag the XXL.
But do not get me wrong, if you are on a tighter budget, this is the next best thing to the Wavemaster XXL.
Also important to note i have had this bag for 3 years and it has held up pretty darn well for being left outside almost everyday of it's life.
This Wavemaster model is built to provide strong resistance during use and multiple heights settings that can be configured with minor adjustments.
Nearly 4 feet tall at its shortest height to more than 5 and a half feet tall at its tallest, this bag is designed to be dynamic.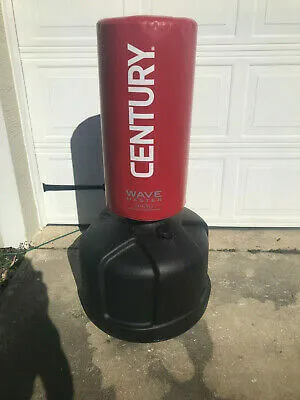 This is a picture I took on my cell. This was when it was fairly new. It's lived outside almost everyday for 3 years.
Standout Features:
approximately 250 pounds when full
engineered for rapid rebound
7 height settings
The multiple height adjustments are an important feature for users looking to improve their kicking flexibility or for those living with multiple people using the bag who may want to modify the height to suit their own physical attributes.
Reviews are currently very positive, with most buyers pointing out the bags stability and resistance to being knocked over even by the most powerful strikes. Its adjustable height is also a common point of praise among owners.
I also own this bag. It's a great punching bag for outdoors because of the material it is made from. But for hard training. This is not your winner. For workouts though it's perfect.
This model from Everlast has been built with PowerCore steel plate technology to reinforce the bag's integrity and contribute to its ability to sustain consistent use over a long period of time and making it a great punching bag for outdoors. Like the Century Original Wavemaster, its height can be adjusted.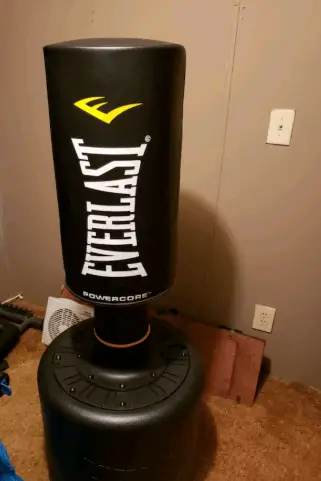 Standout Features:
adjustable height (ranges from 54 inches to 65 inches)
tri-disc foam structure to benefit energy dispersion during use
compact base
The frame of the base makes the Everlast 2228 PowerCore heavy bag much more portable and easy to set up in smaller spaces than other models with wider and bulkier base designs.
Customer reviews of the Everlast Powercore so far approach very favorable levels, with the majority of positive comments praising the bag's sturdiness and portability and negative remarks generally pertaining to more difficult and involved disassembly and filling processes.
---
Best Outdoor P

unching Bag with Stand
Here is the best option for outdoors. There are a few others that are really good, but through my experience this is the most cost effective and most durable option. I would seriously recommend not paying more for a different one because this is about as good as they get.
So if you are on the fence and would prefer a heavy bag that is built more for heavy competition style training then I highly recommend this option as one of the best outdoor punching bags. It is affordable and very cost effective for those who want the most bang for your buck. Buying this will completely set you up so that you can get started training immediately.
Between freestanding and hanging outdoor bags, most options for this type of equipment fall under one of those two options.
However, there is one other category for these models: heavy bags with a stand. And this one is the best most cost effective option.
You can check this heavy bag and stand kit out on amazon by clicking here
More flexible for set-up location than typical hanging bags and more sturdy than your average freestanding option, the Everlast Single Station Heavy Bag Stand and its heavy bag kit provide a stable and balanced option for setting up a heavy bag in your ideal location.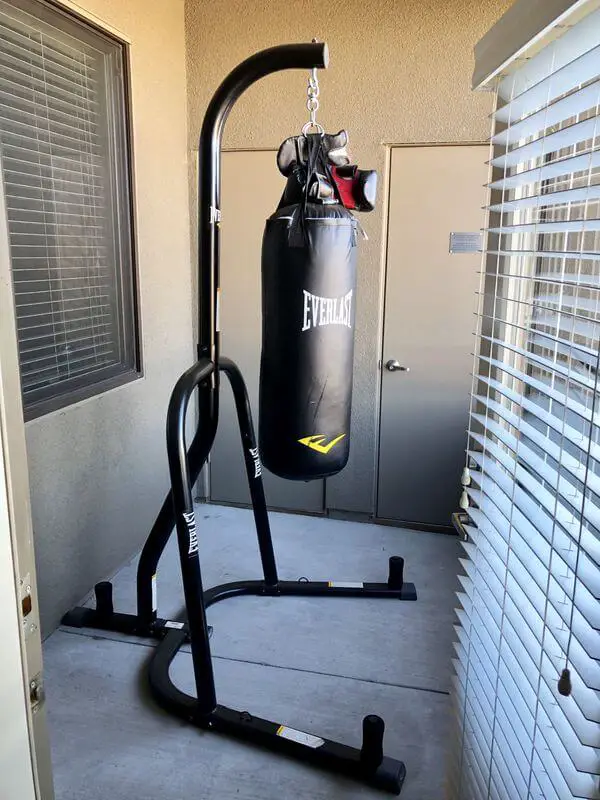 Check This Heavy Bag Stand On Amazon
Standout Features:
100 pound weight threshold
few parts for assembly
compact structure
The weight limit further contributes to the stability of the stand. This, in combination with the base of the stand measuring nearly 4 by 5 feet in length, ensures that balance is never an issue and that this heavy bag and stand can be set up in most settings desired by the owner.
Reviews indicate that those who have submitted responses find this model highly favorable. Some wish that this stand came with a pull up bar but see as how cheaply priced it is this is definitely not something to be upset over.
If you would prefer a punching bag stand with pull up bar you can check our guide on the best ones here.
Most compliments have to do with the sturdy design, the easy set-up process, and the ability to add free weights to the stand to limit the bag from swinging more than desired.
---
Best Outdoor Hanging Punching Bags
Listed below are the top rated outdoor hanging heavy bags to buy.
This bag has the ideal form for Muay Thai and kickboxing practitioners looking to practice kicks to every segment of the body and to work on their movement with a moving target. The Combat Sports 100 lb. bag is 6 feet long and is comprised of synthetic leather.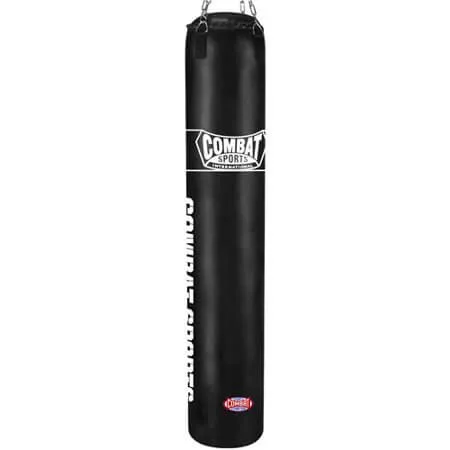 Check This Bag Out On Amazon
Standout Features:
durable material
heavy-duty chain included
easy to clean
The material used to construct this bag make it an ideal option for outdoor training: its strong exterior material provides valuable short-term resistance against unexpected sudden weather conditions and allows for quick cleaning to ensure it is well-maintained over time.
Reviews of this heavy bag are overwhelmingly positive, with many owners reporting that they have used this brand and model for years without complaint. Extra praise goes to the zipper opening at the top that allows for refilling the material inside.
Similar to the previous design, the Ringside Muay Thai Punching Bag weighs in at 100 pounds and is built with a durable outer material to ensure that it can withstand high impact training over a long period of time, making it one of the best outdoor punching bags around.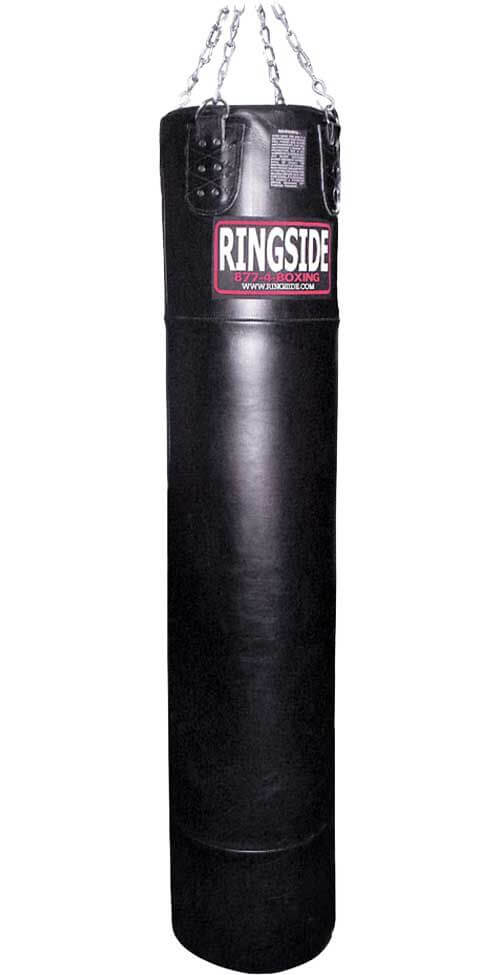 Standout Features:
Powerhide covering
heavy-duty chain included
6 feet in length
Much like the Combat Sports bag, the Ringside Muay Thai Punching Bag's length helps it live up to its name: measuring 6 feet vertically, it's the perfect design for those who want to practice low kicks and knees on a resistant and durable heavy bag.
This model has nearly universal approval based on reviews, with most users complimenting its durability and the ease with which they are able to set it up, remove it, and move it to a different location as needed.
This model, available in either red or black, sports a specialized reinforced design that makes it extra durable against high-impact blows, along with heavy-duty straps that ensure safe and secure installation and use.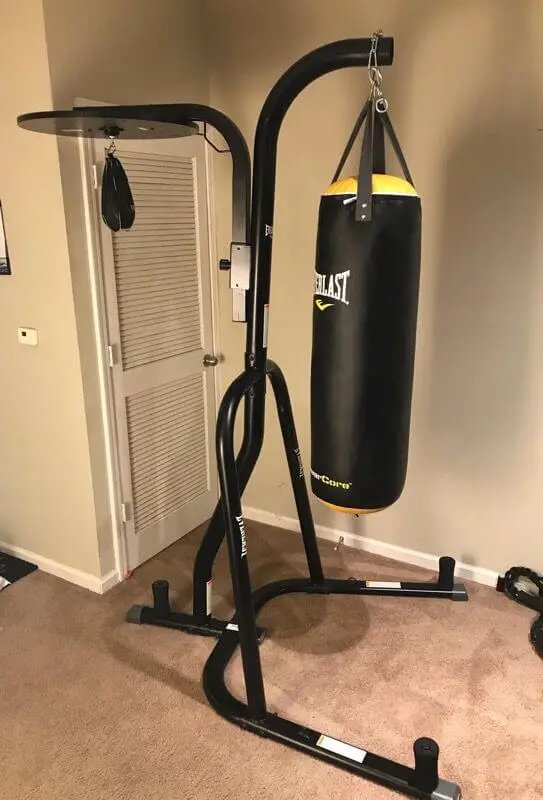 This is a picture of my punching bag stand with speed bag set up that I used to keep in my house but have lately decided to keep it outdoors.
Standout Features:
premium synthetic leather
reinforced webbing to enhance durability
blend of synthetic and natural filler designed for shock absorbency
The shock-absorbing inner material makes this heavy bag particularly appealing: by helping to negate the reverberating effects of impact, the user's form is less likely to be disturbed during training and reduces the possibility of impact-related injuries.
Reviews are highly positive, with most pointing to the bag's sturdiness and ability to hold up to intense usage. Furthermore, while the bag is shorter in length (3.5 to 4 feet tall), users enjoy a loop at the bottom allows for weights to be attached to prevent excess swinging.
---
Top Punching Bag Brands
As with any favorable product, specific brands emerge that consumers end up preferring to others. This is no different with heavy bags, and three specific brands have emerged as the favorites in this market: Everlast, Century, and Ringside.
Everlast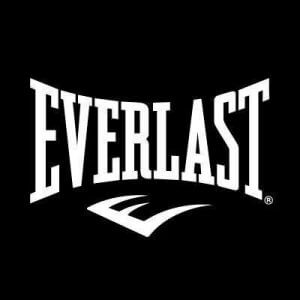 Everlast is one of the oldest brand names in combat sports. Founded in 1910, they produce training products in numerous categories, including gloves, boxing shoes, hand wraps, and – of course – outdoor punching bags.
One of the most well-reputed sports equipment companies in the world, Everlast has built a strong reputation in the athletic community, as demonstrated by having won the Best Technical Equipment Brand at the World MMA Awards on five different occasions.
Century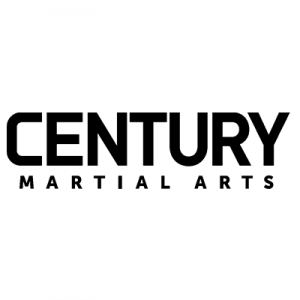 Founded in 1976, Century Martial Arts describes itself as "the world's leading supplier of martial arts equipment". They sell uniforms, punching bags, training weapons, and athletics footwear.
A highly popular company that targets individual martial artists as well as gym owners (for larger sales), Century is well-renowned in the industry, as indicated by the 4.7 out of 5 average rating based on Facebook reviews
Ringside
Having been in the sports supply industry for over 30 years, Ringside Boxing is a popular company most known for producing boxing gloves and equipment, but they also sell several varieties of punching bags, cardio machines, and athletic apparel.
Reviews on most of their products – including their heavy bags – are overwhelmingly positive, with one review proclaiming that the company produces the best heavy bags they have used and another denying having any negative experiences with them. Ringside is a top boxing gear company that produces the best 100 lb heavy bags out on the market today.
FAQ's & Tips To Consider When Keeping Your Punching Bag Outdoors
Understandably, like with any product, many people will have questions about outdoor punching bags that may affect their purchasing decisions. To make as much information as possible accessible, some of those questions are addressed here.
Is it okay to leave my punching bag outside?
While outdoor punching bags come with the convenience of having more options for where to set them up, the risk of damage from leaving them outside is something to consider, particularly if you live in an area where inclement weather can arise suddenly.
Thanks to the durable outer layer that these heavy bags have been built with, they are generally resistant to damage from water or other precipitation. The Ringside 100-pound Muay Thai punching bag in particular is protected in this regard due to its Powerhide covering.
With that in mind, it's generally good practice with any valuables to bring them inside if you are aware that severe weather (heavy thunderstorms, hurricanes, etc.) will be passing through your area soon, and these heavy bags – while nearly waterproof – are no exceptions.
How can I protect my punching bag from sun and rain?
If you are interested in going the extra mile to protect your investment in your outdoor heavy bag, then sun and rain are fair considerations: overexposure to sun can heat the bag to undesirable temperatures, and consistent contact with rain may affect its texture.
If you plan to leave your heavy bag outdoors regularly, then it's wise to invest in a way of blocking nature's path to it to ensure that it remains in the best possible condition. These bag covers are popular options for those who have permanently set up their heavy bag outside.
Thankfully, if it becomes absolutely necessary to bring your heavy bag inside during a situation like a bad storm, all of these options can be disassembled and put back together at a later time without making additional long-term adjustments to your home's infrastructure.
Leaving a Mark
While there's not a bad choice among all of the outdoor punching bags mentioned above, that doesn't mean that each of them is the perfect fit for everyone. Like clothes, cars, or cuisine, every individual has specific preferences and requirements.
What all of these heavy bags have in common is that they have durable designs that are suited well for outdoor use. Apart from that, the small details make each of them stand out from one another. In short, you have plenty of options!
Whether you select a freestanding model or decide that a hanging bag is a better fit, it's a safe bet that one of these outdoor heavy bags will deliver the knockout that your workout routine needs!
Recommend Readings: