Top 3 Best Pink Punching Bags for Women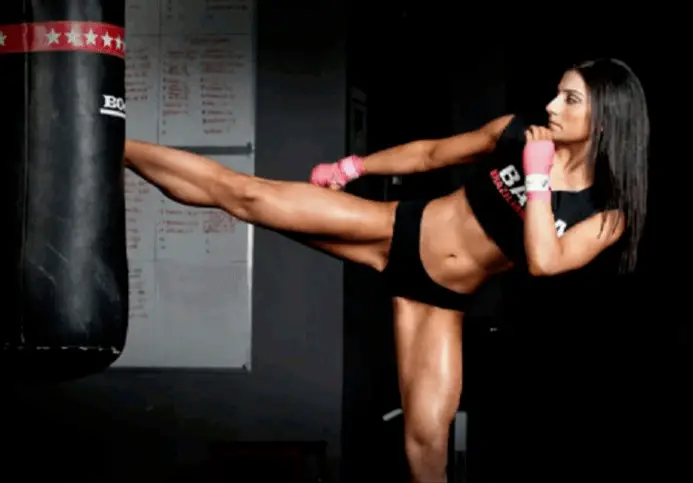 Girls! Back in the day, punching bags for women were not nearly as popular as they are today. But now that women are starting to realize the benefits that boxing can provide, they are starting to dominate the sport… well nah, but women are definitely starting to workout more using the punching bag
Makes a lot of sense too because the amount of upper body toning that women can benefit from, from punching the bag is not something i would want to miss out on either if I was a girl.
The women of today are no longer afraid of hitting of the bag. In fact, punching bags are turning out to be the hot-selling sports item today.
For some women, it's like the badge of honor. Used for both kicking and punching, punching bags are a nice outlet to release stress and to be stronger in general. Not to undermine the fact that a punching bag workout can help one stay in good physical shape all-round the year without stepping into a gym.
And nowadays these bags even the pink punching bags are built to stand the powerful punches that women can throw. 
Listed below is a quick summary of the 3 best pink punching bags for women
This is the best punching bag for women
---
This is the best punching bag for women
Everlast ​
Women's Heavy Bag Kit
---
This is an overall good choice punching bag for women of all skill levels
---
As long as there is enough room to hang the bag , and you know the basics of boxing, then you should be a good candidate for getting a punching bag and to start your boxing workouts and to start toning your body.
If you are not wanting to hang a heavy bag from the wall or want the hassle of setting one up you can check out our reviews on the best free standing punching bags. You can get yourself one of those instead as they will work just fine as well for your workouts.
That being said, the usual market price for womens punching bags range from $50 to $500.
This isn't to say that the $500 item will be better than the $100 piece by a landslide. The chances are that the cheaper one could be of better quality and caliber than the big-ticket item.
Therefore, you should know what you are getting. Since pink is the popular choice of color among women, let's discuss the best three pink punching bags for women.
Best 3 Pink Punching Bags For Women
1. Everlast 70 lb Women's Heavy Bag Kit – The Best
In the range of heavy punching bag for women, the Everlast Women's 70 lb Heavy Bag Kit gives its competition a run for their money. For those who don't know, the punching bag is shipped along with gloves and hand wraps. Better yet, it comes with everything that's needed to hook the bag for immediate use. Also, the chain that's hooked to the bag is highly adjustable. Overall, the bag is a wonderful stress reliever for all the pink ladies out there. It's enjoyable to use, and it offers a good workout from the comforts of one's house.
The Good:
The punching bag is clearly well-built. Past users have commented that not a single stitch is out of the place. It serves the purpose very well. Better yet, it's hard to find a cuter heavy bag in the market today.
For excellent shock absorption, it's filled with a good blend of natural and synthetic fibers. As a result, it can provide a reliable and tiring workout for years and years. Above all, it comes pre-filled. Basically, it gets the job done for ladies without any hiccups.
The price of this pink punching bag is right on the money. In fact, you get good value for your money because the gloves and the wraps are thrown in for free. Therefore, it's an excellent buy for anyone who wants to get into the world of punching bags.
The color is simply awesome. If you are wanting a hot pink this is a great punching bag for you. You can even get boxing gloves to match! Check out the Everlast Womens Pro Style Pink Training Gloves here
The Bad:
This punching bag is designed for women but is a little hard for first-timers. So, if you have never boxed before in your entire life, don't throw strong punches. Go slow, and you should be good. Of course, hit the bag with the gloves on to protect your hands from damage.
2. Everlast CardioBlast Bag, 40-Pound, Pink/Black Combo – Great Value
This CardioBlast Hot Pink Heavy Bag by Everlast is a great fitness tool for cardio, full-body workout, and overall conditioning. It's easily one of the best fitness tools out there to get your heart rate going. The bag comes filled, and it's much lighter than the other heavyweight bags for women. The elongated shape of this pink bag makes it a perfect hitting tool for your punches, kicks, and knee shots. Everlast has clearly set the bars too high by introducing a product of this quality in its price range.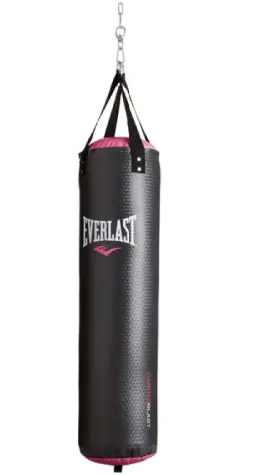 The Good:
Unlike other inferior punching bags for women, expect no lumps on this heavy bag. Plus, you can expect solid stitching all over the body. Above all, the bag has a zipper on the top for easy filling.
This girls punching bag is built to last. Even if you were to brutalize the bag on a regular basis, it would show minimal signs of wear and tear. Past users have commented that the bag holds up strong like a boss.
The Everlast CardioBlast Heavy Bag comes ready to be installed and use. Moreover, the makers have included a 120-days warranty from the day of purchase to limit customer's liability in case things were to go south.
Value wise, it's hard to go wrong with this pink boxing bag. It's sturdy, durable, reasonably priced, and cool looking, all at the same time. It's the best choice to relieve frustration and to stay fit.
The Cons:
A stand is not a part of the deal.  That being said, a chain is included to hang the bag to the ceiling. Keep in mind that hanging it on the ceiling will call for sufficient load support.
This is a heavy pink boxing bag meant for training and workouts. It's advisable to use boxing gloves while punching and kicking the bag
3. RDX Women's Punching Bag Kit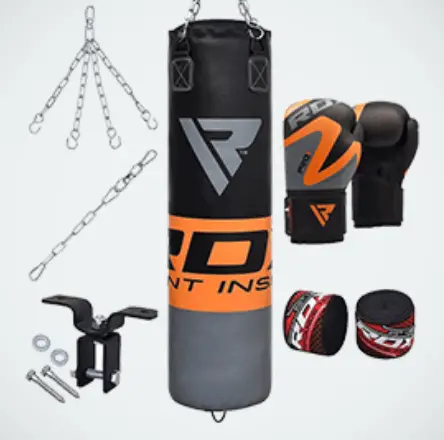 The RDX Women's filled Punching Bag is built to endure rigorous training like nothing else in the market. It's double stitched on purpose for a non-tear performance and maximum durability. You will be able to throw punches on this bag without damaging your body parts. Plus, it offers the right amount of swing and resistance for smooth and effective training.
Moreover, the kit has everything in place to help you get started with your fitness endeavor including the hardware needed to hang the bag for use. So, this one will give you a good workout.
The Good:
Unlike other below par punching bags, this pink boxing bag has class written all over its body. For those who don't know, it has a waterproof body to it. So, the bag can be used outdoors as well. Furthermore, it comes in an attractive color, and it includes a bunch of stuff such as the hand wraps, steel chains, jump rope, hand gripper, boxing glove, punch bag strap, D-shackle, and swivel.
The bag features a zippered opening on the top to allow maximum fill. So, one can make the bag heavier than usual by filling it up to the brim. Better yet, a user can customize the filling based on personal choice. You could stuff in sand or even cloth cuttings. As such, the bag comes completely filled at the buyer's doorsteps. So, one doesn't have to necessarily refill or replace the materials inside the bag. It's a matter of personal interest.
All the items are packed and wrapped well at the time of shipping. So, you will receive everything in one-piece without any cosmetic damage. Plus, the quality of the accessories is up to the mark as well. So, they didn't throw some cheap perks in the deal to appeal or fool potential buyers. Also, the bag is appropriately filled to help you get started almost immediately.
The Bad:
This pink boxing bag is not the best option for elite women. A professional MMA fighter or a boxer will need something harder and better than this punching bag.  This isn't to say that this product is faulty. But, pro athletes might have a throwaway budget for fitness gears. So, they won't mind spending ten times more to acquire a top of the line pink heavy punching bags.
Women Punching Bags Buying Guide
If you don't want to crush your credit card in the pursuit of fitness, you owe it to yourself to read the women's punching bag buying guide given below:
How to Choose A Punching Bag – Tips for Women
– Shoot for the Right Weight: Don't choose the heaviest punching bag in the town. The heavier the bag, the more will be the resistance. Unless you have a tournament in few weeks, you are better off choosing a mid-weight heavy bag. It will offer you enough resistance and movement for everyday training so that you can get the best workouts with your punching bag. You will be able to time your kicks and punches better. So, the chosen punching bag should not be too heavy or too light. It should be somewhere in between, but more inclined towards the heavier side.
–Shoot for a Quality Product: Dirt-cheap prices are always tempting. But, below par products will cost you more in the long run. They won't last long. Plus, they won't have the right fit and finish to offer you an effective workout. As they say 'You get what you pay for it". This isn't to say that you have to spend money like crazy on a punching bag with stand. Some degree of research will help you acquire a high-quality punching bag at an affordable price-point. We have already shortlisted three products (above) for you.
-Shoot for the Right Covering: You will find heavy bags in the market with all kinds of covers. From leather to vinyl, the variety is plentiful. The ones with leather covering generally cost a bit more because they are better than the rivals. They won't tear down easily. Plus, they will outlast other materials. Canvas bags are equally good. They also promote product longevity by preventing tears and cracks. As a smart consumer, make sure to steer away from inferior vinyl bags because they won't stand up to a lot of beatings.
-Make sure you have a Good Set of Heavy Bag Boxing Gloves: This goes without needing an explanation. Protect your hands!
Other Considerations:
Punching bags weigh quite a lot. Delivery guys frown over the idea of delivering a punching bag. Make sure to check the shipping cost of the punching bag before placing an order online.

Go for an adjustable height chain so that you can set the bag at the desired height. This will help you with your speed, range, and accuracy. Also, make sure that the straps are solid and properly stitched.

If you are ordering an unfilled bag, consider a zipper model. Most of the reputed brands sell punching bags with zippers for an easy fill.

Choose a punching bag that fits your home condition. You should have a strong ceiling for a hanging bag. Also, there should be enough space for the bag to swing back and forth.

Do some research and go over some

beginner boxing tips

that could help you out in the future.
Did you find the best pink punching bag thats right for you? Share with your friends!
Related Reading: