Best Punching Bags For Teenagers – Top Picks for the Money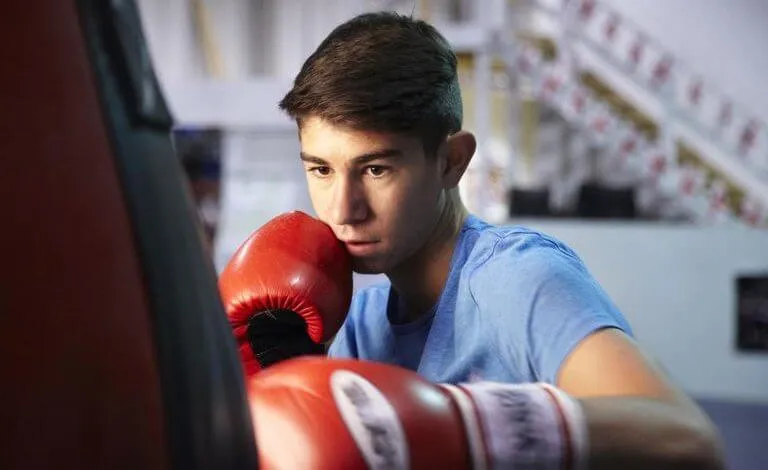 Seems like life has landed enough punches on you, and now it is payback time! That blood flowing in your veins is on a boil now. But before you go out and take it out on someone, may I suggest a better alternative? Go buy a punching bag and have a vent like you never had.
Do you know what the craziest thing about punching a punching bag is? It can't punch you back. Now that I have caught your attention with this rather mind-blowing fact, I welcome you to today's discussion.
In this article, we are going to have a look at some of the best punching bags which can satisfy your teenage thirst. Many make the mistake of generalizing things, we don't do that here! I am warning you, you need to spend some time on this page if you are desirous of learning all about punching bags in detail. Are you in? Perfect, let's get started then!
Types of Punching Bags For Teenagers
But before we dive into the world of best punching bags, let me tell you a bit about the different types of punching bags. You will need to know the difference to decide which one of these is going to be best for you.
Free Standing Punching Bags
The main reason why I would recommend a free standing punching bag for teenagers would be because of their simplicity and ease of set up.
The great thing about free standing punching bags is that they do not require any set up what so ever. There are no complicated steps involved, no drilling holes in your walls, no nothing. This saves you from a lot of trouble.
Unlike other punching bags, setting up free-standing punching bags is relatively easy. All that you have to do is fill the base with either water or sand, and hey presto, you are ready to go!
One thing that you must be careful of when it comes to free-standing punching bags is that these bags don't take as much force as you might expect them to take.
That is a problem that is solved by using hanging punching bags. For a teenager though, this will not be a problem. Even if you are a teenager and think you can kick insanely hard enough to tip a free standing bag over, all you have to do is get a bag that is designed to not tip like the ones in our list below. The Wavemaster xxl is going to be the best choice for you. I am 6'6 and have kicked this bag as hard as I can and have yet to be able to tip it over. I haven't even come close.
Hanging Punching Bags
Like I said before if you want a punching bag that can withstand maximum force, hanging punching bags are your best option. These are a popular choice among teenagers who want to train competitively for boxing, MMA, or other competitive martial arts. 
Now, we know that hanging bags will absorb more impact than others. So why even consider a free standing punching bag? Well, the problem lies in the very fact that you will need to drill some holes in the wall, or buy a heavy bag stand to get things going. The setup is not complicated but does require hole drilling or heavy bag stand buying. 
Okay now let's jump in!
Best Free Standing Punching Bags for Teenagers
So first, let's have a look at free-standing punching bags. Teens, are you still with me? Great, let's get going then!
1. Century Wavemaster XXL - Best Overall Punching Bag for Teenagers 
Best Features
69 inches tall, 18 inches in diameter.

Greater striking surface area.

Tool-free assembly 

Good for both kicking and punching

Extremely Reliable

Does not tip over no matter how hard you hit it

Best Overall Bag For Teens
Wavemaster XXL training bag is my favorite choice among all the free-standing punching bags. And if you think this sounds a little biased, wait before I fully describe the amazing features of this classy training bag. First, let us have a look at the color range in which this punching bag is available. These include black, blue and red.
Now, for the more important details. For any martial arts or even simple boxing training, what you must look for is a punching bag with a high-quality surface. The striking surface of any punching bag is usually the first determinant of any punching bag's quality. The Wavemaster XXL has an excellent striking surface and certainly meets this standard better than any of the others.
Often an oxymoron is used to describe the idea of punching bags. Tough but forgiving. This free-standing punching bag is an epitome of this phrase. It is filled with high-density foam, which makes punching both tough and fun at the same time. The punching bag is covered with a durable vinyl cover.
During my research of finding the best punching bags for teens, I have come across some bags which had a major weight imbalance issue, but this punching bag definitely does not present this issue. The low profile base and elegant weight distribution are another pair of reasons why I call this product, the best overall. 
---
Best Features
Ideal for a cardio fitness regimen.

Gives best Bang for your buck

Built to Last

High-quality fabric

Durability

Abrasion resistant
The Century Original Wavemaster Freestanding Heavy Punching Bag is made in the USA. It is available in three colors including red, blue and black. You can fill the base of this punching bag with either sand or water. To make roll-away portability easier, the base of this freestanding punching has been kept round.
Let us talk a bit about the dimensions of this punching bag. The height of this punching bag is adjustable, there are seven adjustments that you can make. These are made in an increment of 3 inches and allow you to adjust the height from 47inches to 68 inches. The weight of this training bag when completely filled is around 250lbs.
The extreme level resistance which is offered by this punching bag makes it an ideal choice for any teenager. I feel that rapid rebounds always edge on one to train harder than ever. I feel this is one of those punching bags, which can keep you hooked and training on this bag for hours at a time.
---
Best Features
Top and bottom handles allowing for ground work and grappling training

Suitable for a multitude of workouts. These include knee striking, dragging and leg lifts.

Best for MMA Fighters

Ideal for resistance-based workouts.

Can be filled with water or sand both.

Weighs approximately 100lbs, when filled.
If I had to pick a free-standing punching bag solely based on the versatility factor, it would have to be this one. There is so much to like about this punching bag. It is an ideal punching bag for both stand-up and ground training. So if your future training plans involve doing both types of workouts, this punching bag is likely to serve your cause, the best.
I can't emphasize enough how crucial the striking surface is. It impacts and shapes the likely output of your hard work. A greater striking surface is deemed as a desirable trait in a good punching bag. The Century Versys Fight Simulator has a striking surface, nearly three times larger than any other punching bag available in the market. Three times! Let that sink in. 
Teens, you must know that it is the bag movement that affects your timing and reflexes the most. When you are punching or striking this punching bag, the bag moves in a manner that helps you to improve your overall reflexes just like a boxing reflex bag. 
This bag is great for teenagers that want to have a nice self standing bag as well as a bag that will allow them to do some MMA ground training as well. Now, that is rare, you will not find this in any other punching bag. It helps you in having the most realistic workout experience. Don't need to take out a friend, do you? 
---
4. Everlast Powercore - Best Cheap Free Standing Bag for Teenagers - Best Cheap Free Standing Bag for Teenagers
Best Features
Adjustable height between 52-65 inches

Cheapest bag for beginning teenagers

Most Compact punching bag

NEVATEAR outer layer

Long term durability

Maximum shock-absorbing capacity.
If you are a little short on cash but are still desirous of purchasing a world-class free standing punching bag. The best part about this one is that it provides you with pretty realistic feels.
The more I praise this punching bag's air foam chambers, the lesser it is. I must confess, I am in love with the rounded base design of this punching bag. It allows for much easier movement, as compared to the flexibility of other punching bags available in the market. You are promised enhanced leg conditioning and much improved hand-eye coordination.
I want you to recall the golden principle which defines the quality of a punching bag. Tough but forgiving. Now, this punching bag is no exception to this golden parameter.
The power transfer-ring serves to reduce the shock, it absorbs impact and minimizes sliding as well as base movement.
This free-standing punching bag has a rather high-density base. You can fill it with water or sand. 250lbs of water or 370lbs of sand seems to do the trick.
This punching bag is the most compact of the group making it a perfect punching bag for an apartment or teenagers who live in tight spaces.
---
3 Best Hanging Heavy Bags for Teenagers
Enough with free standing punching bags. I now want to divert your attention towards the hanging heavy bags. Again, I chose these bags with teenagers as the main focus.
Best Features
Built to last

Most bang for your buck option

Soft to the punch allowing for hours of training

Comes with a warranty

Best overall hanging bag for teenagers
The first in the list is Everlast Nevatear 80lb heavy bag, which is ideal for any teenager to practice punching.
So, what are the specs of this product which made me like it so much? Firstly, it is the material which catches your eye, doesn't it? Not many punching bags are made of Nevatear.
For those of you who are not familiar with Nevatear, it is a tough leather-like vinyl material. It is super resistant to cracks and abrasions. Hence, long term durability is ensured.
Since it is a hanging bag, setting it up can be a problem. I mentioned this before, drilling holes to set up a punching bag in your room is something your mom or dad might not be too supportive of. Tool based installations are complicated, especially finding the hanging chain can be a bit tacky.
However, you don't have to worry about that if you are purchasing Everlast Nevatear 80lb. This hanging punching bag comes with its chain attachment.
You can hang this heavy bag either with a stand or ceiling or you can buy a heavy bag stand so that you do not have to drill holes.
Warranty is a feature that I have not discussed in great detail. This particular punching bag has a one year warranty. I doubt that you are going to need it.
This is a top rated punching bag and made of quite durable material, as I mentioned earlier. 
---
Best Features
Comes as a kit including everything you need for set up

Excellent for beginners

Made from Synthetic natural fibers

Height adjustable

Cord provided for extra resistance and less swinging
You might get the impression that I am a little biassed in favor of Everlast products. That might be true, given that I only fall for quality. Everlast is a brand that has made its name in the world of punching bags over the last few years by constantly improving the design and style.
This particular punching bag comes with an MMA kit. Inside this kit, there are three items. A 70-pound heavy bag gloves, 108-inch hand wraps, and a bungee cord. But we are going to focus on the bag only in this discussion.
So, what are the unique features of this hanging punching bag which make it so ideal that it finds a place in my list? 
Well, firstly it is the stuffing which caught my eye. This heavy bag is stuffed with synthetic as well as natural fibers. 
The height of this punching bag is also adjustable. This helps you in practicing kicking with much more comfort and ease. The purpose of the bungee cord that I mentioned earlier is to impart more resistance to the bag.
If you are a teenager who is finding the heavy bag workouts fun, this might just be the punching bag you are looking for. It nearly slipped my mind, this 70lbs heavy bag is made using super resistant poly canvas material.
The shock absorption capacity of this punching bag is world-class. So dear kids, if you feel like venting on one long night, just wear those gloves and start banging the bag!
What about the warranty, you might ask. Well, for 120 days, you are entitled to ask for any repairs you feel are necessary. But chances of that happening are pretty slim.
Like I said before, Everlast is a trusted brand that makes world-class products. It has to be a pure misfortune that your product will turn out damaged or defective!
---
Best Features
Anti-sway technology

Double stitching

Supporting D shackles

A rustproof chain

Comes as a kit so you can start training right away
There are various colors in which this hanging punching bag is available. These include black, orange, red, white and a shade of black/red. A pretty nice blend which we have got here, right? Right now that we are done with looks, let s move to more important details.
The leather used in making this hanging punching bag is hide leather. The bag comes in both height variations i.e. 4ft and 5 ft. You can opt for the height that best serves your purpose. The punching bag comes complete with free steel chains and pro bag gloves. I would recommend that you practice on this hanging punching bag with these gloves as they are quite nice for the price.
The polyester inner layer used in these punching bags. This helps in minimizing wear and tear. A ZIPPEX top closure which allows max filling. The punching bag is waterproof as well as can be used outdoors. To reduce swing reduction, a tethered loop facility is used at the base of this hanging punching bag.
Listen, kids, I am going to tell you something. If you go for this hanging bag, one thing is guaranteed. You won't end up hurting or bruising your hands and wrists as the bag is quite soft to the punch.  What else do you get if you opt for this punching bag?
---
Which Bag Should I Get? Here is My Recommendation
I have listed the best products I came across during my experience. Now, I know it can be a bit confusing for you, especially if you are new to punching bags and martial arts in general. So, want the help of someone a bit older who's been there before? Making that final call is entirely up to you. But let me share what I feel. I am going to declare winners from both free-standing and hanging categories. Drum rolls, ARE YOU READY?
Best Standing Punching Bag For Teens - Original Wavemaster
So the winner from the free-standing punching bag category is Century The original.
You can check it out on amazon by clicking here.
I am not going to discuss the product in detail again. I am simply going to outline these products hottest features so that it serves as a reminder of why it is the best product, even though I opted for a different product overall. There are many features unique to this punching bag, and by now, I want you to make educated guesses about those features.
Anyhow, why verdict came out in the favor of Century the Original? Some of its amazing features were:
Ideal for a cardio fitness regimen.

Serves for both kicking and punching.

Cost Effective option For Teens just starting out

Durability

Abrasion resistant
I must add here that you are not going to feel why I feel strongly in favor of this product, without trying it first!
So what about hanging punching bags? I think you and I have the same choice here. Yes, it the Everlast traditional.
You can check it out on amazon by clicking here.
I feel you can already guess why I chose this product as the best bang for your buck. I confess I am biased when it comes to Everlast products. The level of quality that you find in their boxing gear and equipment is simply unmatched.
Let us recall the features of Everlast traditional which made it a popular choice over other hanging punching bags available in the market. These included:
High-grade material quality

Long term durability

Cost Effective For Teens just Starting out
Comes as a kit so you can get started quickly

Abrasion and crack resistance

Accessories

Shock and impact absorption
Folks, this is my verdict. It is pretty subjective. You can have another favorite and that is perfectly OK with me. I always advise people to follow what their heart says. You must listen to your heart. But mix it with a bit of caution and boy oh boy, your life can be wonderful.
FAQ Teenagers Have When Buying a Punching 

Bag
I am pretty sure that by now, your mind is riddled with questions of all sorts. Finding the ideal punching bag is not an easy task, given the wide diversity which dominates this particular training gear. If you step out in the market for the first time without any prior knowledge on the subject, you are most likely going to suffer. I know it sounds harsh but that is the truth. So, to help you further, I have compiled a list of most commonly asked questions about purchasing a punching bag. Hopefully, you can find the answer to any query you still have, in these FAQs listed below.
Are these punching above the best ones for a teenager?
I mentioned this three or four times in this discussion that I chose these punching bags, solely with the teenage group in my mind. A lot of factors had to be taken into account. Weight, material, padding, swaying and rolling factors. Only after a product satisfied all these conditions, it found a place in my list of best punching bags for teenagers.
What weight punching bag is going to be best for a teenager?
Any punching bag between a range of 70lb-100lb is likely to serve great for a teenager. Since it is teenagers we are talking about, it is always better to start with a lighter version of things. Standing bags usually eliminate the question of the right weight. So you are good to go with any weight in that case.
Will a 70lb hanging heavy bag enough?
Initially, this could just be the ideal weight for you to work out with. However, as time passes, you will begin to feel that things are too light for your taste. At that time, you will have to make certain adjustments.
What is the best thing to fill a punching bag with?
The preferred options in this regard are sand and water. Usually, the exact weight requirements are different, depending on a specific type of punching bag. In all of the products discussed in this discussion, sand and water are used as filling material.
What muscles does a bag workout work?
Usually, your deltoids and trapezius are worked when you punch and throw your fists around. The main impact of bag workout is on your shoulders. As a result of the bag workout, you can expect your shoulders to be bigger and stronger. Usually, hitting a speed bag achieves this purpose in a much shorter period.