Punching Bag Stands With Speed Bag Attachment – Our Top Picks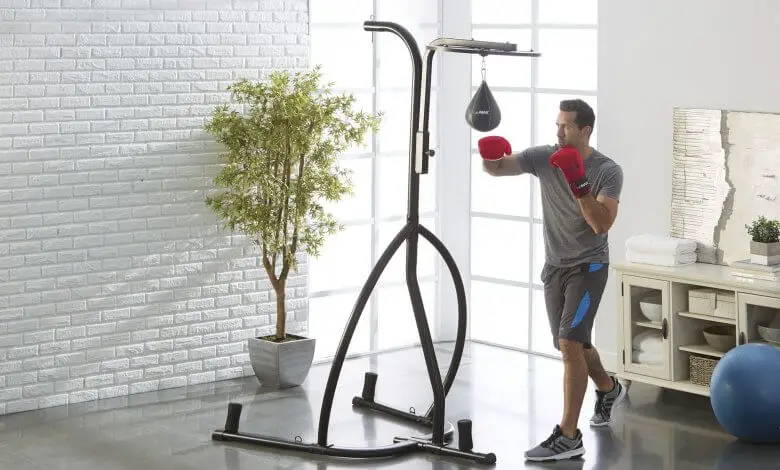 Searching around trying to find the best punching bag stand that has a speed bag attachment? 
Good you have made it to the right place. 
Here we are going to list and review the top heavy bag stands with speed bag attachments so that you can figure where your buck is best invested.
I have to say, buying one of these is a far superior option if you do not want to be drilling holes in your wall, your ceiling, or having to build some kind of contraption to hang your bag from and then also have to buy a se​parate speed bag platform and bag.
Yeah that's a lot of work. And it will take up a bunch of space.
Andddd, it cost a heck of a lot more to buy everything separately. 
That's why these stands that already have a platform built on them come in so handy. They hang your punching bag, and give you a speed bag and platform all at a cheaper price. 
here are the best ones
Best Punching Bag Stands With Speed Bag Platforms
Listed below are the best bang for your buck options right now.
---
1. Everlast Heavy bag and Speed Bag Stand
Editors Choice - Best Bang For Your Buck
Best Features
Overall Best Option - Editor's choice
Affordable price
Very durable thanks to steel construction
Small form factor
Powdered Steel prevents scratching
Added stability from weight plates and hoops
 66.5 inches by 47.6 inches, 86.2 inches tall
Everlast Dual Station Heavy Bag Stand Review
Surprising no one at all, Everlast makes another great boxing product at an awesome and yet quiet affordable price point. As one of the most well known and respected names in boxing gear, they know their stuff, and it shows. 
Made with powder coated steel tubing, this stand is durable, as in it will probably outlast you and me both as long as you treat it right durable.
With an easy assembly process that even I could finish in minutes, this stand can hold up to 100 pound bags.
That means that no matter your skill level and how hard you can hit, pretty much anyone can use this bag stand, from beginners to experts.
Even better, if you're really hitting hard, it comes with three pegs you can put weight plates on to keep it place while you let off some steam.
Now I can hear you asking, what if I don't own any weight plates? Do I have to buy some too?
Well lucky for you, Everlast knows that not everyone has a fully outfitted gym at home with plates to spare, they really thought of everything this time. 
If you look closely, you might see three little hoops coming out of the base of the stand. Those are not cosmetic. 
Showing how committed they are to making a product that works great for everyone without breaking the bank. Everlast included a way for you to tie down your stand to make it even more stable without additional equipment. The only thing I bought for mine was a mat to protect my flooring.
It only takes up 66.5 inches  by 47.6 inches  so its great for those of us lacking in space ( I put mine in my tiny garage and it works great!) and only needs 86.2 inches in height to fit comfortably.
Of course, you can also hang a speed bag from the platform that is attached to the stand. I've found that having both up really spices up my training by adding variety when I'm not in the gym. Which really helps keep me consistent in my training.
---
2. Titan Fitness Dual Station Boxing Stand
Best Features
Great customer service from titan fitness

Compact form factor
Lightweight build makes it easy to move around.
Made out of durable steel.
Can fit bags up to 80 inches and 100 pounds
Can be held down by weights and rope
62" by 47" inches and a clearance of 82"
One of the kings of home gym equipment, Titan Fitness, tries their hand at heavy bag stands and they don't dissapoint.
Weighing in at only 63 pounds and made out of steel tubes, this is very comfortable for keeping in your garage or home gym and easily moved.
I know what you're all thinking, only 63 pounds!? That's not enough to take my punches! Don't fret, not only it can take up to a 100 pound heavy bag on each side, but it also has 3 pegs you can put weights on to keep it in place. 
Not only that, but if you're putting out some serious power and weights are not enough, then you can also tie it down thanks to the three hoops it has on the base. 
 This stand can fit bags up to 80 inches long, that means that the heavy bag is not only for punching. You can practice high, low and body kicks as well,  if you are doing MMA. 
This stand only has a footprint of 62" by 47" inches and a clearance of 82". Its a solid choice, if you take care of it and keep it inside, it'll be with you for a long time.
---
3. Century's Fold Away Bag Stand & Platform
Best Features
Best Choice for those lacking in space.

Affordable pricing.

Useful for people of all sizes

Fold away technology makes it less obtrusive

Comes with height adjustment system

Built to Last
This is one for us city dwellers, for when space is limited.
Maybe you're an equipment junkie, or maybe you live in an apartment and can't really fit even a bag stand. I've been there, I know the pain of  seeing all the cool gear online and knowing even though you can afford it, you can't buy it.
As the name might suggest, this platform folds away. It lies virtually flush with your wall when you're not using it, saving up on precious space.
Honestly after seeing it in person a couple times, you tend to forget it is even there.
Not only that but it comes with height adjustment systems, allowing it to be good for multiple trainees at once. So if you and your roommate are thinking about taking up boxing, now's your chance!
Unfortunately It requires a bit more installation than a traditional stand, but sometimes it can't be helped and good news it, that this is definitely worth it.
It sits at a great price point for anyone just starting up, or are on a tighter budget, and between that and how convenient it is, I cant recommend the Fold Away Speed Bag Platform  enough for anyone looking to amp up their training or maybe let off some steam from time to time.
---
4. Pro 2-Station Gym - Best Suited For Athletes and Professionals
Best Features
Premium Quality product.

Professional Grade Equipment

Heavy Duty steel and powder coating ensure longevity

Doesn't need to be weighed down.

Has height adjustment system for speed bag.

68" X 44" footprint, 94 ½ inches tall
Pro 2-Station Gym Review
Everlast again on our list. This time for something a bit different. 
You might notice that the name of this product is not "Bag Stand" its Gym, and there's a reason for that. This is as close as you get to an actual boxing gym in your house.
Now when you see the price tag for this one, you might think you're not seeing right. I'd call this  Everlast's  premium option.
This is what professional boxers have at their homes. You might notice this stand has no weight pegs. That's because no matter how hard you hit this bad boy, you won't need any. It weighs in at 280 pounds.
With a heavy duty steel construction that's powder coated to avoid scratches and blemishes, this is a long term investment that will easily last you for years and years to come.
It of course has a speed bag attachment, made of beautiful maple wood with a 30 inch diameter  that's perfect for athletes of any size thanks to its height adjustment system controlled with pop-pins
That means if you have a training partner, you can make quick and easy adjustments so everyone can train comfortably and effectively with the speed bag. 
Not only that, but the specially engineered corner locking screws reduce the vibrations generated from hitting the speed bag and heavy bag.
Speaking of specially engineered parts, this stand even comes with professional grade speed bag swivels attached to the platform and stand to ensure longevity and reliability.
When it comes to size, this is the biggest of the three entries; Like I said before, it weighs 280 pounds, it has a footprint of 68" X 44" and your ceiling needs to be at least over 94 ½ inches (7.8 feet) to fit the whole contraption.
Overall, this punching bag stand with speed bag attachment is a big piece of equipment and an even bigger investment. Everlast has said that this is intended for professional athletes and I would agree. Most people don't need this level of equipment nor have the desire to spend that much. 
However, if you have the money, and are more serious about your training,  you're guaranteed to have a top quality product from one of the best brands in the business. 
You can't go wrong with the Pro 2-Station Gym.
---
Top heavy bag stand brands
Listed below are the top rated brands that come out with high quality, reliable, heavy bag stands and speed bag platforms
Century Martial Arts
Started by a Karate Champion in 1976. Century has literally shaped the way we train today with major innovations throughout their history. 
I have to say, I am quite biased towards Century because they make some of the best bang for your buck punching bags that you can get, like the Wavemaster XXL. I mean heck, their entire Wavemaster Lineup is freaking good.
They take pride in being a brand for martial artists, by martial artists and even offer training for their employees. 
Which shows as they come up with ingenious products like the fold away bag stand we showed above. 
Catering to the needs of martial artists of all walks of life
As expected from a company that has not only survived for this long, but thrived, their products are top notch and they even offer free 30 day money back guarantees if you don't like something, which is always a plus. 
Everlast
As I said before, Everlast is a staple of the boxing industry. Started in 1910, they started making boxing gear for the legendary Jack Dempsey in 1917 and have been making waves in the industry ever since. 
They have worked with boxing legends like Muhammad Ali, Sugar Ray Leonard and more. 
I've recommended their Omniflex punching bag and their boxing gloves before and it's no different for their heavy bag stands. 
As you might have noticed since they take up two spots in my top four list of the best punching bag stands with speed bag attachments.
They have even received multiple awards for their equipment in both boxing and MMA, the latest one of those in 2016.
There's not much more to say about Everlast that you don't already know, they know their stuff when it comes to boxing and martial arts equipment and gear and you can be confident in getting a quality product if you decide to  go with them.
Titan Fitness
Anyone who has ever thought about building a home gym knows about titan fitness.
While usually more well known for their bodybuilding or powerlifting equipment. These guys know what they are doing when it comes to home equipment and their boxing gear is no exception.
What makes them really stand out is their top notch customer support.
They have staff working all around the clock to make sure that whatever issues you may have before, during, or after placing your order are solved without wasting time or effort on your part. 
All in all, even though they might not be the most well known in the boxing environment, they not only bring quality gear at a decent price and with good financing, but they also care about their customers and will help you with any issues that might arise with their equipment. 
Why you should only buy a punching bag stand with a speed bag platform
Cheaper  
When bought in a pair like this it can be comparatively cheaper than buying a platform, a speed bag, along with the heavy bag and the stand.
Takes up less space 
Having a speed bag platform on your heavy bag stand means you don't have to set up a speed bag somewhere else. This saves considerable room.
Introduces variety to your training 
When training from home, I've found that when you only have a heavy bag to train with it can get a bit repetitive since you're limited by your equipment. By getting a speed bag with your punching bag, you can spice things up and not only stick to training but also make yourself a more well rounded fighter.
My Concluding Thoughts And Recommendations 
As a way to end this article, I have to say, Above all other heavy bag stands with the speed bag attachment, I would highly recommend that you get our number 1 entry.
The Everlast Heavy bag Stand with Speed Bag Platform.
You can check it out on amazon by clicking here.
Not only is it the cheapest at the time of writing, but it is also the one that makes more sense for 99% percent of people out there who want to improve their boxing, let off some steam and have a bag at home that does not cost a ton or require a bunch of set up.
I am not saying that the other products are bad, far from it. But for the average Joe, the stand from Everlast is the choice that makes the most sense from a price, quality and usability perspective.
However, all of that goes out the window if you don't live somewhere with enough space to fit a bag stand. 
Then the choice is even easier because there is only one that is worth your buck, which is the Fold away from Century. 
You can check it out on amazon by clicking here.