Ringside Elite Freestanding Heavy Bag Review – Is This The Training Bag For You?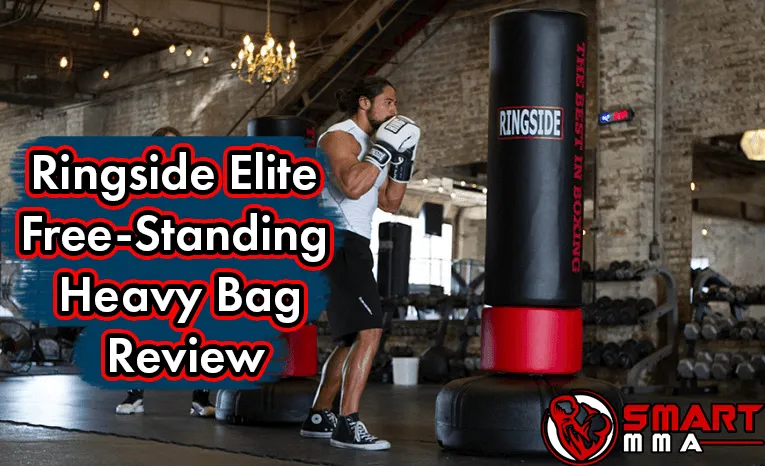 No matter your fitness level, if you're looking to sharpen your boxing techniques and skills without leaving the house, the Ringside Elite free-standing punching bag is an excellent choice to consider.
In fact, it is one of the best standing punching bags that you can even get. Literally one of, if not the best.
That said, as is the case with almost every product out there, this standing bag still does have a couple things that I personally don't like, which I'll delve into in a bit.
Nevertheless, below is my detailed review of the Ringside Elite Training Bag and why it has been my go to back that I keep in my home gym, have had it for years now.
I'll shed some light on what other people think of this bag, how to set it up, and also i will mention another alternative. The Wavemaster XXL Training bag.
You can see it on amazon by clicking here.
Without further ado, let's get into the Ringside Elite review!
---
Sneak Peek into the Review
Trying to decide which punching bag you should get and want to make sure you get a bag that is going to give you the most bang for your buck?
Then look no further than the Ringside Elite Free Standing heavy punching bag. Not kidding this is not a sales page, this bag is literally one of the best bang for buck bags that you can find. 
Ringside is already a household name when it comes to manufacturing excellent martial arts training gear & equipment, and this punching bag is no different.
Their products are known for being extremely durable, reliable and affordable, making them good value for your money. The bag's shell is made out of durable synthetic leather that can withstand constant heavy punching and kicks without wearing out.
Ringside claim that the bag can withstand the harshest punches and kicks you can possibly throw at it, and after using this for over 3 years, I can say that they weren't lying.
Because of the durable construction and material that the bag is made from it is also an excellent punching bag for outdoor use because it can withstand the weathering and abuse of outside conditions
The bag's height is well over 75 inches, making it perfect for kicks and punches from boxers of all sizes, including super tall ones. Additionally, the bag's diameter is 17 inches, with a base diameter of 32 inches. The thick bottom can hold up to 270 pounds of sand or water depending on what you decide to fill your punching bag with.
Its massive size ensures that it doesn't move after you punch it or kick it. Almost everyone will agree on how annoying it can be if a heavy bag keeps moving after each punch or kick.
---
What I Like
Spring-loaded design ensuring that the bag will swing back and forth instead of toppling
Comes with a shock-absorbing foam that you can place around the base
Perfect for any martial arts skill levels, Big bag yet is also a good punching bag for beginners all the way up to advanced level pros
Extremely stable
Very durable
---
What I don't Like
Quite expensive
Heavy, not easily moveable
Although this hasn't happened to me personally, some people claim that they get a squeaking noise when they strike the bag, which can be rather annoying
---
The Advantages of Free - Standing Bags
Although free-standing bags don't have that much of a history when compared to the hanging bags, they still offer numerous advantages:
---
Easy to Install
Unlike hanging bags, free-standing heavy bags are pretty simple to install. Once the package arrives at your doorstep, you're only a few minutes away from starting to work out.
Some companies even ship their bags in one piece, already filled with sand, and ready to be used. But there's a trade-off to being able to use it as soon as you make it home and it is transportation.
Some models arrive in a two-piece package instead, consisting of the base and the bag. This allows for much easier transportation, especially if you have a small car. Most are sold with an empty stand, which needs to be filled with either sand or water. You can always purchase them separately if that's the case.
The bag's base comes with a mounting hole upon which you place the free-standing bag.
Once you load the base, simply lift the bag, and insert it inside the stand. If you have a carpeted floor, then you won't need to add anything else. But if not I would recommend you to get a mat to place the bag on to protect your flooring. A jiu jitsu or wrestling mat will do the job and is the cheapest and easiest option.
However, if you plan to use it on hard flooring, you probably need some suction cups. Fortunately for you, most models already include them.
---
Compact & Portable
One of the main things that distinguish free-standing bags from the rest is their portability. This is why a standing bag like the Ringside Elite here is the recommend type of punching bag for apartments or for those who have limited space.
Many one-piece models come equipped with wheels that allow you to move them around as you wish.
Usually, the base will be the most challenging section to transport. This is mainly due to the fact that the filled based can be quite heavy. However, there are a few easy steps that can allow you to move it around in a more efficient way:
Empty as much sand or water as you feel like to be able to lift from one side
Tilt the bag over
Roll it until it makes it to wherever you're storing it
---
Space Efficient
As I've showcased above, you can easily put your free-standing bag away when you're not using it. There is also the element of movement during an exercise.
Unlike suspended bags, free-standing bags give you more control because they do not swing, requiring less space than usual as a result.
---
Cheaper
Free-standing bags tend to be cheaper than their hanging counter-parts. Part of this reason is you do not have to buy a punching bag stand or some other type of contraption to hang the bag. 
Plus, they usually don't require any modifications to your home, unlike hanging ones.
---
Versatile
Free-standing bags are an excellent choice for almost everyone since they allow you to do all different kinds of workouts. They also offer a near-realistic fighting experience, more realistic than other kinds of bags.
People might worry about the fact that free-standing bags aren't particularly designed to manage the heavy punches that hanging models handle.
However, if you get your hands on a model with a large base like the Ringside Elite here, then this no longer becomes an issue. 
Some models, most usually kickboxing bags (ones designed for cardio kickboxing) come with a spring that's located between the base and the bag itself. This is perfect for those who wish to practice coordination and speed since it'll bounce back much faster than usual.
Think of a reflex bag for example, they spring back to give you a life like fighting experience. Kickboxing bags do the same sort of thing only on a much much smaller scale. They will only spring back a few inches rather than a few feet. The Ringside Elite does just this.
This in itself adds to the hitting experience and I much prefer it. It gives you a satisfying feeling when you strike the bag.
Others, like the Century Versys, come with grabbing handles to practice knee kicks and MMA and BJJ grappling.
---
Ringside Elite Free- Standing Bag – My Review
Heavy bags can provide an awesome cardio workout and are an excellent way to change things up. If you're particularly looking to perform some drill workouts and would love to have a good experience doing them, then the Ringside Elite is for you.
---
Who is This Bag For?
This bag is designed for those looking to perfect their striking techniques without leaving the house nor adding any kind of modification to it.
It is good for beginners all the way up to advanced professionals. 
This bag is good for cardio kickboxing, professional boxing, and MMA training. 
This bag although big can be a good bag for teenagers but it is most certainly not a punching bag for kids and youth fighters.
---
What I Like
Here are a few things that I really enjoyed about this punch bag during my time with it:
A solid bottom that does not move or topple over easily. Its stability allows for consistency when hitting
Made of high-quality synthetic leather, which is extremely durable. You can have many training sessions without having to worry about replacing the bag. Such durability makes the Ringside Elite a worthy investment
You get a satisfaction guarantee attached to your purchase of the bag. You're offered up to 120 days to get a refund for the bag in case you don't like it. You can also have it replaced in case it has a defect
This bag was made with professional training in mind, yet still good for beginners. In other words, even if you aren't an intermediate or advanced user, this bag will stay useful as you advance and gain more technique
For all the good that this bag offers, the price tag is on the affordable side. There are numerous payment methods when you shop for this bag online, and you can have it delivered to your doorstep.
---
What Are the Customer Reviews Saying?
A quick look at the Ringside Elite Free-standing bag's amazon page will show you a plethora of positive reviews. You can see the customer reviews of this bag here. 
Most people will put an emphasis on the solid base and how happy they are with the fact that the bag doesn't move when struck.
You'll also find some reviews that focus on the quality of the material used in making this bag and how durable it is. Finally, most people are pleased with the price and consider it quite reasonable, given the offered durability and experience.
---
Cost
Quality free-standing heavy bags don't come cheap, and the case of the Ringside Elite is no different. However, do keep in mind that this model is one of the best ones on the market right now. I've personally spent similar amounts and also quite higher amounts on other models, and most of them disappointed me, unlike the Ringside Elite.
---
Design and Build
The Ringside Elite bag is around 6'4 tall, which is on the larger side of the spectrum compared to similar models available today, which is a good thing for you newbies out there. The base can be filled with roughly 270 lb. of water or sand.
If you have the bag attached to the base, moving it can be quite a difficult task. Like I've said before, if you wish to move this bag, then you ought to put it on its side and roll it wherever you want.
How The Ringside Elite Stacks Up Quality Wise
Quality-wise: The Ringside Elite bag is one of the highest quality bags that I've personally come across. The inclusion of a layer of shock-absorbing foam on top of the high-quality synthetic leather is just a cherry on top.
Further, the spring-loaded design means that the bag can smoothly swing from one side to another way more than other bags on the market.
You can throw your full power at the bag, and you'd still struggle to knock it over, making it a challenge in a good way. Just make sure you have a heavy set of bag gloves or training gloves that are at least 14 oz or more. 16 oz gloves are the preferred option if you are going to be going full bore on this bag and punching it as hard as you can. MMA gloves are also okay as long as the gloves are designed for the heavy bag.
You can also put an extra layer of shock-absorbing foam on the base of the bag to protect your feet in case you miscalculate a kick and end up striking the base.
In addition to being an excellent choice for martial arts, the Ringside Elite bag also provides a brilliant cardio workout for all of you, fitness enthusiasts, out there.
---
Rebound System
The Ringside Elite punching bag has a very slight rebound effect, making it an ideal choice for those looking to perfect their punches while feeling utterly satisfied in doing so.
---
How to Set Up Your Ringside Elite
The first thing that you should worry about is what you're going to fill your new bag's base with. For that, I recommend going with either water or sand, as it is far more efficient than rocks or other materials that some people use to fill their bags.
If you want the easiest, more straight-forward option, then go with water. All you need to do pretty much is to put a hose inside the base and fill the thing up.
On the other hand, if you prefer using sand, you need to get a funnel to filter it into the base. If you don't have one at home, worry not, as you can easily create your own. All you need for that is a milk carton, which needs to be cut in half.
After filling up the base, make sure it's properly attached to the body. Only then will you be able to work out safely using your new Ringside Elite bag.
I suggest that you put the bag where you plan on keeping it first, before filling the base up. This is simply because if you fill the base beforehand, you might face some trouble moving the bag around to whatever place you see fit.
---
The Wavemaster XXL training bag is the best model from the Century Wavemaster lineup. It stands at 69 inches tall, is quite portable, highly versatile, and pretty durable. It's a perfect choice for practicing a variety of kicks and punches. It can survive continuous workouts that involve consistent heavy punching and kicking.
It also comes with a multilayered foam interior that provides extra cushioning and comfortable user experience. Last but not least, it comes in three different colors, blue, red, and black.
This bag has been my personal go-to punching bag for the last couple of years. I put it through hell and back, and it still feels and looks new regardless.
Related Readings: