Apartment Punching Bag Stands Compact Enough For Condos, Apartments & Small Spaces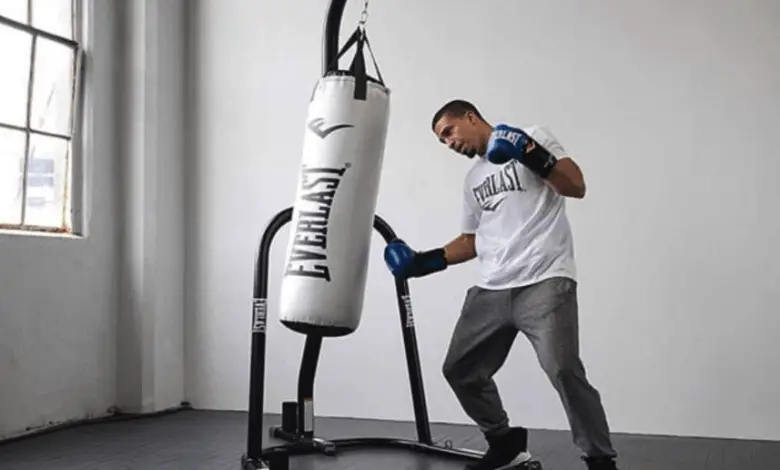 Living in an apartment comes with many restrictions. You just can't have everything and I understand what you're dealing with.
As a fitness enthusiast, I love working out and prefer to do it in the comfort of my home.
Sadly, living in an apartment or condo makes this difficult but not impossible. I just recently, after a ton of research, bought myself an apartment punching bag and a bag stand to hang it in my apartment and the process was anything but easy.
I found plenty of options during my research but only one was right for me. The Century Bag stand.
You can check out the model I got on amazon by clicking here.
 I visited local sporting goods stores to experiment with these products in person.
If you intend to purchase a punching bag stand for your apartment, you'll need to rely on my research.
I have found three of the best apartment punching bag stands that are compact enough for condos, apartments, and small spaces. I also list 2 others that i was considering but were just a bit out of reach size wise for me. 
I also list the best standing punching bag for apartments that is both quite and compact if you find yourself not wanting to buy a bag stand.
It's the Century Bob XL, although the Wavemaster XXL is also a good option just a bit louder.
By reading my reviews, I am sure you'll be able to figure out which stand is best for you. I'll also help you determine which bag offers the biggest bang for your buck.
Best Smaller Sized Punching Bag Stands For Apartments
The Only One's That Will Work
---
Best Bang For Buck Compact Apartment Bag Stand
Century Heavy Bag Stand Review
You already know that Century is one of the leading manufacturers of boxing and martial arts experience.
The Century Heavy Bag Stand offers the best bang for your buck because it is built to last, it's compact, not pretty, but very inexpensive. Which is why it's the one that I went with.
This heavy bag stand is made from 3-inch tubular steel so you can guarantee it is going to last. It is very sturdy.
I feel that I can hit the bag will full force without worrying about it. This heavy bag stand is tough enough to handle everything I throw at it.
In terms of stability, I would rank it at the top of the list at #1 which makes it a perfect option for hard hitters or for those that are looking for a heavy bag stand designed for kickboxing and hard hitting fast workouts.
This stand features 3-inch tubular steel so you know it is going to last a lifetime. In addition to this, I appreciate the three weight pegs.
If you're anything like me, you have some extra weights at home. With this stand, you'll be able to put them to use.
Slide the weights onto the weight pegs and this bag stand isn't going to move anywhere.
You should know that this bag stand can easily support 100-pound heavy bags.
As long as you use weight plates, this one will not wobble what so ever.
I would recommend using 35-pound weight plates for the three base points. I think this will stop it from moving around when you hit it.
This is why I decided to buy the Century Heavy Bag Stand. It is inexpensive, the perfect size, and provides sufficient stability.
When compared to the others, this stand offers the most pros and doesn't break the bank.
Why I Went With This Stand For My Apartment
• Delivers more bang for your buck, cheapest bang stand that's still quality
• Can support 100-pound bags with ease
• Excellent height and width that is compact enough for my apartment
• Does not wobble with enough weight
---
Cheapest Apartment Friendly Stand
Everlast Heavy Bag Stand Review
Normally, I love Everlast products. I know that this company produces some of the best sports equipment on the market.
While I didn't pick the Everlast Single-Station Heavy Bag Stand, I can see why so many people like it.
For starters, this bag stand is cheap. If I can afford it, anyone can.
I found that it was harder to weight this stand down though. If you don't weigh it down properly, you're going to experience slight issues.
Still, I can't complain when considering how inexpensive this bag stand is.
How Much Weight Is Needed For The Everlast Bag Stand
The only problem I had with the Everlast Bag Stand is the fact that I would need more weight to prevent it from wobbling.
With the Century Stand, I only needed 35-pound weight plates. With the Everlast Stand, I would need 1 50-pound sandbag.
What would I tell my neighbors when they see my carrying sandbags into my tiny apartment? This was the only deal-breaker for me but it might not be a problem for you.
With the Everlast Stand, it is a good idea to place a 50-pound bag on one of the legs.
This will prevent it from moving around when you punch it.
How Hard Is It To Assemble The Everlast Bag Stand - Set up
I get it. I hate assembling furniture and exercise equipment too.
If the assembly process is too expensive, I am not going to purchase it. So, will this be a problem with the Everlast Bag Stand?
No. The assembly process is quick and easy. Plus, I appreciate the fact that the box includes the tool needed to assemble it.
If it doesn't, I have a basic wrench set anyway. The stand contains few parts so it wouldn't take long to get it put together.
My research concluded that most people will be able to assemble the Everlast Bag Stand in less than 30 minutes.
Just make sure you have a wrench set and you won't have any problems.
Everlast Bag Stand Pros
• Easy to assemble
• Can support a 100 pound bag easily
• Sturdy and built to last
Everlast Bag Stand Cons
• Needs a lot of weight to keep it from wobbling, buy a sand bag.
Is The Everlast Single-Station Heavy Bag Stand Worth It?
For me, I found that the Everlast Bag Stand required too much weight to keep completely stable.
Nevertheless, I think it would be a good investment for many athletes as long as you don't mind throwing a sand bag or something that weighs about 50 lbs to keep it from moving.
You know Everlast is dependable. Their Martial arts equipment is built to last.
I likely would've purchased this stand if it didn't need so many sandbags. This likely won't be an issue for some buyers though.
If you live on the bottom floor, you won't have a problem bringing the sandbags into your home.
I don't so this created a bigger problem for me and it is one of the main reasons I stayed away from the Everlast Stand.
If I could've brought sandbags into my apartment easily, I may have purchased this stand.
There is a good chance you'll like it.
---
Smallest Option For Hanging A Heavy Bag
I think the Titan Adjustable Heavy Bag Bolt Down Stand is one of the best heavy bag stands for small spaces.
I like the fact that it consumes little space and I could move around the bag with ease. I wouldn't have to worry about tripping over the stand's legs.
Also, you'll like the adjustable height settings. This guarantees that this stand is going to work well for almost anyone.
With 360-degree access around the heavy bag, you can practice your footwork while developing your striking skills.
However, I have one minor problem with the Titan Adjustable Bolt Down Stand.
This minor problem is the main reason I decided that it would not be a good choice for me but I believe this will be the best bag stand for many. This is a great option for those that want to train with their bag outdoors or in their garage because you can set it up just about anywhere that there is a wall.
Is The Titan Bolt Down Stand Stable?
When purchasing a heavy bag stand, you need one that will be stable. You don't want something that will wobble or tilt over when you punch the bag.
This is why I thought about buying the Titan Bolt Down Stand. It is one of the most stable heavy bag stands on the market.
It features a foot gusseted footplate for added strength and stability.
I can't see this stand wobbling when it has been secured to the ground. It won't go anywhere.
Despite the added stability, this stand doesn't consume a lot of space.
The vertical design means it uses less space than the others.
Can I Move Around The Titan Bolt Down Bag Stand?
I love that I could easily move around this bag stand. This means that I'll be able to practice my footwork while perfecting my stance.
This stand doesn't have any legs so you won't have to worry about getting tripped.
The only thing I'll say is that it needs to be bolted to the ground. Since I live in an apartment that I don't own, I can't do that.
My landlord would kill me if I installed this stand with bolts.
However, there is a chance that you own a condo or a small garage. If so and you can do whatever you want, I think you'll like this stand.
Once it is bolted down, it'll give you more freedom to dance around the bag.
I wish I could do something like this but I can't. Regardless, this is the smallest stand for heavy bags.
Bolt Down Stand Pros
• Doesn't take up a lot of space
• Won't wobble when fully secured
• Can hold a 100-pound bag with no problems
• Allows you to dance around the bag
Bolt Down Stand Cons
• Permanently changes the floor so it won't work for everyone
Should You Buy The Titan Bolt Down Stand for Your Apartment?
I wish I could use the Titan Bolt Down Bag Stand in my apartment but I am afraid my landlord wouldn't like it.
I don't want any problems with my lease since I need my apartment. With this in mind, I think a lot of people will love this stand.
If you can get permission to bolt this stand down to your floor, I recommend buying it.
It'll give you more room to practice your footwork so that makes it worth the extra money. Plus, its height can be adjusted easily.
Sadly, it just wouldn't work for me but it may work for you.
---
Bigger But Better, and allows for Speed Training
Some people are looking for something more. If you fit into this category, I suggest checking out the Everlast 2 Station Heavy Bag Stand.
My apartment is small so I don't have any extra space but you might.
Some heavy bag stands have pull up bars and some have speed bag platforms. This is one of those stands and the good thing about this one is the size. It's still pretty compact and small enough for most small spaces.
If you have more room and want a speed bag stand too, you'll love this heavy bag stand.
This stand is more versatile since it can support a heavy bag and a speed bag. With this stand, you can work on your power punches, reflexes, and perfect your boxing techniques.
Just remember that this stand is not recommended for outside use so you'll need to install it in your apartment, condo, or garage.
Keep it safe and this stand will provide you with years of use.
What Makes The Everlast 2 Station Bag Stand Different?
The Everlast 2 Station Bag Stand offers unique benefits that aren't available elsewhere. First, you'll notice that it comes with two stands built into one.
It can support heavy bags and speed bags. This guarantees that it'll provide you with a more well-rounded workout than what you'll get with the others.
Another thing I like is that the height can be adjusted. 
Whether you're tall or short, there is a good chance that this stand will work well for you.
It isn't the smallest stand though. It requires more space since it stands 87" tall.
And, it is slightly wider than some of the others. Since my apartment is too small, it wouldn't work for me.
If I had more space though, I would love to have this stand so I could practice on a heavy bag and speed bag.
How Stable Is The Everlast 2 Station Bag Stand?
I can tell from testing the Everlast Stand that it is going to be very sturdy and stable. It has a footprint of 66.5" by 47.6".
It is easy to assemble and will easily accommodate any heavy bag up to 100 pounds.
You'll need to add weight plates to the pegs to enhance its stability.
With this stand, I would recommend using 50 pounds of weights on the pegs. I think this will be enough to prevent the stand from shifting or moving during use.
If you want to be safe, you can always add more weight to the pegs.
Everlast 2 Station Heavy Bag Stand Pros
• Supports heavy bags and speed bags
• Speed bag station height can be adjusted
• Rugged and tough
• Support heavy bags up to 100 pounds
Quality Swivel and Platform
Everlast 2 Station Heavy Bag Stand Pros
• Consumes more space than I have
Should I Buy The Everlast 2 Station Heavy Bag Stand?
Although I didn't, I think a lot of people should purchase the Everlast 2 Station Heavy Bag Stand. It offers more versatility than the others since it can support heavy bags and speed bags.
This means that you'll be able to perfect all of your skills using one bag stand. For me, the size was the biggest issue. But for those that can fit this stand you'll reap the benefits of speed bag training along with your heavy bag training.
My small apartment meant I didn't have enough space for this stand.
If you're lucky enough to have more space, you'll likely love this bag stand.
---
Drilling In Your Wall Is Required
YES4ALL Wall Mount Stand Review
I like wall mount bag stands and wish I could install one in my apartment but my landlord won't let me. If I could, I would not hesitate to buy the Yes4All Wall Mount.
This wall mount apartment bag stand is awesome because it is tough, stable, and very supportive. As long as it is installed correctly, it is going to support 100-pound bags without any issues.
The base features 8 bolt holes. This guarantees that it'll be securely attached to the wall.
When you begin wailing on the heavy bag, you know the stand is going to stay put.
The heavy-gauge steel construction will last a lifetime but you may need to replace the heavy bag at some point.
Will The Wall Mount Apartment Bag Stand Last?
Longevity is an important factor to consider when purchasing a heavy bag stand. I don't think you'll have any issues with this wall mount stand.
It is constructed of solid heavy-gauge steel so you know it is going to last. It is very durable and stable.
As long as it is attached to a durable wall, this stand will hold up. It can tolerate 100-pound heavy bags and everything you throw its way.
Again, it has 8 bolt holes. It can be secured to the wall and that will give you complete confidence.
In addition to this, the steel features a black-powder coating and special red oxide anti-rust formula.
This stand will maintain its sleek finish for many years to come.
What Is Needed To Install The Wall Mount Apartment Bag Stand?
Before you'll be able to install this stand, you'll need a few items. Thankfully, you won't need to purchase anything extra.
The Yes4All Wall Mount Apartment Bag Stand comes with everything you need.
When you open the box, you'll find all hardware and a comprehensive instruction manual.
You shouldn't have any trouble installing this stand but I recommend getting help from a friend.
Wall Mount Apartment Bag Stand Pros
• Consumes less space
• Features a 360-degree swivel chain
• Comes with all hardware and an instruction manual
• Supports 100-pound bags
Wall Mount Apartment Bag Stand Cons
• You'll likely need permission from your landlord
Is It A Good Idea To Buy The Wall Mount Apartment Bag Stand?
I like the idea of having a wall mounted apartment bag stand. With this type of stand, you can move around the bag without risks.
I wish my landlord would allow me to use this type of stand but they won't.
If you can get permission to install a this bag stand, this one is worth checking out.
---
Quietest Hanging Heavy Bag For Silent Apartment Boxing Workouts
Living in an apartment can put a damper on your boxing workouts. Fortunately, we have brands like Century and Everlast providing us with heavy bag alternatives.
Since you are not permitted to utilize heavy bag roller mounts or ceiling tracks, your options are going to be limited.
While your options are minimal, they are options just the same. So, do not rule out a heavy bag until you know these options.
Quiet, Realistic, Highly Rated & Reviewed, Most Popular
Do not let your landlord's strict regulations prevent you from building an at-home boxing gym. With the Century Bob XL, you can train until your heart is content and still be a good neighbor.
The heavy-duty plastisol/urethane foam construction guarantees many years of service. The design replicates a human, with a decent-sized head and torso.
To ensure the highest level of stability when training, the base is filled with water or sand. The polyethylene-constructed base is durable and capable of holding up to 270 pounds of filler.
Not to mention this is the best kickboxing bag on the market because of it's soft to punch material, its quality, reliability, popularity and high reviews.
And it's easy to setup.
To add convenience when filling, the base has a built-in fill port with a lid to help you fill your bag. Utilize a funnel to minimize messes when filling with sand or water.
The rounded edges allow for easier portability when relocating Bob XL from one area to another. Tilt Bob XL to the side and gently roll until you reach your destination.
---
Benefits Of Owning Your Own Bag Stand In Your Apartment
Most rental management companies have strict regulations when it comes to installation. These regulations are generally limited to wall hangings like pictures and art frames that utilize temporary non-damaging installation hardware.
This rules out the temporary or permanent installation required for punching bags or speed bags.
To obey the landlord's installation regulations and still get your punching bag, a free-standing bag stand is a necessity.
Other benefits include the following:
1. Work out at your own pace
2. Get a heavy bag workout in anytime you want
3. No training rules or regulations
4. No commute
5. Achieve the same commercial gym workout
With so many types of bags to choose from, the perfect fit for your apartment is sure to be available. Thorough research will ensure you get it right the first go-round.
But I recommend you trust my research here and go with what I have listed as I was just in the same boat as you are now.
A free-standing design is ideal for most heavy bags while focusing closely on the weight capacity. The stand must be able to accommodate the weight of your heavy bag, in addition to forces of punching and kicking.
A bag stand may be your only option if you reside in an apartment, condo, or flat. This is especially true when dealing with strict installation guidelines.
Train At Your Own Pace
With a bag stand, it is possible to train in any confined space, thanks to the compact, free-standing design.
Train at your own pace, alone or with friends, when commercial gyms are generally closed, and in the privacy of your apartment with this heavy bag setup.
Reduce Training Expenses
Having an apartment-based gym with a heavy bag stand will minimize your training expenses by eliminating that expensive commercial gym membership.
Train Anytime You Want
Finally, you'll agree that it is beneficial to be able to train anytime you want.
When you add a bag stand to your apartment, you'll be able to do just that. With a gym membership, you have to obey the gym's schedule.
You can't work out and exercise when the gym is closed. An apartment bag stand will allow you to work out around the clock and even on holidays.
Verdict: What Is The Best Heavy Bag Stand For Apartments
My Recommendation: Go with what I Got
After a comparison of the aforementioned bag stands, It is obvious Century has outdone its competitors by a long shot on stability, durability, and longevity.
The Century Heavy Bag Stand can easily accommodate heavy bags up to 100 pounds with the proper base weight plates.
With Century's step-by-step assembly guide, you can have the stand fully erect and ready to put to the test in less than 30 minutes.
Unlike some bag stands, the Century model is ideal for tall-statured athletes, both male and female. The 45-inch width provides plenty of training space.
While I believe the Century Heavy Bag is by far the best out of the five options, Everlast fans may just disagree. That is perfectly okay since Everlast does have a broad range of heavy-duty sports equipment.
Both Century and Everlast are well known for their high-quality products. You can't go wrong with either of these brands.
Related Readings: