Teeter FreeStep Recumbent Cross Trainer Review – Is This The Bike For You?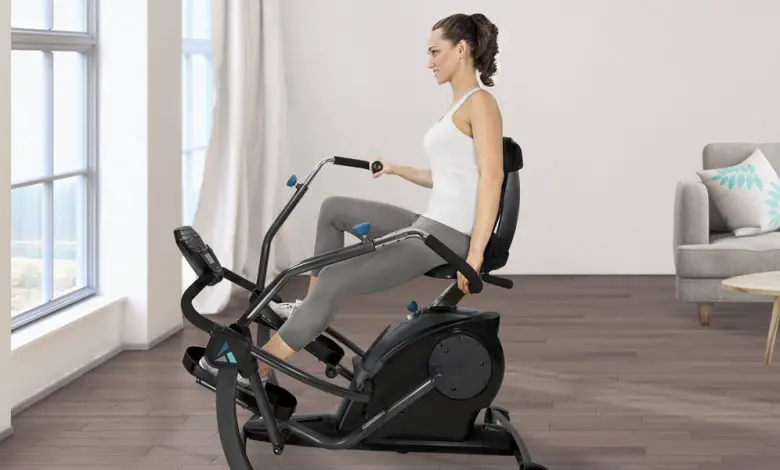 As you get older, it becomes more and more important to keep yourself moving. Move or lose it the saying goes.
But, as you may well know, as you age, exercising can become quite an uncomfortable task.
A classic case of catch-22!
Here is where recumbent bikes come to save the day. They are effective, yet an impact-free way of getting a workout in.
And one of the best recumbent bikes is the New Teeter FreeStep.
You can check it out on amazon by clicking here.
This exercise bike is a great way to get a total body workout in while keeping yourself comfortable and in a low impact workout routine.
In this article, I personally review the Teeter FreeStep Recumbent Cross Trainer.
A Small Introduction To Recumbent Bikes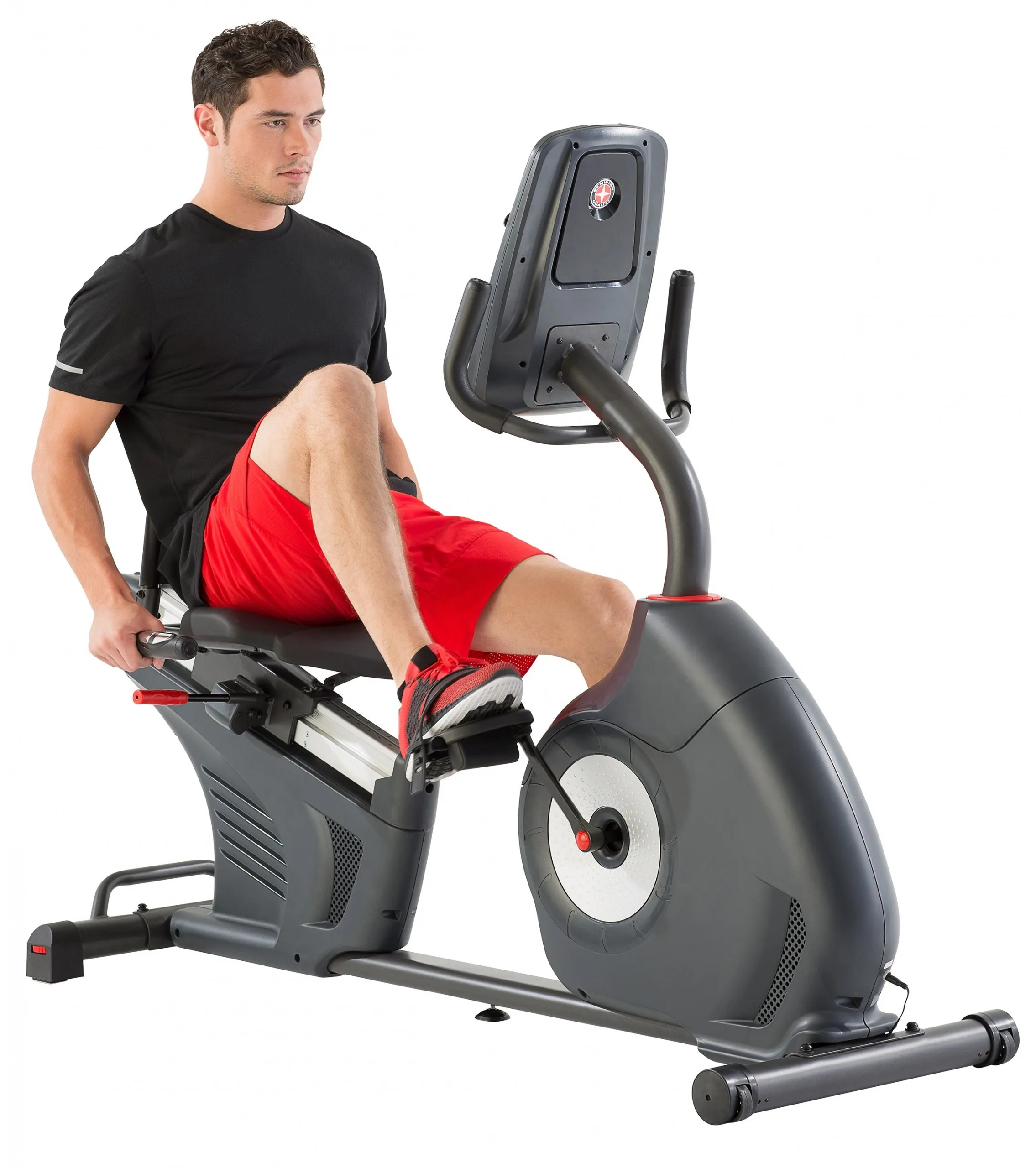 What Are They?
A recumbent bicycle is one that places the rider's back in a laid-back, reclining position. It is particularly useful for older adults and people who want a low impact exercise bike that they can get a total body cardio workout from in comfort.
Why Use Recumbent Bikes?
Recumbent bikes are a great way to get started if you are new to cardio workouts. Additionally, even experienced riders can extract the most out of these bikes.
I like recumbent bikes for the following reasons:
It keeps your body in a comfortable, reclined position
The pedals are in front of your body, hence having a low impact on your joints
The larger seat allows for greater stability and support
Alleviates upper-body tension and fatigue
You can get a focused cardiovascular workout
You can read more about the benefits of recumbent bikes in this article on lifespanfitness.com.
Recumbent bikes can be an excellent and sometimes better alternative than upright bikes, you know.. If you're old (like me).
FreeStep is a recumbent bike from the folks over at Teeter. Before I get into the specifics of the bike itself, here is a little primer on Teeter.
Teeter Freestep Recumbent Cross Trainer Review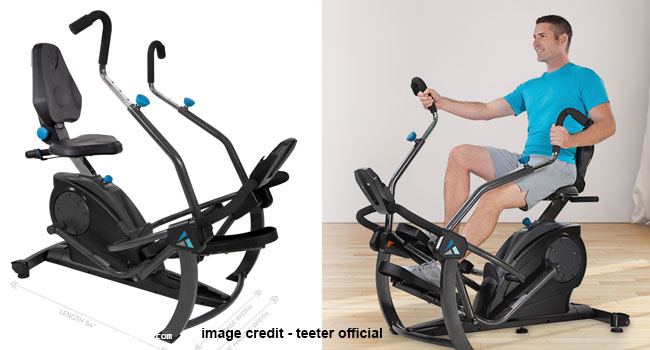 What is the Teeter FreeStep?
As you would have probably guessed, FreeStep is a recumbent bike cross-trainer. It is an equipment designed to give you a full-body workout with zero impact.
This bike is a mix between an elliptical machine and a recumbent exercise bike. Giving you the benefits of being able to enjoy a low impact total body workout comfortably while being easy on your joints.
There is a lot to get into and unpack here. I'll start with my take on this product.
What Do I Like About The Teeter Recumbent Cross Trainer?
This equipment has quite a lot going for it. It is one of the best recumbent bikes I have ever seen.
Here are some of the things I like about the Teeter FreeStep Recumbent Trainer:
Easier On Your Joints – Low Impact Total Body Workouts
This recumbent bike takes the stress away from your back and joints. It also elevates your comfort levels while you burn through calories.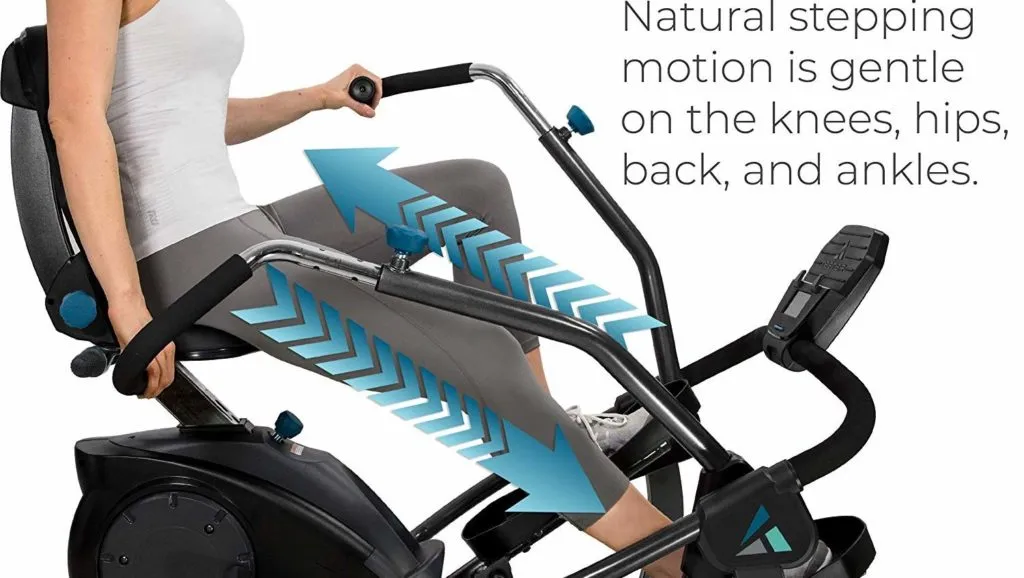 Patented Stride Technology
Elliptical trainers have a range of motion that I can best describe as not-normal. Teeter's patented technology lets you move your legs similar to a natural stepping motion. The result? Well, you get an exhaustive workout with no stress to your knees and joints.
Dual Power Motion 
FreeStep uses push-pull mechanics to target all major muscle groups. From the stepping motion, I previously mentioned, to the adjustable handles, you can get a near-full-body workout.
Focused Muscle Targeting
This approach pretty much goes hand-in-hand with the previous point. There are many ways to isolate your biceps, triceps, and back muscles.
Variable Magnetic Resistance
You can control the intensity of your workout using a simple dial. The magnetic resistance technology accommodates a whole range of ability levels with an ultra-silent operation.
The Seat Is Adjustable
A recumbent bike is only useful if it is ergonomic, right? For this reason, you can adjust the seat to suit your physique (I will tell you details shortly).
Track Your Miles
This battery-powered device tracks your time, distance, speed, and calories burnt. Now, I am not the biggest advocate of using the in-built trackers, as I feel they are mediocre at best. Even then, it is an excellent feature to have for those who cannot afford a dedicated tracker.
Innovative Design
The bike lets you watch your favorite movies while you get your workout in. Undoubtedly, the inclusion of a tablet holder and water bottle holders is also extremely impressive considering the price. This bike is also extremely low profile allowing you to fit it in just about any workout space you need to.
It Is Very Cost-effective
This equipment offers excellent value for your money. I will touch upon this in detail in the upcoming section.
Exemplary Engineering
The magnetic resistance control is friction-free. Hence, you can use your bike for longer without any impact in performance or comfort.
Pricing
As I alluded to earlier, the FreeStep is very cost-effective. You do not need to shell out thousands of dollars to get a comprehensive workout like you would with an elliptical or treadmill.
There are two variants of the FreeStep: LT1 and LT3.
| | | |
| --- | --- | --- |
| | FreeStep LT1 | FreeStep LT3 |
| Reviews | Highly Rated | Highly Rated |
| Warranty Duration | 1-Year Full | 2-Year Full |
| Patented Stride Technology | YES | YES |
| Dual Power Motion | YES | YES |
| Adjustable Handles | YES | YES |
| Variable Magnetic Resistance Technology | YES | YES |
| Customizable Fit and Recline | YES | YES |
| Innovative Design And Tracker | YES | YES |
| Quiet Operation | YES | YES |
| Wheels For Easy Transport | YES | YES |
| SoftStep Pedals | NO | YES |
| ComfortSelect Seating | NO | YES |
| SureGrip Handlebars | NO | YES |
| UltraGlide Bearings | NO | YES |
Warranty Information
Depending on the model you're purchasing, you will be entitled to a one or 2-year warranty. This warranty includes any damage to the drive mechanism and other damages.
It is fully transferable to whoever owns it after your purchase, too. For more details, check out the penultimate page of this document.
Setting Up Your Teeter FreeStep Recumbent Cross Trainer
Assembling your FreeStep is no hassle. The assembly instructions are pretty clear and easy to follow. You can also use BILT for a 3D, step-by-step guide to help you along the way. What I like the most is that the main structure comes pre-assembled. You only have to attach a few things to it before you can get started.
Setting up the equipment is a simple 6-step process:
1) Assembling rear stabilizer
2) Assembling pedals
3) Assembling the seat
4) Assembling the supports
5) Assembling cover sets
6) Assembling the handles
After this process, you can tweak your seating and handle positions to be as comfortable as possible and to match your height whether you are short or tall.
Some Tweaks To Make Your FreeStep Recumbent Cross Trainer Perfect For You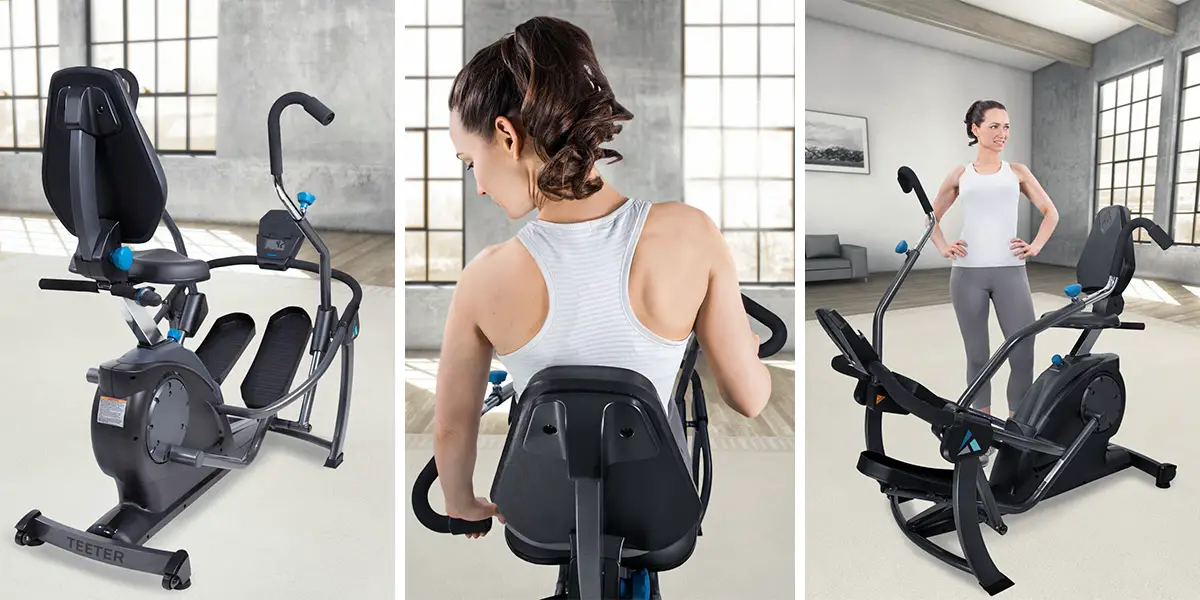 Getting the setup as perfect as possible goes a long way in improving your comfort. There is something to be said about exercise equipment that feels just right.
The most important thing to adjust is the height of the handles. Your back and shoulders need to be in a comfortable position without being pulled forward.
Next, you should avoid your knees from extending beyond your toes. Playing around with your feet position can help you find the right spot (trust me when I say that it makes a world of difference).
Lastly, your set and backrest must be adjusted to provide maximum comfort. I suggest you take your time and figure out what works best for you (do not skimp on this step, though!). For higher weight capacities, I recommend starting out with farther back seat position and move up as you get used to the motion of the bike.
How FreeStep's Cross Trainer Stacks Up Against Its Competition
Of course, this isn't the only recumbent bike available on the market. So what sets the teeter freestep recumbent cross trainer apart from the rest of the field?
Well, a few things do.
As per a study conducted by N.E. Wolkodoff and F. Stanek, the FreeStep cross trainer burns nearly 17% more calories per workout when compared to a standard recumbent exercise bike. All this, while also putting less stress on your joints. I have compared the FreeStep to some of the other noteworthy offerings below.
Teeter FreeStep Vs. HCI Fitness PhysioStep RXT-1000
The first competitor is one of the most popular alternatives to the Teeter Freestep. It is a beefy machine with a lot going for it, albeit at a hefty price tag.
I prefer the FreeStep for the following reasons:
– First and foremost is the cost factor. HCI Fitness PhysioStep RXT-1000 costs over $2500, which is not affordable for many.
– It is very portable when compared to the PhysioStep RXT-1000. The wheels on the bottom make it super easy to roll it away when you're done working out.
Here is where I feel FreeStep loses out:
– PhysioStep RXT-1000 has a display that is far superior to FreeStep's. It is not a deal-breaker for me, but it is something worth noting.
– FreeStep does not support the range of weight as compared to the PhysioStep RXT-1000. This limitation is something that may or may not apply to you, so I'll let you be the judge.
Teeter FreeStep Vs. Stamina Magnetic Recumbent Bike
This option is not as fleshed-out as FreeStep. It is geared towards a more budget-conscious consumer.
I prefer FreeStep for the following reasons:
– It does the job better. I don't know how else to put it; FreeStep just gets the job done better than Stamina's competitor.
– It offers a broader range of arm movement for a complete workout. This range is notably missing in the Stamina Magnetic Recumbent Bike.
Here is where FreeStep loses out though, in my opinion:
– Stamina's Magnetic Recumbent Bike is priced considerably lower. This is to be expected, given the limited features.
– The frame comes with a whopping 5-year warranty! This warranty is more than even the LT3's warranty, which is quite surprising at this price point.
Who Can Benefit Most From FreeStep's Recumbent Cross Trainer?
FreeStep is an exercise bike that offers more than just a one use-case. You can do a whole lot with it and so the question arises:
Who can make the most out of this? In short, everyone can! But of course, that is just part of the entire story. FreeStep offers a host of ways to get in an effective workout for people of all kinds:
– If you are an older person or someone undergoing physiotherapy, this equipment is a no-brainer. An impact-free, full-body workout from the comfort of your home is hard to argue against!
– If you have difficulty in indulging in walking or jogging as a regular exercise, Teeter FreeStep is right up your alley. Its patented Stride Technology goes a long way in mimicking the actual mechanics of walking without the impact.
– Recumbent bikes, in general, can be used by anyone who wants an elevated level of comfort during their workout sessions. This feature lets you work out for longer and, subsequently, burn more calories (while also being comfortable).
Should You Buy The Teeter FreeStep Recumbent Cross Trainer?
To put it simply, Teeter FreeStep is your key to unlocking a new world of cardio workouts. The movable arms add a new dynamic to your routine.
If you're looking for an impact-free way to change your lifestyle, look no further!