Century Bob XL Vs Wavemaster XXL: Which Heavy Bag Is More Suited To You?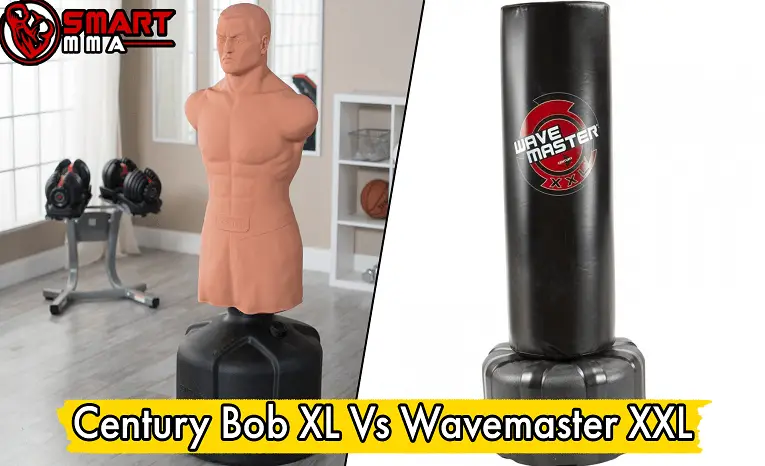 In this article, I'm going to be comparing the Century Bob XL vs the Wavemaster XXL heavy bags. 
I personally went through this exact same thing as I was in the position where I needed a new heavy bag. I wanted a standing bag because I did not want to drill any more holes in my wall to hang a 100lb heavy bag nor did I want to buy a punching bag stand.
I knew the Wavemaster lineup was the best around, XXL being the best bang for buck bag. And I knew that the BOB XL was just as good and actually slightly better and it provided a more life-like experience. 
But I still searched the forums the reviews and tested both out.
For years I've owned the Wavemaster XXL and have put it through a tsunami's worth of punishment. It's held up fantastically, but I'm a bit of a gear-gypsy. Aka, I tend to wander.
So, I'm looking to switch things up and have my eye on the Bob XL as a replacement. I've put in a ton of hours researching the differences between the two to come up with this condensed comparison review.
Let's not waste any more time and get right into the upsides and downsides of each and what differs between these two heavy bags.
---
Quick Overview of Each Heavy Bag
First, we've got to understand the definitions of these two bags and what they were made to train.
---
This hefty training bag has been my battle buddy for years. It's been everything I've wanted in a heavy bag and more!
The Wavemaster XXL is an extra-large, super durable, heavy training bag. It's meant to be kicked and punched over and over and hold up to relentless use. 
As I've enhanced my skills and improved my power, this bag's done nothing but take it.
A few feature highlights:
Basic cylindrical shape
Freestanding
Extra large size (69" tall, 18" diameter)
270 lbs when filled
Durable vinyl cover with a high-density foam layer
What I Like
I originally went with the Wavemaster XXL heavy bag because it is the largest bag on the market, also the largest in the Wavemaster lineup from Century, needs no adjustment, it's made in the USA, and offered a large surface area when I was just starting my training.
It's a great punching bag for beginners and for also for the more advanced. This bag covers all the basics. In its simplistic silhouette, you can use it for so many different types of training, and it is perfect to learn on.
Cardio? No problem. Three-level height shots? Too easy. Honestly, this training bag has been a dream.
---
Now for the contender: the Century Bob XL. The Bob, or Body Opponent Bag, is overall excellent and offers more specialization than the standard shape of the Wavemaster.
The striking surface holds the shape of a human torso, so it's perfect for martial arts professionals. But it's not just for the pros.
Average users would benefit to use the Bob XL as a punching bag or realistic fight partner. It's great for martial arts technical practice and Taekwondo precision training.
The features of the Bob XL include:
Realistic human shape
Freestanding
Large size (60-82" tall)
270 lbs when the base is filled
Durable plastisol body surface filled with foam
Most Notable Differences
From first sight, it's easy to notice some obvious differences between the two training bags. The Bob XL is a realistic human shape, while the Wavemaster is a basic cylindrical shape.
Due to the major difference in design, the Bob XL offers the ability to train for a higher and more specialized skill, if you so choose.
The Wavemaster is also much larger. The tall height would be great for big folks, or for pushing the limits on your kick height. Bob XL would be a better punching bag for teenagers, and a similar bag called the Booby Bully is a better punching bag for kids.
If you've got sensitive tootsies, you might not like the sting that's left behind from a kick to the Bob. In contrast, the Wavemaster offers a pretty comfortable striking surface.
---
Century Bob XL Vs Wavemaster XXL: Which One Is Better?
Better? I don't think there's such a thing because each bag serves a different purpose.
Both are excellent choices, offer great feedback, and are durable as hell. You'll get a bit of bag movement after each strike, which is exactly what you want, so that energy doesn't just go right back through your body.
They're also both highly rated and have stellar customer reviews.
Now, when it comes to specific uses, each bag excels differently:
Wavemaster XXL: great for general power work, basic skill practice, large surface striking, cardio burn, endurance work, kiddos can use it easily too
Bob XL: precision skills and accuracy, technical practice, opponent training, sparring combinations, self-defense enhancement
---
Which Bag Gives The Most Satisfying Punch?
What matters here is what kind of punch you're after!
The Wavemaster offers a wide surface area ready for any type of punch. I've been hammering it for years and it's been a blast!
However, I could see the merit in striking a realistic body training bag too. Is there anything more satisfying than feeling like you landed the perfectly positioned body punch? I think not.
Quick foot kicks and speed work punches are more than satisfying on the Wavemaster. Besides speed work, this bag can take on some serious power too.
Likewise, a well-placed self defense jab is especially pleasing on the Bob XL. Plus, his face was just made for punching - have you seen that grimace?!
---
Which One Is Great for Cardio?
The Wavemaster takes the cake for cardio. You can just go crazy on it to get your heart rate completely amped.
There's no need to think and consider strike landing location because all your eyes see is a blank punching surface. And there is plenty of surface area to aim at. The Wavemaster is great for general punching bag workouts.
Compare that to the Bob XL and you're likely to be spending energy on evaluating strike landing, even if you aren't trying to, just because it's a human shape.
---
Which Bag Is Better for MMA, Kickboxing, Taekwondo, and Other Fighting Sports?
There's no question that the Bob XL is a better punching bag for kickboxing, MMA and other fighting sports. It helps a lot in improving your martial arts and boxing techniques.
MMA and other sects of hand to hand combat are about fighting humans, not shapeless inanimate objects. So, it's best to train the way you play - on a realistic training partner!
Now, when you want to improve your striking endurance to train for fighting sports, the Wavemaster is the superior option.
---
Size Comparison - Which Is Better for Small Spaces?
If you're struggling with space in your home gym, the Bob XL is your best choice. It features an adjustable height and isn't nearly as tall or massive as the Wavemaster.
The Bob XL is a great punching bag for apartments and small spaces. But make sure to use a BJJ mat to protect your floor if you are going to use it inside.
This is not only great for modifying to suit the size of the opponent you want to train against, but it's also very convenient for fitting into tighter spaces. 
Things aren't too bad for the XXL though, It's a great outdoor punching bag if you are like me and like punching outside to get some fresh air. And you can use it inside as well you just have to account for the space it will take.
---
What About Filling? Which Is Easier to Fill?
Both the Bob XL and the Wavemaster XXL have very similar filling capacities. You can use water or sand for either and they'll both end up weighing about 270lbs when full.
These training bags are standing bags, so you can move them around your space with ease. The fill capacities of these bags gives them great stability without compromising on strike feedback or natural response motion.
A little tip: if you live in a very cold environment, opt to fill your bag with sand instead of water, so you don't end up with a frozen training bag. Ouch.
---
What about Price? How Do They Compare?
The two bags are nearly identical in price. They both cost around $350 from the Century Martial Arts website. The Bob XL is a blip more expensive, but what's another $20 at this point anyway.
Yes, either one is an investment, but there's no better way to train punching or martial arts when you don't have a human volunteer to workout with you.
---
Do They Both Offer a Warranty? if So, How Long?
For either of these bags, you can register your purchase from Century on their website to gain a one-year warranty for manufacturing defects.
Do know that this warranty does not cover normal wear and tear. But these bags are majorly durable, so that shouldn't be an issue at all.
---
Which Bag Should You Get - My Recommendation
Would you rather punch a cylinder or a face? Just kidding, but the best bag for you depends on your workout goals.
Bob XL: best choice if your goal is to get better at martial arts and improve your techniques when punching and kicking and pinpoint your accuracy and precision work.
Wavemaster XXL: excellent for normal workouts, cardio sets, and practicing martial arts basics.
---
Conclusion
Both the Bob XL and Wavemaster XXL are terrific heavy training bags. Your workout goals should lead you to the right bag for you.
Likely, you'll be more than pleased with your purchase, get a great workout, and have a ton of fun. For me, I owe my Wavemaster a few more power punches and the Bob XL is on my Christmas list.
Related Readings:
References