What Punching Bag Should I Get?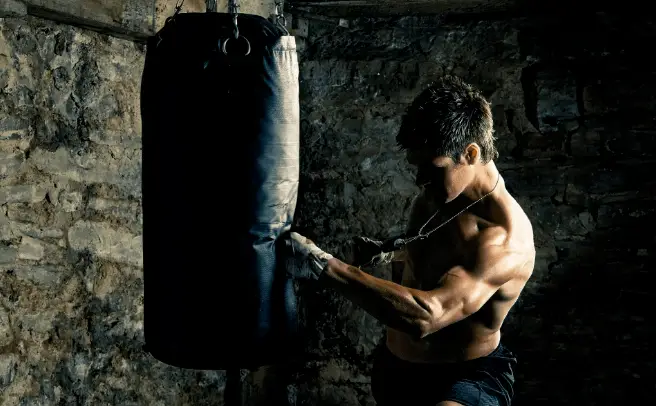 Trying to figure out which punching bag you should get?
Yeah, this was me not too long ago. There are many different types of punching bags and I found it to be overwhelming when I first started looking for a punching bag.
The good news is I am here to help you decide which punching bag to get by giving you a few key tips to think about before buying one.
Let me first give you my recommendation though. Most people, unless you are competitive, go for a free standing bag.
The reason most go with this type is because it is easy to set up, does not require you to buy a heavy bag stand and floor mat, or drill holes in your wall.
You can check out the best free standing bags here. I use the Wavemaster XXL, it is the best bang for your buck free standing bag and is built like a tank. If you are still on the fence about deciding which punching bag to get this is the one that I recommend.
You can check it out on amazon by clicking here. It is affordable and built like a tank.
Tips to Help You Decide What Punching Bag You Should Get
1. What's The Purpose?
There are many types of punching bags available in the market according to the need of an individual. So, it is all about your purpose which will distinguish that which punching bag is right for you. There are bags that can help with fists training, making punch stronger, and the last one is for kicks that can enhance your speed of taking over the opponent.
After knowing that which bag is really sufficient to fulfill your need then you have to check out the types. There are many types of bags available n the market so choosing the right type is not only about the purpose. You can check out more about each bag type to ensure that which one is right to fulfill the need.
2. Types Of Bags
There are plenty of amazing types available in the market, and each one offers a different functionality. Let's begin with the common ones.
Heavy Bags
This type is widely preferred due to the versatile use. It is really a good choice as if you want to build strength and it can help with the muscle toning. Even if you want to build the fist muscle, then you can try out heavy bags, and these can be used at home too. There are two models available, one that requires sand and the other type uses water.
Free Standing Punching Bags
These bags are perfect if you are wanting to get in some boing training and practice from home. They are perfect for throwing punching combos as well as some kicking combos. If you have nowhere to hang a heavy bag or need an apartment punching bag or one for small space then these are the right choice for you.
Upper Cut Bags
It is mainly the type of heavy bags, and you can say that it is the smaller package of same. If you want to do waist striking, then this one is enough to fulfill the need for sure. But, the only issue that you can face with uppercut is regarding space. You need more space to move it. Make sure that you ensure a good space in the working area before buying it.
For counter striking, there is nothing better than the double end bags. These are tied from both sides. However, the only issue is the permanent mounting. You can't move these to any other place because you have to tie it to the bottom part as well as to roof also.
You can buy a speed bag and a platform, just about anywhere nowadays because of how popular they are becoming and they are available at reasonable and affordable prices. You just need to buy the right type of bag that can fulfill your need. These bags kick back and help to build great speed and endurance. Most of the experienced boxers prefer these to enhance their hands' speed and perfect their punching rhythm and coordination.
A reflex punching bag is a bag that looks just like a normal free standing punching bag. This type of punching is self standing by the design of skinny pole designed to rebound back fast when hit. Think of the rebound reaction of a double end bag and then picture that on a skinny pole with a small ball like bag at the top. These bag are designed to improve you reflexes and punching speed.
Maize Bags
The last type which is easily available in the market for athlete want to develop the head movement. These bags swing well, but if you want to use it for body strikes, then it is not the right type.
Above given are all the types that you can easily buy in the market and if you don't want to face any kind of issue with the purchase then consider your need wisely and buy the right type according to that.
The weight
A punching bag has different weight options and if you want to meet the need then know that how much weight is enough. Most of the average male users who are 5'10 and weigh 200 pounds will need a 100 lb heavy bag. Such bags are really sufficient for every individual, and you can try that out too as if you don't have any idea.
The material
A bean bag has any type of material used on it, but the right material is always the first thing to take into consideration. You need to ensure that a bag must have a durable material and it doesn't cause any issue while training. If you plan on using your punching bag outdoors you will need a punching bag with a strong material.
The proper material depends upon the specific type of training. For example, most of the people prefer leather punching bag because these offer a soft material that is quite enough to fulfill their needs with ease.
Related: What Weight Punching Bag Should I Get?
Bottom Line
Hope, this guide will help you buy the right punching bag that is perfect for your training type. Make sure to decide on a budget before getting started and buy a quality made bag to avoid issues in the future.
Recommended Readings: